Discover more from The Signal
The Signal is a daily curated newsletter that helps you understand the latest developments in business, tech, finance, economy, and policy with sharp analysis and crisp insights thats fun to read arriving at 8AM daily in your inbox.
Over 81,000 subscribers
The Adani 'family' Enterprises
Also in today's edition: NCLT keeps it Go-ing; That sinking feeling in the 'hood; No chips for cash
Good morning! Apple may be the world's largest company by market cap, but the American tech behemoth is no match to Saudi Aramco when it comes to dividend payouts. In fact, according to Bloomberg, the Saudi oil giant's estimated payouts for 2023 ($80.1 billion) will be larger than the combined total of the next five companies on the list: Microsoft ($20.5 billion), Apple ($15 billion), Exxon Mobil ($14.9 billion), HSBC ($14.8 billion), and China Construction Bank ($13.5 billion). What can we say? Oil is the gift that keeps on giving. 💸
🎧 The Hollywood Writers' Strike is coming for your favourite shows. Also in today's edition: Here's why Pakistan is in the middle of political unrest. Listen to The Signal Daily on Spotify, Apple Podcasts, Amazon Music, Google Podcasts, or wherever you get your podcasts.
The Signal is now on Telegram! We've launched a group — The Signal Forum — where we share what we're reading and listening through the day. Join us to be a part of the conversation!
Today's edition also features pieces by Jaideep Vaidya, Rajneil Kamath, Srijonee Bhattacharjee, and Julie Koshy Sam.
If you enjoy reading us, why not give us a follow at @thesignaldotco on Twitter and Instagram.
The Market Signal*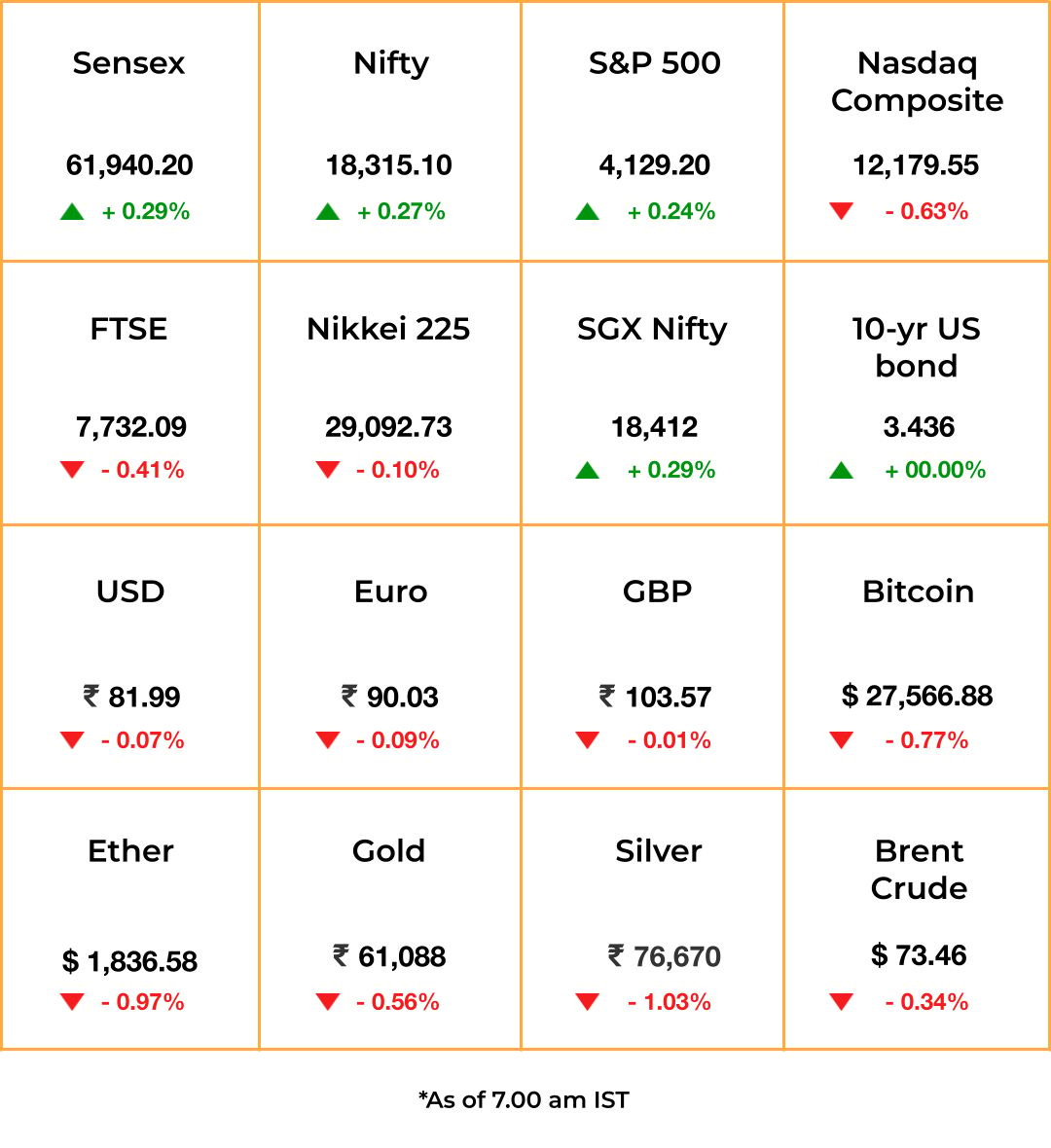 Stocks & economy: Indian equities may rise on a positive handover from global stocks today.
In the US, moderation in retail inflation, evoked hope that the Fed's hike last week may be the last in this cycle, pushing equities and bond prices higher. Of course, this may just be a blip, and for confirmation other price and wage statistics will be scanned. The May inflation print will be in before the June policy outcome.
Meanwhile, there was little progress on raising the US federal debt ceiling even as President Biden warned that the world will be in trouble if it defaults.
Back at home, a sharp drop in inflation in April may stay the RBI's hand on further hikes. Investors may not share the cheer if inflation in China, due later today, drops similarly. The Bank of England may raise rates later today as the economy grapples with unabated price rise.
CONGLOMERATE
All In The Family
Adani Enterprises had given away half of a major Australian railroad it was building to a mystery buyer. That buyer, it turns out, is none other than the Adani family, the company told The Morning Context. The Carmichael Rail and Port Singapore Holdings, an "Adani promoter entity", holds a convertible note that effectively grants it 50% ownership of the asset on a mere five days' notice.
What this means: Half of the railway project currently owned by all shareholders of Adani Enterprises will belong exclusively to the promoter family. Adani Enterprises says the arrangement was disclosed in its annual reports. A fig leaf rather than an intent of transparency, we say.
Secret report: Meanwhile, an expert panel set up to probe allegations made by US short-seller Hindenburg Research against the Adani Group has submitted its report in a sealed cover.
THE IMPRESSION
Entertain Me, But For Free

There is both good and bad news for India's media and entertainment industry. The good: Indians want entertainment. The bad: they're not going to pay (much) for it. Execs at a recent industry confidence concluded growth at scale will come mostly from ad money.
How will this change the contours of this industry? Find out in this week's edition of The Impression.
TECHNOLOGY
Google Strikes Back
As expected, dominant search company Google used its I/O keynote to showcase integration of artificial intelligence into a bunch of its apps and services. Caution be damned.
Bard gets better: For starters, Bard will help answer search queries in more than 180 countries, and soon, in 40 languages, including Hindi. It has also become more visual in its responses and prompts and allows exports to Gmail and Docs.
Workspace Goes Duet: Google also previewed Duet AI for Workspace, an AI companion that helps draft emails, get quick summaries, write out documents and auto creates sheets and slides. Looking at you, Microsoft 365 Copilot.
Icing On The Cake: While Bard takes on Microsoft's ChatGPT, Google is also challenging Apple and Samsung with the Pixel Fold, the Pixel Tablet and the Pixel 7A.
What else?: A lot of AI stuff that you can try out here.
AVIATION
Go First Gets Time-Out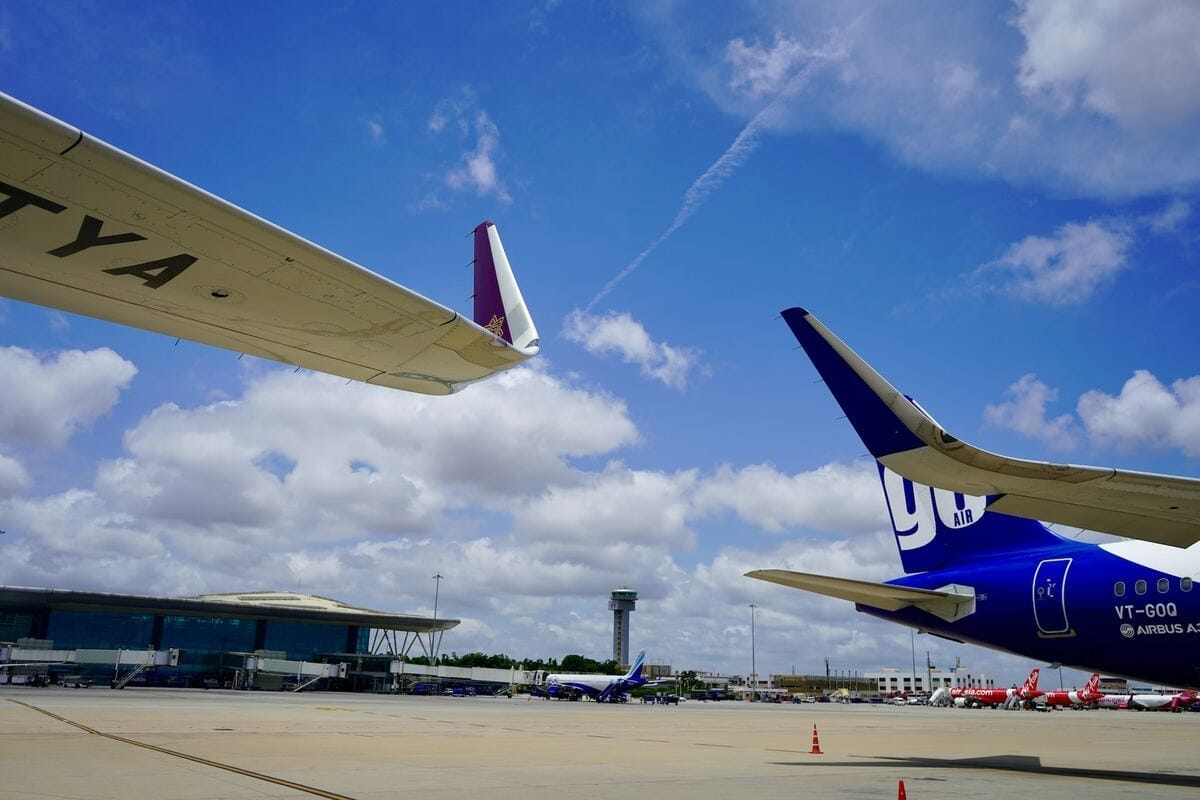 Photo by Praveen Thirumurugan on Unsplash
India's insolvency court has granted beleaguered airline Go First protection from its lenders. The National Company Law Tribunal (NCLT) has admitted Go First's petition for insolvency, and there's a moratorium on its assets. That will upset the plans of rivals IndiGo and Tata, who were planning to lap up Go First's fleet once lenders got the go-ahead to sell them.
Keep it together: The NCLT has also appointed an interim resolution professional (IRP) to make sure it doesn't go under. The IRP has been tasked with ensuring the airline operates smoothly and doesn't lay anyone off. The airline hasn't been flying since May 3, and despite paying salaries erratically, it has been asking employees who want to leave to serve their entire notice period of three-to-six months. CEO Kaushik Khan* has been saying the company isn't bankrupt but planning a revival, according to the Economic Times.
The Signal
Go First has temporary reprieve, but it must sort out a mountain of pending issues before it can revive the airline. Apart from lenders, it has customers and travel agents claiming refunds on their cancelled bookings, which could be worth up to ₹900 crore (~$109 million). It also has an upcoming legal battle with engine maker Pratt & Whitney (P&W). A Singapore arbitration court ruled that P&W must provide engines with no delay to Go First, and the airline has moved a US court to enforce this order. But P&W could oppose the move.
NEIGHBOURHOOD
Imran's Field Restricted For Army Power Play
Pakistan descended into chaos and widespread mob violence after the arrest of former prime minister Imran Khan, which was said to be engineered by the military. He has alleged that a senior army officer was plotting to kill him. Khan is the seventh Pakistan PM to be arrested.
A court indicted Khan for stealing gifts from the official repository, while another remanded him to eight days of custody with corruption watchdog National Accountability Bureau (NAB). The NAB has arrested him in what is known as the Al Qadir Trust case, where he and his wife allegedly helped regularise money-laundering transactions of a real-estate firm for money and land.
Default risk: The Pakistan rupee fell, and its forex reserves are barely enough to pay for a month's imports. It will likely default on loan repayments if a $6.5 billion International Monetary Fund rescue package doesn't come through by June.
SEMICONDUCTORS
Let The Chips Fall Where They May
India is relaxing the process to access $10 billion in incentives promised to anyone setting up semiconductor fabs in the country as it races to ensure chip availability in anticipation of a consumption boom.
Starting trouble: If other companies jump in to corner the cash incentive, it could spoil billionaire Anil Agarwal's plans to build a $19 billion semiconductor unit with iPhone maker Foxconn, which is inexperienced in chip making. The metals and mining tycoon's conglomerate is struggling under massive debt; and Sterlite Copper, its cash cow, is shut because of environmental concerns. Agarwal will have to rush to tie up fab technology and financing, a precondition to qualify for government funds.
The success of India's efforts to rival China as a reliable manufacturing destination hinges on its ability to get projects off the ground quickly.
FYI
Et tu?: US fund giant Vanguard Group has slashed Ola's valuation for the third time—by around 35% to $4.8 billion. The cab aggregator is looking to launch its IPO next year.
Homecoming: A day after Razorpay announced its decision to move to India from the US, Entrackr reported that fintech unicorn Groww could also follow suit.
Make it here: US technology major Cisco will manufacture its networking products in India in an effort to expand its global supply chain.
New sheriff in town: Pidilite Industries, makers of Fevicol, have announced an entry into the paints business.
But naturally: Italian carmaker Ferrari has declared that it will never make a self-driving car. "We don't care," says CEO Benedetto Vigna.
Call of AI: Billionaire investor Masayoshi Son's SoftBank has set up a unit to build a Japanese competitor to OpenAI's ChatGPT.
Fall: Disney+ Hotstar lost 4.6 million subscribers between January-March 2023, making it the second straight quarterly drop.
THE DAILY DIGIT
$220 billion
The amount Americans have spent on sports betting after it was legalised five years ago. (AP News)
FWIW
Unhinged: The devil works hard, but Swifties works harder. It all started with an internet conspiracy story that popstar Taylor Swift had penned a memoir. So, fans swiftly preordered the untitled non-fiction book 4C Untitled Flatiron Nonfiction Summer 2023, believing the singer is the mystery author. As a result, the title is hovering in the top 10 on book sales charts. Swift has been known to drop Easter eggs in her lyrics, and her fans love them. We diagnose this as a severe case of jumping to conclusions. 🕵🏻
Get those ZZZzs: Economy passengers on Air New Zealand's long-haul flights will soon be able to rent bunk beds—for up to four hours. Called SkyNest, these bunks come with pillows, sheets, a blanket, a reading light, and a USB outlet to charge personal devices. They will be available on the Auckland-Chicago and Auckland-New York routes, which total about 15 hours of flying time. Renting a bed will cost $64-$95 per hour. Who said a good nap comes cheap?
Cashing in: Spike Jonze's Her pretty much saw this coming. Snapchat influencer Caryn Marjorie, 23, has more than 1,000 boyfriends. Marjorie created her AI doppelganger using OpenAI tech, which doubles up as a virtual girlfriend. Developers used 2,000 hours of Marjorie's now-deleted YouTube content to work on the bot's speech. So far, it's been a success. Priced at $1 per minute, the bot has managed to collect more than $70,000 in revenue.
*Our aviation story in today's newsletter titled 'The Adani 'family' Enterprises' addressed GoAir CEO Kaushik Khona as Kaushik Khan. The error is regretted.