Discover more from The Signal
The Signal is a daily curated newsletter that helps you understand the latest developments in business, tech, finance, economy, and policy with sharp analysis and crisp insights thats fun to read arriving at 8AM daily in your inbox.
Over 81,000 subscribers
The paying few are fewer now
Also in today's edition: Auditor stings Adani; Bill rain in stormy monsoon session; Startups are returning VC money; Strike = profits for Hollywood studios
Good morning! Don't rule out the possibility of an AI chatbot taking down your next drive-through order. According to Axios, the humble drive-through at fast-food outlets in the United States has been receiving a makeover of sorts. Of course, AI is involved: automated ordering shrinks costs and raises profits. Wendy's partnered with Google to launch an AI-powered chatbot; Chick-fil-A is working on a four-lane elevated drive-through (!); and Taco Bell is letting go of its indoor dining area to accommodate parking for mobile and delivery orders. What we do know is this: AI and drive-throughs could make a bad combo for gig workers. If it's some solace, McDonald's drive-through AI experiment was a failure through and through.
The Signal is now on Telegram! We've launched a group — The Signal Forum — where we share what we're reading and listening through the day. Join us to be a part of the conversation!
🎧 Indian CEOs are taking to pickleball. Also in today's episode: record labels are suing the Internet Archive. Find out why. Listen to The Signal Daily on Spotify, Apple Podcasts, Amazon Music, Google Podcasts, or wherever you get your podcasts.
Today's edition also features pieces by Srijonee Bhattacharjee, Jaideep Vaidya and Julie Koshy Sam.
If you enjoy reading us, why not give us a follow at @thesignaldotco on Twitter Instagram and Threads.
The Market Signal*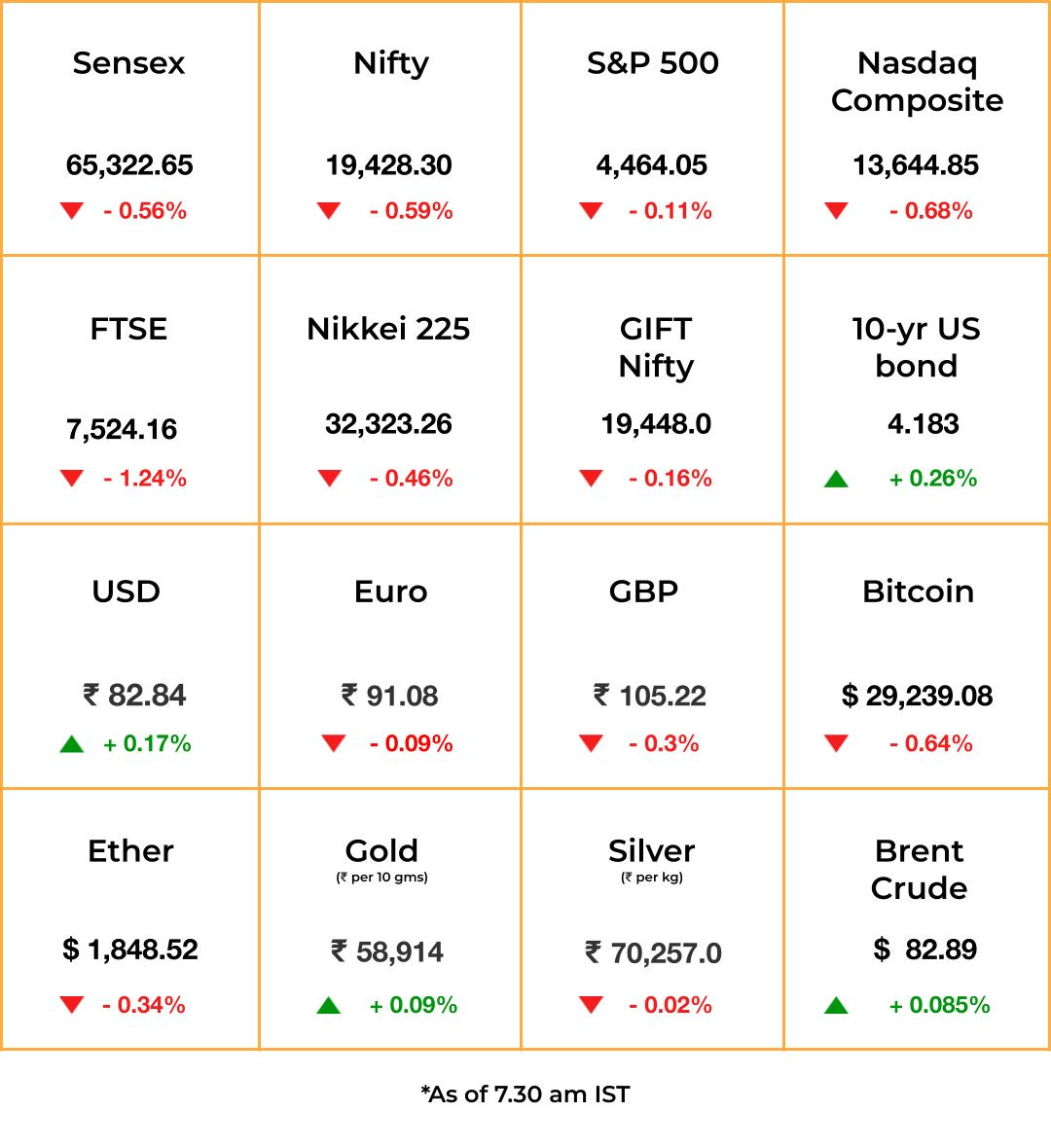 Stocks & economy: More weakness may be in store for Indian equities. Investors may be wary of stocking up as indices slipped below crucial markers last week.
The Nifty Bank may remain under selling pressure. The RBI-mandated increase in cash reserves would weigh on their lending business.
Traders would tread cautiously with the July inflation data due later today. Markets are closed on Tuesday for Independence Day.
Asian shares, tracking US benchmarks, struggled in early trade. Investors braced for poor property sector data from China due Tuesday.
In the US, traders took heart as core consumer inflation softened in July. Goldman Sachs forecast rate cuts by the end of June next year. However, some economists worry that the economy may face a "no landing" situation where its resilience may hold up prices and force the Fed's hand on rates.
TAX
Payers Shrink But Filers Rise
Here is a slice of data that points to more wealth concentration in India.
Filers & payers: The number of people filing income tax returns rose to 74 million in FY23, compared with 64.7 million in FY20. But only 30% or 22.3 million of those who filed returns in FY23 actually paid any tax, compared with 35.7 million Indians in 2020. That means the number of income taxpayers who paid any money to the government actually declined by more than 37%.
Buoyant collections: Direct tax collections in FY23 grew by over 17% to ₹16.61 lakh crore (~$200 billion). They have risen by another 17% this year so far compared with the same period last year.
If fewer people are paying more tax, that can only mean that more people have seen income erosion, and the fruits of economic growth are going to a select few.
CORPORATE GOVERNANCE
No Port Of Refuge
The Adani Group just can't seem to shake off the bad vibes.
Markets regulator Sebi, which is investigating US-based short-seller Hindenburg Research's allegations of fraud against the group, will submit its report to the Supreme Court today.
Last week, Deloitte Haskins & Sells resigned as Adani Ports' auditor. In May, it had raised concerns over the firm's transactions with three other companies that it could not confirm were unrelated parties. Deloitte wasn't allowed to examine the books of other Adani Group companies. So, it 'qualified' Adani Ports' audit for the May 2023 quarter, meaning the auditor added a note saying the financial statements aren't completely transparent and compliant with the law.
Adani Ports has appointed a new auditor. But it said Deloitte's reasons to resign "were not convincing" and added it didn't have the authority to give group-level work to its auditors.
LEGISLATION
High On Decibel, Low On Debate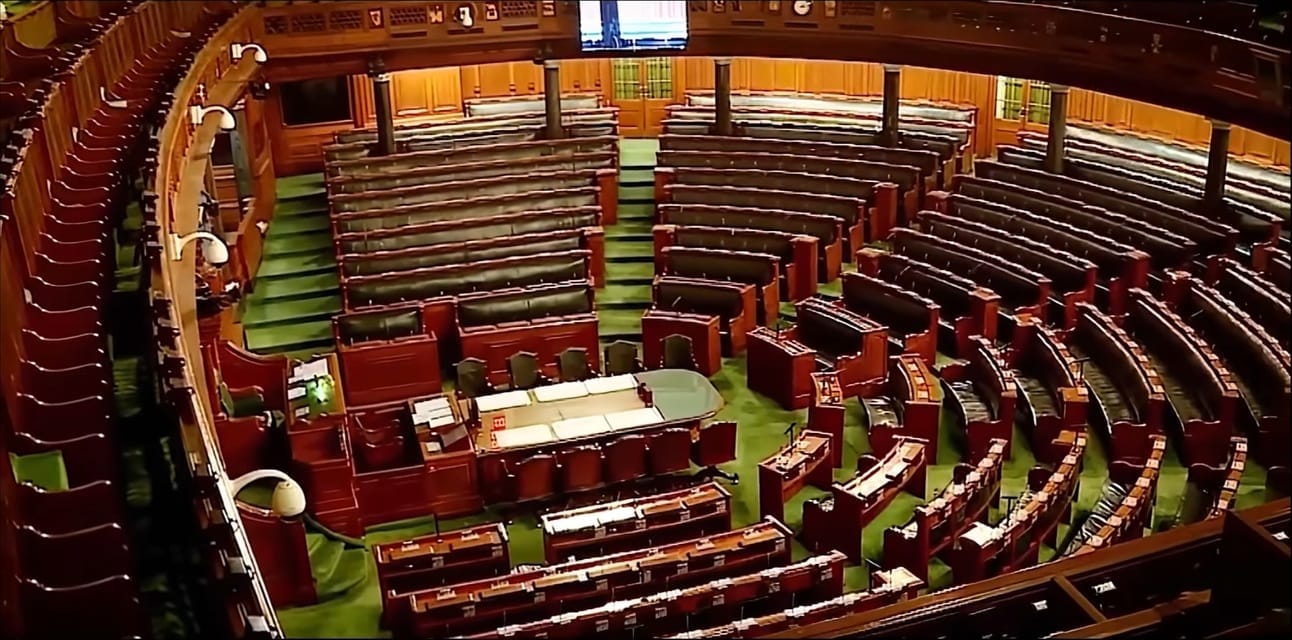 Narendra Modi, CC BY 3.0, via Wikimedia Commons
The monsoon political storm that lasted a little over three weeks in Parliament has ended, spreading the seeds to germinate many more storms in the coming weeks and months as multiple state and national elections draw closer.
Legislation: The Parliament passed 23 bills in this session. A total of 37 bills were pending before the session, and 25 more were introduced during it.
Among those passed was the Digital Personal Data Protection Bill, 2023, which has been in the making since 2016 when the Supreme Court declared privacy a fundamental right.
Politically, the most contentious one was legislation establishing the National Capital Civil Services Authority, a bureaucrats' setup that will lord over appointments and transfers in Delhi.
The Signal
The din was high and debate was thin in the monsoon session of the Parliament, which ended Friday with just 43% productive hours. Some bills were passed with less than two minutes of debate. Productivity has progressively declined in the 17th Lok Sabha: from more than 100% in the first four sessions to less than half now, and the ruling dispensation and opposition have drifted further apart. Some of the laws, such as the Delhi Services Bill, will intensify confrontation between the Delhi state and the Centre. The new codes that propose to replace the British-era criminal law and juridical framework have been referred to a Parliamentary panel. Their intent and purpose will likely be hotly debated outside Parliament in the coming days.
STARTUPS
The Tap Is Almost Dry
The end of the 2021 venture-capital boom has now begun claiming victims. Startups in the US have started shutting down, with investors not biting unless they see clear signs of revenue growth or a path to profitability, reports The Wall Street Journal.
VCs started closing the funding tap early last year, which means startups that last raised money in 2021 are now either winding down, conducting fire sales or sharply tweaking their business strategy to survive. Investment in US tech startups declined 49% in the year ended June 2023.
Back home: In India, more than a dozen startups, including FrontRow, Pillow, SuperShare, and Wakao, are voluntarily returning unused capital to investors while shutting shop, reports The Arc. While VCs prefer a sale rather than an early write-off, startups aren't finding any buyers for distressed assets.
ENTERTAINMENT
Hollywood Strikes (Out)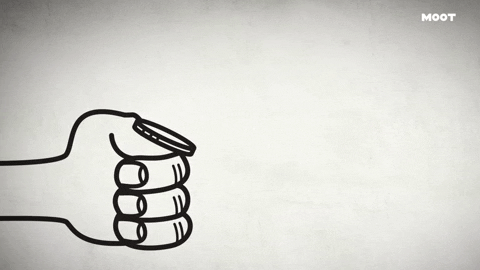 Hollywood's striking actors and writers had promised to bring big studios to their knees. A month in, studios are sitting pretty. No production = no expenses. So, Netflix is expecting $1.5 billion more in free cash flow, while the strikes have saved The Walt Disney Company $3 billion in production costs. Streaming companies are relying on their vast libraries to keep viewers hooked, while TV networks are adding more reruns and reality TV to their programming.
Strike negotiations are going slow. But it's a game of who blinks first; both sides are at long-term risk.
Party's over: Studios are also hiking online subscription prices to stem losses from streaming. Netflix's classic $9.99 plan now costs $15.49, while Disney+ and Hulu will charge more for ad-free streaming. They're also cracking down on password sharing. But to keep viewers paying, they will soon need new (Hollywood) content. That is, when the strike ends.
FYI
See you in…: The Metropolitan Detention Center in New York, where Sam Bankman-Fried, the disgraced former FTX CEO, will be detained after his bail was revoked. Bankman-Fried will face an October trial for a series of charges.
New gig: Anwaar-ul-haq Kakar will be Pakistan's caretaker prime minister after his name was agreed to by outgoing PM Shehbaz Sharif and opposition leader Raja Riaz. Kakar is a first-time senator from Balochistan.
Who moved my 🧀?: Subway India will no longer allow customers to add free cheese slices to their sandwiches. Instead, it will offer a cheese-flavoured sauce to cut costs.
Doubling down: Taiwanese manufacturing giant Foxconn will infuse an additional $400 million into its accessories manufacturing facility in Telangana. It also plans to base its third global EV production hub in India.
It's not over yet: Retail shareholders of failed Swiss bank Credit Suisse are preparing a legal challenge to its takeover by bigger rival UBS.
Take it easy: The Indian Institute of Technology Delhi will drop one set of mid-semester exams to "reduce students' stress," per its director.
Nearing deal: US private equity firm Blackstone will likely buy a 75% stake in Kerala-based Kims Healthcare Management, which runs a chain of four hospitals with 1,378 beds.
THE DAILY DIGIT
78%
Action movies' share in US box office sales. They accounted for less than half the ticket sales in the 1990s. (Axios)
FWIW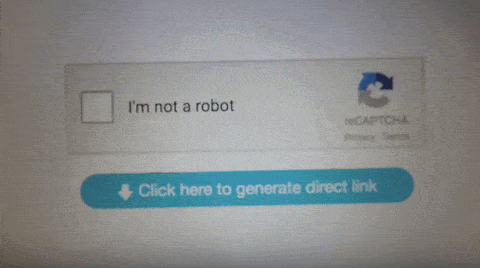 Yes, everybody hates Captchas: The good news: it may be the end of the road for those annoying online CAPTCHA tests. The bad news: bots are beating humans at the game. According to researchers at the University of California, Irvine, bots are good at click-CAPTCHAs, reading distorted text, and even faster than humans at solving problems. The researchers combed through 200 of the world's most popular websites and found that 120 of them employed the tests. Bots completed the tests in less than a second with 99.8% accuracy. Humans took about nine to 15 seconds and achieved an accuracy of only 50% to 84%. R.I.P. CAPTCHA, we guess?
Deus ex machina: In today's edition of Not The Onion, a Los Angeles-based company, Catloaf Software, has launched an app called Text with Jesus. Essentially, it's AI mining the Bible to regurgitate text through ChatGPT. Users can also chat with Jesus' apostles, the prophets, Ruth, Job, Abraham's nephew, Lot, and drumroll Satan himself for a monthly $2.99 subscription. The app's bot treads lightly around politically sensitive issues such as same-sex marriage and feminism. But why tho? 🤦 We, for one, are speechless.
Shifting gears: The pandemic may have turned Friday happy hours into a thing of the past. Now, workers are shaking off the midweek blues (and hangovers) instead. Data from Kastle Systems shows Tuesday through Thursday are the busiest days at the office in the US. Restaurants and bars are keeping up with the change across financial districts. Some are even calling on midweek DJs (Friday, who?), while reinventing drink specials. Trinity Place in New York City introduced happy hours as a weekday special last year. Marcella Alday, Trinity Place's general manager, notes: "At five, it's like a nightclub." 😵‍💫