Discover more from The Signal
The Signal is a daily curated newsletter that helps you understand the latest developments in business, tech, finance, economy, and policy with sharp analysis and crisp insights thats fun to read arriving at 8AM daily in your inbox.
Over 81,000 subscribers
Sony-Zee's merger mystery
Also in today's edition: Privacy has a Spain problem; Glow up for Adani stocks; Picketing the boardroom; We are doomed
Good morning! You may no longer have to perform mental gymnastics to figure out your dress size. Or worse, return those shoes because the size charts on e-commerce platforms were misleading. Per Mint, India may soon get its own sizing chart for clothes and shoes. The project to finalise an Indian size chart will include computerised measurements of 25,000 Indians aged between 15 and 65. Currently, brands rely on US, UK, or Euro measurements. Chandrima Chatterjee, secretary general of the Confederation of Indian Textile Industry, said it best: "...the country with the largest population deserves its own size chart." About damn time!
🎧 Surprise, surprise. The fake picture of an explosion at the Pentagon was AI-generated. Also in today's edition: India has tweaked its policy on cough syrup exports. Listen to The Signal Daily on Spotify, Apple Podcasts, Amazon Music, Google Podcasts, or wherever you get your podcasts.
The Signal is now on Telegram! We've launched a group — The Signal Forum — where we share what we're reading and listening through the day. Join us to be a part of the conversation!
Today's edition also features pieces by Soumya Gupta, Srijonee Bhattacharjee, and Julie Koshy Sam.
If you enjoy reading us, why not give us a follow at @thesignaldotco on Twitter and Instagram.
The Market Signal*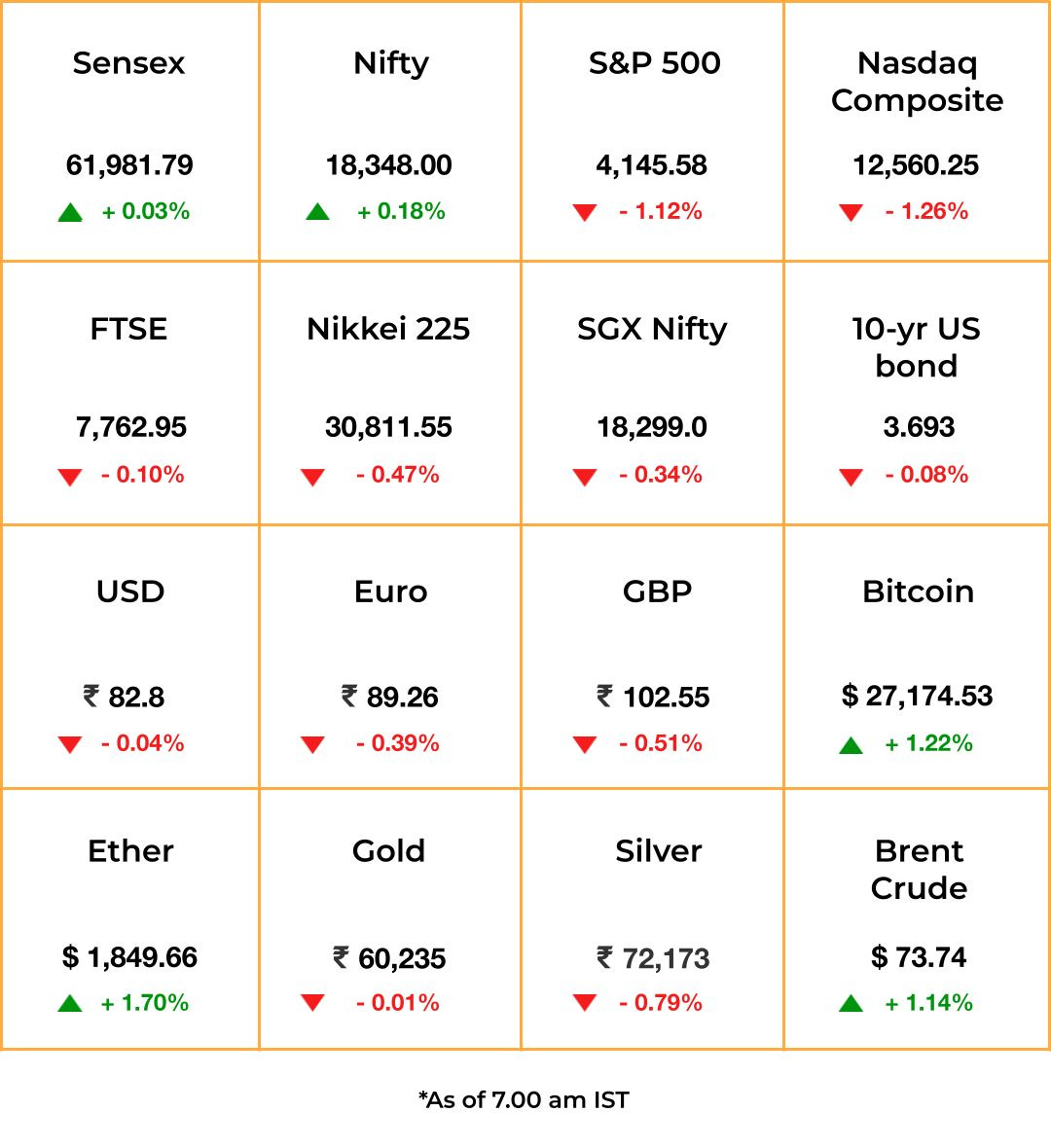 Stocks & economy: With US lawmakers out of Washington for the long Memorial Day weekend, investors are staring at a nail-biting vote down to the wire. Republicans have now begun questioning Treasury Secretary Yellen's June 1 deadline.
Investors are unwilling to hold government debt maturing in early June and analysts advise raising gold and cash holdings instead of equities.
Meanwhile, Fed researchers have found a way to measure investor confidence from Twitter statements to guide monetary policy.
India has received the highest foreign fund flows among Asian peers, other than Japan. That is reflected in the near-$11 billion surge in forex reserves in the first two weeks of May. That's not helped the rupee though, which remains weak.
Indian equities may fall as investors are losing risk appetite awaiting a thaw in the US debt ceiling impasse. Indices may trim May gains as traders look to sell at high prices.
ENTERTAINMENT
Party Pooped?
It's like one of those weddings where things keep falling apart until D-Day. The Sony-Zee merger, already delayed, may have hit another snag. India's insolvency court has asked stock exchanges to reconsider their merger approvals.
Theft: Last month, markets regulator Sebi passed an order against some listed Zee group companies for misleading investors and siphoning hundreds of crores of rupees owed to creditors (pdf). Zee Entertainment CEO Punit Goenka is a shareholder in some of these firms. Sebi had asked the NSE to place this order before the National Company Law Tribunal.
Tired: Sony and Zee have been defending the merger for a while. Last year, they agreed to sell three TV channels to get the competition regulator's approval. IDBI Bank also tried to start insolvency proceedings against Zee Entertainment to recover ₹149 crore (~18 million), before the NCLT dismissed the plea.
REGULATION
Encryption Is Up Against The Spanish Armada
Once upon a time, Spain deployed its navy to overthrow Elizabeth I of England and Ireland. It lost. Fast forward 435 years, and it's unleashing another attack. This time, Spain has a friend in its former rival.
What's this about?: The European Union's (EU's) proposed laws against child sexual abuse material (CSAM), similar to the UK's controversial Online Safety Bill. Countries want to empower authorities to scan end-to-end encrypted messages on apps like Signal and Whatsapp to crack down on CSAM. According to documents accessed by WIRED, Spain wants encryption gone altogether.
That said, EU countries aren't on the same page.
In favour of accessing encrypted messages: Hungary, Croatia, and 12 others.
Against: Germany, Italy, Finland, Estonia, The Netherlands.
Why this matters: The EU sets the tone for tech regulation (see: its move to regulate crypto). Also, diluting encryption is at odds with its own General Data Protection Regulation, which upholds privacy.
THE PLAYBOOK
India Slowly Becoming World's Sports Shoe Factory
India's ~₹60,000 crore ($7.2 billion) non-leather footwear industry is at a crossroads. There's a lot of activity—in recent months, the top manufacturing partners of global sports footwear brands such as Nike, Adidas, PUMA, and Reebok are setting up units in India. The country has never really been known as a hub for making non-leather or sports footwear. Why, then, are all these suppliers of the world's top sportswear brands coming to India? That's what Jaideep Vaidya explores in this week's edition of The Playbook, our weekly newsletter on the business of sports and gaming. You can read it here and subscribe to The Playbook for free below.
The Playbook
A weekly newsletter that deconstructs the business of sports and gaming.
CONGLOMERATE
Adani Champion Raises Bet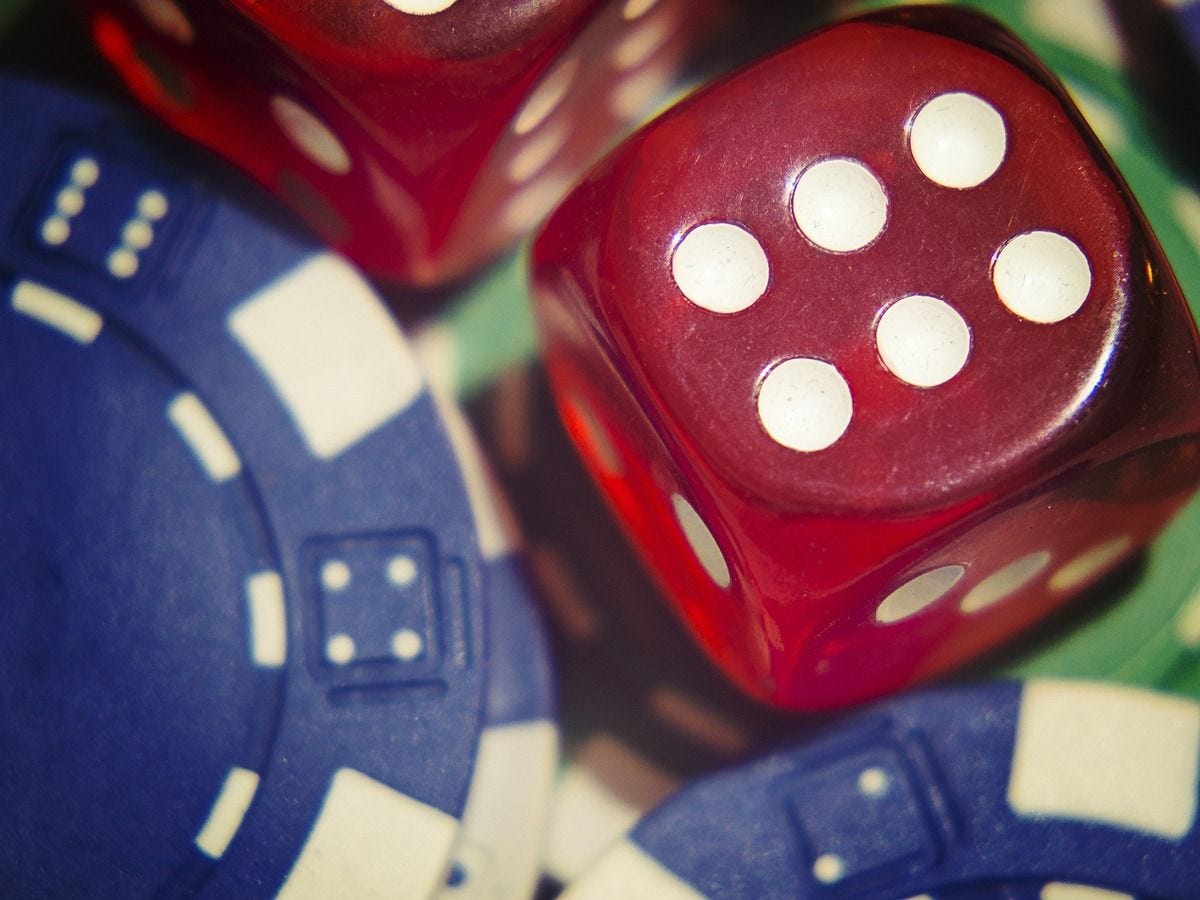 Rajiv Jain's GQG Partners, the $90 billion Florida fund famous for favouring high-return sinful businesses such as tobacco and oil, is doubling down on the Adani Group.
GQG invested ~$1.9 billion in four Adani companies weeks after the group was hit by a short-seller barrage wiping out over $150 billion in market value. It has now raised that stake by another 10%.
Kumar Shankar Roy 🇮🇳

@kumarsroy
How Rajiv Jain of @GQGPartners made over $1 bn profit in #Adani#AGLcks. On Mar 2, at the height of Adani- #Hindenburg saga, Jain-led GQG pumped Rs 15,446 cr in #AEL#APSEZ#ATL & #AGL#AGLcks. Based on latest CMP, that investment is worth Rs 24,617 cr!!! @gau@gautam_adania@AdaniOnlinep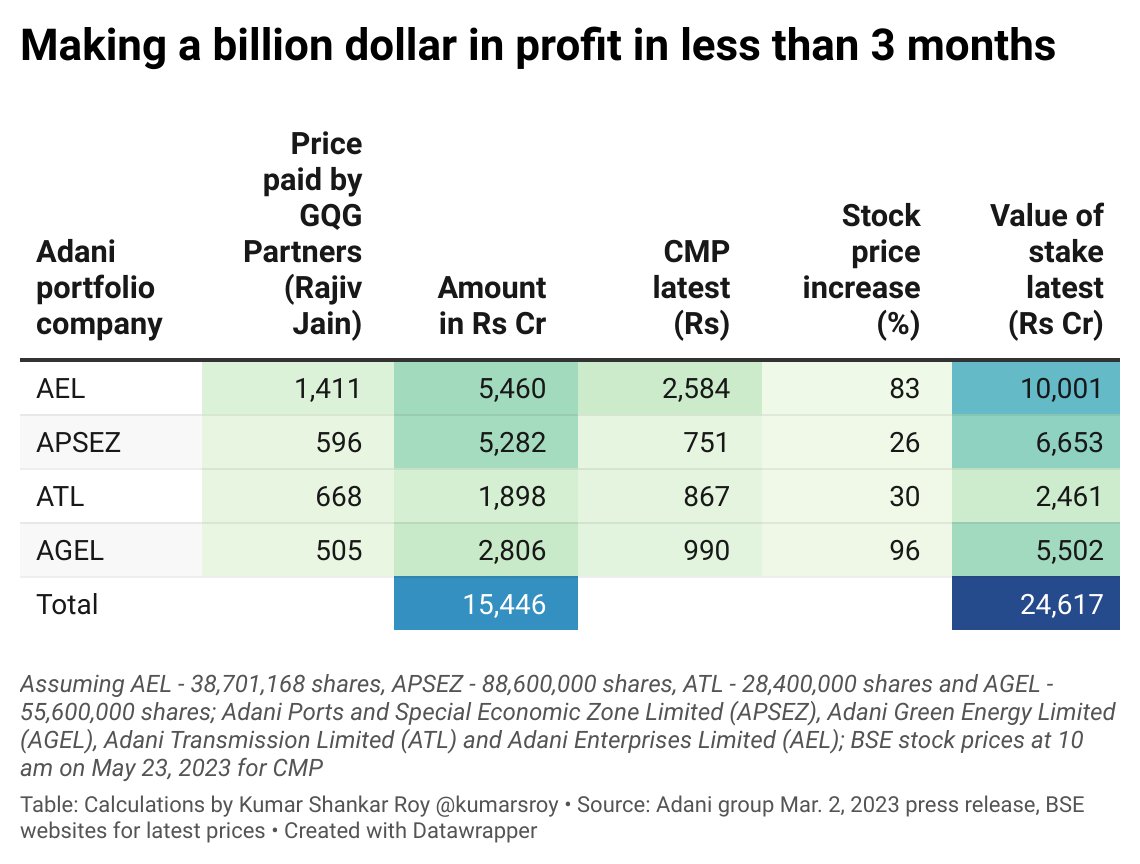 May 23, 2023
19 Likes   8 Retweets   1 Replies
Short-seller Hindenburg Research's 106-page report alleging stock manipulation had landed like a cluster bomb in January, forcing Adani to cancel a $2.5 billion share sale of its flagship Adani Enterprises Ltd (AEL), shrink capital expenditure, and prepay share-backed loans. The report triggered regulatory probes, including an assessment by a Supreme Court panel. The panel on Monday seemingly absolved the group of wrongdoing.
The Signal
Jain, Adani's champion in distress, expects his investment to double in five years. It's already up by $1 billion, valuing GQG's Adani holding at $3.5 billion. Jain is bullish on the group's businesses, especially coal, airports, and data centres, which are emerging as an asset class by themselves. Incubated in AEL, which is already trading at over 100 times earnings, they are expected to unlock value when spun off in a few years.
Adani Group stocks jumped on the "clean chit", although other investigations are pending. Those will also keep investors such as mutual funds away. Except for Adani Total Gas, group stocks recouped most of the losses since January.
COMPANIES
Culture Wars Unsettle US Boardrooms
Environmental, social, and governance (ESG) issues have long permeated annual meetings. But so far this year, shareholders of US companies have drafted a record 682 proposals questioning their stances on abortion rights, gun laws, and diversity.
Mastercard is facing pressure to track gun shop transactions after it, and rival Visa, leaned conservative on the matter. Google parent Alphabet and American Express were pushed to report on the risks of cooperating with states on abortion restrictions.
Right-leaning shareholders (and fund managers like Vivek Ramaswamy), who want companies to focus on the business of doing business, are resisting ESG proposals. They're succeeding: so far, only 12% of activist proposals targeting blue-chip companies won majority support. On a tangent, Bud Light sales are crashing following its transgender influencer-driven campaign.
But: The conservative skew may not be as pronounced if the US-dictated IPEF trade pact becomes a reality and enterprise-level investigations on fair practices become the norm.
ARTIFICIAL INTELLIGENCE
The Perfect Storm
Now that we know the "explosion" at the Pentagon—the headquarters of the US Department of Defense—was fake, let's talk about where the world is headed.
Blue badge bs: The "Pentagon blast" image was likely AI-generated. Few news outlets, such as Russia Today and India's Zee News, Times Now Navbharat, Republic, etc., shared it. But it spread because Twitter now prioritises paid verification over real ID verification. The result: Bloomberg had to clarify that it's not affiliated with 'Walter Bloomberg' or 'Bloomberg Feed', which repeated the misinformation.
Charlotte Clymer 🇺🇦

@cmclymer
You know who wouldn't have shared that AI-generated image of the Pentagon being attacked without verifying it first?
NPR.
May 22, 2023
14.5K Likes   1.2K Retweets   263 Replies
Moving markets: The US' S&P 500 index dropped 0.3% after traders shared the fakery. As an analyst cautions, jittery markets that react to headlines within seconds are vulnerable to AI-induced havoc. Eagle-eyed, crowdsourced fact-checking on social media won't be enough.
Aside: India is working on releasing its AI framework in two weeks.
FYI
Coming soon: The Indian government will share the draft of the long-awaited Digital India Bill for public consultation next week. The bill aims to replace the Information Technology Act, 2000.
Ka-ching: Ola Electric, the electric scooter manufacturing arm of Ola Cabs, has reportedly closed a $300 million raise that values the company at $6 billion.
New home: Stock photos service Shutterstock will acquire the gif platform Giphy from Meta for $53 million in cash.
G'day mate: During his trip Down Under, Prime Minister Narendra Modi announced the opening of a new Indian consulate in Brisbane, a key demand from the local diaspora in the country.
Me too: Google Pay has joined payment rivals Paytm and PhonePe in enabling Rupay credit card payments on its app.
AI, AI, AI: IT majors Infosys and Tata Consultancy Services have launched generative AI solutions. Adobe will bring generative AI to its popular photo-editing software, Photoshop.
Cloudy: Grounded airline GoFirst has told aviation regulator Directorate General of Civil Aviation that it intends to fly again but doesn't know when.
THE DAILY DIGIT
65 million
The estimated number of peak weekly Covid-19 cases in China by the end of June 2023. The resurgence is due to the XBB variant. (Bloomberg)
FWIW
Trash begone: Tokyo's eco-warriors have turned garbage collecting into a fun chore. Part of a four-member group called Gomi Hiroi Samurai (Samurai Who Pick Up Litter), these professional actors masquerade as, well, trash samurai to fight literal rubbish. And they have replaced the traditional samurai sword, the katana, with long tongs to scoop up trash. TikTokers have had front-row seats to the show since 2009. However, their core audience remains locals who are battling a loneliness crisis. Good intentions through and through.
Bloodcurdling: What was a plot in the show Silicon Valley has become a reality. Tech entrepreneur and biohacker Bryan Johnson has injected himself with the blood of his teenage son. He also gave away some of his blood to his dad as part of this vampire ritual blood swap. Previously, Johnson received a blood transfusion from an anonymous donor, whom he had chosen based on body mass index, blood type, diet, and overall health. Did we mention that Johnson spends $2 million a year to look 18 again, and that his diet mainly consists of lentil and broccoli slurry? Trust tech bros to give you the ick.
Speaking of icks..: Racing bibs—those large pieces of paper pinned to runners' shirts to track and identify them—have become a sore point. But organisers aren't budging, because the bibs are prime real estate for sponsorships. Most races also require precision trackers to be placed on these paper bibs. Runners are asking why the things can't be made smaller or why trackers can't be secured elsewhere on the body. We're with them, tbh.