Discover more from The Signal
The Signal is a daily curated newsletter that helps you understand the latest developments in business, tech, finance, economy, and policy with sharp analysis and crisp insights thats fun to read arriving at 8AM daily in your inbox.
Over 81,000 subscribers
Ambani's loss, Adani's gain
Also in today's edition: What's cookin' in govt books?; A costly diplomatic row; Star-crossed insurance claims; WhatsApp means business
Good morning! In a Welcome move for Anil Kapoor, the Delhi High Court has granted personality rights to the actor. In his plea, the Nayak had sought to restrain various entities from profiting off of his personality using artificial intelligence, deep fakes, GIFs, etc. The move comes at a time when the Race for AI tech has thrown up instances of misuse. How or to what extent will this prevent Loafers from acting up? Only time will tell.
The Signal is now on Telegram! We've launched a group — The Signal Forum — where we share what we're reading and listening through the day. Join us to be a part of the conversation!
🎧 Are sleep-tracking apps effective? Also in today's episode: are we any closer to producing designer babies with edited genes? Listen to The Signal Daily on Spotify, Apple Podcasts, Amazon Music, Google Podcasts, or wherever you get your podcasts.
Today's edition also features pieces by Roshni P. Nair, Soumya Gupta, Julie Koshy Sam, and Jaideep Vaidya.
If you enjoy reading us, why not give us a follow at @thesignaldotco on Twitter Instagram and Threads.
The Market Signal*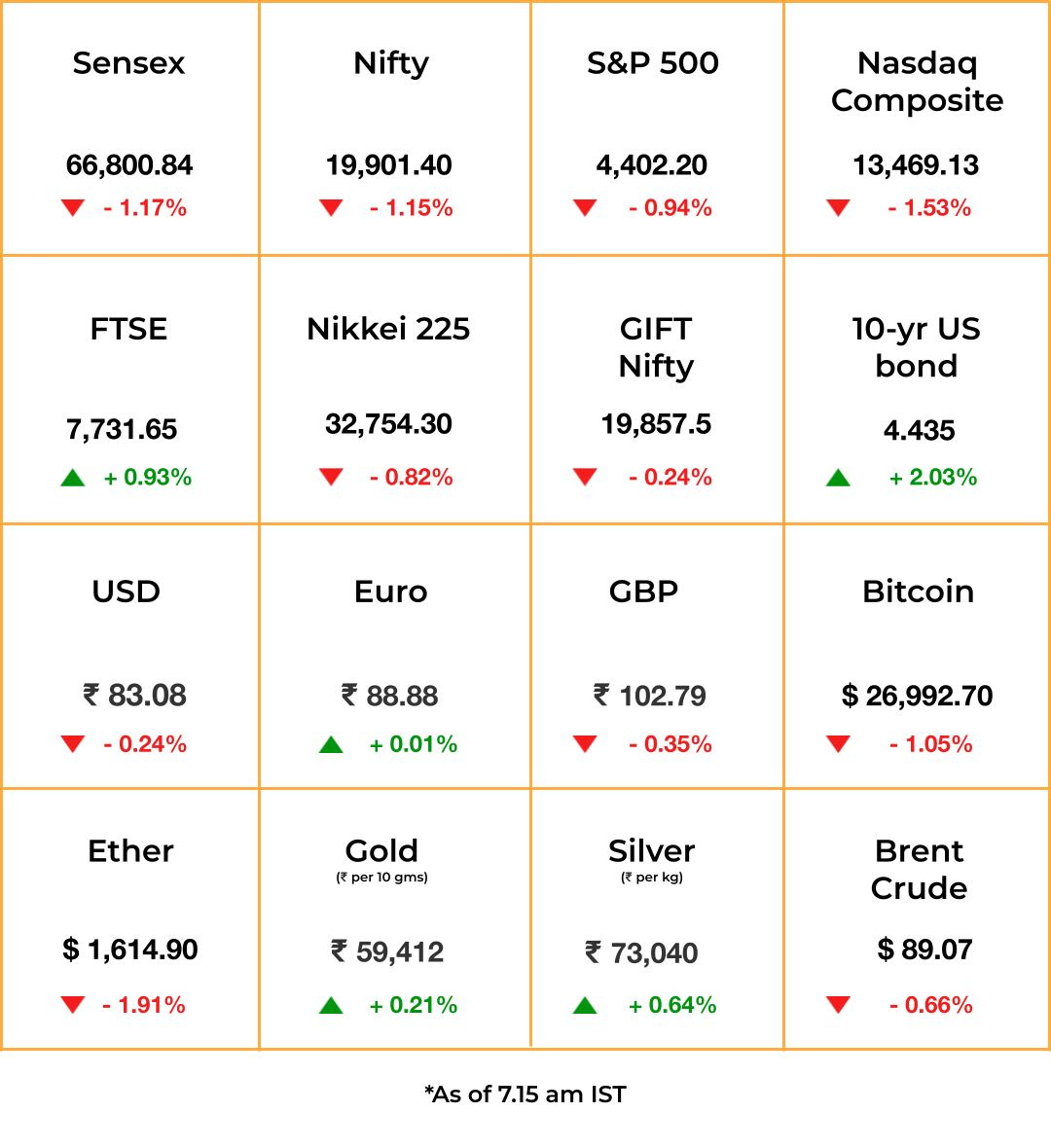 Stocks & Economy: Indian benchmark indices plunged more than 1% on Wednesday as investors turned wary of sky high valuations even as they awaited the US Federal Reserve's rate decision. The mood was the same in other Asian markets too and continues to be downbeat Thursday morning as well.
The fears appeared to be justified as the Fed indicated that it is leaning towards raising rates again this year although not this week. There is some scepticism about how convincing the central bank is even though it says its hand may be forced by US consumers whose shopping carts are as full as ever.
The India-Canada diplomatic row will likely weigh on investors' minds. Canada's largest pension fund has $21 billion invested in India, per Bloomberg. Morning GIFT Nifty trade suggested a weak opening for Indian stocks.
ECONOMY
Too Many Cooks Spoil The Books
Who owns the majority stock of IDBI? The Indian government claimed in 2021-22 that it held a 52% stake in the bank, while IDBI recorded it at only 45%.
It is among the scores of discrepancies caught by the national auditor. Trillions of rupees were unaccounted for, ownership in public-sector companies was overstated, and funds from specific levies were diverted, per the Comptroller and Auditor General.
To be sure, in 2018, the government transferred a ~7% stake in IDBI to LIC—then fully government-owned—to make the ownership structure more palatable to prospective investors. Yet, it showed the casual approach to accounting.
Fun with numbers: India's external debt was also undervalued by ₹2.19 lakh crore (~$26 billion), meaning the fiscal deficit could be higher than what's reported. In 2019, the auditor had flagged to the 15th Finance Commission that India's debt and fiscal deficit were underreported.
GEOPOLITICS
India Turns Up The Heat Against Frosty Canada
The bitter diplomatic row between the two could do with a drizzle of maple syrup, but that's a no-go after the Centre's advisory for Indian nationals and students:
Arindam Bagchi

@MEAIndia
Advisory for Indian Nationals and Indian Students in Canada:
bit.ly/3PMkMn4jtwitter.com/i/web/status/1…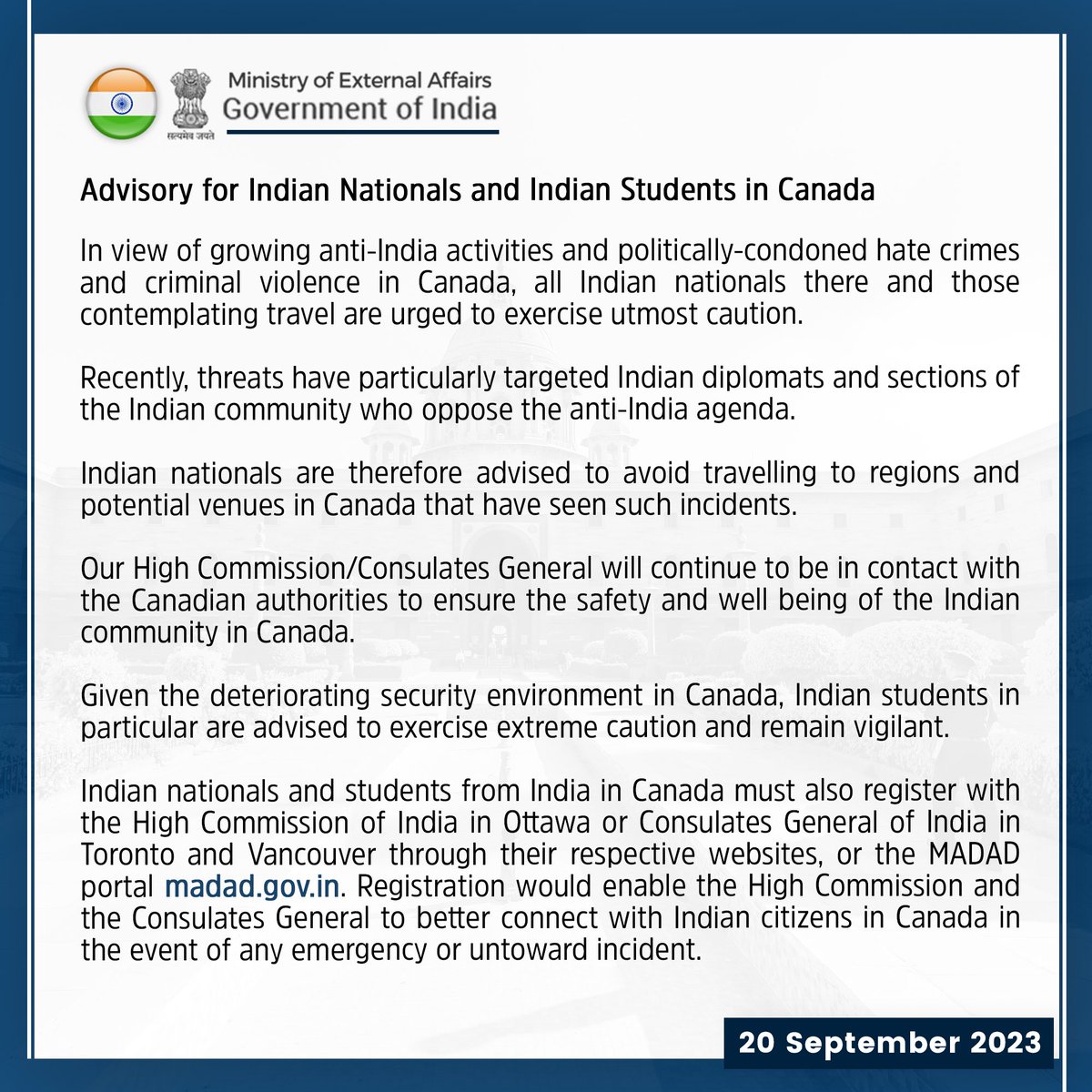 Sep 20, 2023
37.1K Likes   10.9K Retweets   1.2K Replies
After India and Canada expelled each other's diplomats—following Canadian PM Justin Trudeau's allegations that India was involved in the murder of Khalistani activist Hardeep Singh Nijjar—concerns abound over visa approvals. Canada is the second-most popular international destination for Indian students and immigrants.
Investment and trade: Canada's largest public pension funds, which collectively manage over US$893 billion, recently opened offices in India. The two countries have had a blow-cold, blow-hot equation since the 1985 Kanishka bombing, but investments had risen to ~US$27 billion in 2022. Free-trade talks are now on hold.
Indians may have to eat more Australian masoor dal instead of the Canadian pulse.
ENERGY
Conglomerate See-saw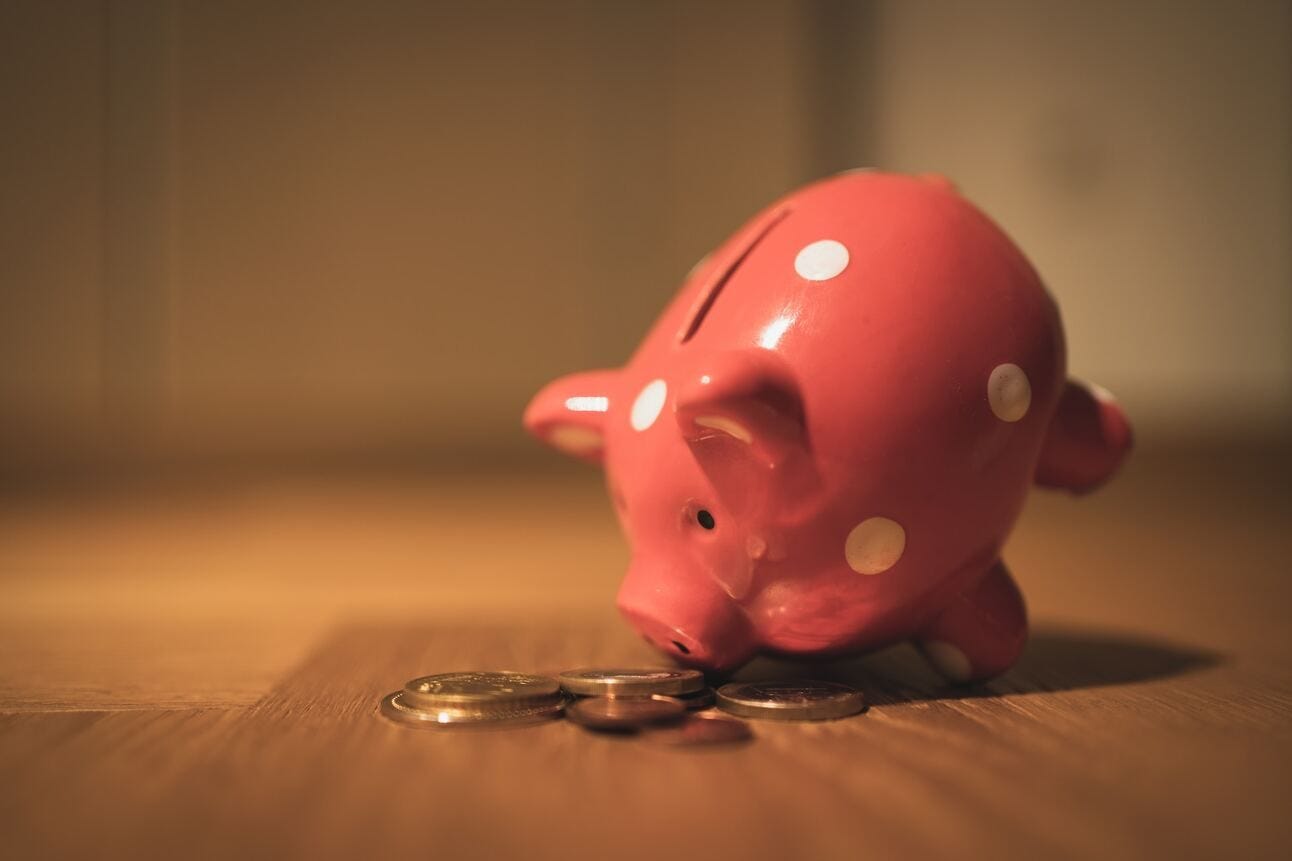 Photo by Andre Taissin on Unsplash
French energy multinational Total has clearly put the Hindenburg shock behind it. TotalEnergies will invest $300 million in a renewable energy joint venture with the Adani Group.
BFD: The two groups will each own half of the new company, which will have a mix of solar and wind energy projects and eventually produce 1GW of renewable energy.
Total had put on hold its $4 billion green hydrogen project with Adani after US short-seller Hindenburg Research slammed the Indian conglomerate with an explosive report, which called it the "largest corporate con".
Meanwhile, Reliance Industries (RIL) has had a setback, with the government set to slash gas prices by 14% from October 1. Prices for locally produced gas are set every six months using a complex formula. RIL's oil and gas division accounted for a fourth of the group's profit in the April-June quarter.
The Signal
Reliance's loss would be Adani's gain. Adani Total Gas (ATG), the French company's ongoing venture with Adani, supplies automotive CNG through 460 stations and piped cooking gas in 124 districts. City gas and auto CNG suppliers have the first claim on domestic gas.
Last year, gas producers benefited when prices rose following Russia's Ukraine invasion, but distributors were unable to pass it on to customers for fear of losing them. Now, the shoe is on the other foot. ATG, which opened a new LNG terminal at Dhamra port in Odisha in May, will also benefit from softening international prices.
HEALTHCARE
Zero-Star Experience
India's biggest standalone health insurer has a claims problem: it keeps rejecting them. Star Health is besieged with complaints from customers who say legitimate claims are denied on flimsy grounds, Mint reports. Star Health claims its settlement ratio—a percentage of total claims settled— has dropped.
Rejected: Doctors in Ahmedabad accused Star Health of arbitrarily delisting network hospitals and rejecting claims made by their patients. But insurers say they're facing a deluge of fraudulent claims, particularly from Gujarat, Uttar Pradesh, and parts of Maharashtra.
In trying to weed out scams, legitimate claims are sometimes unfairly rejected. Meanwhile, medical inflation is at 14% and insurance claims have increased 10-25% in just one year, even as hospitals roll in money.
Relief on the way: India's insurance regulator is building a UPI-like platform called Bima Sugam to compare and buy insurance policies online and settle claims in one go.
SOCIAL MEDIA
Show Me The Money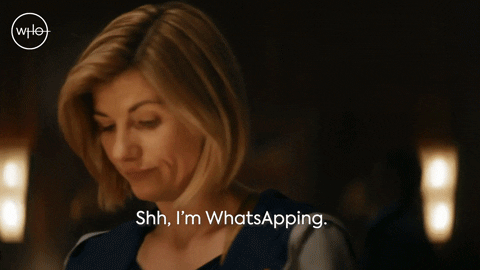 How does a free instant messaging platform monetise a user base of over 500 million that's largely fed up with its spammy Business offering? You entrench them further in your ecosystem by enabling in-app purchases. Meta-owned WhatsApp has partnered with Razorpay and PayU to allow users to make merchant payments via UPI, credit cards, debit cards, and netbanking. It's also launching (yet unspecified) features to expand WhatsApp Pay in India.
Why this matters: Meta has struggled to monetise WhatsApp despite investing in Jio Platforms, which operates e-commerce platform JioMart in a joint venture with Reliance Retail. For now, JioMart customers can get an "end-to-end user experience" on WhatsApp.
WhatsApp Business clients pay to send marketing and service messages to users, but won't have to pay for in-app payments. For Meta, adding a revenue stream while also gathering more data to personalise ads across its ecosystem seems to be the way to go.
FYI
All ayes, almost: The Lok Sabha on Wednesday passed the women's reservation bill with 454 members voting in favour and only two against.
Spicy deal: Tata Consumer Products is close to bagging Capital Foods, which owns the Ching's Secret and Smith & Jones brands of condiments.
SOS: Akasa Air reportedly told the Delhi High Court it's in a "state of crisis" and "may shut down" after 43 pilots resigned without serving their contractual six-month notice periods. CEO Vinay Dube then rubbished the likelihood of a shutdown.
Crisis captain: BYJU'S has reportedly elevated Arjun Mohan, the head of its international business, as its chief executive for India. Mohan will replace Mrinal Mohit, who's leaving the company after nearly 10 years, The Economic Times reports.
Pot of gold: Instacart co-founder Apoorva Mehta has walked away from the online grocer's share sale with a cool $1.1 billion, though it is less than a third of what his 10% stake was valued at in 2021.
🧠: Elon Musk's brain-implant startup, Neuralink, said it has received approval from an independent review board to begin human trials.
Data security: Germany is considering banning critical components manufactured by China's Huawei from its 5G network, reports Bloomberg.
THE DAILY DIGIT
$307 trillion
The estimated amount that world debt touched in June, rising $10 trillion in the first six months of 2023, according to the Institute of International Finance. It said that the number has increased by $100 trillion in the past decade. (Bloomberg)
FWIW
Hooked: Now, this bit of news may be unsurprising and yet also somewhat shocking. Between 1988 and 2001, tobacco companies Philip Morris and RJ Reynolds owned the world's leading food companies. According to a study by University of Kansas researchers, foods owned by tobacco companies were 29% more likely to be classified as fat-and-sodium hyper-palatable. In other words, food cravings were engineered by Big Tobacco to hit that "bliss point". Philip Morris employed a marketing strategy called "line extensions" for processed food, where new flavours and formulae were added to existing products, creating an array of options for consumers to purchase. Consider that the company introduced 36 flavours of Kool-Aid for kids. Evil, if you ask us.
Failure to launch: Clearly, there's a market for everything. Concierge services have mushroomed around college campuses in the US. Said services from stand-in moms (!) include everything from medicine delivery and furniture assembly to airport rides and hugs. Boston-based Concierge Services for Students collects $10,000 per head for the academic year and limits itself to 30 clients. For instance, each month, founder Tammy Kumin entertains her clients with dinner at home, sports events, or theatre outings. We geddit: adulting is hard, but whatever happened to letting the kids grow up?
Less is more: Running shoes, ✅. Keys, ✅. Smartwatch, ✅. These are just a few essentials before heading out for a run. But it turns out that elite distance runners are falling out of love with activity tracking and GPS watches. Olympic 1,500-metre runner Heather MacLean, who now sports a $10 watch from Walmart, abandoned her GPS watch when she realised that she was obsessing over data. American long-distance runner Sam Prakel estimates distance instead of relying on data. Others like Luke Houser prefer the old-school, plain-Jane watch. Tbh, this is the kind of Luddite philosophy we'd sign up for.