Discover more from The Signal
The Signal is a daily curated newsletter that helps you understand the latest developments in business, tech, finance, economy, and policy with sharp analysis and crisp insights thats fun to read arriving at 8AM daily in your inbox.
Over 81,000 subscribers
Google's parent trap
Also in today's edition: Bitter times for sugar; Dissecting India's demographic dividend; Snap judgment; No buyers for Tesla's utopia
Good morning! Erryn Rhoden is crushing it. No really, she is the GOAT at Candy Crush. Rhoden has casually waltzed into the semifinals for the Candy Crush Saga All-Stars Tournament, making her one of the most successful e-sports athletes in the US. It happens to be the biggest Candy Crush tournament in history with $250K as the cash prize, according to Kotaku. Now here's the twist: the 48-year-old mum from Ohio didn't even know she'd entered the competition. Funnily enough, Rhoden reveals that she enjoys single-player puzzle games because it doesn't involve… competition. We hope Rhoden doesn't feel the pressure at the finals because we are all rooting for her. :')
Today's edition also features pieces by Venkat Ananth, Srijonee Bhattacharjee, and Julie Koshy Sam.
If you enjoy reading us, why not give us a follow at @thesignaldotco on Twitter and Instagram.
The Market Signal*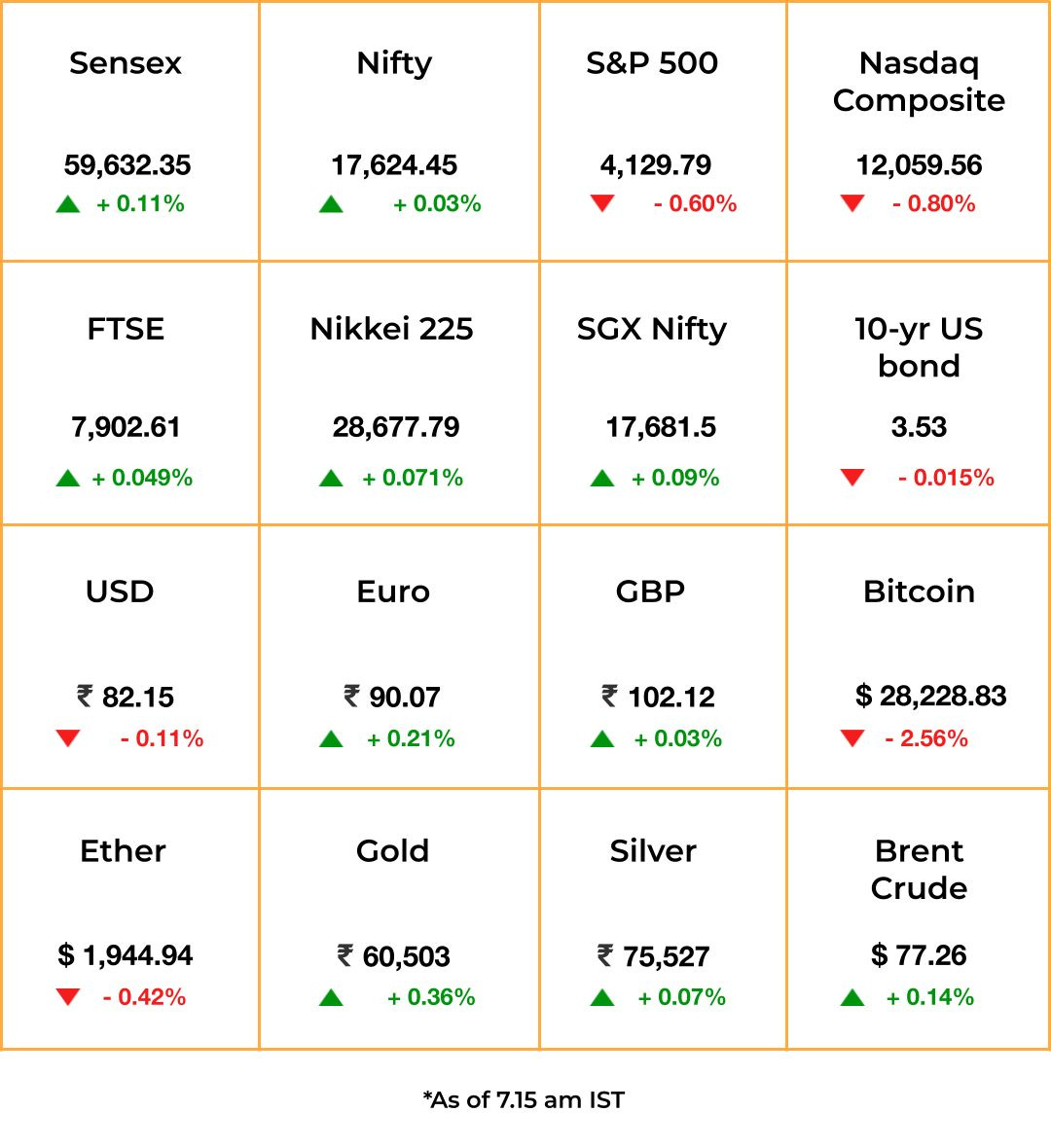 Stocks & economy: Indian shares may rise slightly, breaking away from the global weakness in equities for the second day, the SGX Nifty indicated.
US stocks fell as the labour market and manufacturing activity showed signs of fragility.
Alluding to the issue of the debt ceiling, JP Morgan said that the US may default on treasuries on technical grounds next month.
US bonds yields and the dollar declined as investors anticipated that after hiking rates in May, the US Fed may take a breather.
The rupee may be aided by lower oil prices and the dollar's broad weakness.
Back home, minutes of the RBI rate-setting committee's last meeting showed most members were waiting for a sustained moderation in inflation. The pause in rate hikes was "tactical" and should not be read as a change in policy direction.
Later today, Reliance Industries may post reasonable growth in profits over the quarter.
ARTIFICIAL INTELLIGENCE
Google Vs. YouTube
It's been days since Heart On My Sleeve—the AI track by (fake) Drake and (fake) The Weeknd—went viral to the point of a copyright takedown on YouTube and thinkpieces on how AI will kill music. In case you missed it, we'd summed up Ben Thompson's take on 'Zero Trust Authenticity', which says that artists' value will eventually be derived from their name, image, and likeness (aka personhood/authenticity) in the era of AI-generated content.
But for now, rights holders aren't on board with AI companies claiming "fair use" and scraping their copyrighted material to train AI models. This places Google—an AI biggie that operates Bard, but also YouTube—in a sticky situation. If it concedes to takedown requests by music labels, Google will undercut its own AI "fair use" argument. If it doesn't, it'll get slapped with a wave of lawsuits and risk YouTube losing access to (potentially) millions of songs.
THE PLAYBOOK
In Focus: JioCinema's Multi-Cam
The Indian Premier League's digital rights holder JioCinema has introduced a new feature called multi-cam, where viewers can watch a live match from four different camera angles: bird's eye cam, cable cam, stump cam, and batter cam. But there's a catch. In the latest edition of The Playbook, our weekly newsletter on the business of sports, Jaideep Vaidya writes about multi-cam — its advantages, limitations, and what goes into bringing the feature to your mobile phones. The Playbook will land in your inbox at 4 pm today. Subscribe for free below:
COMMODITIES
There's No Sugarcoating This
You may have to shell out more for chocolates and candy. Global sugar prices have hit an 11-year high, and India has a role to play here.
Why?: India, the world's second-largest sugar producer, is running low on sugar because of unseasonal rains in Maharashtra. At least 190 mills in the state, and 71 in Karnataka, ended their crushing operations early. The All India Sugar Trade Association slashed its estimates by nearly 3% between October 2022 to September 2023.
India is also pushing for sugarcane-based ethanol production and may plug exports.
Also: While Brazil was expected to step in, rains may impede production. Thailand's sugar output isn't remarkable either, which is further hampering global supplies. The upcoming El Nino, which could bring drier-than-usual weather in parts of Asia and rains in Brazil, could worsen output.
POPULATION
Seeing Past India's "Demographic Dividend"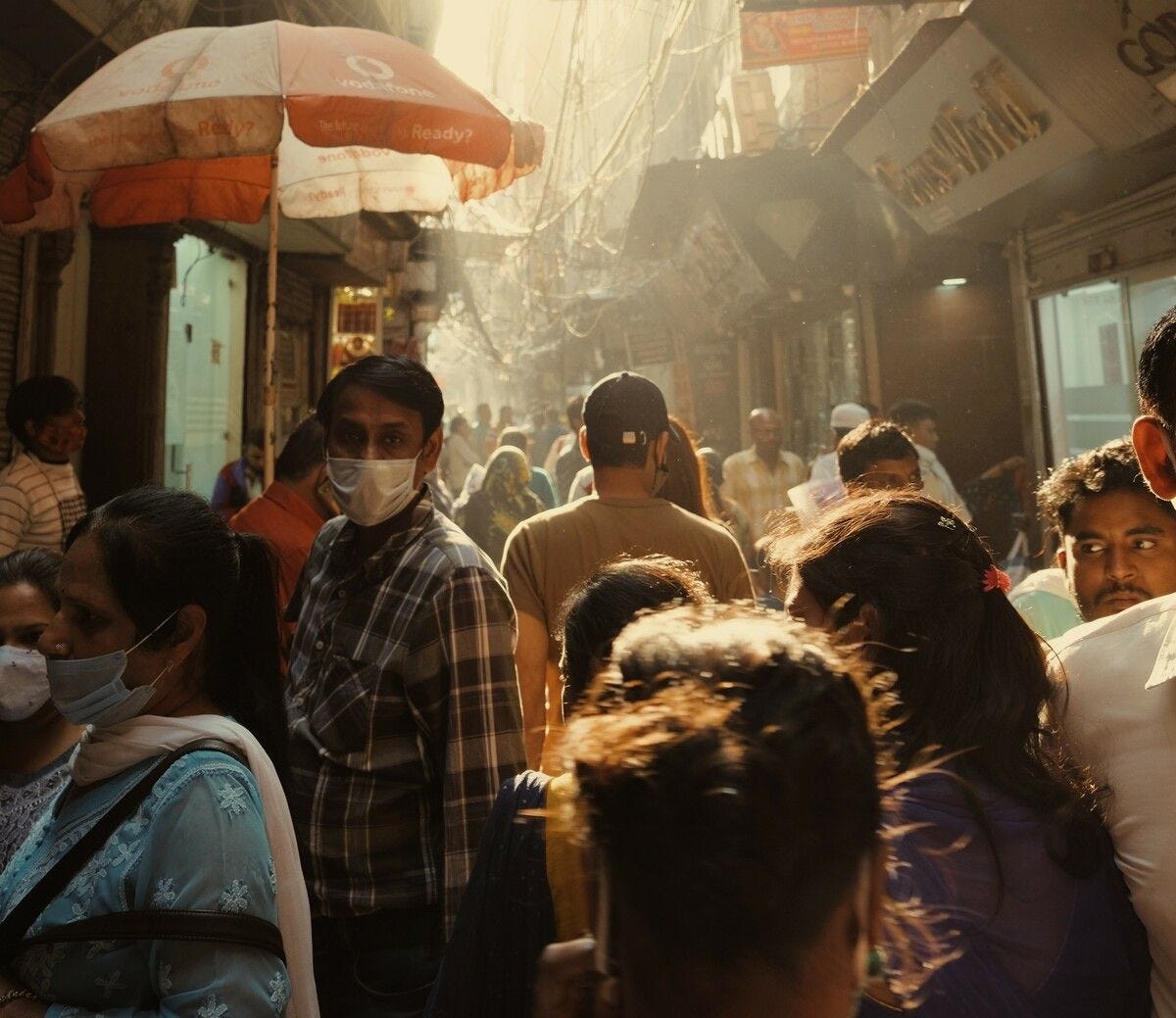 The world's fastest-growing major economy is officially the world's most populous country. Per UN data, India's population was 1.4286 billion on Wednesday, surpassing China's 1.4257 billion. The country is projected to have three million more people than China by mid-2023.
Much is made of India's demographic dividend, given the median age of 28.2 versus China's 39 years. Timing is everything: China's population is shrinking while industries look to either decouple from the country or diversify manufacturing, and Beijing faces diplomatic tensions with the west. The moment is India's to seize. Little wonder perhaps that Chinese state broadcaster CCN lambasted all talk of China's population decline.
But as we established yesterday, about 75% of India's vast (and young) labour force is heat-exposed, at a time when climate emergency-induced heatwaves and erratic weather threaten livelihoods, sustenance, and the economy itself. And this is just the tip of the iceberg.
The Signal
It took China nearly five decades of reforms and steadfastness to capitalise on its population. Up until 1990, India and China had a similar economic output per capita, but the latter has since steamrolled ahead on all major indices, especially infrastructure, jobs, healthcare, and equality.
The last is critical. Women comprise 48% of India's population, but their participation in the workforce is decreasing. Closing this gap alone can increase India's GDP by about a third, or $6 trillion, by 2050.
India's demographic dividend also has a shelf life: the UN estimates that the country's population will start declining by 2047.
ELECTRIC VEHICLES
Driving Into Wreckage
Tesla's quarterly results have left investors less than enthused. Margins shrank because Tesla is slashing prices to expand market share. CEO Elon Musk told investors he's willing to sacrifice profits in the hope Tesla will earn more from operating 'robotaxis' once fully-autonomous cars are commonplace. Investors aren't buying into this utopian future; the company's shares fell another 6% after the call.
Car Software: Automakers are betting on apps for EVs to bring in future revenue. So are we looking at a future where heated car seats and windshield wipers will need a card swipe? Maybe not. Hyundai is building downloadable car features for dog owners, or sports fans, for example, that could require a subscription.
Fancy: Luxury carmaker Jaguar Land Rover has announced a £15 billion ($19 billion) investment over the next five years and a new electric Jaguar by 2025.
SOCIAL MEDIA
Snap Is Doubling Down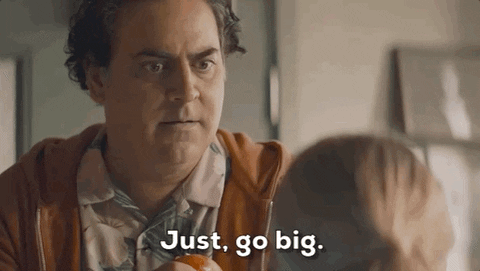 In November, we told you about Snap's Bharat bet. Six months later, if its CEO Even Spiegel is to be believed, it is paying off. He told The Economic Times that Snap had doubled its active user base (monthly and daily), with its Instagram Reels competitor, Spotlight, seeing greater "engagement."
Beyond India: Snap will also make its OpenAI-powered chatbot "MyAI" available for free to users. The chatbot, which didn't get off to a great start, may become a cause for concern given Snap's predominantly-teenage user base.
Fresh battles: Microsoft dropped Twitter off its advertising platform, Digital Marketing Center, and might not pay for Twitter's $42,000 monthly fee for enterprise API access. A butthurt Elon Musk threatened to sue Microsoft, alleging that the tech giant's investee, OpenAI, trained ChatGPT by "illegally using Twitter data."
Elsewhere: Bluesky, the invite-only Jack Dorsey-backed "decentralised" Twitter clone, has launched an Android app.
🎧 Sugar prices may climb upwards. Also in today's edition: Snapchat is going all in to woo Gen Z. Listen to The Signal Daily on Spotify, Apple Podcasts, Amazon Music, Google Podcasts, or wherever you get your podcasts.
FYI
This is fine (not): India's Ministry of Electronics and Information Technology has proposed rules allowing private entities to undertake Aadhaar authentication, which so far can only be done by government departments and ministries.
Job cuts: Neobanking platform Open has let go of 47 employees "based on performance". Social media platform Koo, the "Indian Twitter", fired 30% of its staff due to mounting losses and a funding crunch.
Another shot: Byju's CEO Byju Raveendran is in talks with Apollo Global Management and 10X AD to raise $400-600 million, either for parent company Think and Learn Pvt Ltd or coaching centre arm Aakash Education Services.
Leaky: Hackers gained access to one of Rentomojo's databases. However, the furniture rental company stated that there was no impact on customers' financial data.
Shutters down: BuzzFeed will close its news division — BuzzFeed News, as part of a fresh round of companywide job cuts. The shuttering of BuzzFeed News is likely to impact 60 employees, per a memo by CEO Jonah Peretti. Online news outlet Insider too cut 10% of its workforce.
Take one: The first flight of SpaceX's Spaceship — the most powerful rocket to launch — ended in an explosion above the Gulf of Mexico a few minutes after its liftoff.
United: Google has merged two of its AI-focused groups — Brain (from Google Research) and DeepMind — under a new unit it calls Google DeepMind. Jeff Dean, the head of Google research will be the company's new "chief scientist."
THE DAILY DIGIT
420,000
The number of legacy "verified" users on Twitter who will lose their blue "checkmark" on Thursday. This included Beyoncé, Lady Gaga, Kim Kardashian, and Oprah Winfrey among others. (Variety)
FWIW
The winner of the bad boss for the week goes to: ...James Clarke, CEO of tech company Clearlink. Now here's an example of poor leadership. During a virtual town hall, Clarke celebrated the fact an employee sold his dog to be productive at work. He's also forced workers to return to office after promising them that their jobs would be permanently remote. 🤡 We're sure this bad press is enough for prospective employees to stay away from the company. For what it's worth, he's got company.
Blank space: It will be a cruel summer for celebrities such as Larry David, Tom Brady, Steph Curry, and Shaq, who are currently facing class action lawsuits for endorsing cryptocurrency exchange FTX. But not Taylor Swift. Seems the singer had her reservations about crypto. Swift was the only celebrity who enquired whether she would be promoting unregistered securities, then eventually turned down the $100 million sponsorship deal. Perhaps due diligence runs in the family: her father, Scott Swift, is the managing director of a wealth management company that's a part of Bank of America. Nevertheless, we stan queen behaviour.
Honey, they shrunk the chips: Doritos, Cheetos, and Twinkies are offering bite-sized versions of their products. And that's not a good thing, because the portions are reminiscent of crumbs. McCain Foods introduced itty-bitty potato puffs. Doritos got a Pringles-like makeover for its mini chips, and Trix introduced miniature cereals in the market, which didn't win everybody over. But credit where it's due, the marketing teams deserve slow claps for managing to hype shrunk snacks.