Discover more from The Signal
The Signal is a daily curated newsletter that helps you understand the latest developments in business, tech, finance, economy, and policy with sharp analysis and crisp insights thats fun to read arriving at 8AM daily in your inbox.
Over 81,000 subscribers
Alibaba has a broken heart
Also in today's edition: Will Mickey be happy in metaverse? RBI vs centre on crypto? Can Nestle do a Maggi redux?
Good morning! Hybe, the agency which manages South Korean superband BTS and Justin Beiber, is planning to release NFTs. This NFT, which would essentially be tradable photocards, voice notes, and gifs. These NFTs can be sold and bought on the social media network that the company runs. So, you buy an NFT paying the agency, and then trade it on the platform owned by the agency. 
Btw, our podcast has been going strong for over a month now. Tune in on your daily jog, drive to the office, or even as you WFH-ers have breakfast in bed. We promise it'll be music to your ears.
The Market Signal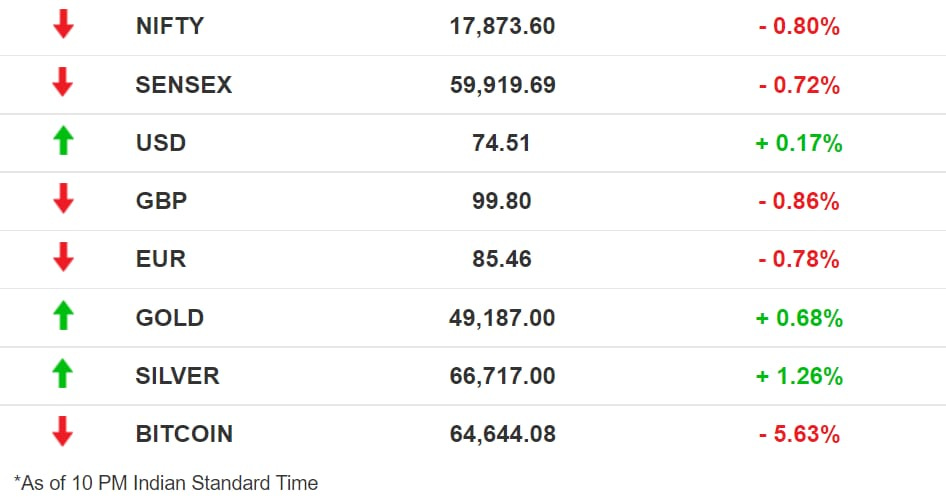 Stocks: The news of US inflation hitting a 30-year high dampened any hopeful spirits across global markets and saw Indian benchmarks spend the entire day in the red. The losses extended to the broader market as the NSE Midcap and Smallcap indices lost 0.95% and 1.14% respectively. Among sectoral indices, only Metal managed to close in the green.
Mickey Mouse Heads to Metaverse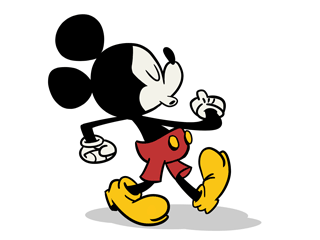 Disney was anyway a metaverse. Not the way Matthew Ball imagines it but an imaginary universe nonetheless in two dimensions where men, mice, and matter often defied the laws of physics. Disneyland was a virtual fantasy world recreated faithfully in three dimensions with the rides and coasters very much abiding by the principles of physics.  
Pluto's world: The entertainment company is now planning to build a metaverse, the happiest of all.
CEO Bob Chapek said the leap into Disney Metaverse would allow for "storytelling without boundaries", a thought that might have occurred to Walt Disney too when he first created the world's most famous mouse. There could be more mundane reasons for the foray. A search for growth, for instance.
The company posted sluggish earnings in the third quarter, disappointing Wall Street analysts. Disney+ subscriber base too expanded only modestly.
Alibaba Loses The Singles' Day Spark
Chinese e-commerce giant Alibaba, which pioneered the mega Singles' Day online shopping festival more than a decade ago, decided to play it cool in 2021.
Hush-hush: This year, the world's largest online shopping fest, not only skips a glitzy counter displaying sales numbers, but it hasn't communicated any significant blowout numbers as well. It's a big deal for the company that otherwise showcases a running tally of sales numbers.
Alibaba toned down its marketing hype and focused on sustainable growth to avoid further scrutiny from Chinese regulators over anti-competitive practices. Earlier this year, Alibaba was fined a record $2.8 billion for violating antitrust rules.
Hype remains: However, the festival still attracted millions of shoppers as 382 brands, including Apple and L'Oreal each topped sales of $15 million. And even though there was no Taylor Swift to give a live performance, a virtual appearance by British actor Benedict Cumberbatch kicked off the final 24-hour sale. 
It's Round 2 Of The Crypto Debate
A conflict appears to be simmering behind the scenes between the government and the Reserve Bank of India (RBI) over cryptocurrencies. 
Contradictory positions: RBI governor Shaktikanta Das sounded the alarm saying cryptocurrencies are a threat to financial stability. Das made the comment a day after a newspaper report suggested the government was finalising an 18% goods and services tax on blockchain transactions, including cryptos. Strangely, the unnamed official quoted in the report says there could be a tax but that doesn't mean trading would necessarily be allowed.  
Legal tangles: The central bank had banned crypto trading in 2018 but the Supreme Court brushed it aside in March 2020 and allowed trading. Reports have since pegged India's crypto user numbers at a staggering 100 million due to the boom in prices. 
E-currency: RBI is expected to launch its own digital currency before the New Year. An RBI internal panel report on cryptocurrencies is expected before that. Meanwhile, crypto day trading, ironically at night in India, is booming. 
The Signal 
Even former RBI officials such as R Gandhi have supported cryptos as an asset class. But the central bank is worried about systemic risks as the trade is thinly regulated globally. US Federal Reserve chairman Jerome Powell minced no words when he called crypto "an asset for speculation" because its volatility makes it unsuitable as a store of value. This week, the Fed warned that stablecoins are "susceptible to runs". India's finance ministry is, however, viewing cryptocurrencies as a potential source of revenue. The upcoming winter session holds answers to whether they will finally be made legal in India.
Nestle Making Maggi Meat
Scientists at food giant Nestle's laboratories are at work to synthesise a plant-based protein that would be "familiar to Indian taste, culture, and texture".
One of the company's dozen Research and Development Accelerator centres that develop plant-based proteins' technologies is in Manesar near Delhi.
Making for India: Nestle knows a thing or two about taste. Maggi, arguably it's most successful food product, was instrumental in creating a pan-Indian market for noodles, food most Indians had not even heard of. Key to its success is the flavouring mix called Maggi Masala, created in Nestle's lab. In his book, Masala Lab, techie and food scientist Krish Ashok describes how the instant noodles mix combines spices and condiments that it equally evokes taste memories for the biryani buff and sambar devotee.
Krish Ashok

@krishashok
Replying to
@krishashok
2. Maggi masala - the most universal pan-Indian spice mix that will evoke no region in particular, and every dish in general. You can add this to anything other than a dessert and it will improve it. Plus it has starch thickeners, so it's a fantastic way to rescue a watery dal
Aug 5, 2020
50 Likes   5 Retweets   9 Replies
Perhaps it would not be too difficult as Nestle is not trying to recreate meat and umami which, unlike in the west, is anyway smothered with spices in India.
Bob To The Top, Women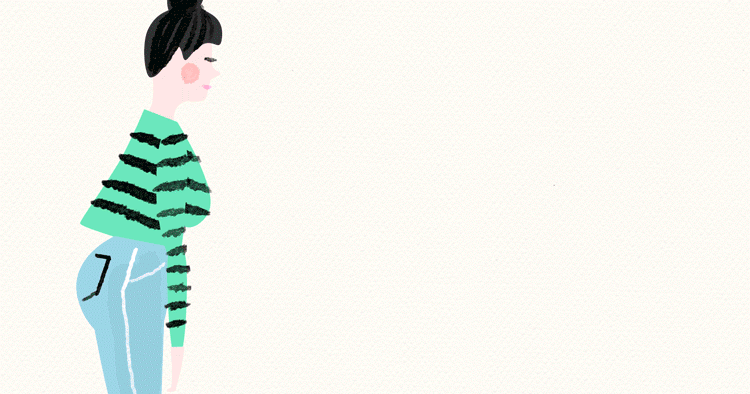 Falguni Nayar is a name worth knowing. Beauty e-commerce platform Nykaa's founder is now India's first self-made female billionaire. Her net worth is at ~$6.5 billion after her startup made a stellar debut on stock markets on November 10.
Things are changing: A few weeks ago, we told you how women-led startups have been struggling to get funded. That's changing. According to Pitchbook, female founders have been receiving more money than their male counterparts in 2021. Even as the broader market narrowed due to the pandemic, deal value for female founders rose by 19.5%.
Behind the scenes: The percentage of female general partners at VC firms has grown from 12% in 2019 to 15.4% in 2021. And they're writing out bigger checks to women-founded companies.
What Else Made The Signal?
Didi's re-entry: Ride-hailing platform Didi may get relaunched in China by the end of the year amidst hopes that the cybersecurity investigation would be completed soon.
Employers DND: Texting employees after work hours will attract penalties in Portugal as the country looks to attract internet-savvy workers into the region. 
Xi forever: Chinese Communist Party passed a 'historic' resolution that placed President Xi Jinping in the pantheon occupied only by Mao Zedong and Deng Xiaoping. The 'thought' of Xi "is the epitome of Chinese culture and soul", the resolution read. 
Raising money: NFT startup Lysto raised $3 million in a seed funding round led by BEENEXT, Better Capital, and other investors. Angel investors and entrepreneurs, including Binny Bansal, also participated. 
A promise: Gautam Adani has vowed to become the world's largest energy company and produce the cheapest hydrogen on earth.
Doubling size: Fintech unicorn Razorpay is in talks with large global funds to raise $200-250 million that could double its valuation to $5.5-6 billion. 
Bulging pocket: Softbank has a $5 billion to $10 billion kitty ready in case Indian companies are available in 2022 at good valuations. 
FWIW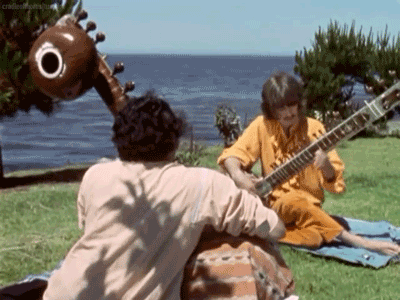 The Musk promise: Elon Musk has sold Tesla shares worth $5 billion so far, days after holding a Twitter poll asking followers whether he should sell. The poll results, however, have nothing to do with his decision because Musk had already made these plans in September as per SEC filings. 
Flying cabs: Volocopter, a German urban air mobility pioneer successfully conducted South Korea's first-ever crewed public test flight. It is a step towards introducing air taxis between major airports in the country by 2025. This can cut down travel time by two-thirds.
Unearthed gem: "Radhe Shaam," a lost and previously unheard song featuring Beatles George Harrison and Ringo Starr has been played for the first time now. The song recorded in 1968 by journalist Suresh Joshi was rediscovered by him from his Birmingham loft during the Britain lockdown. 
Want to advertise with us? We'd love to hear from you.
Write to us here for feedback on The Signal.