Discover more from The Signal
The Signal is a daily curated newsletter that helps you understand the latest developments in business, tech, finance, economy, and policy with sharp analysis and crisp insights thats fun to read arriving at 8AM daily in your inbox.
Over 81,000 subscribers
India's bad medicine
Also in today's edition: FTC rings Amazon; Is Succession a mainstream hit?; India's GDP grows; AI comes for Wall Street
Good morning! This is a plot straight out of fiction stories on Wattpad. Spanish-Venezuelan​ former Wimbledon champion ​Garbine Muguruza obliged a fan with a selfie at Central Park in New York a few years ago. Per The Economic Times, she is now engaged to him. Good on Arthur Borges. We usually aren't suckers for such stories, but this is a gentle reminder on a Friday morning to shoot your shot.
The Signal is now on Telegram! We've launched a group — The Signal Forum — where we share what we're reading and listening through the day. Join us to be a part of the conversation!
Today's edition also features pieces by Soumya Gupta, Srijonee Bhattacharjee, and Julie Koshy Sam.
If you enjoy reading us, why not give us a follow at @thesignaldotco on Twitter and Instagram.
The Market Signal*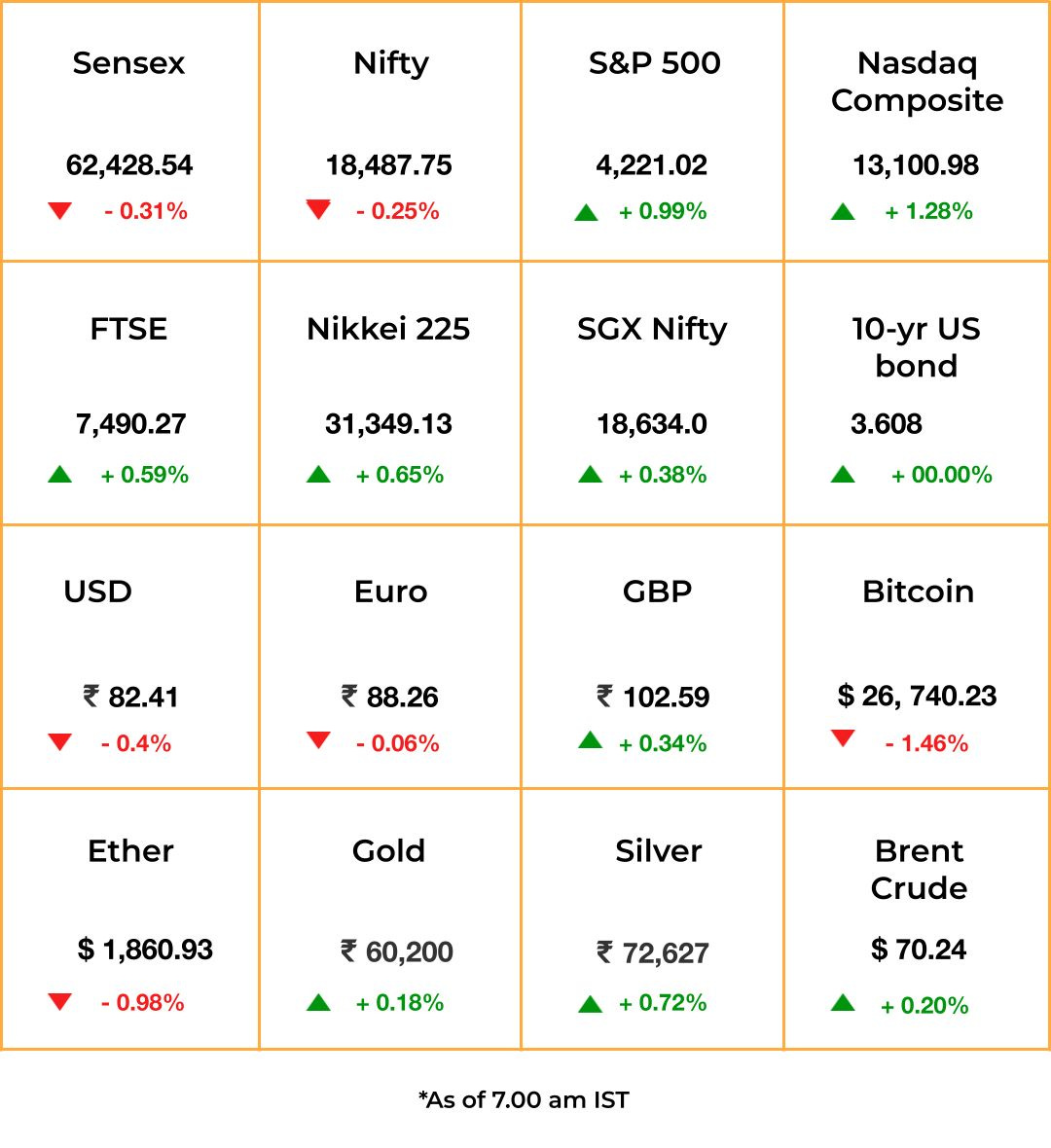 Stocks & economy: Optimism that the US debt deal will be passed swiftly and a possible pause by the Fed on rate hikes in June, even if brief, pushed US share indices higher.
FOMO on AI stocks rally has investors dumping value stocks for them. The US jobs report for May is due later on Friday. Investors have been speculating that the job market has cooled.
Powered by the positivity in global markets, Indian indices could gain but the move up may be slow and pressured by selling at higher levels. According to analysts, the recent rally has made shares expensive and some bullish bets have been unwound.
Worries of weakening global demand are weighing down oil prices ahead of an oil producers' meeting this weekend to discuss global supply. This may support the rupee.
Possibility of local debt default in China is keeping investors jittery.
PHARMA
Bad To Worse
As if the multinational investigations into Indian-origin manufacturers of cough syrup weren't enough, the US Food and Drug Administration (FDA)—which is conducting post-Covid audits into generic pharma companies in India—has discovered bad practices. These include shredded paperwork and unsanitary conditions in the country's biggest pharma companies.
Details: Bloomberg accessed FDA audits under the US Freedom of Information Act, and found that Indian drugmakers such as Global Pharma Healthcare, Cipla, Lupin, and Sun Pharmaceuticals failed to meet various parameters. In the case of Sun Pharma, personnel failed to identify defects to the point of the company having to recall batches of injectable birth control and testosterone. Lupin investigated less than one-sixth of "breakdown notifications" between January 2019 to March 2023.
India is the largest supplier of generic drugs to the US. Sun's Mohali facility alone, which the FDA red-flagged, accounts for <$150 million of the company's annual sales in the US.
🎧 US regulator FTC has its eyes on Amazon. Also in today's edition: we decode India's GDP growth. The Signal Daily on Spotify, Apple Podcasts, Amazon Music, Google Podcasts, or wherever you get your podcasts.
ENTERTAINMENT
It's A Hit!
But is it, really? HBO's Succession is a declared hit, but only 2.9 million viewers saw the finale on the network. But its lifetime value will probably kick in over time, as it sweeps awards and year-end critics' choice lists. Amazon Prime Video's Citadel hasn't performed in the US but is a big hit in India, thanks to the show's lead Priyanka Chopra. Amazon has already ordered a second season, according to Puck.
Sub woes: OTT platforms are now fighting to poach subscribers from each other rather than growing the total number of Indian households with an OTT subscription. Paid subscriptions may grow from 99 million to only 101 million and platforms say lowering prices isn't helping.

Meanwhile: More regulations. OTT platforms will have to display anti-tobacco warnings during scenes with smoking/tobacco use, India's health ministry has said.
ECONOMY
Flattering To Deceive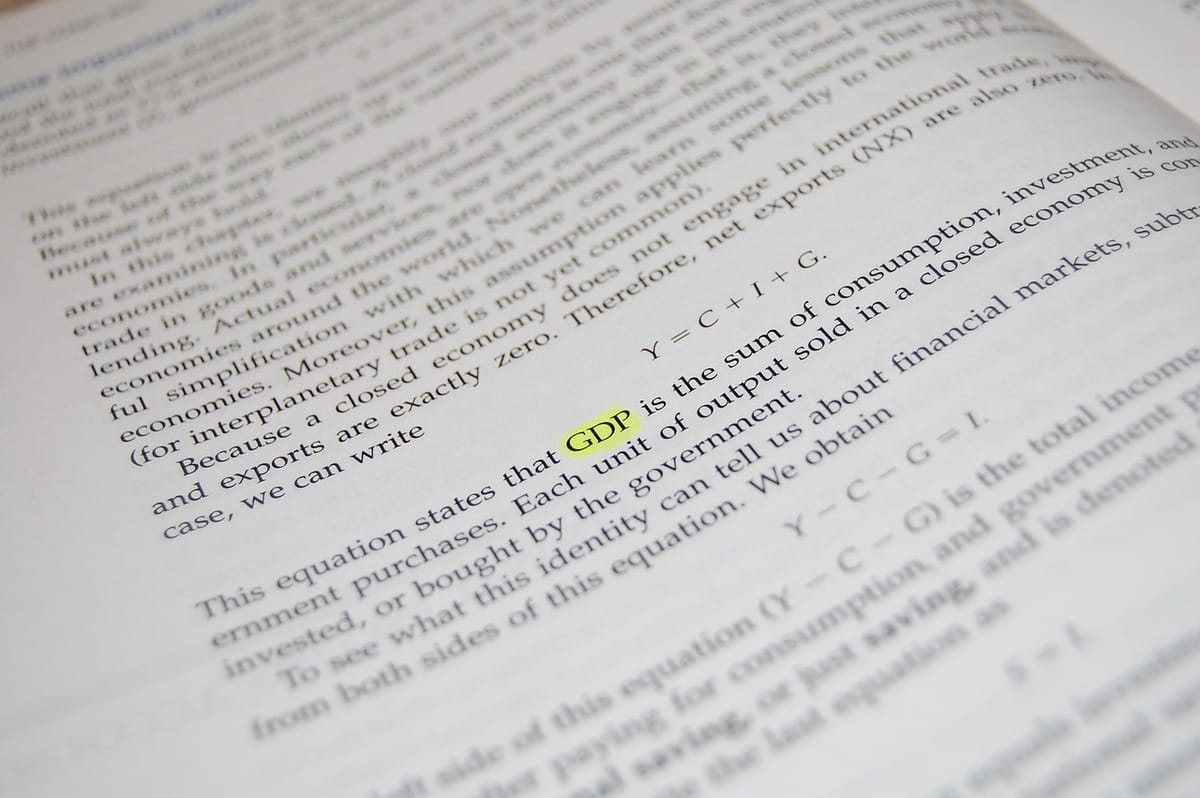 The news couldn't get any better. Close on the heels of FY23 GDP growth beating forecasts by a mile, an S&P Global survey found that in May, purchasing managers were most optimistic in 31 months. Companies also hired at the quickest rate in the past six months.
Output boost: While the economy grew at 6.1% in January-March 2023, much faster than what most analysts estimated, exports and imports declined. It seems to have lost momentum in April as core infrastructure growth slowed to a six-month low.
Wall Street admirer: Morgan Stanley, which believes that this will be India's decade, has published a report describing how India has transformed itself since 2013. The report, which is full of graphs pointing upwards, says a "discretionary spending boom is on the horizon".
The Signal
Buoyant GDP numbers and optimism notwithstanding, the truth is economic activity in the country has barely recovered to the pre-pandemic levels. The engines that can propel the country to higher growth orbits have still not started firing. Much of the output growth last year was dependent on government spending. Private spending continues to be a laggard and there is increasing evidence of widening economic inequality. Rural demand will, unsurprisingly, depend on how bountiful the monsoon is. Unseasonal summer rains and storms have wreaked havoc across the country and are bound to damage crops and impact rural incomes.
ARTIFICIAL INTELLIGENCE
Prepare To Be Financially Profiled
The finance sector may have use cases for crypto, but really, AI is its top priority. And that's not necessarily a great thing.
What are you talking about?: This Bloomberg report on global banking majors using AI for everything from buy now, pay later services and risk assessment to portfolio recommendations. Consultancy firm Evident found that 40% of open job roles at "the most enthusiastic banks" are AI-related.
Wells Fargo is using AI to help clients decide what information to report to regulators. Morgan Stanley has a patented model to predict monetary policy. JPMorgan has a patent for a ChatGPT-like offering that will help investors choose equities. And so on.
So?: In 2020, MIT-IBM Watson AI Lab researchers had warned about reinforcing existing biases against marginalised groups, who are already disadvantaged with respect to affordable credit. More recently, fake news moved algorithmically-driven trading markets in the US.
PRIVACY
Amazon's Woeful Wednesday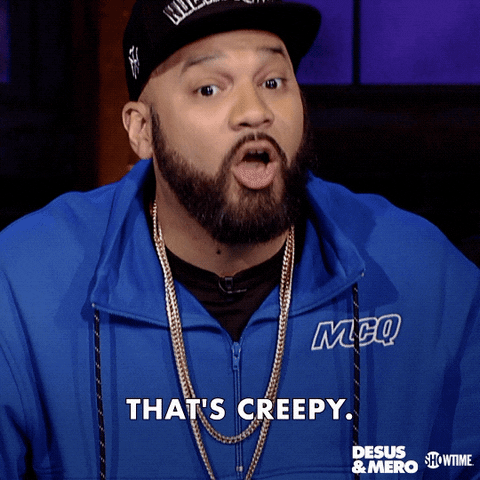 Amazon's video surveillance unit Ring will cough up $5.8 million in a settlement with the Federal Trade Commission (FTC) for violating user privacy. In 2017, a former Ring employee was found snooping on female users in "intimate spaces…such as bathrooms or bedrooms." Creepy.
"Alexa, pay up": Amazon settled with the FTC again—a near $25 million fine over charges that violated the Children's Online Privacy Protection Act Rule (COPPA Rule) by not deleting children's data on Alexa, including sensitive voice and geolocation data, while also misleading parents about its data deletion practices. Ouch.
Meanwhile: Meta is in no mood to follow suit. Instead, it wants a federal court to stop proceedings in a recent case that the FTC brought against it—pertaining to monetising children's data.
FYI
Rivals to the rescue: Metals and mining tycoon Anil Agarwal's Vedanta Resources has borrowed $200 million from Trafigura and $250 million from Glencore to repay other creditors.
Fresh dough: Bengaluru-based Software-as-a-Service company Capillary Technologies raised $45 million in a Series D funding round led by Avataar Ventures and its limited partners. Indian spacetech startup Pixxel also raised $36 million in a round led by Google.
Pay up: The Delhi High Court has ordered Spicejet to pay Rs 380 crore to its erstwhile promoter Kalanithi Maran. The low-cost airline says it is currently in settlement talks with Maran and KAL Airways.
We're done: In a setback to edtech major Byjus, its creditors have scrapped negotiations with the company to restructure a $1.2 billion loan the company took.
Making a beeline: LVMH CEO Bernard Arnault will follow Elon Musk (Tesla), Lakshman Narasimhan (Starbucks) and Jamie Dimon (JP Morgan) in visiting China this month. Arnault's visit assumes significance especially in post-Covid lockdown China and appetite for luxury sales.
Coming soon: Apple supplier Foxconn will start manufacturing iPhones in its Karnataka facility (Devanahalli, near the Bengaluru airport) by April 2024, according to the Karnataka government. The company plans to manufacture 20 million mobile units a year in this facility.
Au revoir: World Cup-winner Lionel Messi will depart French football club Paris Saint Germain this summer, according to the club's manager Christophe Galtier.
THE DAILY DIGIT
$339 million
~₹2,800 crore. That's how much India's Silicon Valley, Bengaluru, needs to fix its drainage network to avoid flooding. (Reuters)
PS: Last July we'd written about Bengaluru's infrastructure woes in our weekend edition, The Intersection. Read about it here.
FWIW
Song for the ages: Bismillah. Bismillah. Bohemian Rhapsody, the song as we know it was nearly titled Mongolian Rhapsody. An early handwritten draft of the epic by Queen frontman Freddie Mercury highlights that the working title was crossed out before it could become a six-minute rock opera and one of the most streamed songs in the world. The notes are estimated to be worth $1.5 million by Mercury's close friend Mary Austin, and will be up for auction in September. Other memorabilia include Mercury's stage costumes and drafts of Queen's other popular songs, including We Are The Champions. If you ring in the weekend with Mercury's Bohemian Rhapsody, doff your hat tip to the man.
Monster in the making: Dr. William Stewart Halsted is regarded as a lifesaver on many counts. His unorthodox approach to medicine includes revolutionising modern surgery, introducing hygiene in the operating room, and leading a surgery in hernia, among other things. But the archetype of an overworked doctor is all thanks to Halsted. According to our friends at The Reading Room, the secret behind his energy was cocaine. He also demanded that his residents work 362 days a year. How did the genius turn into a hard disciplinarian? Check out The Reading Room for more such stories.
Guess who's back: And just like that, Kim Cattrall will reprise her role as Samantha Jones for the Sex And The City sequel. But in the spinoff, titled And Just Like That..., her role may be about as long as a New York minute. According to Variety, Cattrall may not share screen space with on-screen friends and off-screen frenemies Cynthia Nixon, Kristin Davis, and Sarah Jessica Parker, or with series creator Michael Patrick King. For those who know the tea (or don't), this return feels like somewhat of a victory. And yes, money does talk.