Discover more from The Signal
The Signal is a daily curated newsletter that helps you understand the latest developments in business, tech, finance, economy, and policy with sharp analysis and crisp insights thats fun to read arriving at 8AM daily in your inbox.
Over 81,000 subscribers
Hungry for More
Also in today's edition: Desi startups vs. Big Tech; Airlines pick up Go First's remains; Why Bluesky is a threat to Twitter; Luxe comes home for the Chinese
Good morning! Did India's most famous musician quietly copy from a storied musical tradition while no one was watching? The Indian Express reported that Dhrupad exponent Wasifuddin Dagar accused Oscar-winning composer AR Rahman of lifting a 1978 composition, Shiv Stuti, by his uncle Ustad Zahiruddin Dagar. The Dagar family is widely acknowledged as the flamekeepers of Dhrupad, a genre in Hindustani classical music, and their style is called the Dagarvani. After one of his students spotted the similarity, Wasifuddin wrote to Rahman that his score for Veera Veera, a song in the Mani Ratnam movie Ponniyin Selvan 2, was a direct lift of Shiv Stuti. Well… the song's YouTube promo now says: Composition based on a Dargavani (at least get the name right) tradition Dhrupad. Mani Ratnam's Madras Talkies said Wasifuddin Dagar was after money and publicity. Rajaraja Chola will not approve.
The Signal is now on Telegram! We've launched a group — The Signal Forum — where we share what we're reading and listening through the day. Join us to be a part of the conversation!
Today's edition also features pieces by Soumya Gupta, Srijonee Bhattacharjee, and Julie Koshy Sam.
If you enjoy reading us, why not give us a follow at @thesignaldotco on Twitter and Instagram.
The Market Signal*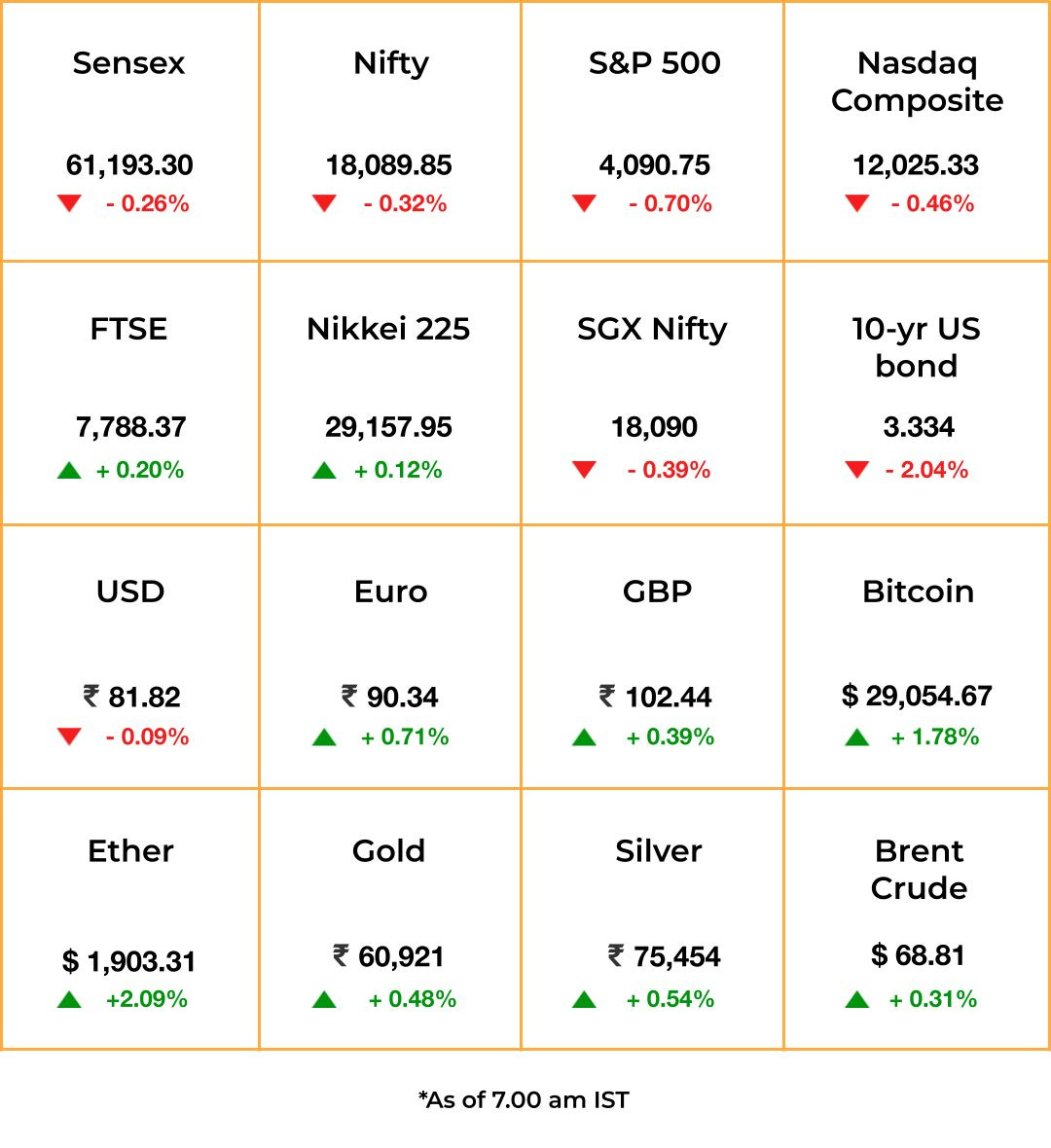 Stocks & economy: Globally, investors fled equities for safe-haven assets such as US treasuries and the Japanese yen. Emerging market equities, including in India, are likely to feel the pressure on Thursday.
The Fed raised rates by 25 bps on Wednesday to the highest level since 2007 but its softer language hinted that it may pause here. However, Chairperson Jerome Powell dashed market expectations of any rate cuts this year. Incoming data will determine whether rates are high enough to rein in inflation, the Fed committee decided.
The banking crisis refuses to go away post First Republic Bank's rescue buyout. A share rout and run on deposits, fear feeding one another, has forced California bank PacWest to weigh rescue options, including a sale. The KBW regional banking index fell nearly 1%.
Fears of a looming recession pushed oil prices below $69 per barrel.
E-COMMERCE
For Amazon, Less Is More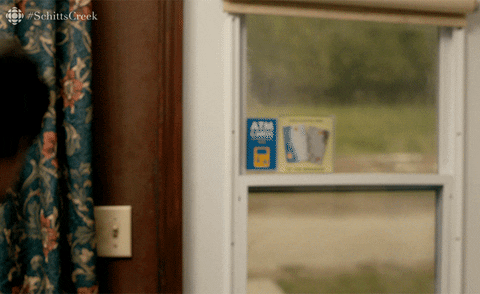 The tech conglomerate and private equity firm Samara Capital reportedly want to divest a ~20% stake in their jointly-owned supermarket chain, More. A partial exit may help them set a market price for More's planned IPO.
Amazon acquired More in 2019 (with Samara) to fuel its grocery delivery ambitions in India. That same year, it invested (indirectly) in Kishore Biyani's Future Group. Amazon used Future Group's erstwhile chain of supermarkets, Big Bazaar, and More to serve orders on its Amazon Pantry app.
A lot has changed since then. Future Group is no more, and Reliance snapped up the brand and its stores before Amazon could legally claim them. Amazon Pantry has been folded into Amazon Fresh, quick commerce is eating into online grocery sales, and Reliance Retail has overtaken nearly every organised player in the industry. Freeing up cash will help Amazon scale up its grocery business against such competition.
THE IMPRESSION
Twitter's News Overtures

Twitter has a special relationship with news, but news publishers have had a decade-long toxic relationship with social media. All through the 2010s, the likes of Facebook and Google promised media brands that they will help them get an audience in exchange for their content. That promise was never kept. So why, in 2023, is Elon Musk now offering that tired, old plank again?
To read this, and a second story on packaged food brands' struggles with social media backlash, head over to The Impression now.
If you like what you read, hit the button below to subscribe now—it's free!
TECH POLICY
Everyone Versus Silicon Valley
Drama is escalating within the Internet and Mobile Association of India (IAMAI), which represents digital service providers in the country. Subho Ray, president of the nodal body, has seemingly sided with IAMAI's Big Tech members on India's proposed Digital Competition Law. The development comes hot on the heels of Indian companies claiming IAMAI has a Big Tech bias on other regulatory issues such as app store billing policies, the Digital India Act, and draft online gaming rules.
Google India head Sanjay Gupta and WhatsApp's public policy director for India, Shivnath Thukral, serve as IAMAI's chairman and vice-chairman, respectively. IAMAI's homegrown members want a leadership change. The executive council is due for fresh polls this month.
Throwback: In 2022, India's top crypto companies had cried foul and joined rival industry body IndiaTech.org—which lobbies for Indian startups—after IAMAI dissolved its Blockchain and Crypto Assets Council.
AVIATION
Adulting Is Hard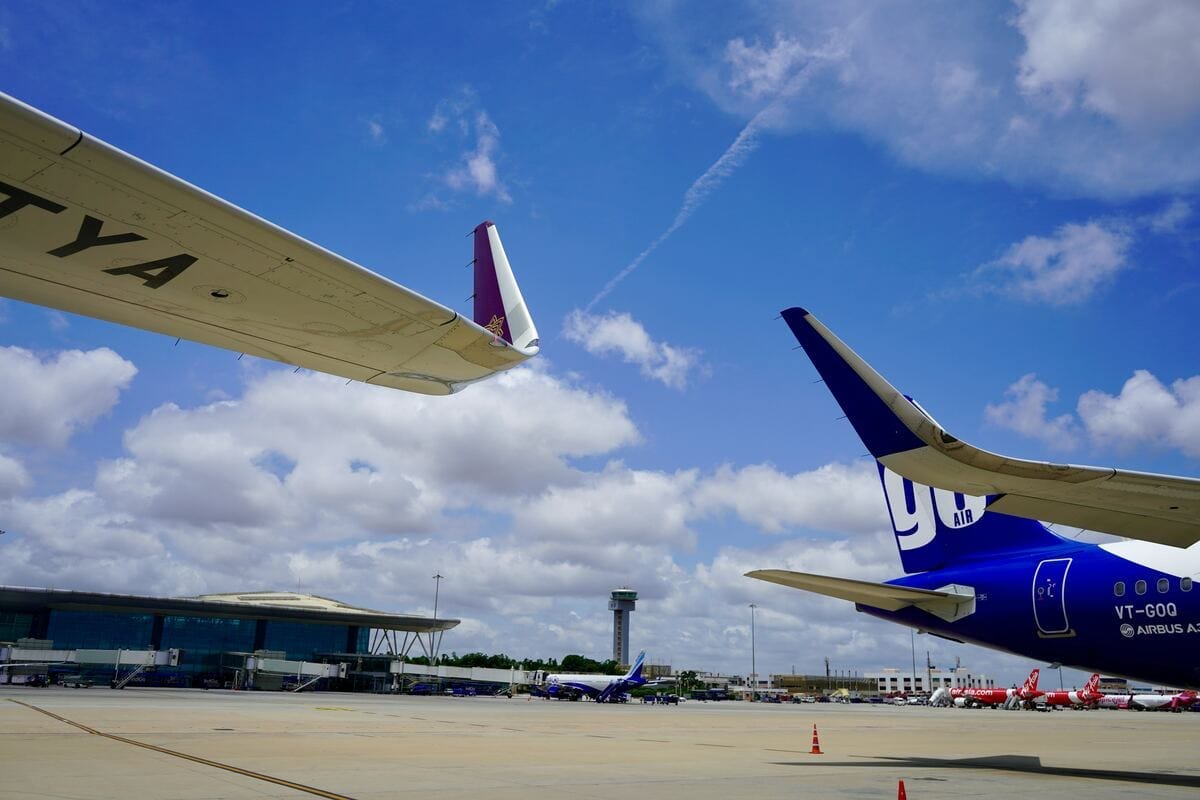 Photo by Praveen Thirumurugan on Unsplash
In its 18th year, Go First has joined a fleet of (erstwhile) Mumbai-based carriers such as East-West Airlines, Damania Airways, Jet Airways, and Air India that either went bankrupt or moved to Delhi NCR. Mumbai, once the birthplace of Indian aviation, now serves as the corporate headquarters of just one functional airline: Akasa Air.
Akasa and other carriers will scavenge Go First's slots, bilateral route rights, and tourist-heavy sectors such as Delhi-Leh and Delhi-Srinagar this peak travel season. Airlines are already reporting over 90% occupancy. Similar to what happened when Kingfisher Airlines and Jet Airways went under, Go First's cancellations will increase fares by another 20%. Even beleaguered SpiceJet is resurrecting 25 grounded aircraft to capitalise on demand.
The insolvency of the Wadia Group-owned airline will lead to market share gains of ~5% and ~3% for IndiGo and Air India, respectively.
The Signal
Covid broke Go First. But what weakened it was the feud between Nusli Wadia and his son Jeh Wadia, which resulted in the airline's name change and Jeh's exit as managing director.
As The Economic Times notes, insolvency is a months-long process during which no claims, including those for aircraft repossession, are entertained. Aircraft lessors will want to cut any losses before that. And banks may only infuse ₹50 crore-100 crore (~$6 million-$12 million); Go First's monthly salary outgoes alone are ₹60 crore.
It'll take a miracle—either a generous bidder or the deep-pocketed but disinclined Wadias withdrawing the petition at the last minute—for Go First to survive.
🎧 Does a weekly drop or binge-release model work for shows? Also in today's edition: Here's why GoFirst is in for a bumpy ride. Listen to The Signal Daily on Spotify, Apple Podcasts, Amazon Music, Google Podcasts, or wherever you get your podcasts.
SOCIAL MEDIA
Bluesky Has The X Factor
Of all the Twitter alternatives, this one will go the furthest. We told you why a few days ago. Turns out Bluesky is so hot rn that invites to the app are selling on eBay.
Not the usual…: …moderation. It's early days, but Bluesky is off to a good start. One, it's revoking users' invite codes if their invitees get banned (meaning there's an incentive to invite non-toxic people). Two, content is tailored to what you opt in for—meaning moderation is customisable.
Adult content is permitted, btw. That's a threat to Twitter, where NSFW material comprises 13% of the content.
Meme culture: Black Twitter—the collective identity of African-Americans on the bird app—gave us internet-isms such as "slay", "no cap", "tea", "period", and reaction memes that are the beating heart of the platform. This demographic is gradually migrating to Bluesky. No wonder Kate Knibbs of The Wired likens it to early Twitter.
ECONOMY
Give It Up For China, India
Before the pandemic, Chinese shoppers were the big spenders on the high streets of Paris and New York, and vacation hubs of Bangkok and Venice. They still are, but in the duty-free malls of Hainan.
Home-bound: Analysts believe the trend is here to stay. Even the world's top luxury peddler, LVMH, is renting space on the mainland. The May Day weekend was a big shopping occasion as holidaymakers thronged Hainan, Shanghai, and Macau. Bonus: Hainan malls have better deals than Paris.
Lifting all boats: China's consumption will be key to global growth this year as western economies, caught in an inflation trap, struggle to expand. The International Monetary Fund now expects Asia-Pacific to grow at 4.6% in 2023, and also estimates China and India to contribute half of global growth.
FYI
Faster micropayments: Fintech firm PhonePe on Wednesday launched the UPI LITE feature on its app, allowing users to make faster real-time payments for transactions under ₹200 ($2.4) without a PIN.
Bouncing back: India's media and entertainment industry grew by ~20% in 2022 to cross the ₹2 lakh crore mark ($24.4 billion) after a 23% drop during the pandemic years, per a FICCI report.
Weather alert: The Indian Meteorological Department said the Bay of Bengal could be hit by a summer cyclone around May 9, but isn't sure yet about landfall over the eastern coast.
Rocking the geopolitical boat: Iran seized a Panama-flagged oil tanker in the Strait of Hormuz on Wednesday, days after capturing another vessel in the Gulf of Oman.
New boss: Former Mastercard chief and US President Joe Biden's pick, Ajay Banga, has been chosen as the new World Bank President.
Desert-bound?: Argentine football star Lionel Messi is reportedly leaving French club Paris Saint-Germain after his two-year contract expires in June. Messi's potential suitors include Saudi Pro League club Al Hilal, for an annual contract of $438 million.
Upgrade: You can finally forget about remembering the passwords for your Google accounts. Tech giant Google has launched passkeys, which will let users sign in to accounts with facial recognition, fingerprint, or a PIN number.
THE DAILY DIGIT
36.4%
The inflation rate in Pakistan in April, which is the highest since 1964. (LiveMint)
FWIW
Breaking bread: Complimentary bread baskets as you knew them are becoming yesterday's crumbs. In American restaurants, anyway. Some eateries are working hard to give them a makeover. The result is Appalachian salt-risen bread, sweet potato brioche with buttermilk biscuits, sweet blue cornbread, and yes, classic naan. Breadmaking is laborious as it is, but such bread courses have taken things up a notch—to the point where one chef has even dubbed the nouveau breadbasket the "dreadbasket". Naturally, these aren't complementary: people are shelling out $11-21 (₹900-1,700) for the stuff.
Subtract this ad: AI is coming for everything, so it's only a matter of time before it upends commercials too. A UK-based production company has made an AI-generated likeness of an American beer ad; and considering that people's faces are melting into the cans, the results are horrifying, to say the least. There's an equally-frightening AI-generated pizza ad too. On the bright side: if AI commercials are anything to go by, copywriters and ad filmmakers have nothing to worry about… just yet.
Fewer Zs please: You may want to stay away from hitting snooze-town during the day. Turns out that siestas longer than 30 minutes can directly impact your health. Not only do you wake up in a daze, but longer naps are apparently linked to higher BMI, which could lead to higher blood pressure, diabetes and, possibly, heart disease. Moral of the story: quick power naps are the way to go.