Discover more from The Signal
The Signal is a daily curated newsletter that helps you understand the latest developments in business, tech, finance, economy, and policy with sharp analysis and crisp insights thats fun to read arriving at 8AM daily in your inbox.
Over 81,000 subscribers
Not so smart BluSmart
Also in today's edition: Apple releases iPhone 15; TRAI's private exchange; This isn't a Mexican standoff; Basmati blunder
Good morning! Imagine a Sunil Chettri or a Gurpreet Singh Sandhu being in red hot form, only for an astrologer to then decide whether they should warm the bench for the next game. This scenario played out irl, btw. The Indian Express reveals that India's national football coach Igor Stimac consulted astrologer Bhupesh Sharma to pick a starting XI for four crucial matches, including the Asian Cup qualifier between India and Afghanistan in June 2022. About 100 messages were exchanged between Stimac, who once played for Croatia, and Sharma in May-June 2022. The All India Football Federation paid over ₹12 lakh-₹15 lakh (~$14,470-$18,080) for Sharma's professional services. Well, you don't need astrology to predict that the stars aren't with coach Stimac in this case.
The Signal is now on Telegram! We've launched a group — The Signal Forum — where we share what we're reading and listening through the day. Join us to be a part of the conversation!
Today's edition also features pieces by Dinesh Narayanan, Julie Koshy Sam, and Jaideep Vaidya.
If you enjoy reading us, why not give us a follow at @thesignaldotco on Twitter Instagram and Threads.
The Market Signal*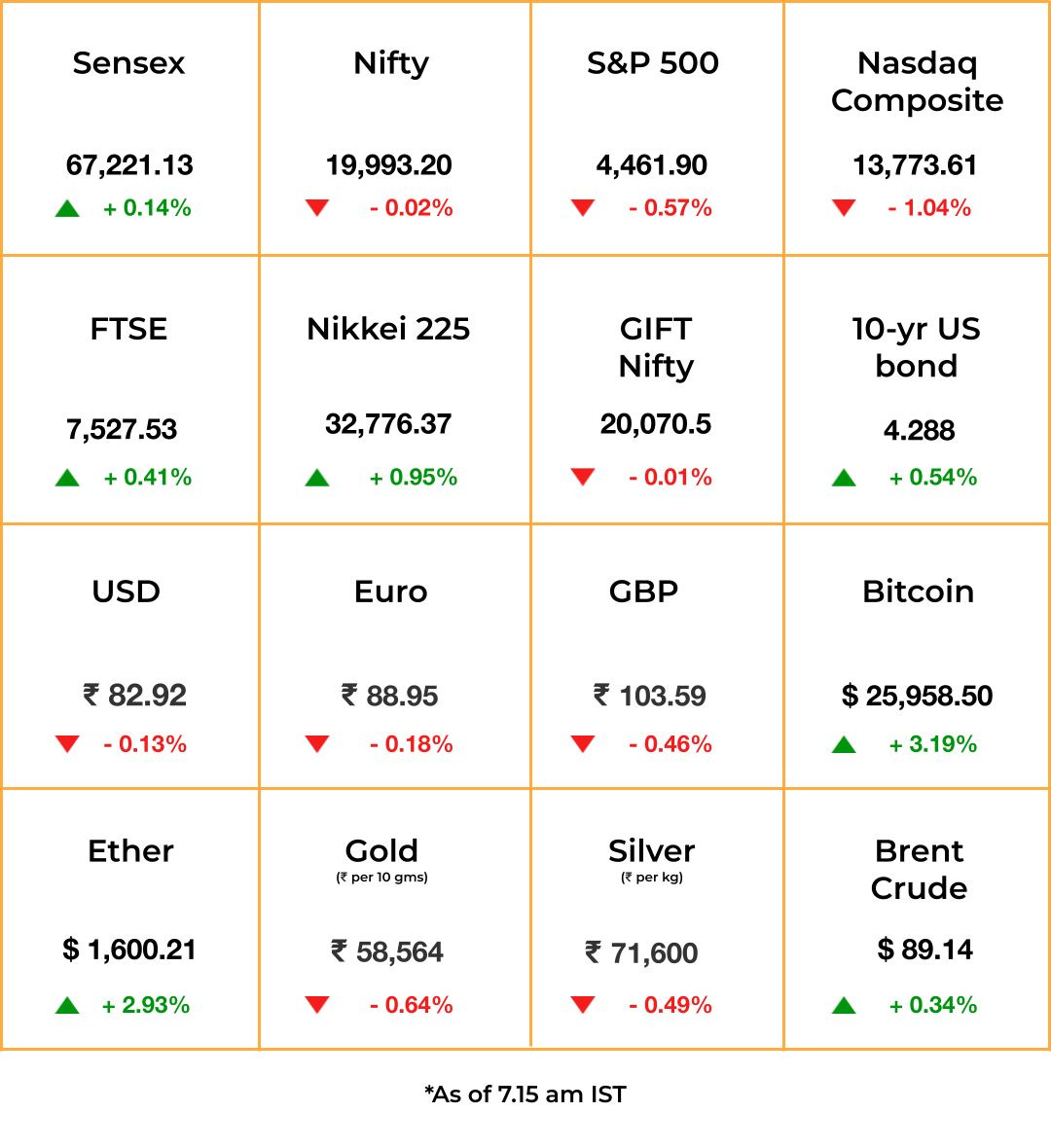 Stocks & Economy: Indian equities will likely see-saw on Wednesday as investors book profits in stocks that have peaked for now.
The bull run will, however, have enough fuel in the tank as inflows into equity-oriented funds continued in August, which at $2.4 billion were 167% higher than July. Small cap stocks were on a tear in the past few weeks as the government's capital expenditure boosted several manufacturing sectors. The capex also helped bump up industrial output, which hit a five-month high in July. The small-cap rally may pause now, however.
Asian stocks were mixed in morning trade ahead of US retail inflation data. In the next few days, 10 major central banks worldwide will take a call on interest rates. Those decisions will determine the direction of the global economy in the coming months.
TECHNOLOGY
India Arrives With iPhone 15 On Debut
In a boost to India's creds as an emerging manufacturing base, the iPhone 15 will ship from Foxconn's Tamil Nadu plant from the global launch day itself, with preorders beginning on September 15.
What's new: If you didn't see this reel we made, then everything. The new iPhone adds the EU-mandated USB C port. The Pro Models got a titanium frame and the larger Pro Max got a periscope lens and a price hike.
What else: The company launched the Apple Watch Series 9 with an updated chip and double tap finger gesture, the second generation Apple Watch Ultra, and AirPods Pro with a USB C charging port. The carbon-neutral watch is now wrapped in cloth not leather.
Apple, which is facing headwinds after a partial ban in China, has tweaked its pricing strategy to entice buyers to move to the higher end of its product range.
REGULATION
TRAI's Next Number Could Be Private
If you are a CEO, you may soon be eligible for this top job. After Madhabi Puri Buch at markets regulator Sebi, India's telecom regulator may get a private sector pro as chief.
The government may amend laws to allow experienced private sector executives to head the Telecom Regulatory Authority of India.
Executive flow from industry to governance institutions is common in economies such as the US, but rare in India. Here, the positions often become sinecures for retiring bureaucrats or judges.
Lateral entry into government, however, is not unprecedented. Rank outsiders such as Sam Pitroda, RV Shahi, and Nandan Nilekani have entered the high echelons of government. Even economists Manmohan Singh and Raghuram Rajan, both of whom served as RBI governor, were lateral entrants from academia. In 2019, the government also started large-scale lateral entry of professionals at the joint secretary level to beef up policy-making expertise.
MOBILITY
The Long Road To Breaking Even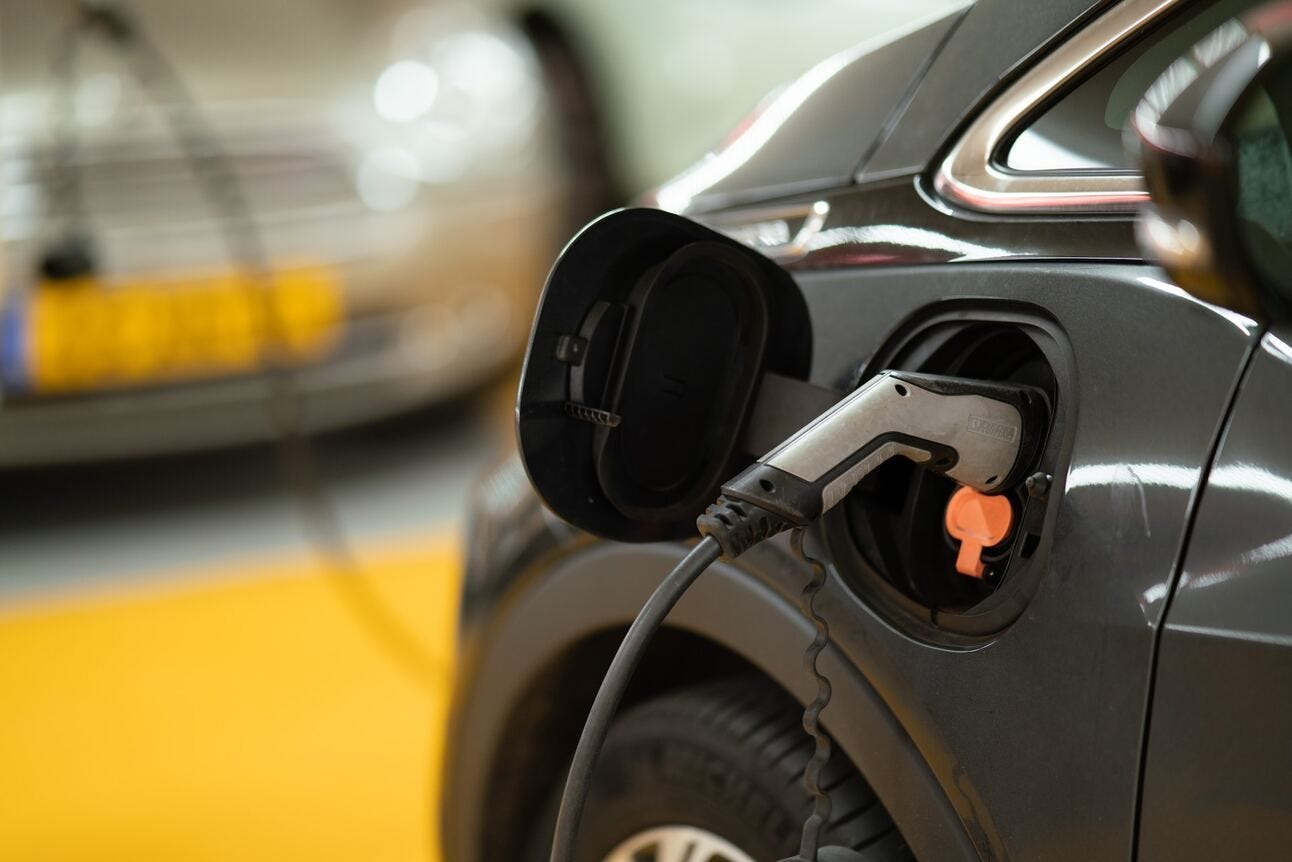 Photo by Michael Fousert on Unsplash
The ride-hailing business isn't for the faint-hearted. Consider that it took Uber 14 years to become operationally profitable. In India, the Dara Khosrowshahi-led company has overtaken domestic rival Ola in post-pandemic recovery. Meanwhile, potential disruptors such as InDrive are falling by the wayside.
EV-only mobility company BluSmart's Meru model and focus on high-value routes threatened incumbents enough to introduce their own EV fleets. But its business model is expensive. BluSmart's losses surged by 66% in FY22. Efforts to raise $250 million didn't materialise; it last raised $42 million from existing investors.
Enter the ecosystem play.
The Signal
The CapTable reports that BluSmart co-founder and CEO Anmol Jaggi wants to raise funds for independent subsidiaries across his two holding companies: Gensol Engineering, which has lucrative solar energy and EV leasing arms, and BluSmart Mobility, which houses the consumer-facing ride-hailing business. Jaggi is also opening up his EV charging infrastructure business, BluSmart Charge, to other EV companies and considering becoming an aggregator for non-BluSmart cabs.
This approach may tide BluSmart through in a tight funding environment. But private companies electrifying their fleets are already investing in charging stations. Ditto the government, which is refocusing EV sops towards public transport and a nationwide charging infrastructure.
Scaling up, which BluSmart wants to do, is a perennial conundrum in ride hailing. Uber Green already plies more routes and has recently introduced Group Rides too. From the looks of it, BluSmart's ambition to turn profitable by 2023-end still seems like a tall order.
SUPPLY CHAINS
A New Mexico
The US' southern neighbour is having a golden run. Apart from having one of the best-performing stock markets and the best-performing currency this year, Mexico has overtaken China to become the US' biggest trading partner. Foreign direct investment has increased by over 40% in 2023. All thanks to nearshoring or the relocation of supply chains to North America—including by carmakers Tesla, BMW, and Kia Motors—in the wake of tensions between Washington and Beijing.
The industrial hub of Monterrey is seeing an influx of foreign renters to the point where one in five new arrivals are Chinese businesses hoping to evade US blockades.
But: Infrastructure in Mexico is struggling to keep up with burgeoning industrial demand. The country is also up against the likes of Vietnam, which are capitalising on the China Plus One sentiment.
Aside: China is set to overtake Japan as the world's largest car exporter this year.
FOOD SECURITY
(No) Rice Rice Baby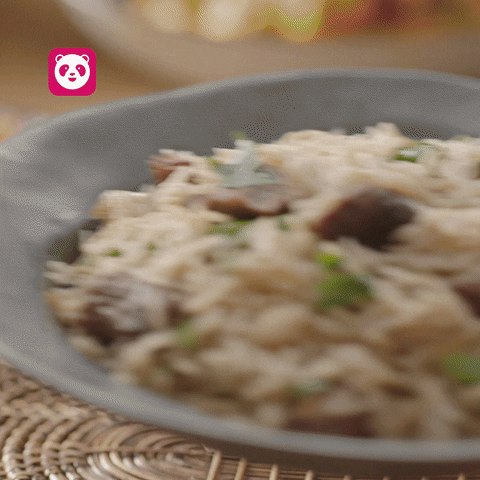 At a time when India is staking its claim to be the leader of the Global South, recent policy decisions by the Narendra Modi government aren't quite in sync.
Weeks after India set a minimum export price of $1,200 per tonne for basmati rice, The Economic Times reported that the country has started losing market share. Global buyers are also resorting to arm-twisting tactics and delaying payments for orders that were shipped before the policy change. There were no buyers for Indian basmati rice at an Istanbul food fair earlier this month, the report added.
India, the world's largest rice exporter, had also banned exports of non-basmati white rice in July to control surging domestic prices, caused by a combination of geopolitics and climate change. Such restrictions lead to a price rise globally, especially affecting poor countries in Asia and Africa.
Meanwhile, there are fears that India may ban sugar exports too.
FYI
Virus returns: The deadly Nipah virus has surfaced in Kerala yet again, claiming two victims in Kozhikode district. Four others are under treatment.
Inflation slows: Consumer prices rose at the rate of 6.83% in August, much slower than the 7.4% pace of July. Easing food prices contributed to the decline.
(See our in-depth interview with RBI monetary policy committee member JR Varma for a perspective on inflation and interest rates.)
Giant deal: Europe's biggest packaging company, Ireland-based Smurfit Kappa Group, is buying US rival WestRock Co for $11.2 billion, creating a global packaging behemoth.
Peak oil is here: The fossil fuel era is ending, says the International Energy Agency. The demand for oil, natural gas and coal will start dipping before this decade is over, it has forecast.
Tax shocker: Road transport minister Nitin Gadkari jolted the auto industry on Tuesday saying he was planning to propose a 10% "pollution tax" on diesel vehicles. Gadkari later clarified on social media platform X that it was not under "active consideration".
Finger-wagging works: SpiceJet has paid ₹100 crore ($12 million) to Kalanidhi Maran-founded KAL Airways after the Delhi High Court threatened its promoter Ajay Singh with "drastic action".
Furious water: Over 1,000 people died and more than 10,000 are missing after floods and dam-bursts wiped out a quarter of Libyan city Derna.
THE DAILY DIGIT
23
The number of weather and climate disasters in the US this year that resulted in losses exceeding $1 billion in each case, according to the National Oceanic and Atmospheric Administration. (The Times of India)
FWIW
Eyes in the sky: Did you know India now has an army of hyperlocal weather influencers? These young internet stars are predicting the local weather for specific towns, villages, and even neighbourhoods, and sharing updates on platforms such as X, YouTube, and WhatsApp. K Srikanth, a Chennai-based marketing professional and weather influencer, has invested in a $60 setup to analyse local weather. Oceanography student Biswajit Sahoo, who runs Odisha Weatherman, studies data shared by meteorological departments in Thailand and Bangladesh. Crop-weather modelling enthusiast Kirthiga Murugesan studies the weather in Tirunelveli, Tamil Nadu to inform farmers about changing weather patterns. They're doing the lord's work, if you ask us.
An apple a day: Over the past two decades, pumpkin spice flavour has been ubiquitous across grocery stores and coffee shops. Thanks, Starbucks. But some brands have had enough. According to a Modern Retail trend report, pumpkin spice fatigue has set in. Marketers are now rooting for a new fall favourite: apples. Bath & Body Works has introduced 35 fall scents including seasonal favourites Honeycrisp Apple, Pumpkin Apple, and Champagne Apple and Honey. Even Starbucks has got FOMO and launched an iced apple crisp oat milk shaken espresso. Retailer Grove Collaborative's top-selling product so far is its laundry detergent sheets in the limited edition Harvest Apple scent. How long before apple-everything fatigue sets in?
Second life: In today's edition of Just Japan Things, Sony Japan has launched a scheme to recycle its ageing robotic dog, the ERS-1000 Aibo. As part of its latest adoption programme, 'preloved' Aibo robot dogs can be donated so that they can find new homes at medical and nursing facilities and provide emotional support (while reducing e-waste). Sony plans to charge the "foster parents" an undisclosed fee for the service. Per The Verge, Aibo wasn't intended to be an emotional support device. But it was engineered to respond to voice and touch, with even a nose camera to recognise family members, making it an ideal companion.
re