Discover more from The Signal
The Signal is a daily curated newsletter that helps you understand the latest developments in business, tech, finance, economy, and policy with sharp analysis and crisp insights thats fun to read arriving at 8AM daily in your inbox.
Over 81,000 subscribers
Can Apple induce a cloudburst?
Also in today's edition: Data-free cable TV for phones; Man versus food; Fee fi fo fum; Loan recovery at what cost?
Good morning! You'd be living under a rock if you missed the hype (we envy you) about superconductor LK-99 on X, formerly known as Twitter, and Reddit. If true, the superconductor could revolutionise quantum computing, medical imaging, product design, energy, and even transportation. The hoopla around LK-99 spilt over onto stock markets in the US, China, and South Korea, The Wall Street Journal reports. American superconductor shares leapt 60% last week before their gains reversed. Shares of little-known South Korean companies such as Sunam, Mobiis, and Shinsung Delta Tech surged before coming down to earth. But scientists remain sceptical, per Nature. Well, that's just another day on the Internet.
The Signal is now on Telegram! We've launched a group — The Signal Forum — where we share what we're reading and listening through the day. Join us to be a part of the conversation!
Today's edition also features writing by Soumya Gupta, Jaideep Vaidya, Srijonee Bhattacharjee, and Julie Koshy.
🎧 Spyware maker LetMeSpy halts operation after hacker wipes off server data. Also in today's edition: Why did the Indian Government impose immediate restrictions on the import of personal computers, laptops and tablets? Listen to The Signal Daily on Spotify, Apple Podcasts, Amazon Music, Google Podcasts, or wherever you get your podcasts.
If you enjoy reading us, why not give us a follow at @thesignaldotco on Twitter Instagram and Threads.
The Market Signal*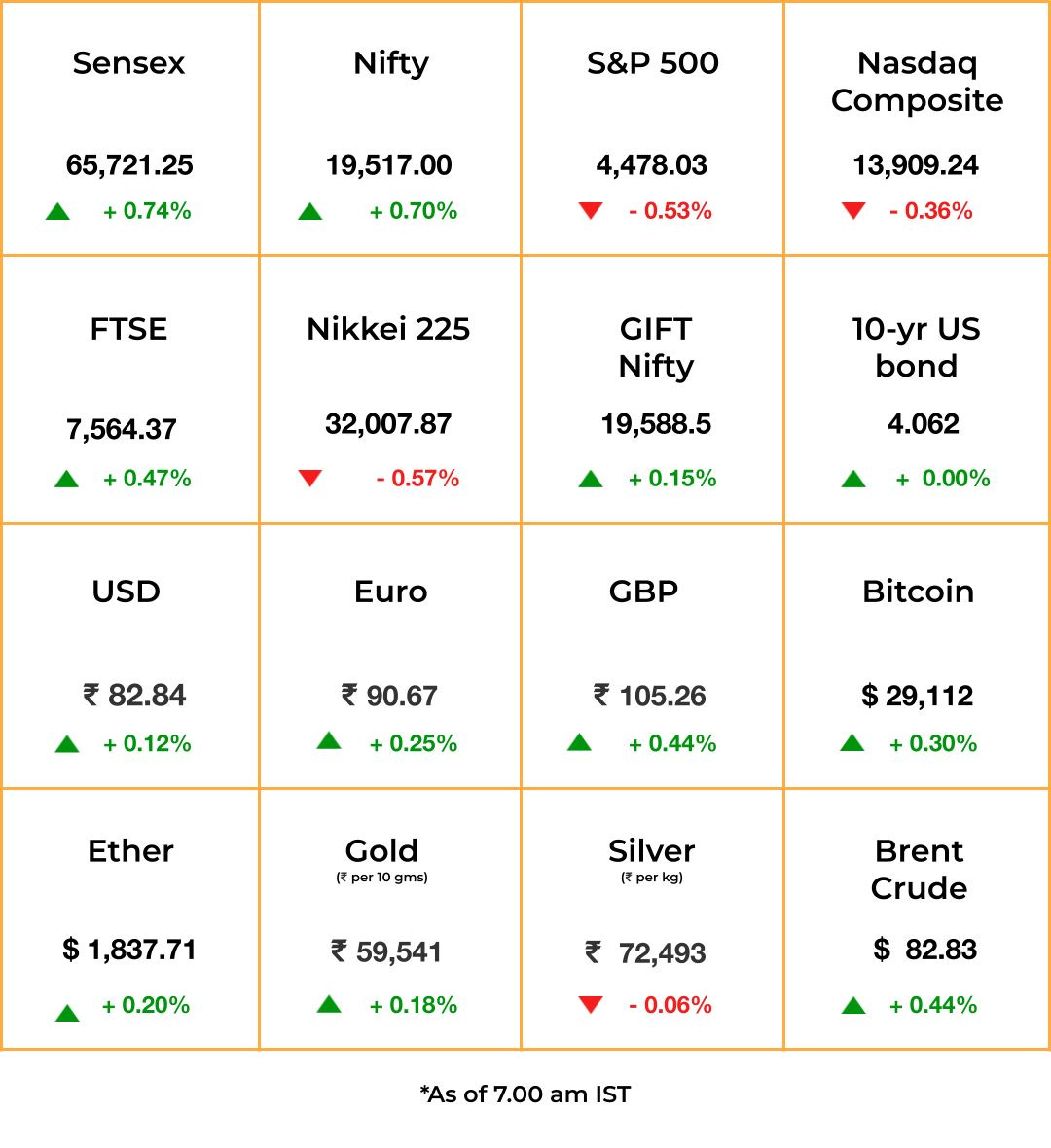 Stocks & economy: The Nifty may start muted today taking cues from US equities that ended in the red on Friday. The correction in Nifty and Nifty Bank indices, ongoing for the past two weeks, may not be over yet.
Traders may keep to the sidelines before the RBI's policy meeting due Thursday.
The Federal Reserve debated future policy trajectory after the release of the US jobs report that showed a weaker-than-expected uptick; unemployment rate fell while wages stayed at the higher end of forecasts.
Markets see a 40% possibility of an end-of-the-year rate hike followed by rate cuts adding up to 125 bps in 2024. There is fear that the economy may skirt a recession but be left with a gaping budget deficit and too-high inflation.
In Asia, investors are increasingly letting go of Chinese stocks for better opportunities in Japan.
TECH
Disruption, The Device Way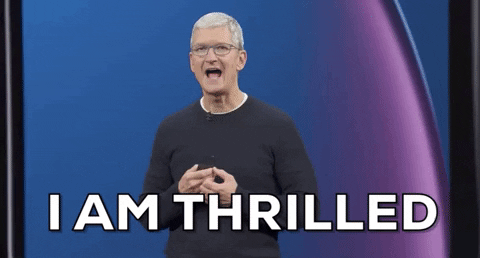 Everyone in the AI race either wants to be Nvidia and dominate advanced chipmaking, or dominate the cloud/data centre-everything. Everyone, that is, except Apple.
The world's most valuable tech company wants to run large language models (LLMs) on Apple devices instead of the cloud. The Financial Times reports that internal teams, such as the Machine Intelligence, Neural Design or MIND division, are hiring for "dozens of roles" worldwide to that effect.
Compressing LLMs to run on devices rather than the cloud wouldn't just be a curveball for Amazon, Microsoft-OpenAI, and Google. It'd also be cost-effective for developers who get their bread and butter from Apple's unparalleled hardware ecosystem, which emphasises user privacy too.
But: Apple has been trying to crack this since 2018; and Google, focused as it may be on Cloud, has had a compressed, on-device framework since then. Will Tim Cook catch up or do one better?
ENTERTAINMENT
From DTH To DTM
The Indian government wants to turn your mobile phone into a TV. While watching video content on phones is not revolutionary, doing so without internet is. The Economic Times reports that the government, in partnership with IIT-Kanpur, is exploring the feasibility of direct-to-mobile technology, wherein phones can receive TV channels without the internet, for a nominal monthly charge.
The idea is to push content of national importance, such as educational shows and emergency alerts. Television reaches ~220 million homes in India, while there are ~800 million smartphone users. Video streaming services currently account for over 80% of broadband capacity. Guess who's not happy? Yep, telcos.
Meanwhile: Disney-owned sports network ESPN is looking for a strategic partner to navigate the world of sports streaming, reports WSJ.
And: Lionsgate is acquiring Hasbro's film and TV business eOne for $500 million, with the latter focusing on selling toys.
PRICES
Grub's Going to Cost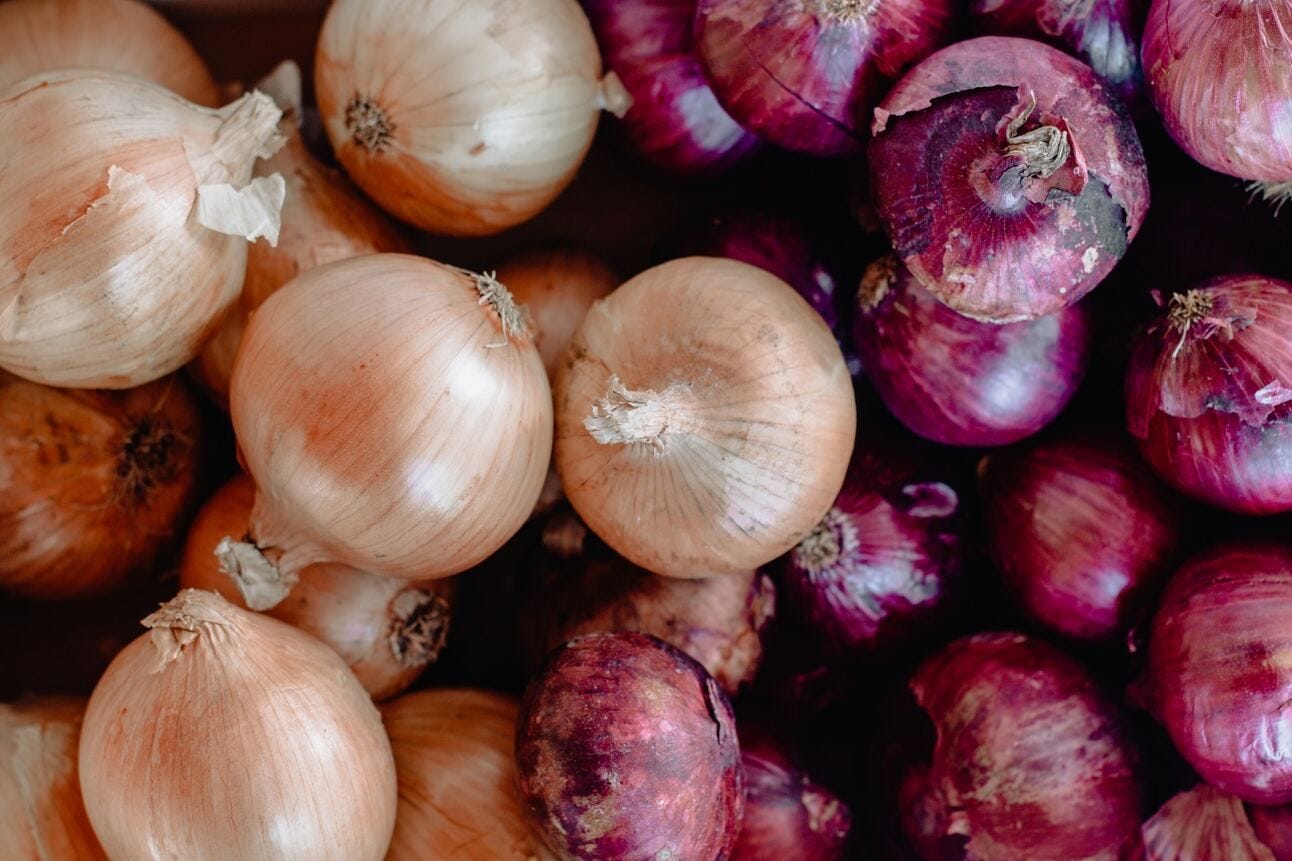 Photo by Sincerely Media on Unsplash
The Indian government wants the farmers' party to wind down as prices are hurting middle-class home budgets.
Wheat: It may remove or reduce the 40% import duty on the cereal even as global prices rise after Ukraine attacked a Russian port. Official estimates put the next harvest yield of the grain at over 112 million tonnes, but experts believe that could be an overstatement by about 10 million tonnes due to weather damage.
Rice: Farmers' hopes to capitalise on red-hot international prices were dashed when the government banned exports of non-basmati rice. But basmati farmers are celebrating as they rake in the moolah.
Veggies: After tomatoes, bad weather has shrunk onion acreage and production is estimated to fall 6%. That means onion prices will go the tomato way, which, by the way, are expected to hit ₹300 ($3.63) per kg. The tomato windfall is minting village crorepatis overnight.
The Signal
With several major state polls around the corner and national elections scheduled for 2024, the government certainly does not want inflation to turn into a campaign issue. At its June policy review, the Reserve Bank of India paused interest rate hikes. The central bank can brush away a seasonal rise—even if unusually high—in food prices, but continuous crop disruption due to quirky weather causing shortages and repeated inflation spikes is something it will worry about when it begins rate deliberations later this week.
FINANCE
Are ARCs Going Too Far?
Probably, according to Maharashtra Deputy CM Devendra Fadnavis, who's pushed for Edelweiss to be charged after the alleged abetted suicide of Nitin Desai; finance professionals think it's overreach.
Details: On August 2, Desai, best known for his production designs on films like Hum Dil De Chuke Sanam, Lagaan, Devdas, and Jodhaa Akbar, ended his life after leaving voice notes about the ARC or asset reconstruction company arm of Edelweiss harassing him over loan recovery. Desai's company, ND's Art World, had defaulted on a ₹252 crore (~$30.5 million) loan. The National Company Law Tribunal (NCLT) had initiated insolvency proceedings.
Desai's wife pressed criminal charges against five people, including Edelweiss Group chair Rashesh Shah and NCLT's interim resolution professional Jitender Kothari, who's accused of threatening to send "bouncers" to repossess Desai's studio.
Edelweiss denies the charges. ARCs, for whom loan recovery rates have been slumping, will be watching closely.
FOOD DELIVERY
Pay To Add To Cart
Your order's on its way: that'll be two bucks. Zomato's latest attempt at making a profit is a ₹2 platform fee on every order. This is a limited pilot for now, but Zomato may expand it to all users. Rival Swiggy already did so earlier this year.
Hat in hand, Zomato has already gone to restaurants asking for 2-6% more commission. But restaurants are reluctant, and the industry association is backing delivery rivals DotPe and Thrive.
Magic trick: Zomato has been under pressure to make profits ever since it listed two years ago. Last week, the company finally cracked it. It posted a (modest) ₹2 crore (~$240,000) profit for the June 2023 quarter. But there's a catch. Zomato actually made a ₹15 crore (~$1.81 million) loss before tax, but deferred ₹17 crore (~$2 million) in taxes, conjuring up an accounting profit. It seems to have worked; Zomato shares closed 10% higher on Friday.
FYI
#Goals: Logistics firm Delhivery would break even on an adjusted EBITDA level during FY24 and look to achieve net profitability by the end of FY25, per co-founder and chief executive Sahil Barua.
Attrition: Two of Ola Electric's oldest employees, head of strategy and planning Slokarth Dash, and head of partnerships and corporate affairs Saurabh Sharda, have resigned, reports Mint.
Shackled: Former Pakistan Prime Minister Imran Khan will not be able to contest elections. Khan was arrested after a trial court sentenced him to three years in prison for corruption.
Plug and play: The government will spend ₹1.39 lakh crore (~$16 billion) to provide last-mile BharatNet connectivity to ~640,000 villages.
'Twas nice knowing you: Google's parent company Alphabet has offloaded nearly 90% of its stake in Robinhood, the struggling trading app whose shares have tanked 86% since their peak.
Frozen: The US has blocked $26 million payment due to Indian diamantaires under its Russia sanctions regime.
Hang in there, mom: For the first time, the US FDA has approved a pill to treat postpartum depression, to be sold under the brand name Zurzuvae.
THE DAILY DIGIT
$965 million
What Disney spent cumulatively on its four flops this year, namely: Ant-Man and the Wasp: Quantumania, The Little Mermaid, Indiana Jones And The Dial Of Destiny, and Secret Invasion. (Forbes)
FWIW
Do not try this at home: Bill Gates didn't get much sleep at Microsoft. On a recent episode of his new podcast, Unconfuse Me With Bill Gates, featuring guests Seth Rogen and Lauren Miller Rogen, Gates revealed that he'd compete with his colleagues over who'd sleep the least, because they thought snoozing was "lazy" and "unnecessary". That changed after his father was diagnosed with Alzheimer's disease. Moral of the story: no amount of success should come at the cost of your sleep, friends.
Frying pan to fire: The last time the hottest place on Earth—California's Death Valley National Park—set a new heat record (134°F or 56.6°C), it was 1913. Now, 110 years later, it's witnessing an influx of visitors. The biggest attraction is a jumbo metal thermometer where folks line up to take photos. The US has been sizzling because of a heatwave over the last few weeks. According to the National Park Service, about 600,000 people visited the spot in 2023 till May. That's up 4% from last year. Psst: climatologists are debating whether the 1913 record still makes Death Valley National Park the hottest place on Earth. Nevertheless, we wouldn't define this as our idea of fun.
Back to campus: TIL that Google is a boarding school. Google is trying very hard to ensure that its hybrid work experiment is a success. The tech behemoth is offering discounted stays for employees to check in at its on-campus hotel in Mountain View, California. According to internal advertising, the $99 "Summer Special" runs till September 30 and is currently available for full-time employees only. Of course, staffers have mixed feelings about the move. One message on the internal board went: "Now I can give some of my pay back to Google." 💀.