Discover more from The Signal
The Signal is a daily curated newsletter that helps you understand the latest developments in business, tech, finance, economy, and policy with sharp analysis and crisp insights thats fun to read arriving at 8AM daily in your inbox.
Over 81,000 subscribers
Baba's sis wants her share
Also in today's edition: Razorpay's homecoming; Banking on talks; Electric surge; India makes it large
Good morning! And so, it begins. China has arrested a man for using the artificial intelligence chatbot ChatGPT to create fake articles about a train crash that killed nine people on April 25. Per South China Morning Post, in what could possibly be the first case of its kind, the man faces five-to-10 years of jail time. Meanwhile, Spotify is battling an AI invasion. Financial Times reports the music streamer has removed tens of thousands of songs uploaded by AI music startup Boomy. The chorus for AI regulation better hit the high note soon enough.
🎧 Wall Street giant Goldman Sachs pays the price for the gender pay gap. Also in today's edition: we talk about the Karnataka State Assembly Elections. Listen to The Signal Daily on Spotify, Apple Podcasts, Amazon Music, Google Podcasts, or wherever you get your podcasts.
The Signal is now on Telegram! We've launched a group — The Signal Forum — where we share what we're reading and listening through the day. Join us to be a part of the conversation!
Today's edition also features pieces by Roshni P. Nair, Julie Koshy Sam, Srijonee Bhattacharjee, and Jaideep Vaidya.
If you enjoy reading us, why not give us a follow at @thesignaldotco on Twitter and Instagram.
The Market Signal*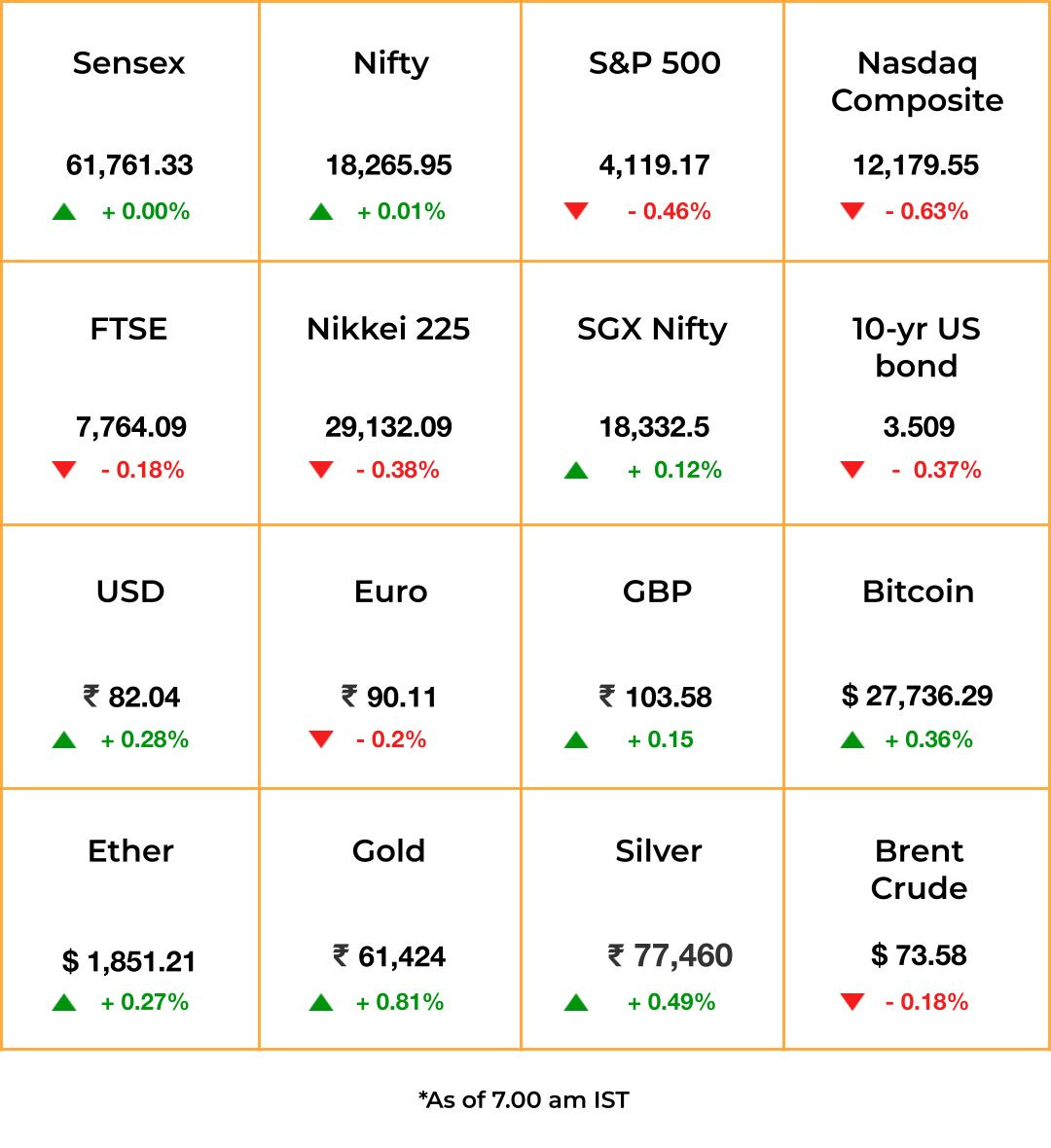 Stocks & economy: Breaking from a global trend, Indian equities may open a tad higher but weak sentiment abroad will likely weigh on domestic indices through the day. Investors will also be cautious ahead of inflation data due Friday.
New-age companies that sold shares to the public last year are having a moment. Paytm is buoyant on improved quarterly performance while Zomato took a beating after rival Swiggy was down-valued by investor Invesco.
US indices were in the red with inflation numbers due later today. While investors have begun factoring for a 50-bps of rate cuts this year, officials indicated it wasn't time yet. Investor Stan Druckenmiller warned that the US was on the brink of a recession.
On the debt ceiling, things were slightly more optimistic as the Congress possibly inched towards an agreement.
FAMILY FEUD
A Promise Forged And Forgotten
Family disputes throw long shadows, and this one is nearly 30 years old. Billionaire Baba Kalyani, chairman of forging company Bharat Forge, is locked in a court dispute with his sister Sugandha Hiremath, who is demanding equity shares worth ₹1,300 crore (~$158 million) in Hikal, a chemicals company founded by her husband and owned by both families.
It's complicated: Sugandha's husband Jaidev Hiremath founded Hikal with seed money from the siblings' father, Neelkanthrao Kalyani. Sugandha says her father had promised her the stake in a 1994 agreement. Baba Kalyani's lawyers say it wasn't so much an agreement as an informal note with no legal standing.
Also: Rich families squabbling over inheritance is common and this isn't the Kalyani family's first. In 2015, Baba Kalyani's niece Sheetal had also sued the tycoon for a share of the family fortune.
STARTUPS
Does It Pay To Flip?
It's unclear whether it's driven by profit, patriotism or pressure, but the Y Combinator-backed, US-headquartered unicorn parent of payment gateway Razorpay is shifting to India. The move, known in startup lingo as reverse flipping, will see Razorpay set up base in the International Financial Centre in Gujarat's GIFT City.
Cost no matter: Earlier this year, another payment services company, PhonePe, had reverse-flipped from Singapore to India despite having to pay nearly $1 billion in taxes on valuation difference. It's not clear what the move will cost Razorpay, last valued at $7.5 billion.
While some financiers such as Y Combinator insist on their portfolio companies be based outside India because of tax rules, the Narendra Modi government is now trying to lure them back home. Twenty out of 108 Indian unicorns are based overseas.
BANKRUPTCY
A Wishful Solution
The Insolvency and Bankruptcy Code was billed as the panacea for busted businesses and unpaid loans when it was introduced in 2016. But it has been more of a value-destroying rigmarole than a smooth solution.
What's new: So, a new mechanism is being mulled over. Here's how it'll work: creditors, debtors, and other stakeholders will first negotiate and arrive at a resolution plan before going to the National Company Law Tribunal (NCLT).
Of course, the proposal has to wind through a committee of bankers and an insolvency professional, who would help the Insolvency and Bankruptcy Board of India devise a framework. The proposal has been mooted to reduce NCLT's workload.
The Signal
If lenders could agree on a debt resolution plan, why do they even need the bureaucracy, we wonder. The current bankruptcy process is skewed towards liquidation rather than resolution, resulting in enormous value destruction. Often, bidders walk away with assets at bargain prices, while creditors take deep haircuts. For instance, the consortium bidding for Jet Airways bagged the company for ₹475 crore (~$58 million) when lenders were owed nearly ₹25,000 crore (~$3 billion).
So far, 165 cases of claims totalling over ₹1,000 crore (~$121 million) have seen value erosion of 94%. Hundreds of luxury hotels are going to seed while they wait for a resolution. That begs the question if the process appreciates the causes of bankruptcy—business cycles, temporary distress or misconduct fraud—and addresses them accordingly.
ELECTRIC VEHICLES
Cold Comfort
China and the US may be the world's largest electric car markets, but a Scandinavian country is leading the way in truly phasing out fuel vehicles. The New York Times reports that battery-powered models accounted for 80% of new car sales in Norway last year. The country crossed the 50% milestone back in 2019; the US has a 2030 target for the same.
The capital of Oslo (which has a "chief engineer for air quality") will have a fully-electric bus fleet by the end of 2023. Airborne fossil fuel byproducts have drastically fallen, while gas stations and auto mechanics have moved to servicing EVs and working at battery recycling plants. Tax exemptions and subsidised fast-charging networks helped the shift.
But: The International Energy Agency estimates that growth in the electric vehicle population will eliminate the demand for five million barrels of oil per day by 2030.
CONSUMPTION
Another Round, Please
Indians consumed 4.75 billion 750-ml bottles of liquor in the year ended March 2023, per excise department data. That's a record ~400 million cases of tipple, amounting to a 12% year-on-year rise. It's also almost 40 million cases higher than the previous record set four years ago.
Deets: Whisky remained India's preferred poison, accounting for two-thirds of the demand and growing 11.4% despite a high base, reported The Economic Times. Brandy (21%) and rum (12%) followed in terms of market share. The party continued despite prices rising to offset higher costs of raw materials such as extra neutral alcohol, glass, and other packaging materials.
But: Affluent Indians glugging the premium stuff are keeping the toplines growing. Alcohol companies suspect plebeian drinkers are practising abstinence.
FYI
Nabbed: Imran Khan, Pakistan's former prime minister, was arrested outside the Islamabad High Court in a case involving the country's anti-corruption body.
Add to cart: Taiwanese manufacturing giant Foxconn has bought 300 acres of land for ₹300 crore ($36.5 million) in Devanahalli, near Bengaluru's international airport.
Swooping in: The Tata Group and IndiGo are negotiating with Go First's lessors to hire the insolvency-hit airline's planes. The duo are also among other aviation companies interested in taking Go First's parking slots at airports, Bloomberg reported.
Tragic: Daksha, a female cheetah, became the third casualty in 40 days in Madhya Pradesh's Kuno National Park. Daksha was brought from South Africa.
Chexit: LinkedIn is shutting down InCareer, its stripped-down, China-focused job service app, citing "increasingly fierce competition and macroeconomic challenges". It also trimmed 716 jobs as part of the reorganisation.
Fresh dough: Venture debt fund Stride Ventures has closed half of the $200 million it aims to raise as part of its third fund.
THE DAILY DIGIT
$230
~₹19,000. The cost of a single mango grown by a farmer in the snowy Tokachi region of Japan's northernmost island, making it the world's most expensive variety, Hakugin no Taiyo, which means Sun in the Snow. (Bloomberg)
FWIW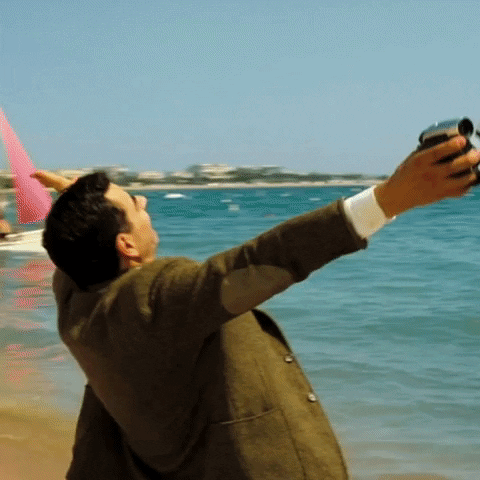 Lights out: All that sunshine may not bode well for your stock portfolio. According to a new study, we tend to be in a better mood and even optimistic (their words, not ours) during sunny days. So much so that bright days can influence which car you buy. Yes, the expensive one gets picked up often. Similarly, investors bid higher amounts for stocks on sunny days. Smaller and younger firms, less-frequent bidders, and retail investors could be affected the most. Add climate change to the mix, and it could just lead to more disappointments. 🙃
Talking about climate change: ...Whales could play a role here. These mammals are great at yeeting carbon dioxide from the atmosphere. And if that's not enough, whale poo is nutrient-rich and fertilizes phytoplankton (microscopic marine algae), which also ta-da absorb a huge amount of carbon dioxide and create half of the world's oxygen. Phew! The 'Whale Carbon Plus Project' (yes, that's a thing) has been established to what else but save whales and reward investors with carbon credits. But our friends at Reading Room India mention: should whales be looked at as mere commodities?
Tip of the iceberg: Should tipping at self-checkout counters become a thing? Customers don't think so. Nevertheless, every time they interact with a machine, consumers feel like they've been handed a free trip to guilt town. Tl;dr: some users feel emotionally blackmailed by a machine. Self-checkout machines at airports, stadiums, cookie shops, and cafes come with at least a 20% tip request, which is leaving users bamboozled since labour costs are already chopped off. Labour advocates put it down to companies doing little for their employees while profiting off the tipping system. Our pro-tip (geddit?): machines should never win any trophies. Not even chump change.