Discover more from The Signal
The Signal is a daily curated newsletter that helps you understand the latest developments in business, tech, finance, economy, and policy with sharp analysis and crisp insights thats fun to read arriving at 8AM daily in your inbox.
Over 81,000 subscribers
Biden's gift to Indians
Also in today's edition: Apple launches new toys, Litecoin wrecks dreams, Chinese idol can't be hot
Good morning! A deal that has been long in the offing was confirmed yesterday. Intuit announced that it was acquiring email delivery platform MailChimp for over $12 billion. Something interesting about MailChimp; it is completely bootstrapped. So all this money is a windfall for the founders and the team. Also, one of the primary reasons MailChimp got popular was it sponsored the niche hit Serial a few years ago. Strange times.
The Market Signal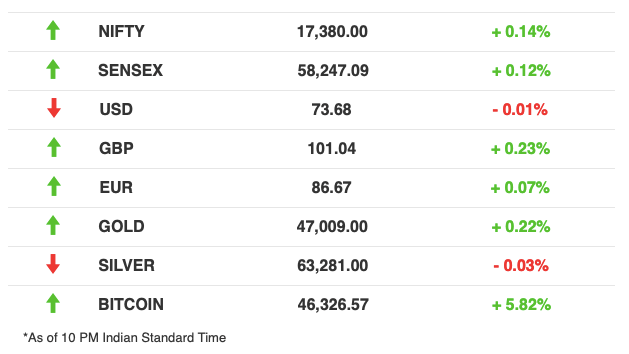 Stocks: Benchmark indices shot up in intra-day trade but settled lower by close, which were still closing records. The market rally was broad as small cap stocks rose too.
Value investor Rakesh Jhunjhunwala bought five million Zee Entertainment shares ammid a management tussle between two big investors, Invesco Developing Market Fund and OFI China Fund. His bulk deal triggered a rally in media stocks.
The Year For Apple Begins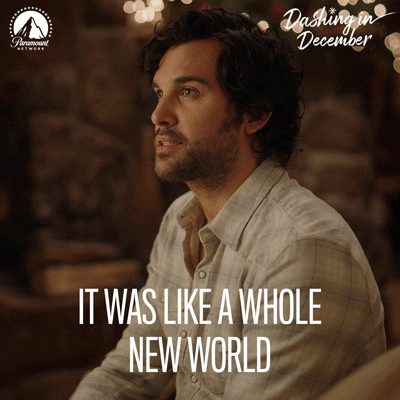 After a delayed launch of the iPhone 12 series last year, things are back to normal at Cupertino. At a slick virtual event shot at Apple Park and picturesque locations in California, Apple showed off its newest gadgets: iPhone, Apple Watch and a new iPad mini.
iPhone, iPad: The new iPhone 13 slab looks almost identical to the iPhone 12 series but comes with a faster A15 chip, a sharper, brighter screen (with a 120hz ProMotion display on the Pro models), a bigger battery, a smaller notch and a better camera. The iPhone 13 models come in five colors (including a new pink) and the Pro models come in four colors (including a new Sierra Blue). The iPad mini's new design brings it closer to the iPad Air and iPad Pro in form. It has the A15 bionic chip inside and supports the 2nd gen Apple Pencil.
Let's Watch: Those expecting a redesign and major health additions, sorry. It's just 41 mm and 45 mm screens. Chip shortages and production issues have ensured there is no firm shipping date either.
Disappointing: The launch of merely incremental products was a let down for die-hard fans. Mobile phones clearly appear to be hitting an innovation plateau with technology leaps limited to camera and chips.
The Loop: Apple also previewed a trailer of Season 2 of The Morning Show which will premiere on Apple TV+ this Friday. Expect to see the entire product line up subtly (and not so subtly) thrown at us. There's some serious strategy here.
Oh, also iOS 15 drops on Monday, 20th September.
Litecoin Takes A Dive
Hordes of investors rushed to buy Litecoin on discovering that Walmart would begin accepting the cryptocurrency, only to realise they fell for fake news. The carefully staged scheme spiked Litecoin's price along with other cryptocurrencies.
Elaborate con: The cryptocurrency's price jumped by 30% to $231 after GlobeNewswire published a forged press release that was carried by several major news organizations before Walmart called it out as fake. The world's largest retailer said it was not looking for a partnership with any digital currency at the moment. GlobeNewswire killed the release too and Litecoin's price fell back to $180. Even Litecoin's social media team realised it was duped only after tweeting the story from its official handle. Litecoin creator Charlie Lee later said sorry.
Regulatory hit: Cryptocurrency markets are still at a fledgling stage and regulation is yet to catch up with their growth. A regulatory overhaul in Korea, however, is set to wipe out $2.6 billion of crypto wealth and two-thirds of exchanges.
Greenbacks For Green Card
Indians had to sometimes wait close to 84 years to get a US green card. That's about to change. A new Bill has proposed a quicker route for permanent residency; paying a super-fee.
What's the law? A US House panel has approved a bill that allows green cards to be issued faster. The fee is $5,000 for those who have waited for more than two years. Even children of those on work visas will be eligible within the overall country cap, says immigration lawyer Greg Siskind.
An instant approval? One could say that. The fee fast-tracks applicants to the front row though the approval will be given based on background verification, length of residency and a medical test.
The Signal
This proposal is in line with President Joe Biden's open approach to immigration, articulated in a policy laid down on his first day in office. As of April 2020, there was a green card backlog of 1.2 million, of which 68% were Indians. Trump-era rules also made it tough for Indian software professionals to seek entry under H-1B visa. More green cards would free up the quota for visas. The queue kept getting longer as more and more rich Indians tried to establish bases outside the country. The Reserve Bank of India's Liberalised Remittance Scheme helped the flow. The legal tweak would bring the American dream of many Indians closer and end the era of uncertainty for technology workers.
UPI Gets A Leg-Up
The Reserve Bank of India and the Monetary Authority of Singapore (MAS) are linking India's Unified Payments Interface (UPI) with Singapore's PayNow, enabling instant and low-cost money transfers between users in India and the city state.
BFD: The agreement is a boost for the indigenously built UPI, considered one of the most flexible and safe money transfer mechanisms globally. After it rolled out the Google Pay wallet overlaid on the UPI platform, the tech giant wrote to the Federal Reserve urging it to copy the National Payments Corporation of India product for FedNow, a proposed payments settlement system for the US.
Validation: Global financial centre Singapore using UPI to enable cross-border money transfers is another step in the product being accepted globally.
Meanwhile: The RBI is trying out voice-based payments for those who are not digital savvy and cannot afford a smartphone.
No Idol Worship In China
The days of XIAO Zhan and YANG Ying aka Angelababy may be over. Facing the latest crackdown on the popular culture and entertainment industry, Chinese shows might have to dump "good-looking" celebrities for those with a social message and what the state terms the correct beauty standard.
Eight-points of action: This is a reinforcement of a list that the Chinese administration issued to "clean up" the entertainment industry to rub out influences of effeminate men and those with controversial political views, among other things.
Homogenous society: The regulations are hardly driven by a desire to reduce the unbridled aspiration and toxicity that some kinds of shows can create. China wants to construct a moralistic and ideal society by exercising control over every aspect of its citizens' social and cultural lives. From restricting how much children can game to specifying gender ideals in entertainment, the government is trying to not-so-subtly tailor citizens' behaviour to fit into the "revolutionary culture" and socialist ideals.
What Else Made The Signal?
Fuel relief: Petrol and diesel prices may drop soon. The government is planning to bring the fuels under a single GST rate at a meeting later this month.
Tata rejig: For the first time in its 153-year history, Tata Sons may get a CEO. Current chairman N Chandrasekaran could oversee the chief executive, who in turn will mentor all the Tata businesses.
Fine, please: South Korea has done it again. It is fining Google $177 million for its smartphone monopoly and has banned the tech company from getting into anti-fragmentation agreements with manufacturers.
Calling it quits: Zomato co-founder and Head of Supply Gaurav Gupta is exiting the company after a six-year stint. This is the second co-founder to quit in 3.5 years, in addition to a number of other mid-to-senior management exits.
Spa time: Software developer for salon chains and spas, Zenoti has acquired SuperSalon, a US-based salon management software provider, to increase its reach to standalone salons in the US.
Defence mechanism: Thinking that President Donald Trump was going crazy, US General Mark Milley secretly called his Chinese counterpart, General Li Zuocheng, to assure him that the US would not attack China, a new book says.
On a roll: IPO-bound online drugstore, PharmEasy, is looking to raise $100 million from pre-IPO investors. That could lift its valuation to $6 billion after the round. They also bought hospital solution startup Aknamed for $150-200 million.
FWIW
Internet whisper: Reddit strikes Wall Street again. In classic subreddit format, memes and jokes have been hyping up uranium prices. The song and dance have caused the stocks of related companies to boom.
Moo loo: In dog-training style, scientists from New Zealand and Germany are training calves to relieve themselves in designated spots in return for a treat. This is meant to solve environmental problems as cow urine contaminates water supply and air with nitrogen.
Jab-berish? Twitter refused to label a post by Nicki Minaj as Covid-19 misinformation, saying it didn't violate the company's rules. In the tweet, Minaj claims that taking the Covid-19 vaccination caused "swollen testicles" and impotency in someone she knew, although there is no mention of official medical verification of the same. Yikes.
Write to us here for feedback on The Signal.