Discover more from The Signal
The Signal is a daily curated newsletter that helps you understand the latest developments in business, tech, finance, economy, and policy with sharp analysis and crisp insights thats fun to read arriving at 8AM daily in your inbox.
Over 81,000 subscribers
Bitcoin may not be currency
Also in today's edition: Smartphones no good for students, Kunal Shah's credo, Sabeer Bhatia is back
Good Morning! It is difficult to define why some things, like, say, memes go viral on the Internet. They just do. But you don't need to wonder why the latest Spiderman trailer went viral. It has 25 million views in 12 hours on YouTube. It has three Spidermen, six villains, and a wizard. The film is bound to be a hit and will draw lots of favourable reviews going by just the reactions to the trailer. A sigh of relief for the bean counters at Marvel who had to juggle a lot around to show that Eternals was not the dud that it was.
Btw, our podcast has been going strong for two months now. Tune in on your daily jog, drive to the office, or even as you WFH-ers have breakfast in bed. We promise it'll be music to your ears.
The Market Signal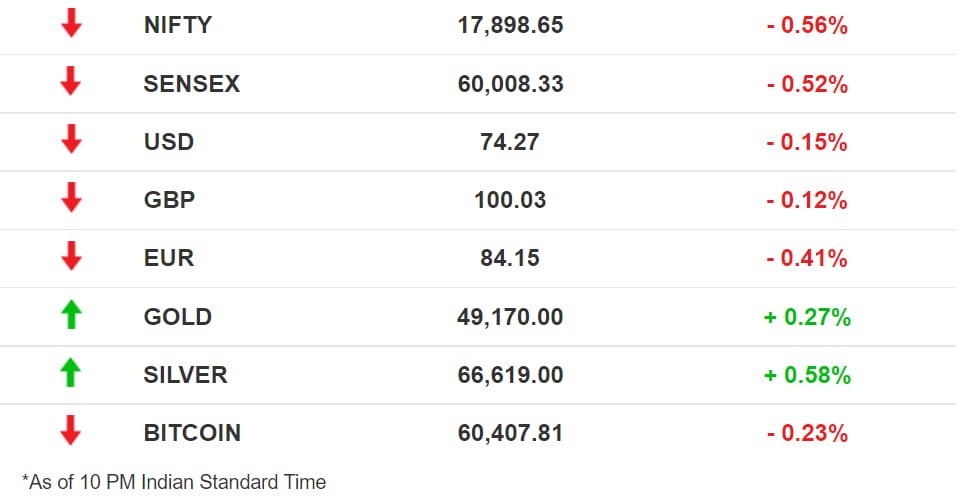 Stocks: Benchmark indices trended lower for the second session in a row in anticipation of inflationary pressure across the globe triggering interest rate hikes earlier than expected. The broader market followed suit, with the NSE Midcap and Smallcap indices closing 0.63% and 0.38% lower respectively. Among the sectoral indices, Auto stood out with a 0.71% gain on the hopes of stabilisation in the supply and prices of semiconductor chips.
Hold Crypto Assets, Not Currency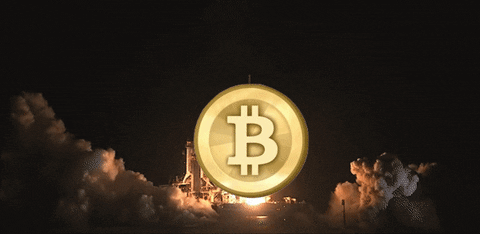 The good news is that there may not be a complete ban. The government is planning to take a middle path of allowing cryptocurrencies to be held as assets like bonds or shares.
Tax norms: Crypto exchanges could be classified as e-commerce platforms where a 1% tax would be collected under the goods and services tax regime. The government wants to be seen as 'progressive' on this matter even as the RBI is not comfortable with this stance. Amidst this, the Prime Minister's Office is also helping build consensus on the tweaks to the e-commerce rules that will include crypto sites.
Payment curbs? Using cryptocurrency to make payments may not be allowed, according to The Economic Times. This could be a damper. The Standing Committee on Finance that met industry experts is also not looking to block these instruments. Details of the proposed bill will be revealed in the next three to four weeks.
Parents Get Smartphones, But Students?
Smartphone ownership in India has almost doubled in three years to 67.6% in 2021. But students who are studying from home don't really benefit, according to the Annual Status of Education Report (Rural) 2021.
Phone access low: Parents owning a smartphone did not translate to their child getting access to it at all times. The report said that only 27% of children in such households got access to Internet-enabled cell phones at all times. This led to nearly 40% students taking private tuitions to catch up on missed lessons.
State schools gain: Due to economic stress, government schools saw a 4.5% rise in enrollments between 2020 and 2021 while private schools saw a 4.4% decline considering the fee factor. The ASER Report, however, pointed out that learning gaps have widened and that marginalised students have been left behind. To borrow from Raghuram Rajan, India's lost generation could well be here.
The Business Of Kunal Shah
Cred founder and Twitter sage Kunal Shah has reportedly bought a shadow bank, Parfait Finance and Investment.
The play: The serial entrepreneur, who made his fortune when he sold his earlier company Freecharge for $400 million to Snapdeal, has slowly aggregated multiple pieces for a larger finance and e-commerce play. Parfait is involved in activities auxiliary to financial intermediation, according to its regulatory filing. That means it could be in the business of loan documentation, loan processing, KYC processing etc.
Finance jigsaw: Now the Cred financial services ecosystem has a credit card repayments company, a lending arm, a peer-to-peer (P2P) lending platform, and has applied to the RBI for a payments aggregator licence.
The Signal
Creditworthiness is Kunal Shah's touchstone for a Cred customer and his target cohort is the top 25 million families of the country. Cross-selling financial products and services to this cohort is the business opportunity that Shah believes in. The flagship Cred has helped the company connect with millions of creditworthy customers and build brand equity, all of it burning cash. It would have learnt the ropes of lending in partnership with IDFC First Bank and the closed-loop P2P business for Cred customers would have given it rich insights into borrower behaviour. If Cred was about acquiring DAUs and MAUs (startup-speak for daily and monthly active users) to lure big investors, the new pieces are about building the backend of an integrated digital financial services business. Parfait could earn fees offering services within the ecosystem and also become a distributor of financial products.
With Open Arms, China Shuns Foreigners
A secret government committee in Beijing is drawing up a list of local companies that can replace foreign tech companies in sensitive areas of business.
Made in China: Although formed in 2016, it is this year that the committee has picked up pace approving hundreds of companies ranging from chipmakers to software providers. So far over 1800 companies have been drafted to the committee. It is aimed at increasing self-sufficiency and bypassing US sanctions on networking and semiconductors.
Team player: Interestingly, China's Vice-President Wang Qishan said China cannot develop in isolation and it has to work with the world to push global economic growth. He invited foreign investors to China. "Going forward, China will keep its arms wide open, provide more market investment and growth opportunities to the world," Wang said, a day after US President Joe Biden and Chinese President Xi Jinping held a virtual summit.
New deal: Meanwhile, the US is working on an economic framework for the Indo-Pacific region.
LinkedIn Gets a Video Rival
The new-age resumé could be a video. Sabeer Bhatia, who built the world's first popular email service and sold it to Microsoft for a fortune, has launched ShowReel, a social platform that will connect job hunters with potential employers via videos. The platform will first launch in India and then head to the US.
Playing Field: While the world's most popular professional networking platform LinkedIn already has a video feature, Bhatia is hoping to copy TikTok's success. He even hopes for ShowReel to co-exist with LinkedIn sometime in the future.
Easy Connect: The pandemic has transformed the hiring process, which has now largely gone online. A platform such as ShowReel can humanize a job-seeker's profile and give a good first insight into a potential candidate's skills.
What Else Made The Signal?
Pre-IPO deal: IPO-bound Pine Labs has onboarded 12 new investors, including Girish Mathrubootham of Freshworks and Swiggy founder Sriharsha Majety via secondary share sales.
Smog troubles: The environment ministry has asked six thermal power plants around Delhi to halt operations till the end of November to improve the region's air quality.
Lone VC: Vaibhav Domkundwar, a solo founder-turned-investor at Better Capital has raised its maiden fund of $15.28 million to scale its pre-seed and seed investments.
Stricter rule: SEBI has proposed tightening rules on how companies can spend cash raised through IPOs. This comes amid companies raising more than ₹1 trillion in IPOs this year.
Classified: Meta is trying to prevent another whistleblower leaking internal company discussions by becoming more secretive.
Another split: Metals major Vedanta is planning to split into three businesses — aluminium, iron and steel, and oil and gas — that will be listed independently.
FWIW
Naming deal: Staples Centre, home to a host of sports teams from the region has a new name — Crypto [Dot Com] Arena — starting December 25th. Hong Kong-based cryptocurrency exchange Crypto.com penned a deal with AEG worth $700 million making it the largest naming rights deal in history.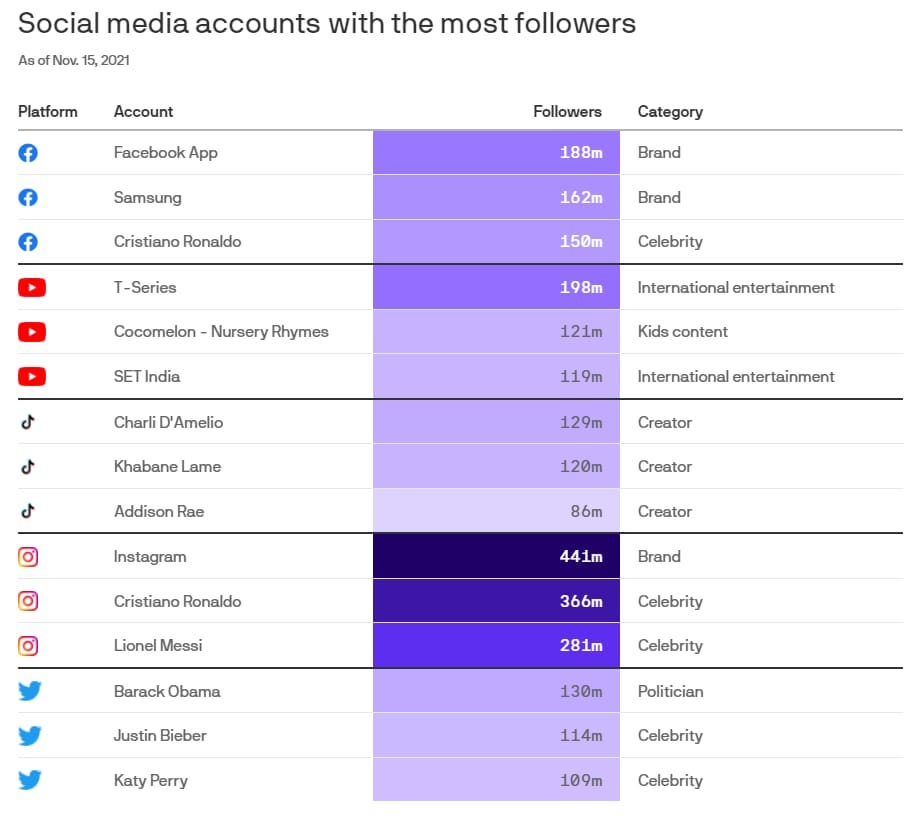 Beat that: Numbers are India's thing, especially when it comes to people. Or followers on social media. India is second only to the US in terms of popular accounts on social media platforms, according to an Axios analysis. It has 29 top popular accounts across five platforms compared to the US's 50, the UK's 12, and South Korea's nine.
Time and ring: When the subject is complex and operates in unfamiliar territory — wizardry, monsters — it takes a long time for a film or show to establish context. There is another way, though. Make it look like another, familiar predecessor. Lord Of The Rings, in this case. We are talking about The Wheel Of Time whose first three episodes are similar to LOTR, says this Bloomberg reviewer. It is a fun review.
Want to advertise with us? We'd love to hear from you.
Write to us here for feedback on The Signal.