Discover more from The Signal
The Signal is a daily curated newsletter that helps you understand the latest developments in business, tech, finance, economy, and policy with sharp analysis and crisp insights thats fun to read arriving at 8AM daily in your inbox.
Over 81,000 subscribers
Brace for blackouts
Also in today's edition: Thrasio enters India, Whistleblower lights a fire under Facebook, Oyo checks in for IPO.
Good morning! Byju's raises money. Byju's acquires company. It's happened so many times that it's clichéd. The edtech startup has raised ~$3 billion since the pandemic began and spent all of it on shopping for companies, nine this year. It has now raised another $300 million from investors at a valuation of $18 billion, putting it ahead of Paytm as India's most valuable private Internet firm. We'll let you know what Byju's buys next.
The Market Signal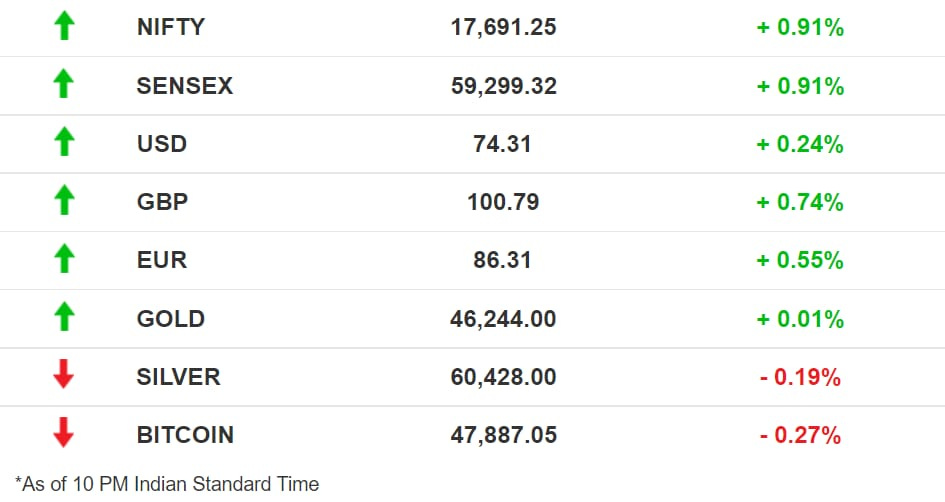 Stocks: Indian benchmark indices broke a four-session losing streak in quite some style. The onset of the earnings season and optimism ahead of the RBI Monetary Policy Committee meeting were the likely driving factors. All sectoral indices closed in the green, with Metal (2.99%) registering the highest gains on the hopes of such companies making it to the shortlist for privatisation.
Tech troubles: US-listed tech stocks were trading deep in the red after many platforms experienced global outages.
Move Over, The Real Deal Is Here
Indian lookalikes will feel the heat. US-based Thrasio that buys private labels off Amazon is now eyeing an India entry by acquiring consumer durables brand Lifelong Online. Coincidentally, Thrasio-style Indian startup Mensa Brands is now inching closer to unicorn status.
Buyout king: Thrasio is planning to invest $500 million in India, which is estimated to be a $100 billion market by 2025. The company selects Amazon brands based on their revenue and product scalability. Thrasio may run its India business through Lifelong Online post this acquisition.
Indian clones: Many Indian startups have replicated the Thrasio model. Mensa Brands is looking to raise $200 million at a $1 billion valuation. 10club is on an acquisition spree. Flipkart and Tiger Global invested in a similar venture, G.O.A.T Brand Labs. SoftBank may back GlobalBees while rival Powerhouse91 is beefing up. With the real Thrasio coming in, it's time for aggressive competition. Smaller Indian brands looking to grow will benefit.
Ritesh Rings The Bell
It takes a certain amount of gumption for a 25-year-old to take out a $2 billion loan. That's exactly what Oyo founder Ritesh Agarwal did in 2019, in order to buy back the company's shares from Lightspeed and Sequoia, and triple his stake to ~33%. A gamble that's set to pay off handsomely as the platform last valued at $9.6 billion, by Microsoft, looks to go public.
Check in: Legal uncertainties over the ownership of its shares notwithstanding, Oyo Hotels & Homes has filed the DRHP for a ₹8,430 crore ($1.1 billion) IPO. The offer constitutes the issue of fresh shares worth ₹7,000 crore while the rest will be offered for sale from existing investors — mainly SoftBank.
Pandemic rebound: Despite the hospitality sector being severely hit by the pandemic, Oyo has used it as an opportunity to significantly cut losses by renegotiating its assured-earnings deals with several stay-providers.
What Facebook Knew And Did
Frances Haugen says she loves Facebook, and wants to fix it. Which is why she blew the lid on the company's practices. But one of her main motivations for doing so? Losing a friend (or a family member) to the all-powerful Facebook algorithm.
Beyond her incredible personal story, the former Google and Pinterest employee lucidly laid out the case against her most recent employer. It is that Facebook "chose" profit over public good.
What did it know? Seemingly, a lot. That hate speech on Facebook's family of apps was actually "affecting societies around the world". Its algorithms and platforms promoted harmful content while failing to take countermeasures. Facebook, she revealed, "is lying to the public about making significant progress against hate, violence, and misinformation".
What did it do? Before the 2020 US Presidential election, Facebook tweaked its algorithms to reduce misinformation. But as soon as polls were over, it switched back its algorithms to their pre-election mode and disbanded its "Civic Integrity team". Then something happened on January 6th.
The Signal
What Haugen revealed about Facebook's conflicting interests — the undying lust for profiteering vs consequential societal harm — isn't particularly new. That has been revealed in books, testimonies, and investigative journalism. Haugen has, however, broken through the noise as a voice from within and with documentary proof to back her testimony.
Her solution is to control the "likes", in a sense. She wants "limits on promoting content based on levels of engagement" and the company opened to external research, something Facebook has been loath to.
Haugen will testify in Congress this week and that can't be great news for Nick Clegg and co. It's one thing to stay ahead of the news, and quite another to become one.
That probably explains Mark Zuckerberg and Sheryl Sandberg's stoic silence. Not last night's global outage of Facebook, Instagram, and WhatsApp though, which cost Zuckerberg's personal wealth $7 billion in a matter of hours, and crashed the company's stock by around 5%.
Switch Off The Lights
An energy crisis is draining the world, including countries such as China and the UK. India too is staring at dark days as coal stocks at power plants have dwindled to precarious levels. A surge in industrial demand for electricity coupled with poor coal stockpiling plans before the monsoons have led to the crunch.
What's happening: More than half of India's 135 coal power plants, which account for over 70% of the country's power production, are stocked for less than three days. Even though state-run Coal India is producing more coal, it isn't enough.
The alternative — increasing imports from Indonesia, Australia, and South Africa — is costly as global coal prices are soaring. Australia's Newcastle coal prices have risen ~50% and Indonesian prices have gone up 30% in the past three months.
Power cuts loom: Electricity prices are going up on the Indian Energy Exchange as stocks are expected to improve only around March next year. The country could also face power cuts if the shortage persists.
John Kemp

@JKempEnergy
INDIA's coal-fired power producers have an average of just 4 days worth of fuel consumption on hand
* Stocks are rated critically low at 104 out of a total of 135 power plants (77%)
* Stocks are rated critically low at 127 GW out of total of 165 GW of capacity (77%)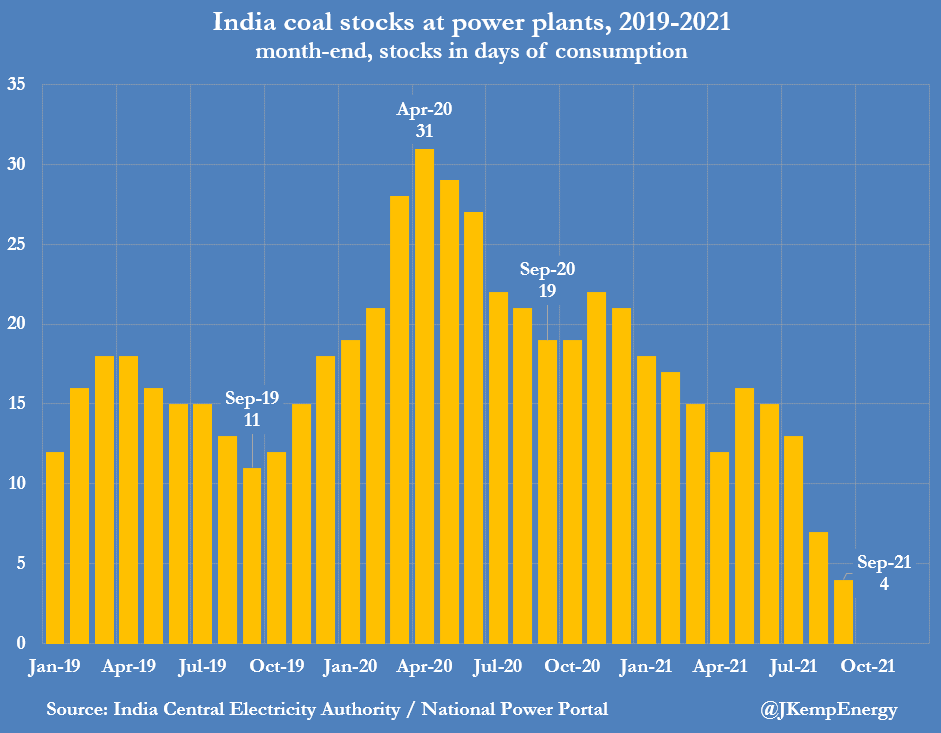 Oct 1, 2021
411 Likes   158 Retweets   12 Replies
'Bankrupt' Anil Ambani Still A Billionaire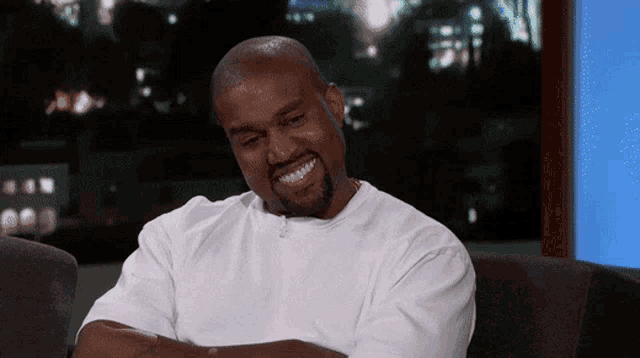 The Pandora papers reportedly reveal that industrialist Anil Ambani, who had told a London court that his net worth was zero, is actually rich. A former fixture on global rich lists, he owns 18 assets worth $1.3 billion in offshore firms, The Indian Express reported.
Paper trails: It is the biggest ever leak of financial secrets of the rich and powerful of the world. About 60 prominent Indian names have been revealed to be holding assets in offshore accounts so far. Cricketer Sachin Tendulkar owned an entity in the British Virgin Islands but it was shut down in 2016. India's richest female entrepreneur Kiran Mazumdar Shaw's husband, on-the-run diamantaire Nirav Modi's sister and film star Jackie Shroff are some other names that figure in the documents.
Global network: The leak shows the rich are stashing money and assets not just in tax havens but across the world, even in the US and New Zealand.
What Else Made The Signal?
BFD: Adani Green Energy has acquired Softbank and Bharti groups-backed SB Energy India for $3.5 billion, making it the largest acquisition in the renewables sector.
Lok Sabha link: Elon Musk's Starlink, which plans to start satellite broadband services in India in December 2022, wants to begin with 10 rural Lok Sabha constituencies.
No Plex for you: Google has abandoned its plans to provide digital bank accounts or its Plex services to users after missing deadlines and the exit of a key executive who was championing the project.
Chu backs Evergrande: Billionaire Chu family-controlled Hopson may back China's debt-ridden Evergrande Group by buying a controlling stake in its property services business.
The 'Touch' Nobel: Two California scientists, David Julius and Ardem Patapoutian, have won the 2021 Nobel Prize in medicine for their work on how human bodies sense temperature through touch.
Money for small biz: Progcap, a fintech startup that targets micro and small businesses for debt capital, has raised $30 million from Tiger Global, Creation Investments, and Sequoia India.
Losses abound: The coronavirus pandemic has hit the airline industry hard, with carriers raking in losses of over $200 billion. Next year, they are estimated to record a collective deficit of $11.6 billion.
FWIW
Metallic notes: There's a shortage of grape pickers in Europe. The obvious solution? Robots. Vintners in Europe and the US are turning to robots to pick their Merlot, Chardonnay, and Sauvignon Blanc. These machines cost as much as $98,000 and damage the grapes and vines. But for many, they'd rather bear the cost than lose the market. The grapes have to be crushed anyway. Is the connoisseur frowning?
Precious vision: Facebook may tell stories on Ray-Bans but it can't beat this story. An unknown, obviously rich person in the Mughal era is believed to have gotten two pairs of diamond and emerald-studded eyewear made. The stone goggles, which were in a private collection, are up for sale at Sotheby's, priced at £1.5 million and £2.5 million each.
Going private: The 140-year-old toy train that chugs through the Darjeeling tea gardens and stars in one of the most effervescent romantic songs of Hindi cinema, risks losing its status as a Unesco world heritage. The government is selling the Darjeeling Himalayan Railway to a private player because of mounting losses.
In yesterday's edition, we mistakenly referred to the "needleless" Zydus Cadila vaccine as "needless". Our apologies.
Want to advertise with us? We'd love to hear from you.
Write to us here for feedback on The Signal.