Discover more from The Signal
The Signal is a daily curated newsletter that helps you understand the latest developments in business, tech, finance, economy, and policy with sharp analysis and crisp insights thats fun to read arriving at 8AM daily in your inbox.
Over 81,000 subscribers
Adani empire catches fire
Also in today's edition: Government pushes regime change; Not much to reap from agri incentives; A mixed bag; Google writes a Bard into existence
Good morning! How deep is PM Modi's love for acronyms? Let us count the ways. On Budget Day, we counted three new entrants to a corpus that includes Jam (Jan Dhan, Aadhaar, Mobile) Yojana, Prasad (Pilgrimage Rejuvenation and Spirituality Augmentation Drive), and Usttad (Upgrading the Skills and Training in Traditional Arts/Crafts for Development). The entrants are: GOBARdhan (Galvanizing Organic Bio-Agro Resources Dhan) scheme, Mishti (Mangrove Initiative for Shoreline Habitats & Tangible Incomes), and PM-Pranam (Programme for Restoration, Awareness, Nourishment and Amelioration of Mother Earth). Our prayers are with all UPSC aspirants.
If you enjoy reading us, why not give us a follow at @thesignaldotco on Twitter and Instagram.
The Market Signal*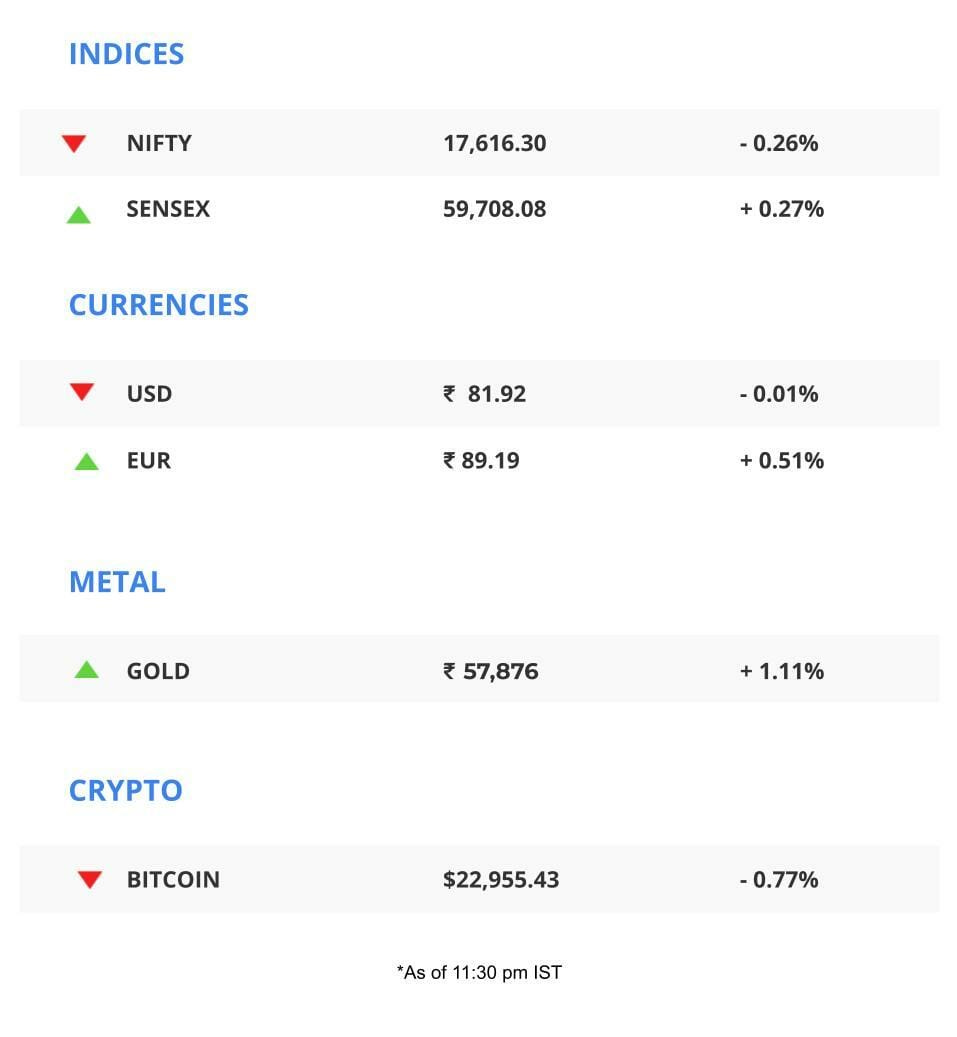 Bottom Falls Out Of Adani Stocks
The fire lit by Hindenburg Research has finally licked the Adani Group. Its flagship Adani Enterprises Ltd (AEL) cancelled its $2.4 billion follow-on public offer (FPO), which successfully closed on Tuesday. Retail investors had stayed away but friendly industrialists and foreign investors salvaged the FPO for Adani. 
The group, however, got a nasty jolt on Wednesday when the wealth management arm of Credit Suisse Group stopped accepting Adani's bonds as collateral, which signalled they had no value. It was also buffeted by news that regulators were studying the Hindenburg report. 
All Adani Group shares were routed, which also brought down major domestic indices that were buoyant on the back of the Union Budget. The indices swung nearly 2,000 points in a single day.
Early Asia: The SGX Nifty was up 0.55% at 7:30 am India time. The Nikkei 225 (0.31%) and the Hang Seng (0.62%) too were in the green.
INCOME TAX
In With The New, Out With The Old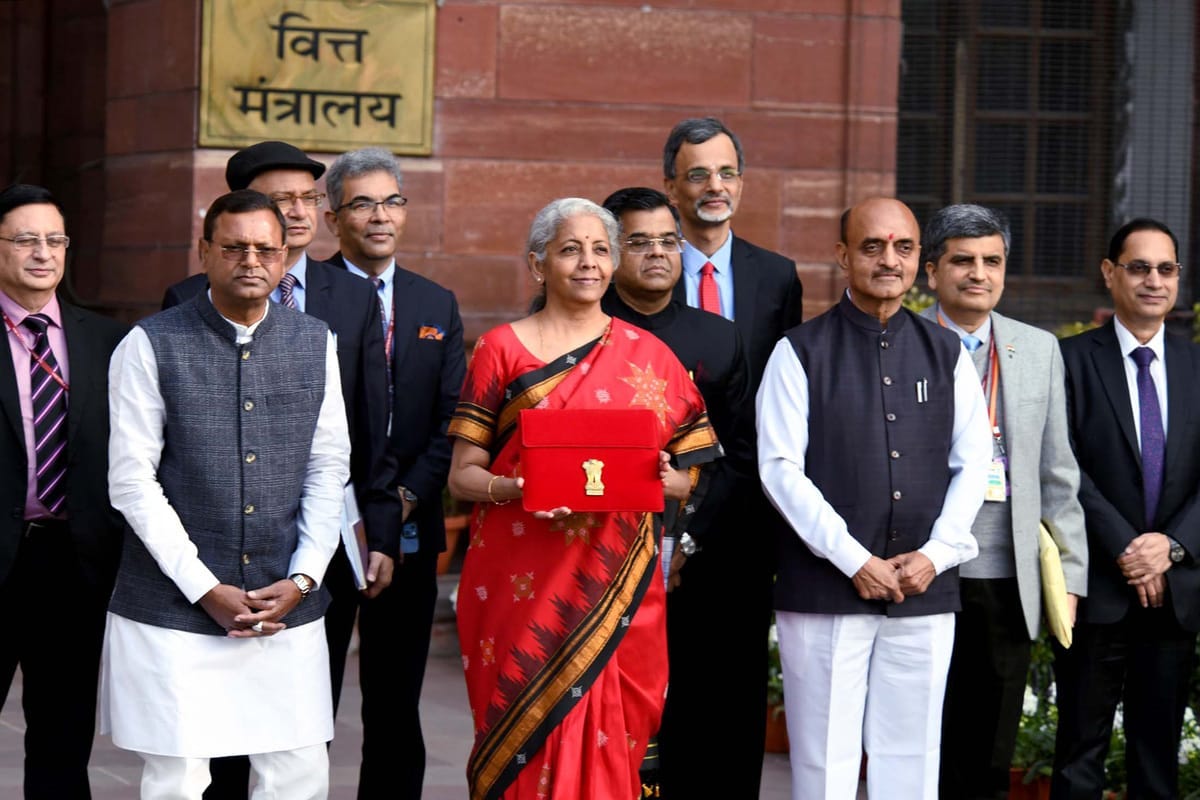 Photo credit: Press Information Bureau
So the Indian government hopes. The Union Budget announced remunerative prospects for the taxpaying middle class. This generosity can be attributed to the 2024 elections but is more likely a fix to a larger problem: domestic growth.
Details: Those with annual incomes of up to ₹7 lakh ($8,560) will be exempt from direct tax. There are sizeable cuts in higher income slabs too. All on condition that taxpayers move from the old regime to the new one. The Centre has been trying to promote the poorly-received new tax regime, first introduced in 2021-22.
Analysis: The government may be foregoing a chunk of income in the hope that the consumption dynamic plays out. Geopolitical uncertainties persist, and the global economy is expected to slow further. In a situation where India's exports contract further, the government is looking to prop up domestic consumption to meet the 6.5% GDP projection made by the Economic Survey.
AGRICULTURE
The Fine Print Tells Another Story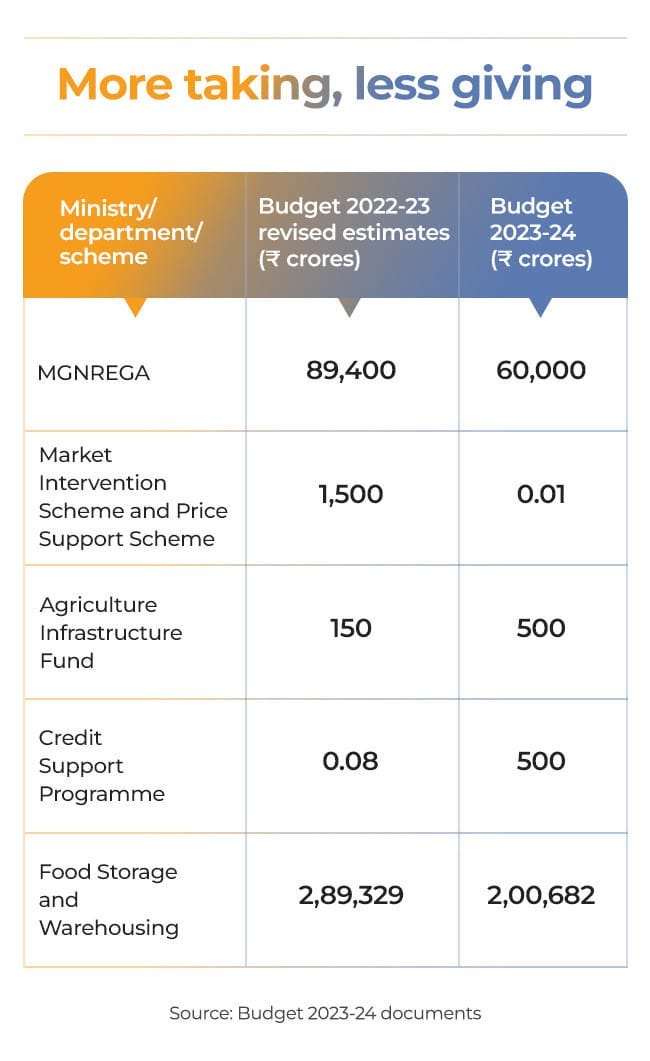 Graphic by Varun Kumar
At first listen, the Union Budget 2023-2024 seemed farmer-friendly. On the anvil is an agriculture accelerator fund, a digital public infrastructure that'll be "open source, open standard and [an] interoperable public good", and an increase in agricultural credit to ₹20 lakh crore ($244 billion). There are increased outlays for fisheries, animal husbandry, and dairy. Election-bound Karnataka will receive ₹5,300 crore ($648 million)for the micro-irrigation Upper Bhadra Project. There are sops for sugar co-operatives. And the Pradhan Mantri Garib Kalyan Anna Yojana or PMGKAY—the food security scheme launched for the urban and rural poor during Covid—will be extended by another year, costing the Centre ₹2 lakh crore ($24 billion).
The Budget expenditure profile (pdf), however, paints the whole picture. Most glaring is the decreased allocation under the Mahatma Gandhi National Rural Employment Guarantee Act (MGNREGA). Ditto outlays for storage and warehousing, and market intervention and price support for farmers.
BUDGET 2023-24
Three Bags Full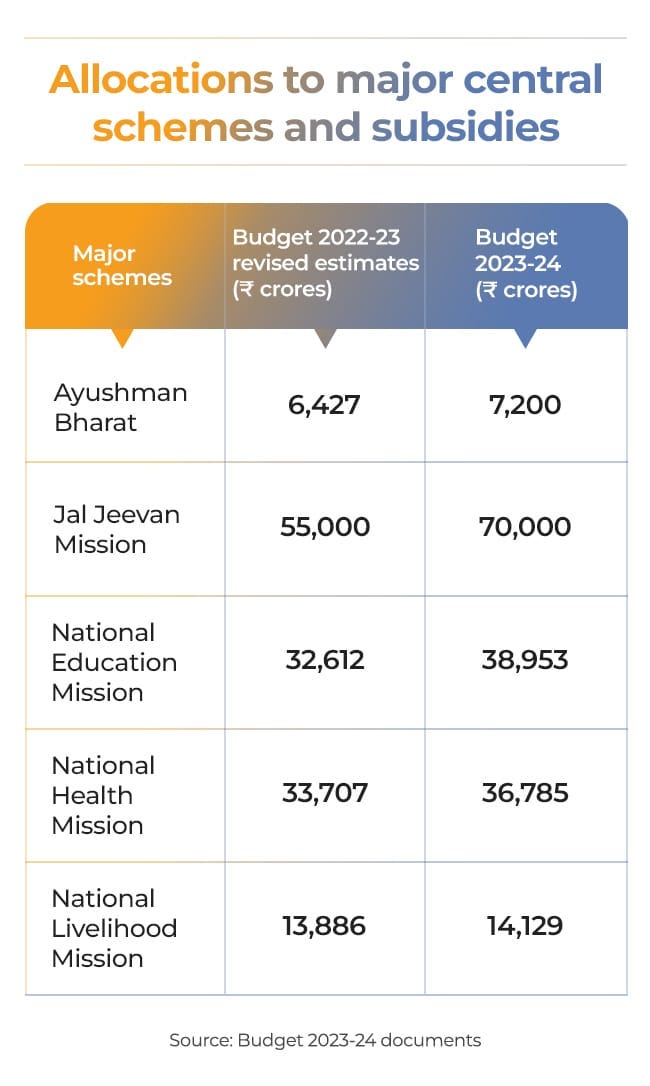 Graphic by Varun Kumar
Will she, won't she…fall for the election-year itch? That was the question being debated in the run-up to the Union Budget for FY24 (pdf). In the end, finance minister Nirmala Sitharaman cut personal income taxes (for the middle class), kept the fiscal consolidation plan on course (for rating agencies), signalled a lot to rural folk and youth, and kept her fingers crossed.  
Fiscal deficit: FY23 will end with 6.4% and FY24 is budgeted at 5.9%.  
Capex: Has been bumped up to ₹10 lakh crore, with an additional ₹3 lakh crore for states, jumping by a third over the previous year.  
Health & education: Except for a digital library (not a quick turnaround idea when internet growth is stalling) for kids, these areas hardly got any money. In fact, flagship central schemes' allocations have been slashed. 
The finance minister has done a good turn to micro, small, and medium-sized enterprises (MSMEs). Any business trying to set off expenditure on MSMEs will be able to claim it only after actually paying the MSMEs. This could stop delayed payments to MSMEs. 
The Signal 
Sitharaman had three bags ready—one for the rural voter, another for businesses, and one for the middle class. She gave more money to build highways—the most visible symbol of development—as well. 
Aside from tax cuts, the Budget is high on signalling but low on quick action for FY24, except capital expenditure. 
Startups may be in for a jolt. Experts say that there appear to be some googlies hidden in changes to "angel tax", which could impact overseas investments in startups.
Startups may be in for a jolt. Experts say that there appear to be some googlies hidden in changes to "angel tax", which could impact overseas investments in startups.
🎧 The good, the bad, and the ugly of Budget 2023. Also in today's episode: DC takes on Marvel. Listen to The Signal Daily on Spotify, Apple Podcasts, Amazon Music, Google Podcasts, or wherever you get your podcasts.
RETAIL
Cheap Thrills
After doing all it can to dominate India's luxury and lifestyle markets, Reliance is eyeing value fashion. Reliance Retail's yet-unnamed brand will reportedly compete with Shoppers Stop's InTune (we'd told you why the department store chain is headed the mass segment way here), the Landmark Group's Max, and Zudio by Trent Limited, whose parent is the Tata Group. The Landmark Group and Trent also run flagship brands Lifestyle and Westside, respectively.
Details: Reliance Retail operates mid-segment chain Trends and recently-launched premium brand AZORTE. The Economic Times claims that the company is looking for mall and high street space for the upcoming value brand, which will sell apparel priced within ₹1,000 ($12.2).
Zudio, which has surpassed Westside's footprint, has roped in regional influencers to promote itself.
ARTIFICIAL INTELLIGENCE
Google Readies Its Bard
The tech giant's cloud unit, Atlas, is already testing a ChatGPT rival. That rival is Apprentice Bard, and it's based on Google's AI-based conversation model LaMDA (Language Model for Dialogue Applications). Apprentice Bard, CNBC reported, is a near-replica of ChatGPT: a dialogue box to enter a query, and a text-based response from the Bard. The differentiator? Google's chatbot's answers "can include recent events", something ChatGPT doesn't offer yet.
Beyond Bard: This is major—Google is testing a search page with Q&As in a potential overhaul of its "I'm Feeling Lucky" feature. However, these are experiments, and Google is weighing "reputational risk" before integrating them into its products.
Irony: ChatGPT maker OpenAI has released a new classifier tool that detects if the text has been written by… AI and passed off as human. The tool isn't fully reliable yet, thanks to its 26% success rate.
FYI
Hiked: The US Federal Reserve raised its key interest rate by 0.25 percentage points but markets saw positives in Jay Powell speech.
Zuck alert: Meta reported a year-on-year decline in revenue ($32.17 billion, from $33.67 billion) in its Q4 2022 report; metaverse division Reality Labs logged an operating loss of $4.28 billion, bringing its 2022 total to $13.72 billion.
It's official: Netflix has unveiled its password-sharing protocol, which requires all devices within a household to sign in to the home WiFi at least once every 31 days. The streamer has also introduced spatial audio for the Premium tier.
Bloodbath: Indian edtech Vedantu's losses increased by 13% to ₹696 crore ($85 million) for the year ended March 2022. The company laid off over 1,100 employees last year.
Passing on: Former Union law minister Shanti Bhushan died on Tuesday following an illness. He was 97 years old.
Apprentice vs boss: Nikki Haley, who served as US ambassador to the UN under former president Donald Trump, may announce her candidacy for the 2024 Republican presidential nomination, which will pit her against her former boss.
Bit of this, bit of that: In its latest earnings, beleaguered fitness company Peloton reported narrower losses, improved cash flows (from a negative $747 million to a negative $94 million) and 22% subscription growth, as also a >50% drop in hardware sales.
THE DAILY DIGIT
$92 billion
The rout in Adani Enterprises stock since the fraud allegations by Hindenburg Research, and before Gautam Adani called off the FPO. Adani has lost the 'Asia's richest person' mantle to Mukesh Ambani. (Bloomberg)
FWIW
Let sleeping dodos lie: Genetics startup Colossal Biosciences wants to revive extinct species. It's working on a tuskless mammoth that may debut in 2028, and a Tasmanian tiger that could arrive earlier if all goes to plan. Colossal now wants to resurrect dodos, too. The self-professed "de-extinction company" will sequence the dodo genome, gene-edit the cell of the dodo's relative, the Nicobar pigeon, and create a genetically-altered cell. Voila. Although, we fathom that resources would be better utilised to protect species that exist in the here and now.
Side effect: Consider this a polar opposite stance to the Indian IT companies that frown upon moonlighting. Mitsui & Co, the third-largest trading house in Japan, has relaxed its rules to allow employees to pursue side careers—whether a coach, artist, YouTuber, or startup founder. This was rare in Japan, a country once infamous for its workaholic culture. But most businesses today, such as Nissan Motor Co, are relaxing policies to attract young workers amid a population decline.