Discover more from The Signal
The Signal is a daily curated newsletter that helps you understand the latest developments in business, tech, finance, economy, and policy with sharp analysis and crisp insights thats fun to read arriving at 8AM daily in your inbox.
Over 81,000 subscribers
Just not dialling it up for RIL
Also in today's edition: More on BYJU'S; Luxury investors to groom Indian petcare; Indian drugmakers in WHO crosshairs; Alibaba reshuffles top deck
Good morning! This big fat Indian wedding isn't restricted to just the straights. India's wedding industry, which is worth a whopping $210 billion, is now making space for the LGBTQ community, per Bloomberg. Same-sex marriage isn't legalised as yet, but the 2018 Supreme Court ruling decriminalising homosexuality is inspiring couples to walk down the aisle. And where there is desire and money, the industry will not miss the opportunity. It is reinventing elaborate wedding ceremonies for the new clientele.
🎧 The big fat Indian wedding is getting inclusive. Also in today's edition: It's Indian companies vs Big Tech. Listen to The Signal Daily on Spotify, Apple Podcasts, Amazon Music, Google Podcasts, or wherever you get your podcasts.
The Signal is now on Telegram! We've launched a group — The Signal Forum — where we share what we're reading and listening through the day. Join us to be a part of the conversation!
Today's edition also features pieces by Srijonee Bhattacharjee, Jaideep Vaidya, and Julie Koshy Sam.
If you enjoy reading us, why not give us a follow at @thesignaldotco on Twitter and Instagram.
The Market Signal*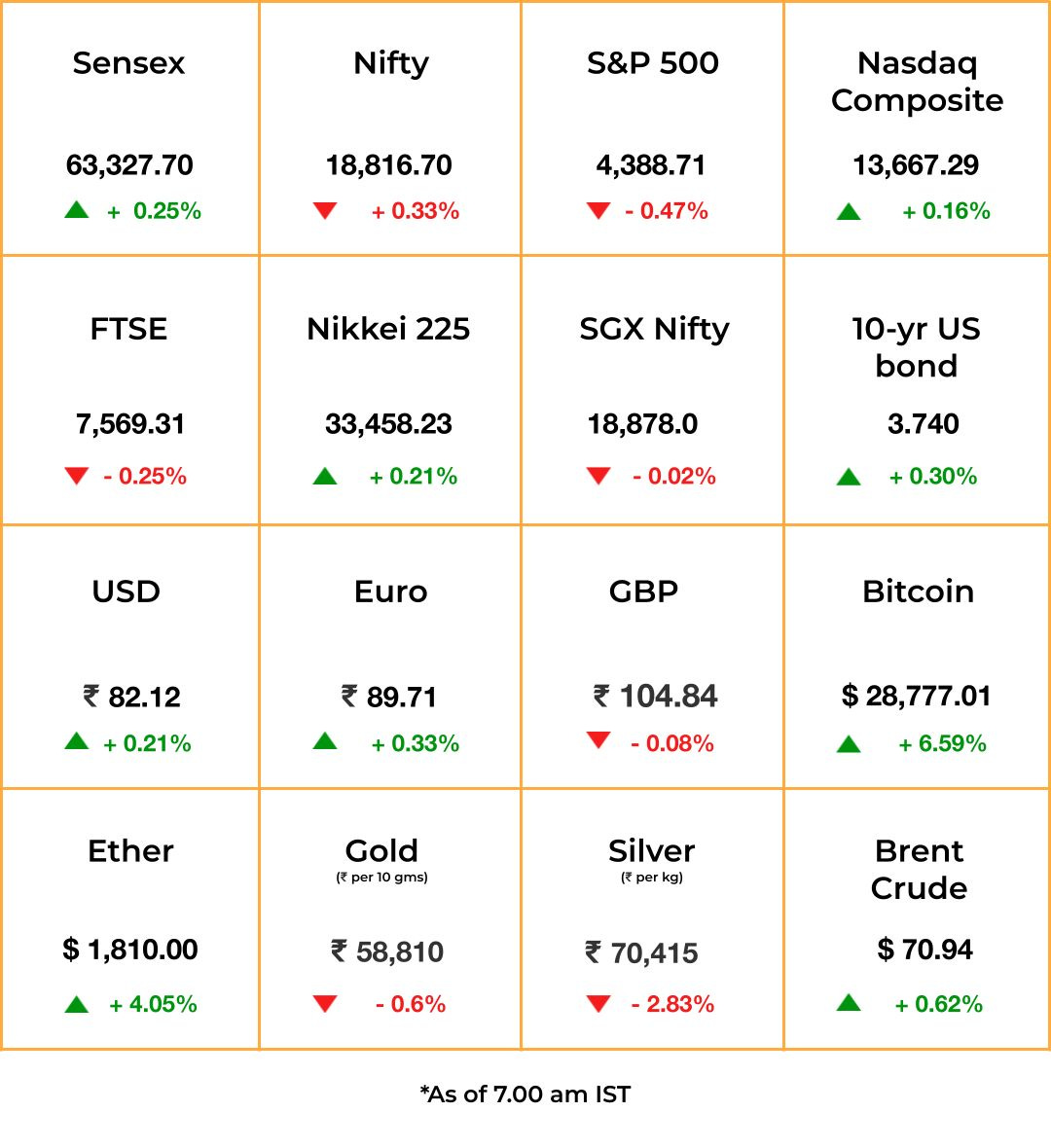 Stocks & economy: Equities lost steam ahead of US Fed Chair Jerome Powell's congressional address. One, there is realisation that the shares rally may have run its course and second, even though the Fed paused on rate hikes, it is not expected to cut them anytime soon.
An unexpected surge in construction of new houses strengthened the likelihood of hawkish comments from Powell.
Nifty, already hovering near its historic peak, will likely be fuelled by Prime Minister Narendra Modi's visit to the US where top business leaders are lining up to meet him.
Oil prices continued to decline as Chinese authorities' efforts to boost the world's second largest economy fell short of investor expectations. A further drop in energy demand in the country is weighing on prices.
EDTECH
BYJU'S Broken Promises
The latest in the long-running saga: India's largest edtech company reportedly defaulted on three covenants it agreed to while taking a $1.2 billion term loan in the US in November 2021. So says an unredacted copy of the lawsuit filed by the edtech's lenders in a Delaware court, sourced by The Morning Context.
Deets: BYJU'S agreed to provide audited and unaudited financial statements, and its sister company WhiteHatJr acceding to the credit agreement as a guarantor. The lenders claim the covenants help them track BYJU'S financial health and make informed decisions about their credit risk. Both BYJU'S and its lenders have sued each other in different courts over this term loan.
More pink slips: Meanwhile, BYJU'S will fire 1,000 employees across departments, taking its total layoffs count to ~3,500, per Business Standard.
CORPORATE
Alibaba Gets New Frontmen
There is a surprise top-deck reshuffle at Chinese tech conglomerate Alibaba.
Revolving door: Vice chairman Joseph Tsai will replace Daniel Zhang, long-time head of the e-commerce giant. Zhang will continue to head the cloud business, while Eddie Wu, current chairman of subsidiaries Taobao and Tmall, will take over as CEO of Alibaba Group.
The great unbundling: Alibaba Group's fortunes have been largely directed by Chinese regulators ever since founder Jack Ma said the country's banks had a "pawnshop" mentality. It triggered a probe that killed the $37 billion IPO of its fintech arm Ant Group and ended in a $2.75 billion fine.
Ma disappeared from public view and eventually gave up control of his empire. He now spends time in Tokyo teaching (his OG profession) and visiting farms. Tsai and Wu are Ma's long-time lieutenants. The changes come within months of the group announcing a six-way split.
E-COMMERCE
An RIL Bet That's Not Paying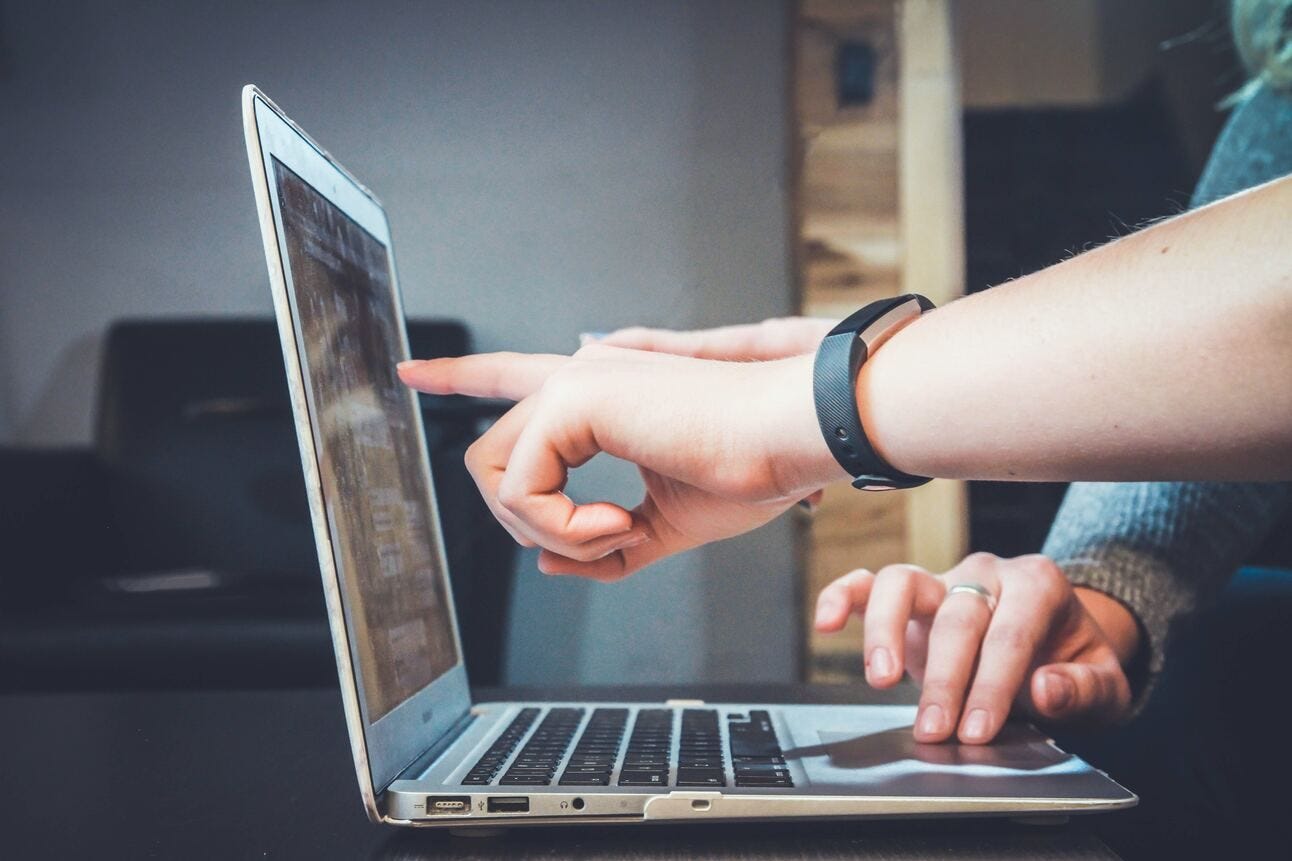 Photo by John Schnobrich on Unsplash
Reliance Industries' (RIL's) $767-million purchase of a 67% stake in JustDial two years ago was perhaps the biggest bet anyone had taken on a database.
An Economic Times report suggests that the bet has not paid off, and the company is struggling with top-level exits even as it shuts down verticals and fires employees to save costs. It also suggests that the company's management, led by the original founder VSS Mani, has differences with their minders at RIL.
The company's core business remains robust, reporting ₹84 crore ($10.2 million) profit on ₹232 crore ($28.2 million) revenue in January-March 2023. It also has over ₹4,000 crore ($491 million) in cash.
The Signal
Billionaire Mukesh Ambani's hopes of using JustDial's database of over 30 million establishments in the country to rapidly build business verticals that converged on a JioMart super app likely unravelled because the required changes in e-commerce policy never came through. Ambani had also hoped to convert the kirana stores and distributors in the database, otherwise rivals to Reliance's retail stores, into clients for the wholesale business, which was bolstered with the purchase of Metro Cash and Carry.
But that wasn't to be. After the initial success, the deep-discount wrecking ball, a trusted weapon in the RIL arsenal in almost all new business forays, did not work very well. Moreover, the JustDial management believed in slow organic growth rather than the spend-and-capture model. That's simply not RIL pace.
PHARMACEUTICALS
WHO Says India Making Killer Cough Syrups
The World Health Organization (WHO) has flagged seven Indian-made cough syrups as toxic. This was part of an investigation which claimed that 20 cough syrups made by 15 drugmakers in India and Indonesia may have caused 300 deaths globally.
Seeing red: Nigerian health authorities have placed two Indian manufacturers, including Mumbai-based SyneCare, in the dock for peddling "sub-standard" oral paracetamol and cough medicines. The product included contaminants such as ethylene glycol and diethylene glycol, also found in medicines exported by Indian makers to Uzbekistan and Gambia earlier.
Can of worms: Cameroon has blamed Indian-made cough syrups for the death of 12 children. Sri Lanka, too, is questioning the quality of Indian medicines after they led to medical complications and deaths.
India is the world's largest exporter of generic drugs, which help keep healthcare costs low. Affordable healthcare is one of the agenda items when Indian Prime Minister Narendra Modi and US President Joe Biden meet on Thursday.
FMCG
Chowing Down on India
Indian pet-care is so hot, it's bagging luxury investors. L-Catterton, the LVMH Group's private equity arm, has invested $60 million in pet food brand Drools at a valuation of $600 million. L-Catterton's previous investments include cosmetics brand SUGAR, apparel retailer Fabindia, restaurant firm Impresario (Social, Smokehouse Deli), and cinema chain PVR.
Dog gets his day: This is the biggest deal in India's burgeoning pet-care industry, dominated by dog and cat food and accessories, and multinational firm Mars Inc. (Pedigree, Whiskas, Royal Canin).
Apart from Drools, India now has a host of pet-care startups, including retail chain Heads Up For Tails (raised $500 million) and Supertails (raised over $16 million). Besides, Indian companies like Himalaya Wellness Company and Emami Ltd (via an investment in Cannis Lupus) sell herbal pet remedies. India's pet-care industry is expected to grow to ₹10,000 crore ($1.2 billion) by March 2025.
FYI
Pay for disgrace: Carlos Ghosn, the former superstar head of Nissan Motors and architect of the Renault-Nissan alliance, has sued the Japanese automaker in a Lebanese court. He's seeking $1 billion to compensate for financial and reputational damage.
New threat: China is negotiating terms with Cuba to establish a military training base on the island 100 miles off the US coast.
Pixel to follow iPhone: Google is in talks with electronics manufacturers Lava, Dixon, and Foxconn to make Pixel phones in India.
Opening up: ChatGPT-maker OpenAI is reportedly mulling opening a marketplace for AI models for businesses, per The Information.
Big fat Indian order: Airline operators Indigo and Air India have together placed orders for 970 aeroplanes. While Indigo is buying 500 aircraft of the A320 family from Airbus, Air India will buy 250 Airbus and 220 Boeing jets.
Getting new wings: US-based NS Aviation has purchased 85% of TrueJet, the grounded Hyderabad-based budget airline operator, at a valuation of ₹450 crore ($54 million).
Lost underwater: A British businessman and a Pakistani tycoon are among the five people aboard the missing submarine Titan that was exploring the Titanic wreck.
THE DAILY DIGIT
₹315 crore
Or $38.5 million. The amount that Infosys co-founder Nandan Nilekani is donating to his alma mater IIT Bombay for AI research. (Bloomberg)
FWIW
The end of unlimited returns is here:...At least in the US. You see, the pandemic spurred easy returns as millions of enthusiastic shoppers hunkered down and clicked "Add to cart" in the comfort of their homes. Revenge shopping says hi. But, like all good things, the unlimited returns have met with an expiry date. Consumers aren't too happy with the development and continue to be lured by "final sale" deals. It may spell good news after all for fashion resale marketplace Poshmark. We don't know about you, but this might just drive us to the mall. Just like the good ol' days.
Napping slaps: Research says so. The next time you wanna take a nap at work, point them to this bit of information. Taking regular daytime naps is good for the brain since it protects against neurodegeneration and may keep the brain healthy as it ages with time. However, you may need to restrict these naps to less than 30 minutes. We think the WFH gang has inadvertently cracked the code already.
Let the music play: Spain's Barcelona is party central, with festivals such as Sónar and Primavera Sound gaining prominence with each passing year. In fact, the number of tourists flocking to the city has surged in the last 20 years. But residents are far from impressed; as are local acts. Per The Association of Concert Venues of Catalonia, a trade body, 220 nightlife venues have shut down in the last two decades. Concert venues market DJ nights rather than giving indie clubs a chance. The result: small-time musicians have nowhere to go, and the heydays of indie music may just be behind them.