Discover more from The Signal
The Signal is a daily curated newsletter that helps you understand the latest developments in business, tech, finance, economy, and policy with sharp analysis and crisp insights thats fun to read arriving at 8AM daily in your inbox.
Over 81,000 subscribers
When David swallows Goliath
Also in today's edition: BYJU'S surprise reprise; US vs. Google; Beware the Y Combinator trap; Climate roil brings oil to a boil
Good morning! You can now forget your smartphone and wallet at home the next time you step out for a long drive. That is, as long as your Unified Payments Interface (UPI) ID is synced with your car's infotainment system. Mastercard-backed ToneTag has a service that integrates 'pay by car', which is now a thing apparently. Each time your car reaches a fuel station, the soundbox announces your arrival, after which $$$ is deducted as requested. The same application can be used for other services such as recharging the car's FASTag, reports The Economic Times. Kinda feels like living in 2050, ngl.
The Signal is now on Telegram! We've launched a group — The Signal Forum — where we share what we're reading and listening through the day. Join us to be a part of the conversation!
Today's edition also features pieces by Dinesh Narayanan, Soumya Gupta, and Julie Koshy Sam, Jaideep Vaidya.
If you enjoy reading us, why not give us a follow at @thesignaldotco on Twitter Instagram and Threads.
The Market Signal*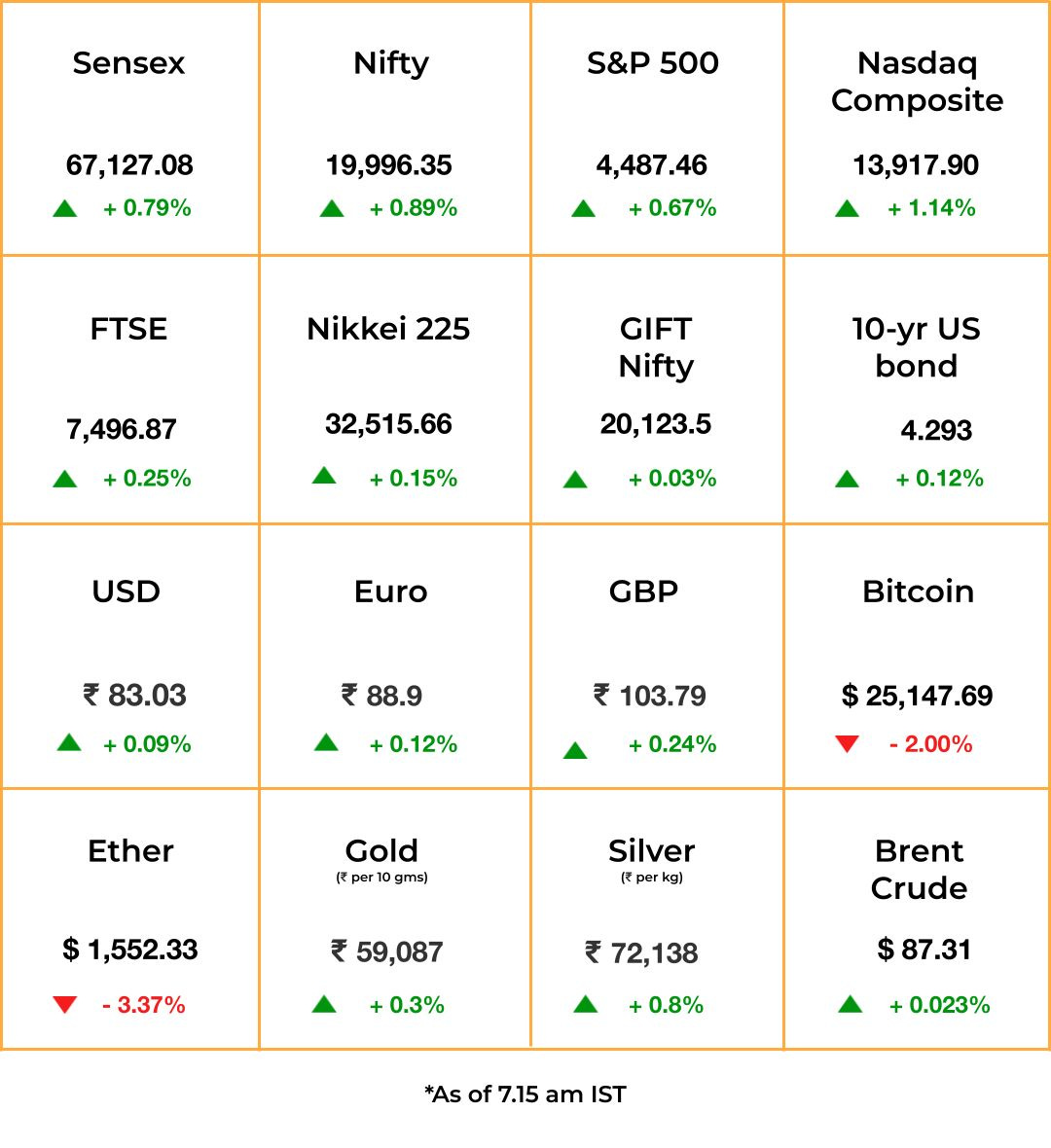 Stocks & Economy: An improvement in Chinese credit demand and rising yuan produced mixed sentiment in Asian investors. While Japanese stocks improved, also taking cues from buoyant US equities, other markets were downcast. A rally in Tesla shares pulled other Big Tech stocks too.
The UK-based chip designer Arm's initial public offer was oversubscribed 10 times and bankers are considering closing the share sale early.
Investors are closely watching oil prices ahead of a crucial data release by producers.
Indian stocks were on a roll with the Nifty crossing the psychological 20,000 mark before settling lower on Monday. Foreign as well as domestic investors were on a buying spree. Tuesday early morning trade in GIFT Nifty indicates the trend is likely to continue at least in the first half of the day. Some index stocks that have run up could face selling pressure.
CORPORATE
BYJU'S To Sell Foreign Edtech Jewels
Has the garage sale begun? We hope not. Edtech firm BYJU'S, once India's most valuable startup, is reportedly selling its US-based children's learning company Epic and Singapore-based higher education firm Great Learning to pay off loans.
Those were the days: BYJU'S had bought the two firms for a combined $1.1 billion in July 2021, a year when the edtech company, flush with venture funds, was on a shopping spree.
It's hoping to raise up to $1 billion from the sale of the two companies to repay the remaining $500 million of a $1.2 billion term loan it had taken from a group of lenders, which has sued the company in the US.
BYJU'S, reeling from a business slump and reportedly some wonky decisions, is also on the verge of losing its most valuable but incomplete acquisition, the test-prep firm Aakash Institute.
TECH
Search And Destroy
Starting today, and over the course of about four months, Amit Mehta will decide the fate of one of the world's largest companies. The judge is presiding over the biggest antitrust case in the US in 25 years: US et al v. Google, filed by the Department of Justice (DOJ). The last Big Tech monopoly case was against Microsoft, now Google's biggest AI rival.
The DOJ claims Google illegally stifled competition by paying device makers (Samsung, Apple, etc.), carriers, and browsers to make it the default search engine. Google says distributors allow other search engines to bid, and that its dominance is due to consumer choice.
The challenge comes at a time when Google Search is experiencing a code red. Any remedy, whether it's a company breakup or not, may also affect Apple, Samsung, etc., which receive billions of dollars to make the oracle a default on their systems.
CORPORATE
Small Fry, Big Leagues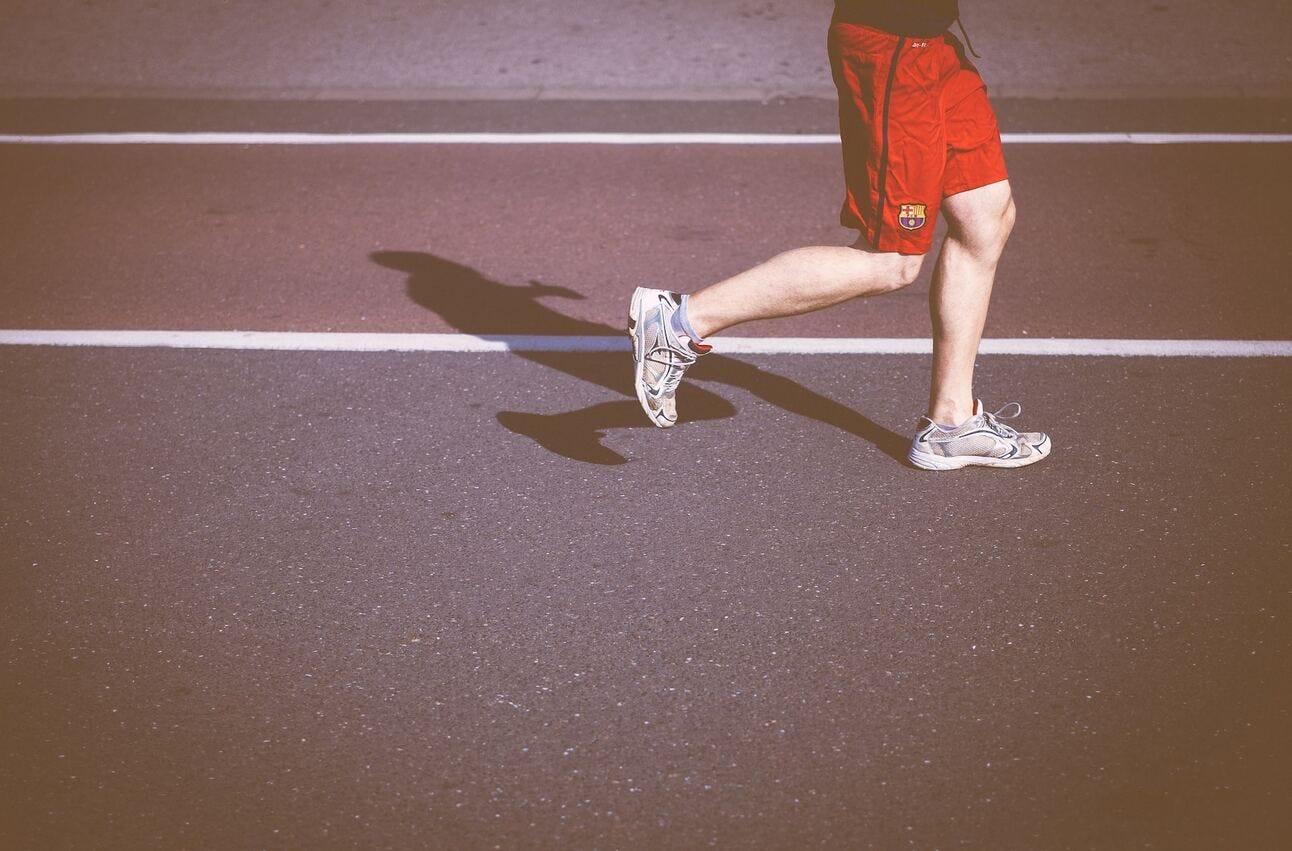 Photo by Clem Onojeghuo on Unsplash
Torrent Pharma is ahead in the race to acquire Cipla. If it cracks the deal, Torrent will have acquired a rival 2.5x its size. Then, it must find ways to scale up the business. Shareholders may have to wait 8-10 years to see substantial gains, The Economic Times reported.
What's the draw?: Torrent is hoping to use Cipla's portfolio of respiratory, urology, and infection medications, along with its own products, to dominate the industry together. Besides, Cipla's international business dwarfs Torrent Pharma's.
This will be among Torrent Pharma's biggest deals. In 2013, it acquired Elder Pharma. And last year, it bought Curatio Healthcare. Torrent Group's Mehta family may pledge their shares in Torrent Power to raise funds for the transaction. They may also bring on a PE firm as a partner.
The Signal
Smaller upstarts have been gobbling up larger rivals, often at a big financial risk. In the 2000s, Tata Steel bought Corus, Aditya Birla's Hindalco acquired Novelis, and Tata Motors picked up Jaguar Land Rover. More recently, BYJU'S acquired rival Aakash Educational Services in 2021, and e-pharmacy PharmEasy bought diagnostics chain Thyrocare the same year.
What's in it for them? As Mint points out, such deals accelerate growth and help firms access more lines of business. But such dealmaking can be expensive, requiring partners to bring in money. If post-merger integrations aren't managed well, all the effort can go to waste.
The Mehtas may bag Cipla, but they have to make it worth their (and shareholders') while.
STARTUPS
YC Wards Caught In Valuation Noose
Winnowing was inevitable when the times got tough. But a funding innovation introduced by Y Combinator (YC) in January 2022 is becoming a valuation trap for startups backed by the accelerator, reports Axios.
Arguably the world's most influential startup mentor, YC showed off its Summer '23 batch–-dominated by Asian founders—of 229 startups last week, but many investors are put off by an unlikely wrinkle: YC's investment.
YC invests a total of $500,000—$125,000 for a 7% stake and the rest as future equity, convertible at the same terms as the best investor deal. For many startups that are not top of the league, the funding innovation offers better capital security. But it also means the startups have to either seek higher valuations or settle for more stake dilution. VCs, unable to get discounted deals, are turning away.
CLIMATE CHANGE
Where Oil And Water Mix
July 2023 was the hottest month on record globally since 1880. Since then, southern Europe and the UK have gotten cooked, and Hong Kong suffered its heaviest rains in at least 140 years. Now, Bloomberg reports that extreme weather is affecting fuel processing and refining worldwide, burdening an already-stressed energy system.
Rising temperatures limit refineries' operational efficiencies. In Europe, crude processing dropped by 700,000 barrels daily this summer compared with 2022. US diesel stockpiles are nearing a five-year seasonal low. Supply constraints are adding to transport costs in drying waterways such as the Rhine.
But an increasingly parched world isn't stopping AI majors from guzzling water. Microsoft's and Google's water consumption increased by 34% and 20%, respectively, in 2022. OpenAI's ChatGPT uses up 500ml of water for every 5-50 prompts.
Speaking of water, the life-threatening, flesh-eating bacteria Vibrio is expanding its geography as warming oceans enable it to mushroom in once-frigid regions.
FYI
One more bite: US private equity firm KKR has raised its stake in Reliance Retail Ventures to 1.42% with an additional investment of $250 million, valuing the company at $100 billion. 
Arms salesman: North Korean leader Kim Jong Un has arrived in Russia on his armoured train to talk about weapon sales with President Vladimir Putin.
Pink slips: UBS Group is expected to cut hundreds of jobs in Asia, but will keep a majority of private bankers in India and Australia.
Ringing in change: India's telecom regulator could get a chief from the private sector. The government is considering amending the Telecom Regulatory Authority of India Act to enable hiring professionals from outside to the chairperson's position.
Small hit: The International Cricket Council's net surplus decreased from $325.6 million in 2021 to $208.4 million in 2022 as expenses rose steeply, according to its annual report.
Push the date, please: Debt-ridden Vedanta Resources is negotiating with lenders to extend the term of loans maturing in 2024 and 2025 by three years.
Hindenburg fallout: Sebi has a conflict of interest in investigating the Adani Group as Gautam Adani's son is married to the daughter of lawyer Cyril Shroff, who was the markets regulator's corporate governance committee member, a petitioner has argued in the Supreme Court.
THE DAILY DIGIT
₹400 crore
Or $48.2 million. What Delhi lost in business due to closures during the G20 Summit, according to the New Delhi Traders Association. (The Economic Times)
FWIW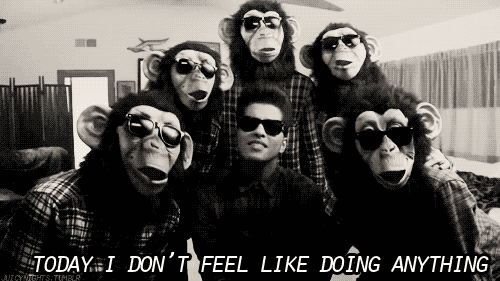 Last man standing: Seven competitors are battling it out to earn the coveted title of "Laziest Citizen" in Brezna, Montenegro. The contest, which started with 21 people, currently has seven contestants lying down on mats for 20 days and counting. All this for a grand prize of $1,070. In case you're wondering, sitting up straight constitutes disqualification. Contestants are entitled to a 10-minute bathroom break every eight hours and are also allowed to use cellphones and laptops while lying down. Where can we sign up?
We've all been there: Shopping for clothes your size may have triggered you at some point. But help may be at hand. Fashion-tech company Alvanon is working on an app, MyAlva, to create virtual body avatars with the help of measurements or photos. Originally founded in 2001, Alvanon counted on a database of nearly two million 3-D body scans from 30 countries to develop its 'global fit standards'. Chicago-based startup Balodana uses AI to help designers create made-to-order women's clothing, while San Francisco's Unspun relies on 3-D body scans to create made-to-fit jeans. It's also hoping to retail some of its pants and 3-D weaved tops next year onwards. Bond-Eye Australia, known for its signature crinkle-cut fabric, makes swimsuits for sizes going up to 12. So, companies have finally woken up to realistic sizes? Colour us impressed.
Scent of eternity: Scientists finally know what mummies smell like: a mix of beeswax, bitumen, plant oil, and resin from pistacia or dammar trees. Researchers relied on residues in the jars that contained the preserved organs of a wet nurse, Senetnay. Interestingly, the concoction also included imported ingredients, which "highlights Senetnay's importance as a key member of the pharaoh's inner circle" and reveals that trading in ancient Egypt was more common than previously believed. The jars also contained different compounds, suggesting that Egyptians may have used different embalming mixes to preserve different organs. What's more, the 'scent' will be presented at an upcoming exhibition at Denmark's Moesgaard Museum.