Discover more from The Signal
The Signal is a daily curated newsletter that helps you understand the latest developments in business, tech, finance, economy, and policy with sharp analysis and crisp insights thats fun to read arriving at 8AM daily in your inbox.
Over 81,000 subscribers
Why fintechs ❤️ banks
Good morning! Afghanistan isn't known for its supercars, but the one-man army leading homegrown car design studio Entop wants to change that. Entop's Batmobile-esque car Simurgh is on display at the Doha leg of the Geneva International Motor Show. The car, as Bloomberg notes, is still a work in progress. But Mohammad Reza Ahmadi, who serves as CEO, chief engineer, and designer, wants to represent a different side of Afghanistan. He's looking to raise $32 million to perfect the Simurgh and wants it to conquer Le Mans, the iconic 24-hour endurance race in France, before it hits the market. A classic case of never say never.
🎧 What it took to make Afghanistan's first indigenous supercar. Also in today's episode: The Bhilai paan shop that played a role in the creation of Mahadev, the Indian betting app being probed for money laundering. Listen to The Signal Daily on Spotify, Apple Podcasts, Amazon Music, Google Podcasts, or wherever you get your podcasts.
Roshni Nair and Adarsh Singh also contributed to today's edition.
If you enjoy reading us, why not give us a follow at @thesignaldotco on Twitter and Instagram.
The Signal is on Telegram! Join The Signal Forum, where we share what we're reading and listening through the day. Be a part of the conversation!
---
The Market Signal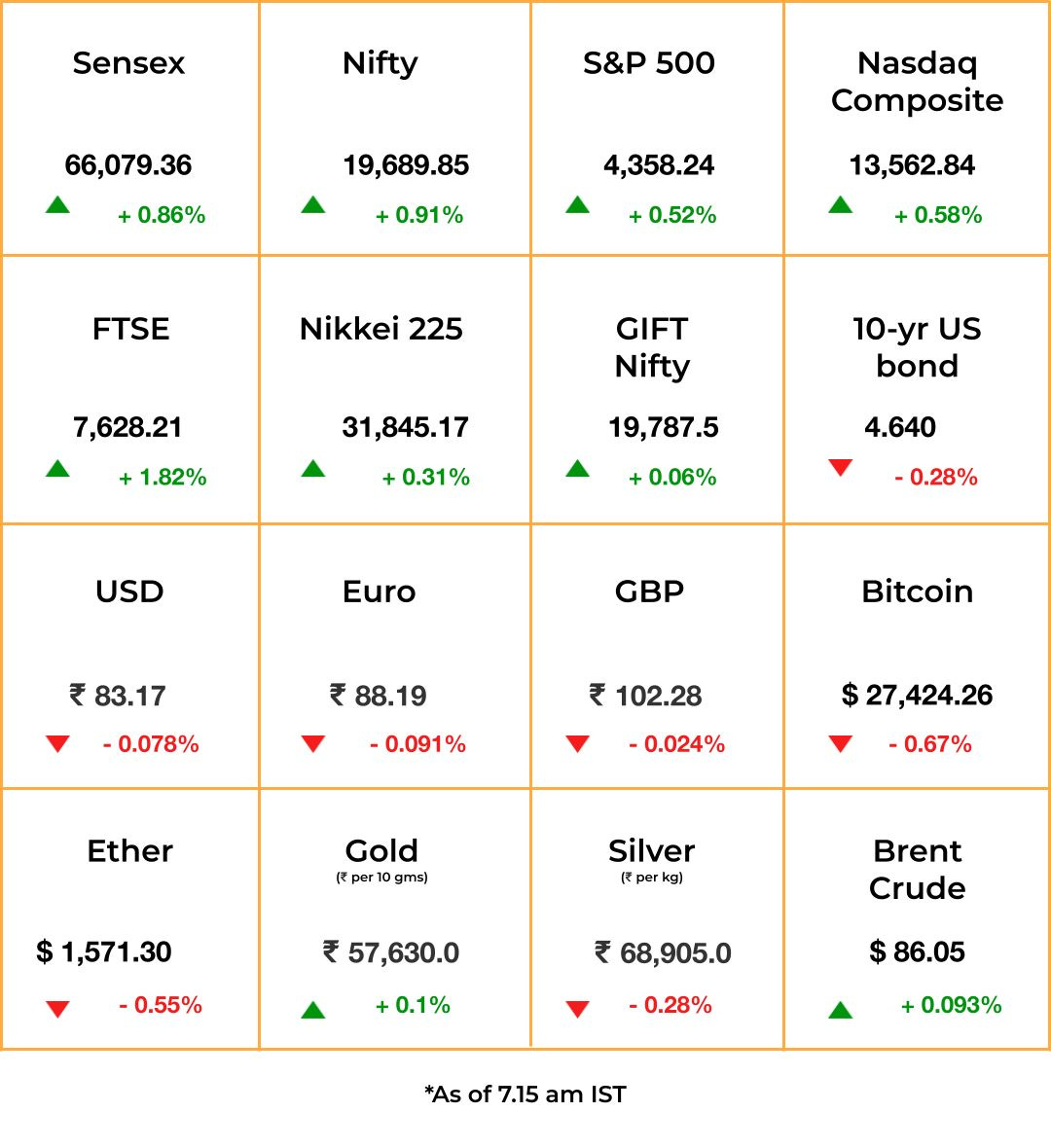 Stocks & Economy: Equities in the US and Europe ignored the conflict in West Asia after indications from the US Federal Reserve that it will not move as markets were doing the work of tweaking rates. The sentiment spread to Asia on Wednesday morning with markets across the region awash in green in early trade.
The morning trend in GIFT Nifty indicates a positive opening for Indian equities as well. The earnings season kicks off today in earnest when TCS reveals its quarterly performance.
China, meanwhile, is preparing for another dose of stimulus for its doddering economy even as the IMF slashed its forecast for that country. It maintained the global growth forecast for 2023 at 3% but lowered that for the next year to 2.9%. It raised India's forecast to match the World Bank's expected mark of 6.3% from its April projection of 6.1%.
---
EDTECH
The Hunt For $533 Million
This isn't a treasure hunt, although it's as exciting as one.
We've written about the legal battle between BYJU'S and its creditors in US courts over the whereabouts of a $533 million chunk of a $1.2 billion term loan. Details have now emerged of how acrimonious the battle has been.
Per court documents accessed by The Economic Times, BYJU'S co-founder Byju Raveendran allegedly told the lenders during a conversation, "The money is [in] some place [that] the lenders will never find it."
The story also reveals why BYJU'S went for a term loan B, which comes with stringent terms. During its Covid-fuelled expansion spree in 2021, Raveendran didn't want to dilute his stake or part with equity of his booming edtech company. And with the price of equity skyrocketing, a term loan was a cheaper option. If only Raveendran and BYJU'S knew what was to come in the following months.
---
GEOPOLITICS
A Diplomatic Dilemma Of Abrahamic Proportions
The US and China are being confronted with their limitations in a region whose volatility overshadows Ukraine and Taiwan.
Whatever headway the Biden administration made via the 2020 Abraham Accords—which seeks to normalise relations between Israel and the Arab world—has been thrown to the wind. In laying the blame on Israel, Saudi Arabia has relayed that West Asia will remain unstable unless the Palestinian issue is addressed.
China's muted response to the Israel-Hamas war reveals the limits of President Xi Jinping's global peacemaking ambitions. Beijing may have brokered an agreement between Saudi Arabia and Iran, but its refusal to name Hamas—backed by Tehran—as the aggressor has miffed Israel. Over half of China's imports from Israel comprise electric components including microchips, a crucial point in the context of the US-China tech war.
Regional satraps: Qatar, foe to Saudi Arabia and the Gulf states, is mediating between Hamas and Israel, alongside Egypt.
---
BANKING
PEs, Fintechs Find A Small Door Ajar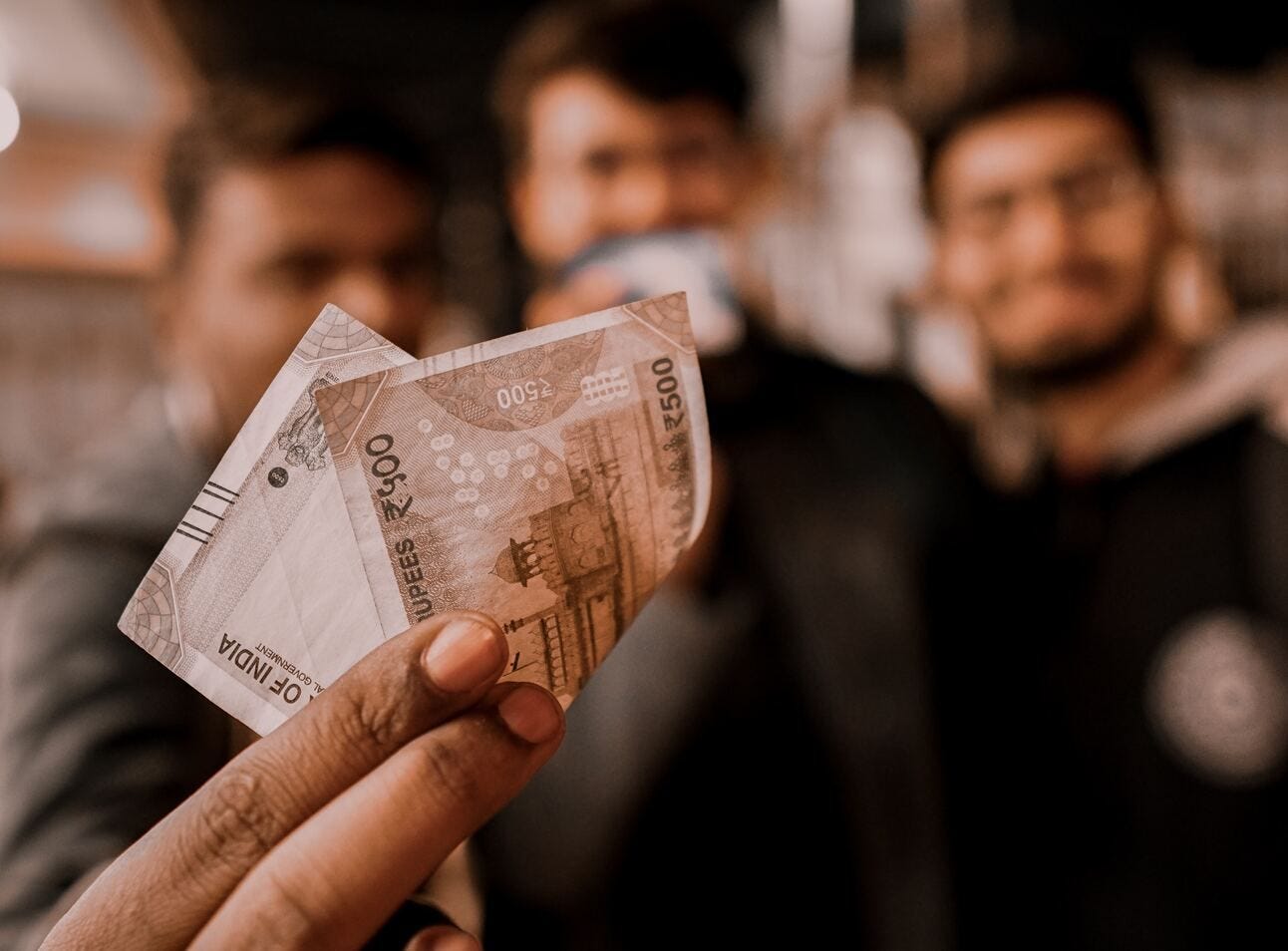 Photo credit: Ayaneshu Bhardwaj/Unsplash
The hottest business in town is finance. There is a rush now as giant conglomerates and private equity-funded startups eye the emerging retail lending opportunity, especially outside overbanked metros.
While the Reserve Bank of India has been relatively liberal with non-banking finance licences, a bank licence is still hard to come by. So, even a hint of an opportunity, however small it is, attracts a horde of investors. Four groups with 16 members, including private equity (PE) firms, are vying for a slice of a Bank of Baroda subsidiary in Nainital, reports Techcrunch. A pair of PE firms are eyeing a stake in Shivalik Small Finance Bank.
Their hopes are up after the RBI allowed prepaid virtual card startup Slice to merge with the struggling North East Small Finance Bank, a first.
The Signal

New-age fintech firms, armed with copious amounts of customer data and analytical tools to better assess lending risk, want to compete with banks but are hobbled by regulatory shackles. Slice, for instance, did not have a viable choice once the RBI stopped its core cards business. The central bank, too, recognises that it cannot shut out all avenues for fintechs. Yet, reckless lending in search of scale (a dubious startup metric) when household savings are falling and indebtedness is rising can raise systemic risks, which explains the RBI's caution. Retail lending will become even more competitive when deep-pocketed new entrants such as Reliance and old players such as Bajaj flex their muscles.
---
CRYPTOCURRENCIES
To Catch A Thief
Sam Bankman-Fried's (SBF's) former deputy Caroline Ellison testified in court that she and Bankman-Fried "together defrauded FTX customers, investors and lenders" after he ordered her to do so, The Wall Street Journal reports.
Meanwhile, WIRED obtained details of what transpired the night FTX filed for bankruptcy. There was a dash to move crypto worth <$500 million after hackers/thieves started looting its holdings as it collapsed. About $415-432 million remains missing.
FTX reportedly called an emergency meeting as staffers witnessed wallets being drained in real-time. It wasn't until a company advisor safekept <$500 million in vulnerable assets on a USB drive (!)—later transferred to digital asset trust BitGo—that an even greater crisis was averted.
Co-founder Gary Wang, who was in that meeting, has testified that SBF took the final call in letting Alameda Research siphon $8 billion from FTX customer wallets.
BTW: Venture funding in crypto is at its lowest since 2020.
---
BUSINESS OF SPORT
777 Partners' Many Red Flags
Multi-club ownership isn't a new concept in club football, but the potential new owner of English club Everton FC is one of a kind. And not in a good way.
Last month, Miami-based investment firm 777 Partners agreed to buy Everton for an undisclosed sum, to add to its stakes in seven other football clubs across the world. The company claims it has $10 billion in assets. But as The New York Times reports, doubts over its finances, including millions of dollars in unpaid bills, could kill the deal.
Deets: In July, Norwegian football magazine Josimar wrote about 777 Partners' patchy record in honouring financial commitments and its legal troubles. Fifa recently sanctioned one of its clubs, Brazil's Vasco da Gama, for missing three transfer payment deadlines.
Now?: English football authorities and regulators are yet to approve the Everton deal. Their verdict could have implications for the entire global football economy.
PS: For more insight and analysis into the business of sports, subscribe to our free, weekly newsletter The Playbook.
The Playbook
A weekly newsletter that deconstructs the business of sports and gaming.
---
FYI
Wildcard entry: US private equity firm Blackstone has reportedly joined the race to buy all or some of Walt Disney Company's India assets.
Pipped to the post: Billionaire Mukesh Ambani is back on top as the richest Indian after pushing down fellow billionaire Gautam Adani to second place on the Hurun India Rich List, 2023.
In the net: The Enforcement Directorate has arrested four executives of Chinese smartphone maker Vivo in connection with a money laundering case.
Sinking builder: Chinese property developer Country Garden has defaulted on a $60 million international loan repayment after it failed to sell enough apartments.
Monster raise: Despite a tough market, US private equity firm Warburg Pincus has raised $17.3 billion in a fund that had aimed to collect $16 billion.
😨🤒: Google has launched an AI-powered search engine that will collate medical records of patients from literally everywhere. Not sure it's a good prescription.
Halt and abide: RBI has ordered Bank of Baroda to immediately stop onboarding new customers on its BoBWorld app until it fixes "deficiencies".
---
THE DAILY DIGIT
3.02 million
The number of preterm or premature births in India in 2020—the highest in the world—according to a study published in The Lancet. (The Economic Times)
---
FWIW
Dead or alive?: That was the billion-dollar question yesterday after an X/Twitter handle, posing as Nobel Prize-winning economist Claudia Goldin, declared that Amartya Sen had passed away. That "break"—as some publications who carried the news realised to their embarrassment—turned out to be fake. Mr Sen is alive and well. The person behind this is allegedly Italian journalist Tommaso De Benedetti. He has a track record of declaring fake news to "expose weak media". Our emphasis on "allegedly", because you can't take anything on X at face value anymore. This is, after all, a platform amplifying disinformation about the Israel-Hamas war, and whose owner himself can't differentiate real news from fake.
Testing woes: Billions of dollars and the collective knowledge of humanity can't guarantee a spot at the Indian Institute of Technology. Researchers at IIT Delhi made OpenAI's large language model, GPT-4, attempt the JEE Advanced exam. The result was an accuracy score of 35%. This places GPT-4 in the 80-90 percentile range, falling slightly short of the 90-100 percentile required for admission to these prestigious institutions. At least now you have a response for your parents when they bring up your (failed) IIT aspirations.
Going cuckoo: If you prefer your eggs to come from free-range hens, you may want to inquire if they've enjoyed some Baroque tunes. In New Zealand, a symphony orchestra is extending its services to serenade these clucky friends with classical music. Farm owners are also showing interest, as research suggests that classical music makes chickens 'eggs-tatic' (#sorrynotsorry). Studies have also shown that chickens exhibit a particular responsiveness to Baroque music. Make of that what you will.
---