Discover more from The Signal
The Signal is a daily curated newsletter that helps you understand the latest developments in business, tech, finance, economy, and policy with sharp analysis and crisp insights thats fun to read arriving at 8AM daily in your inbox.
Over 81,000 subscribers
Full moon fever
Also in today's edition: Coming home to roost; The line's dead for Vi; UP, UP, and away; Dating goes down the drain
Good morning! High-end Swiss sports apparel brand On took a gamble in August 2020, during the peak of the pandemic, when it founded On Athletics Club (OAC), a training group of professional distance runners. Back then, it didn't even manufacture track spikes. Today, On is one of the hottest brands at the World Athletics Championships in Budapest, reports The New York Times. The OAC roster features 13 elite middle and long-distance runners from seven countries, including Olli Hoare (Australia), Joe Klecker (USA), and Mario Garcia Romo (Spain). We dk about you, but we are rooting for them already.
The Signal is now on Telegram! We've launched a group — The Signal Forum — where we share what we're reading and listening through the day. Join us to be a part of the conversation!
Today's edition also features pieces by Roshni P. Nair, Julie Koshy Sam, Srijonee Bhattacharjee, and Jaideep Vaidya.
If you enjoy reading us, why not give us a follow at @thesignaldotco on Twitter Instagram and Threads.
The Market Signal*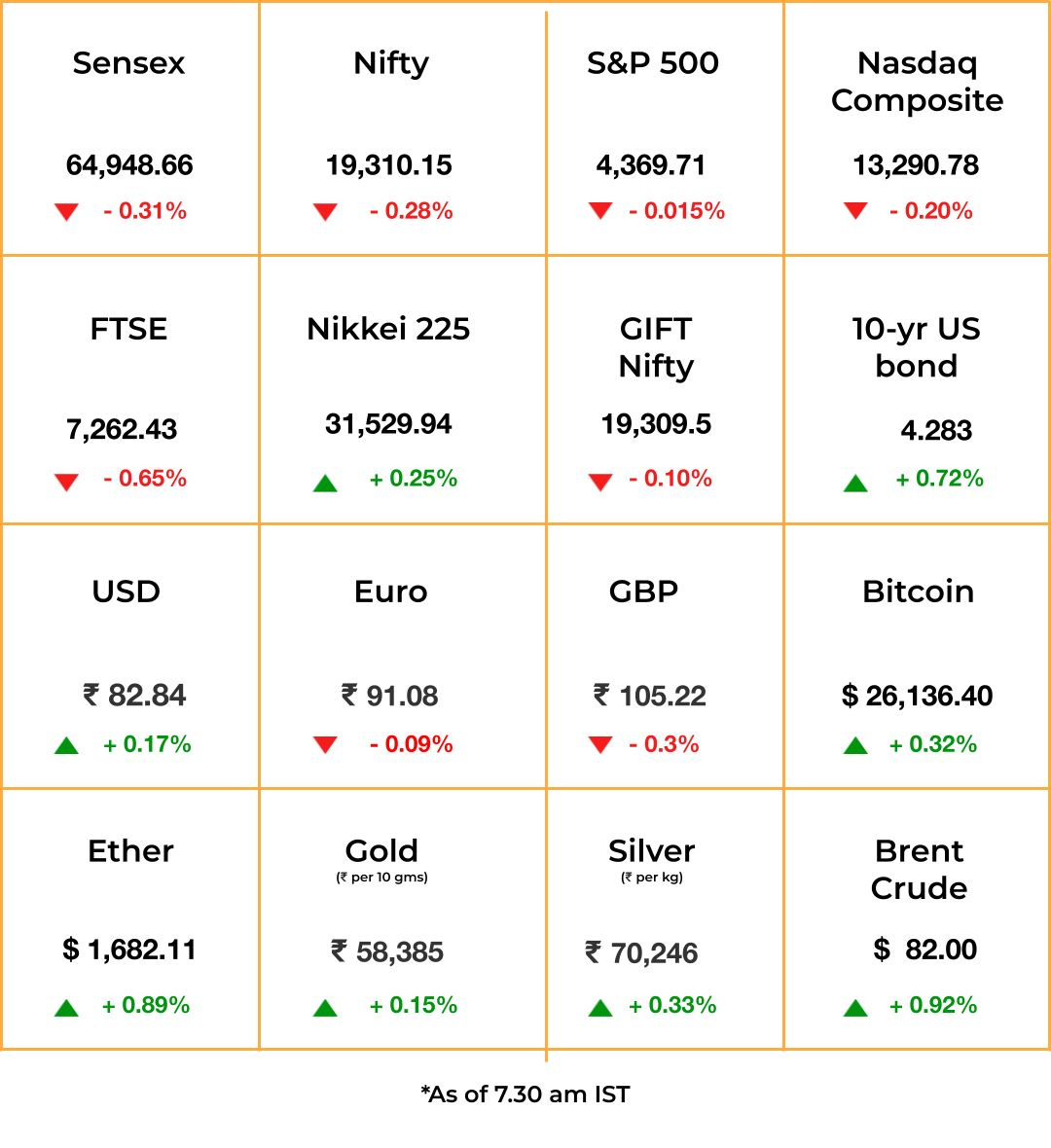 Stocks & economy: Jio Financial Services debuts on stock exchanges today even as 71 new companies line up to sell shares to the public in the coming months.
India has been an outlier this month among emerging markets, thanks to domestic investments and healthy corporate balance sheets. Shares today, however, are likely to remain tepid after a mildly positive start as global uncertainties cloud sentiment. Disappointment surged through Asian markets after China's meagre rate cut.
The rupee acclimatising below 83/$1 may play spoilsport. Traders say the RBI may have let the currency slide a bit to prop exports.
Meanwhile, foreign portfolio investors have reportedly asked Sebi to spare those with minor holdings from elaborate information disclosures.
Three consecutive weeks of losses may undermine investor confidence in US equities ahead of two crucial events: Nvidia's earnings on Wednesday and Fed chair Jerome Powell's speech at the Jackson Hole summit on Friday.
SPACE
Stark Raving Lunatics
The word "lunatic" originates from the Greek lunaticus, which translates to "moonstruck". That's an apt descriptor for the US, China, India, and Russia, which are jostling for a podium finish in the moon race.
But first, an update. Russia's first lunar mission in 47 years has failed after its Luna-25 spacecraft crashed into the moon. It's a huge setback for Moscow, for whom a resuscitated space programme would've been a source of pride in the face of global sanctions.
Luna-25 could've been the first spacecraft to explore the moon's south pole—an area rich in ice craters. Any water harvested would sustain life and offer possibilities for space refuelling. But the terrain is hostile. Israel and Japan tried landing at the south pole and failed. Ditto India's Chandrayaan-2.
Chandrayaan-3 has successfully deboosted in the run-up to a Wednesday landing. If it survives, India will get the accolade Russia just lost out on.
HOUSING
Home, Alone
There is nothing like owning the roof over your head.
For single women in China, home ownership is a step forward to gender equality, as well as economic independence. And they are using the slump in the property market to their advantage.
Homes, meanwhile, are preventing divorces in the US. Couples who co-own houses are unable to buy one another out in divorce settlements as refinancing costs are high. And in regions where prices have fallen, it is difficult to sell property and settle in cash.
US homes are unaffordable in many places, although it's not stopping buyers. They are borrowing more—some say unsustainably more—to buy homes despite high mortgage payments.
Builders in India, too, are ramping up inventory as property prices have increased between 6% and 15% in key markets such as Mumbai, Bengaluru, and Delhi.
TELECOM
Hello? Is Anyone There?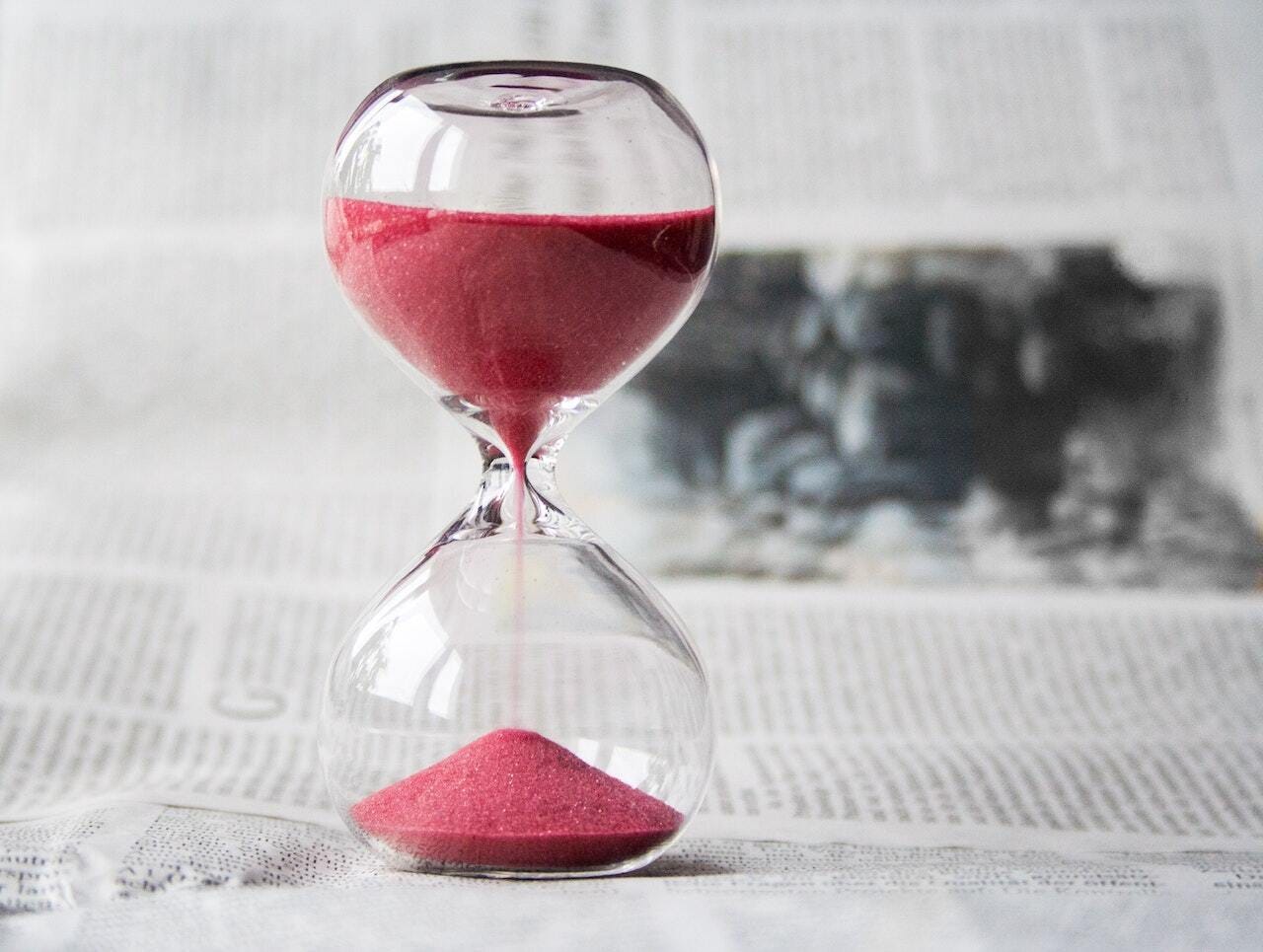 The 'fone' is ringing. Will somebody pick up? Vodafone Idea (Vi) is running out of cash, subscribers, and time. It hasn't made a profit since its 2018 merger, and the stock is down to roughly a fourth of its value since. Now, Vi says its promoter is pumping in ₹2,000 crore (~$241 million).
Petty cash: Analysts say that's not enough. Vi is delaying monthly payments for the 5G spectrum it bought last year—spectrum it hasn't even used yet because it has no money to roll out 5G. Vi will be charged interest on this. Also, the telecom department is planning to fine Vi for delaying its 5G rollout. Analysts say most of the money raised will go into paying these fines rather than clearing older dues or expanding networks.
Vi has been losing 1-2 million subscribers per month as rivals Airtel and Jio compete to snag them.
The Signal
Vi has been hanging by a thread for want of cash as promoters Vodafone Plc, Aditya Birla Group, and the Indian government play passing-the-parcel. Now, it's locked in a downward spiral: delayed 5G expansion led to more fees, fines, and subscriber loss, drying up cash and delaying expansion.
If Vi doesn't scrounge up the cash it needs to run this capital-intensive business, India's crucial telecom market will effectively become a duopoly. And after MTNL and BSNL, the Indian government will be saddled with a third broke telecom company.
INVESTMENT
UP Up Top In Funded Projects
It pays to be friendly to business.
Uttar Pradesh has topped the list of states that received new investments. UP cornered 16% of projects with a total cost of ₹43,180 crore (~$5.1 billion) that got financial backing from banks and other institutions. That means the likelihood of these projects taking off is high.
Measured by project cost, five states—UP, Gujarat, Odisha, Maharashtra, and Karnataka—accounted for 57% of bank-assisted projects in 2022-23. Kerala, Goa, and Assam were at the bottom of the table.
UP has literally rolled out the red carpet to industry, even suspending most labour laws for 1,000 days to dress up the state as a friendly destination. The last global investment summit in February 2023 brought in 19,000 proposals worth ₹33.5 lakh crore (~$402 billion). However, over 27% of those were for a single district, Gautam Buddh Nagar, which is part of the National Capital Region.
TECH
A Match Made In Heaven. Not.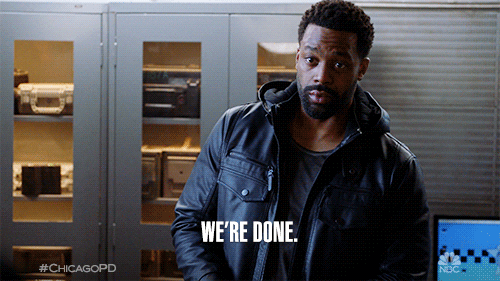 Tinder's parent has paused background checks on profiles after digital safety nonprofit Garbo, which offered the service, ended its partnership with the company. The Wall Street Journal details Match Group's (MG's) and Garbo's disagreements over funding and the use of the consumer tool. MG also operates Hinge, OkCupid, and Plenty Of Fish.
Although MG publicised the partnership, it didn't actively promote the consumer tool to users. The separation comes over a year after Shar Dubey—who'd championed the service—resigned as MG's CEO. MG's social advocacy executive, Tracey Breeden, also stepped down, along with two other trust and safety leaders. MG hasn't disclosed the size of this team in its latest annual Impact Report. It also hasn't renewed its contract with the US National Domestic Violence Hotline.
Causes for concern aren't unfounded, especially when dating apps are deploying AI for matchmaking—the possibility of bot accounts/fake profiles be damned.
FYI
Almost there: The Indian government's proposed national e-commerce policy is reportedly in the final stages of formulation after detailed discussions with industry stakeholders.
¡Ole!: Spain beat England 1-0 in the final to win the Fifa Women's World Cup for the first time.
Settlement reached: Members of the family controlling the Murugappa Group have agreed to settle their disputes and differences that arose after the death of founder MV Murugappan.
Poll watch: The Indian government has imposed a 40% export duty on onions until December 31 after prices in key markets rose sharply.
No fair: Top American companies including Apple and Intel have written to the US government asking it to urge India to reconsider its newly imposed tech import restrictions.
Climate change: Authorities in the Canadian province of British Columbia have asked tens of thousands of residents to evacuate, with the country experiencing its worst wildfire season.
💰💰💰: Former KKR India chief Sanjay Nayar and Angad Banga have raised ₹1,000 crore in their tech-focussed fund, Sorin Investments, from high-profile Indian and global investors.
THE DAILY DIGIT
57,951
The number of crorepatis that India has added over the last three financial years. That's a 51% jump, according to data periodically released by the Central Board of Direct Taxes. (The Economic Times)
FWIW
You snooze, you don't lose: Ah yes, voyeurism and capitalism, a match made in heaven. Sleep influencers (yes, that's a thing) are trading sleep for monies. YouTube, TikTok, and Twitch have made sleep streamers such as Kai Cenat famous. Btw, Cenat was recently charged with inciting a riot in the US. Unlike paying influencers to sleep, viewers can buy virtual gifts to trigger sounds and lights in the room to startle the snoozing participants (!). For instance, spectators had the option to give influencer StanleyMov an electric shock through a bracelet for $95. But he's done with his share of similar livestreams for now, thanks to burnout. Yikes.
Credit where due: Literally. Italian tourists, including Prime Minister Giorgia Meloni, have been flocking to Albania recently for its sandy white beaches (and cheap stays). But a few bad sheep also dined and dashed at a restaurant in the city of Berat. It's a scourge. To save face, the Italian government ended up picking up the tab on an outstanding restaurant bill worth €80 ($87) after Albanian Prime Minister Edi Rama raised the issue. Poor Meloni had to ask the Italian ambassador to Albania to "go and pay the bill for these idiots, please".
Occupational hazard: Apparently, any app is a job app if you try hard enough. Both job hunters and employers are scouring dating apps to find… you guessed it, jobs. Layoffs have gotten young 'uns to swipe right on dating apps to network. Grindr CEO George Arison himself has admitted to using the app to network. Folks are also using these platforms to get inside scoops on workplaces. One Samantha Lenger learnt about Meta's hiring freeze and TikTok's work environment on Hinge. Well, all the best finding love a job and all that.