Discover more from The Signal
The Signal is a daily curated newsletter that helps you understand the latest developments in business, tech, finance, economy, and policy with sharp analysis and crisp insights thats fun to read arriving at 8AM daily in your inbox.
Over 81,000 subscribers
Covid may be licked soon
Also in today's edition: Tesla has a model quarter, Jobs are where you are, Apple is big game
Good morning! Heard of dalgona? No, not the twin-tone whipped-up coffee that became a social media rage last year when lockdowns were celebratory and kitchen ninjas were stars. This dalgona is a sweet and deadly (as per Netflix) candy from the global hit, Squid Game. An Yong-hui, who supplied the confection used in the Netflix serial, has not gone home for a week because the line for the candy at his street kitchen doesn't end. It has now been elevated from the wayside to the online shelves of Amazon and eBay which are stocking dalgona cooking kits and tools. What a candy crush!
The Market Signal
Stocks: Indian indices, the Sensex and Nifty, were down about 2% last week. Although the Sensex had closed above 60,000 the previous week, the Nifty failed to crack the 18000 mark. Foreign portfolio investors, however, continued to buy Indian stocks. They remained net buyers for the second consecutive month. Oil prices and US bond yields are likely to weigh on global markets in the coming week. 
Tesla Scores When The Chips are Down 
Tesla is truly selling cars now. Third-quarter sales increased to a record-breaking 241,300 electric vehicles, despite a crippling shortage of chips that has rival automakers reeling. 
Smart tweak: Elon Musk said that the company managed to sell 20% more cars than the previous quarter as it dealt with the shortage by switching to chips that were easily available and writing new code on them. 
Tesla's Model 3 and Model Y have done well in China. More established General Motors saw sales dip by a third in the same quarter. 
Amazon here as well: Meanwhile, Amazon- and Ford-backed EV maker Rivian filed for an IPO. It has lost nearly $1 billion in the first half of the year after aggressively producing vehicles to compete with Tesla, GM, and Ford.
Jobs Are Coming to You
WFH – the pandemic's contribution to work culture has changed how companies are now hiring talent. Jobs are going to where people are, instead of seekers migrating in search of work.
Location agnostic: Indian companies are recruiting candidates in cities where they do not have a physical presence. This trend has gone from 5% in pre-pandemic situations to 35% now, according to a survey by recruitment firm CIEL HR Services. Employers are seeking out employees from remote cities such as Ooty, Patna, Chittoor, Hubli, and Madurai. Co-working spaces in such cities are solving infrastructure troubles.
Smaller cities are also becoming office centers. Zoho, for instance, has offices in Tenkasi and Patna. In the past four years, HCL has set up offices in Madurai, Lucknow, Nagpur, and Vijayawada.
Talent everywhere: The Covid-19 pandemic has given employers the chance to explore talent from outside traditional hubs. More roles have been adapted to remote set-ups, giving "hire-from-anywhere" policies a new lease. Hiring has picked up pace and employment has almost touched levels last seen in September 2019.
Yet, that's not saying much.
Kaushik Basu

@kaushikcbasu
Youth unemployment in the world. It's baffling how India got to where it is, even before the pandemic. Whoever forms the next government must treat this is as the number one priority.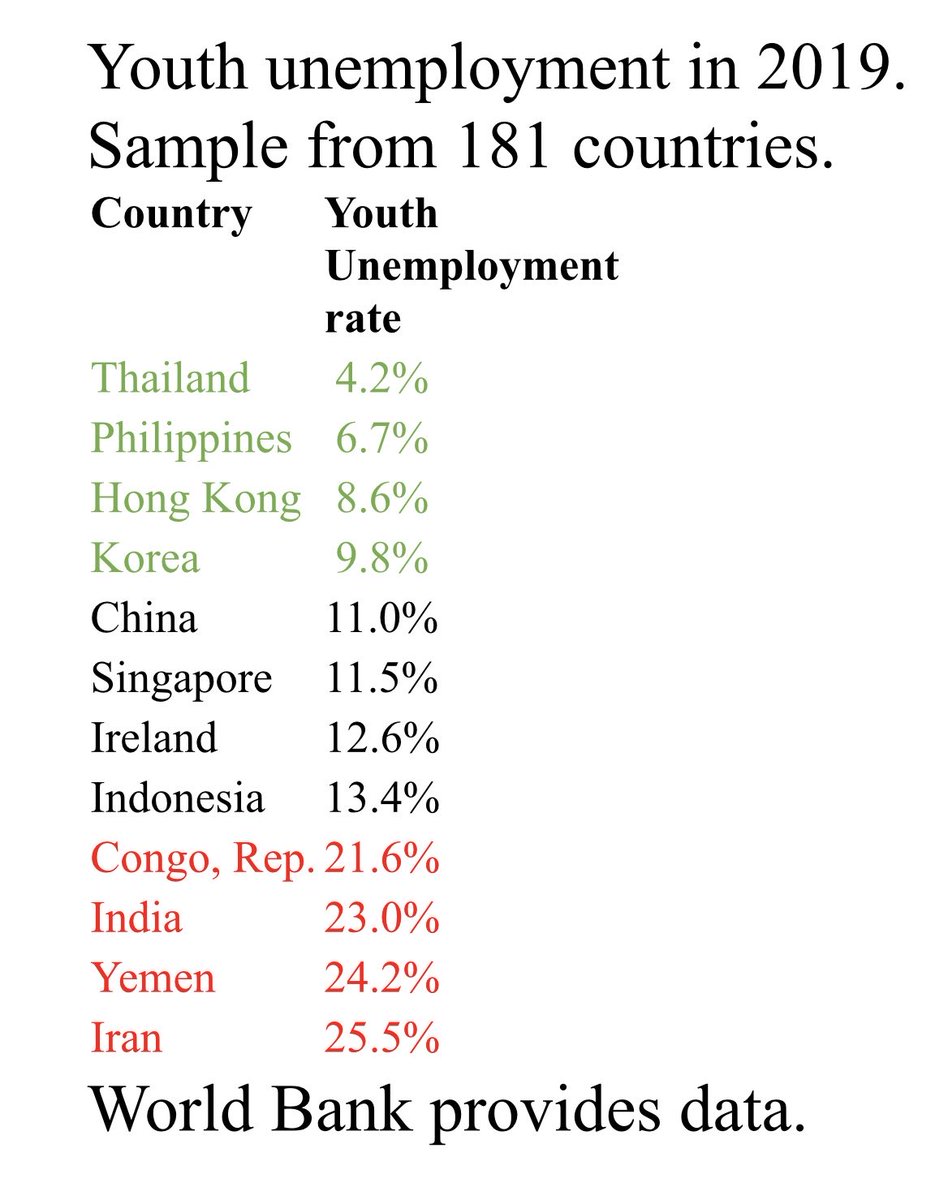 Oct 2, 2021
4.57K Likes   1.77K Retweets   185 Replies
Finally, A Covid Remedy Without A Jab 
It could be the proverbial light at the end of a dark tunnel that the world was trapped in for over a year and half. Clinical trials of anti-viral drug Molnupiravir developed by drugmaker Merck and Ridgeback Biotherapeutics show it could be the breakthrough in fighting Covid-19.
What? Only half the Covid-19 patients with mild or moderate disease who were given the little brown pill in Phase-3 trials had to be hospitalised. All of them were unvaccinated and had an additional risk factor such as diabetes or heart disease. It was effective in treating all variants of Covid-19, including the delta strain.
Who? Molnupiravir was developed at the Emory Institute for Drug Development with funding from the National Institutes of Health. The researchers were originally looking for a drug to combat the deadly Ebola virus when the novel Coronavirus gripped the world. Ridgeback acquired the drug in March 2020, Merck signed a deal with it the next month and trials began in the autumn.
What else? Gilead Sciences' anti-viral medicine Remdesivir is also found to be effective in speeding up recovery from Covid-19 but it has to be injected.
The Signal
An effective anti-viral pill would go a long way in steadying the world. The fear that Covid-19 evokes would dissipate to a large extent if it can be treated with a pill. It will also help restore confidence in economies that have been reeling from the disease. Many countries such as Japan and Australia are removing strict restrictions that have been in place for long but there are others such as Singapore that are still in the lurch.
The breakthrough also underlines the importance of academic institutions and collaborations in solving the most vexed problems that face humans.
Tom Vogl

@tom_vogl
The global pandemic looks like India.
Oct 2, 2021
312 Likes   37 Retweets   4 Replies
It's Not A Game For Apple
Apple is many things to many people. Among other things, it is also the most profitable company in gaming. And we are not talking about it's (rather dull) Arcade service. According to a Wall Street Journal report, the company's operating profit from games was $8.5 billion last year, more than what Microsoft's Xbox, Nintendo, Activision Blizzard, and Sony Corp's Playstation together made in 2019. Apple has disputed this number though. 
The store: The App Store is the highly controlled gateway for game developers to over a billion global iPhone users. That critical conduit, where Apple lists and sells thousands of games and takes a 30% cut, however, is under legal, legislative, and regulatory threat. 
A slice of the pie: Every big technology company wants a share of global gaming revenues which are expected to reach $198 billion in 2024. Netflix just purchased Night School Studio, its first gaming studio; Amazon scored its first gaming hit a few days ago with New World; and Facebook, Microsoft, and Epic are ramping up their virtual reality offerings.  
Stream The Auction, Please
Fireworks are about to erupt in Indian sports broadcasting. The governor of Indian cricket, BCCI, announced that the next set of IPL media rights will be released later this month. The International Cricket Council, meanwhile, will likely invite bids for its own rights cycle in November.
Most big decisions around Indian sports broadcasting tend to be driven by these cycles, and this occasion is no different.
Reliance Industries-backed Viacom 18 has been gearing up to further its sports play, first by picking up small sports properties, and then building a team of experienced sports media professionals.

The freshly minted Zee-Sony merger has cricket written all over it. Zee had sold Ten Sports to Sony for $385 million just months before the previous IPL rights cycle.

Current rights holder Disney is unlikely to give them up easily, having built its Indian OTT business largely around live sport.
Each of them are powerful, deep-pocketed corporations playing the long game. That means bidding this time could be intense. 
What Else Made The Signal?
Damning quote: "Facebook, over and over again, chose to optimize for its own interests, like making more money," whistleblower Frances Haugen told CBS 60 Minutes.
Pandora papers: Cricketer Sachin Tendulkar, businessman Anil Ambani, Pakistan Prime Minister Imran Khan, and hundreds of billionaires and public officials are among those who figure in a leaked cache of documents that reveal secret offshore deals and assets.
Chinese debt trap: Unknown to the public, several countries owe China at least $385 billion in debt. The loans, given through non-transparent deals to financial institutions instead of central banks, are mostly off public balance sheets.  
Triple offering: State-owned power company NTPC is planning to take its renewables business, its north eastern hydro power unit and power trading unit public at an expected valuation of ₹15,000 crores ($2 billion). 
Costly fuel: Petrol and diesel prices were hiked for the fourth day touching ₹100 a litre in some cities in India after global crude prices stayed as high as $79 a barrel. Meanwhile, a global trader is betting oil could hit $200 per barrel. 
Too high: Zydus Cadila is quoting a price of ₹1,900 for three doses of its needless, DNA-based Covid-19 vaccine that can be administered to people aged over 12 years. The government is negotiating for a lower price. 
Coal crisis: Only three days of coal stock is left at 72 thermal power plants in India, raising the spectre of an electricity shortage just when the economy was looking up.
FWIW
Crypto kiosks: Digital may be the future but even cryptocurrencies can't do without a brick-and-mortar presence. Cryptocurrency exchanges are popping up at street corners in Canada and Croatia. These bank-like exchanges provide information, solve customer issues and help people transact without hassle, adding a personal touch that online platforms cannot.
Shuttered: California-based Ozy Media is shutting its operations after it lost key people and advertisers following a New York Times article about some of its shenanigans. The company's co-founder and chief operating officer Samir Rao had impersonated a YouTube executive on an investor call with Goldman Sachs.
Digital gifts: DC's first NFT launch is a bonanza for fans. Those registering for its FanDome event will get non-fungible tokens of Batman, Superman, Green Lantern, Wonder Woman, and Harley Quinn for free. 
Want to advertise with us? We'd love to hear from you.
Write to us here for feedback on The Signal.