Discover more from The Signal
The Signal is a daily curated newsletter that helps you understand the latest developments in business, tech, finance, economy, and policy with sharp analysis and crisp insights thats fun to read arriving at 8AM daily in your inbox.
Over 81,000 subscribers
Covid rages
Also in today's edition: Fed will step on it, Good Glamm's creator bet, No respite for Chinese Big Tech, Token surge
Good Morning! Joe Rogan is getting more popular for his cringey Covid-19 takes than his career as a podcast host. Even the folks at YouTube thought so. The platform has taken down the NYE episode of The Joe Rogan Experience featuring Dr. Robert Malone, who's been vocal about his hatred for vaccines. We get it, the second-hand embarrassment is real.
Btw, our podcast has been going strong for three months now. Tune in on your daily jog, drive to the office, or even as you WFH-ers have breakfast in bed. We promise it'll be music to your ears.
The Market Signal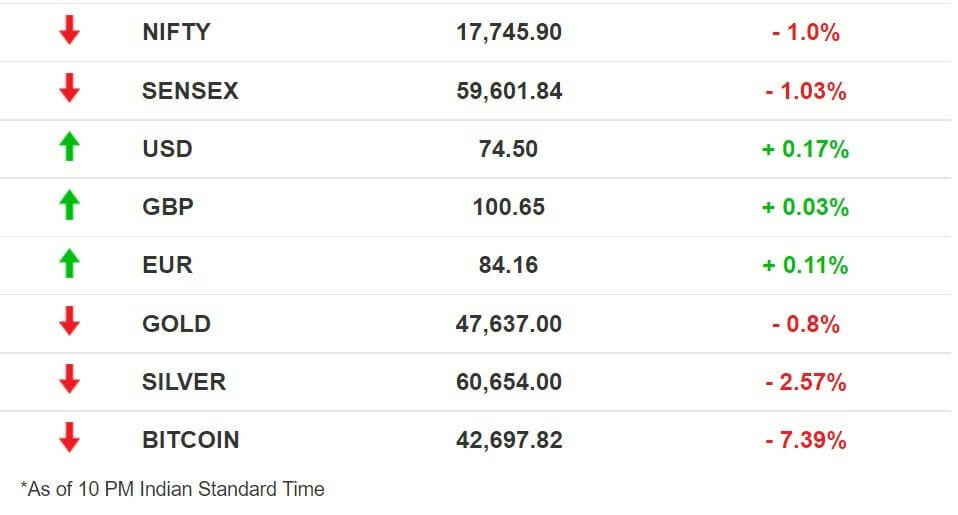 Stocks: Indian shares broke their new year surge to end in the red as global trends spooked investors. The US Fed's discussions of monetary tightening indicated that rate hikes were closer than earlier anticipated. The rapid spread of Covid-19 has also dented sentiment. Auto stocks gained while cement and steel makers' shares fell. 
Brace For Fed Rate Hikes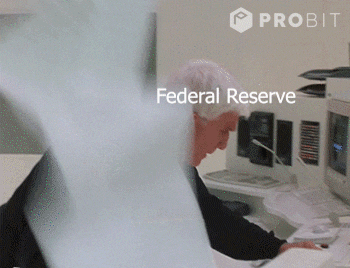 The US Federal Reserve will go all guns blazing to fight runaway inflation. Fed officials have decided to stop printing money asap and raise interest rates sooner. 
The Reserve Bank of India is likely to delay raising rates to give the economy time to recover. The People's Bank of China is already easing rates as the world's second-largest economy struggles with new government goals,  a resurgent pandemic and a busted property sector. The Bank of England raised rates last month after inflation hit a 10-year high. Meanwhile, Sri Lanka and Turkey are hurtling towards economic ruin. 
The pandemic has blown away global policy coordination even though the impact—inflation, income losses, rising debt—has been similar. High US rates could reduce capital flows to Indian markets, pull down the rupee and hurt the trade balance.
Tracking The Third Wave
India's third wave is here. The Omicron variant claimed its first victim in India on Wednesday—a 74-year-old man from Udaipur.  
The country has reported 2,630 Omicron cases so far. Daily Covid-19 positive cases breached the 1 lakh mark on Thursday. Maharashtra, Delhi, West Bengal, Kerala, Tamil Nadu, Karnataka, Jharkhand and Gujarat are reporting the highest number of cases. There is solace in the fact that hospitalisation rates are lower than previous waves. 
However, a whopping 125 passengers were tested positive for Covid-19 on a Milan-Amritsar charter flight on arrival. 
Off the shelves: Scarred by previous experiences, Indians are bracing for uncertainty by stocking up on daily essentials.
Elsewhere: Cases are on the rise in countries such as the UK and US. China has imposed stricter regulations ahead of its peak travel season. The country is also developing its messenger RNA vaccine to curb the Omicron outbreak. Meanwhile, Pfizer is contemplating offering Paxlovid, its Covid antiviral drug, at subsidised rates to low and middle-income countries, including India.
(With the recent surge in Covid-19 cases in India and beyond, Tracking The Third Wave will be a regular feature in The Signal from today. The section will feature a curation of everything you need to keep up with the third wave, besides its impact on business, the economy, and beyond.)
Good Glamm Bets On Buy-and-Grow 
Content-to-commerce unicorn Good Glamm Group has pumped in ₹200 crore to start an influencer marketing business that will be housed under a new entity named Good Creator Co.
Tell me more: The Group already owns two platforms: Popxo's Plixxo and MissMalini. By acquiring two new brands—marketing platform Winkl and video analytics platform Vidooly—it is fine-tuning its content strategy. The new venture already has more than 250,000 influencers and can reach over 70 million users every month.
Nine acquisitions: Good Glamm Group is the parent entity of cosmetics and skincare startup MyGlamm, touted to be India's fastest-growing D2C beauty brand. It has acquired nine brands since 2021, including  MomsCo, ScoopWhoop, POPxo and Baby Chakra.
The Signal
Good Glamm Group wants to strengthen its position as a 'Digital House of Brands' powered by a content-to-commerce play. This will also help them compete with new-age beauty platforms such as Nykaa and Purplle.
The company is consolidating its products, content and creators as a moat to attract more investor money after Nykaa's blockbuster IPO. It's likely that the company will use its pool of influencer-creators to help distribute its products across a wider audience.
China Is Not Done With Big Tech Yet
The year may have changed, but China's efforts to regulate its technology companies has a 2021 flavour to it. In yet another regulatory move, it is now demanding algorithmic transparency from its tech giants from March 1. 
What does this mean? These regulations (in Chinese) require companies such as Alibaba and ByteDance, among others, to "offer more transparency on how they [algorithmic recommendations] work, and how that affects users". There will also be clamping down on models that encourage "excessive spending" or become addictive. The clincher, though, is a mandate to "proactively spread positive energy".
Digital yuan is here: China is piloting the digital yuan or what it calls e-CNY on Android and iPhone ahead of the Lunar New Year and the 2022 Winter Olympics. Digital payment apps such as WeChat and AliPay are already popular. The central bank aims to work in tandem with existing payment tools.
Meanwhile, Xiaomi is being accused of surveillance in mainland China. In India, it is facing a ₹653 crore ($88 million) fine for evading custom duties on royalty and licensing fees.
Super Token
Chakra
The Chakraverse NFT collection, based on Indian superhero Chakra The Invincible, has officially become the world's fastest-selling NFT drop. Auctions for the character—which was co-created by the late Stan Lee—sold out in under a minute.
NFT gold rush: Writer-producer-filmmaker Quentin Tarantino wants to auction NFTs for the original screenplay of Pulp Fiction. The upcoming Australian Open will be the first Grand Slam tennis tournament with an NFT collection and a metaverse party. Shark Tank investor Kevin O'Leary is more bullish than ever on nonfungible tokens. Meanwhile, NFT marketplace OpenSea is now valued at $13.3 billion, and Bored Ape sales have breached $1 billion.
Goodwill yet to be mined: But blockchain technologies continue to receive hawkish treatment. Concerns over the environmental impact of cryptocurrency and NFT mining will culminate in a US Congressional hearing. Kosovo and Kazakhstan, which are in the midst of energy crises, are banning and regulating crypto mining, respectively.
FYI
Media moves: AT&T's WarnerMedia and ViacomCBS are exploring the sale of jointly owned CW Network. The telecom giant has been shedding its media assets. Meanwhile, the New York Times is said to buy subscription sports site The Athletic for $550 million.
Dun Deal: Quick delivery platform Dunzo has raised $240 million from Reliance Retail and existing investors. Reliance Retail invested $200 million for a 25.8% stake in the company. Meanwhile, transport solutions company Chalo is seeking to raise $200 million.
Payer l'amende: French regulators have slapped Facebook and Google with a massive fine over tracing users with cookies. In other news, Google plans to recreate an ecosystem just like Apple.
India's Cambridge Analytica? A media investigation has revealed how an app called TekFog gamed social media and messaging platforms such as Twitter and WhatsApp to create trends at will.
On hold: The Grammy Awards have been postponed indefinitely due to the new Covid-19 scare while Sundance organisers said the festival would go virtual.
Stop play: China has banned digital music platforms from signing exclusive copyright agreements to halt monopolistic practices.
Whopping: Reliance Industries raised $4 billion in the largest ever foreign currency bond issuance from India.
FWIW
Colour code: The all-electric BMW iX model can change colours at the touch of a button. The German automaker makes use of E Ink, the electronic paper technology used in your Kindle. The colours are restricted to black, white and shades of grey, but this will change over time. The car may, however, take time to reach your local dealership store. BMW says it is "currently an advanced research and design project".
Potful of sunshine: This Armenian restaurant in Yerevan has quite an exhaustive menu. But the star of the show continues to be "sunny meals" where pans go on a rather non-traditional oven—the satellite dish. These solar-powered satellite ovens can heat up to 700º C. So, the prep time comes down to less than seven minutes on a hot day.
Google Map plays good cop: An Italian mafia boss was on the run for 20 years. But Google Maps put an end to his alt life. Gioacchino Gammino, 61, was tracked down in Spain after Google Maps Street View captured a photo of him chatting in front of a fruit stand. The fugitive will be brought back to Italy by February. 
Want to advertise with us? We'd love to hear from you.
Write to us here for feedback on The Signal.