Discover more from The Signal
The Signal is a daily curated newsletter that helps you understand the latest developments in business, tech, finance, economy, and policy with sharp analysis and crisp insights thats fun to read arriving at 8AM daily in your inbox.
Over 81,000 subscribers
The crossover you never saw coming
Also in this edition: Keeping up with the Khatas, White House wants an antivirus, Infosys touches the sky.
Good morning! Hike is back in the news. Kavin Mittal, the son of Airtel boss Sunil, has raised capital again. For those of you who have forgotten, Hike was once a messenger valued at over $1 billion, raised capital from SoftBank, couldn't face up to WhatsApp, and shut down. Now, Hike, with the same name, is back as a social media app and has raised capital from a long line of founders, including Binny Bansal.
On to the day's stories:
Walmart has a delivery idea.

The super secret super app you didn't know 👀

Public market investors have a new car smell.
The Market Signal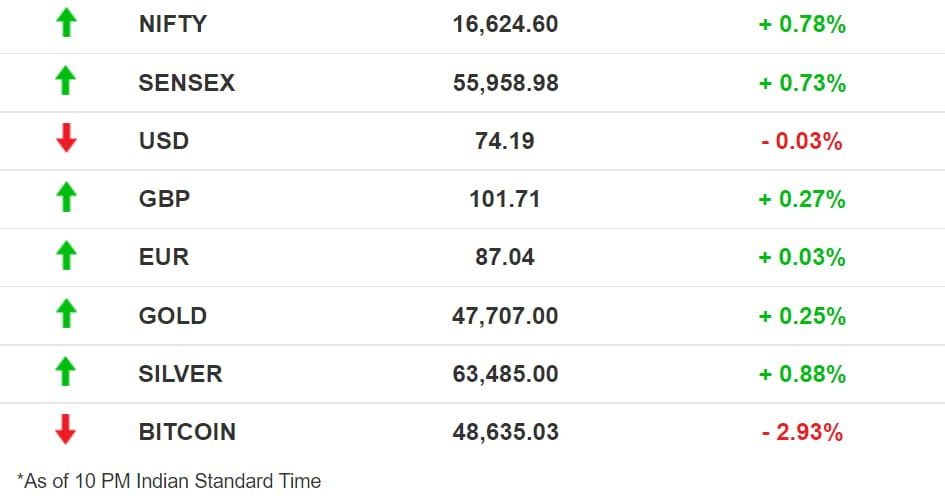 Stocks: Benchmark indices appeared a little more sure-footed, spending the entire day, and closing comfortably, in the green. The broader market also responded well to the charge from blue-chips like Bajaj FinServ, as smallcap and midcap indices gained around 1% each. Among sectoral indices, Metal rebounded from a four-day losing streak to register the highest gain of 2.9%.
An Unusual Crossover Episode: TikTok Meets Radio
They say old is gold, and TikTok is following suit by setting up a radio station. You read that right: the short video app is teaming up with SiriusXM, a US-based satellite radio service, to launch a "full-time music" channel.
Billboard Top 40 🤝 Gen Z: A music version of TikTok killer feature: the 'For You' tab. Each hour, SiriusXM says, TikTok creators will present music, and share backstories behind the trends. This is besides a weekly countdown show called — TikTok Radio Trending Ten.
One eye on Facebook, the other on Instagram: In its efforts to make inroads on incumbent social networks, TikTok is eyeing Snap and Facebook's play in AR with one of its own: TikTok Effect Studio. Not just that, it also announced a partnership with Shopify for in-app shopping.This move pits TikTok against its arch rival, Instagram, which launched its Shop feature in 2020. Instagram has gone one step further: by introducing ads. It's only a matter of time before TikTok follows suit.
Vaccinate Or Else...
An institute under the home ministry says Covid-19 infections in India could surge to as many as 600,000 per day if the pace of vaccination does not pick up.
Jab away: The country will have to vaccinate 10 million people a day to keep the daily number of cases down to about 200,000 when the third wave hits. Based on a study by Pandit Deendayal Upadhyay Energy University and Nirma University, the National Institute of Disaster management expects a spike in cases as early as October. Only 9% of the country's population has got both shots so far.
Super App aka Xiaomi Smartphone
Are they communications devices or super apps? The slick Xiaomi slabs, which incidentally are the largest selling smartphones in India, double up variously as payment systems, investment platforms, electronics shopping malls, and loan providers. Xiaomi will also launch gold loans, credit line cards, and insurance, some of which it has perfected in its home market, China.
Market making: For a long time Xiaomi's portfolio was largely Redmi phones. The premium Mi series were few. It shifted gears after its average price point crossed Rs 12,000 in 2020, double from the time of its entry in 2014. The patient priming of the market paid off and Xiaomi is now the largest smartphone brand in the country with a 30% market share.
The Signal
The strategy is the same for fintech. Mi Pay and Mi credit came two years ago. The pandemic helped increase the acceptance of convenient payment and smooth credit services. Xiaomi wants to sell more sophisticated credit products in a digital lending market expected to grow to about $1 trillion by 2023. It will be tougher though. The retail loan market in India is limited to about 200 million unique individuals or half of the country's 400 million workers. They either have taken a loan or owe on credit cards. The other half will not have the wherewithal to take on debt especially after the pandemic hit incomes. This relatively small pool, which may have shrunk further due to the pandemic, is the target of about 2000 fintech companies offering various services.
Mouse Sets Off Small Town Bulls
On technology-assisted new trading platforms, buying and selling assets is as easy as playing a game. That is attracting first-time investors from smaller cities and towns to risky assets. They opened a record 14.2 million Demat accounts in FY21. First-time investors made up 70% of Upstox's new customers. Now it appears the group in non-metro cities is growing much faster than their metropolitan peers.
Stock savvy: An Economic Times report says Paytm Money sign-ups in the top 30 non-metro cities grew 30% faster than in metro cities. Non-metro investors also owned three-fourths of accounts opened on Zerodha between March 2020 and August 2021.
Crypto crazy: Tier 2+ cities account for 55% of new sign-ups on crypto-trading platform WazirX this year. CoinDCX has seen them rising ~49 times in the past six months.New-age platforms are adapting to their customers by offering services in regional languages. The rise of fin-fluencers, who have helped spread financial literacy, has also fueled the trend.
Walmart Joins The Delivery Rush
Last week, Amazon flirted with the idea of becoming Walmart. This week, the tables seem to have turned. Walmart will soon enter Amazon territory by making deliveries of products purchased from other merchants. It announced a new service called GoLocal.
Walmart is not alone. In Japan, convenience store chain 7-Eleven also plans to launch its pizza-speed (under 30 minutes) delivery service.
Why is this happening? Shoppers got used to buying online during lockdowns and are continuing with armchair shopping even though the curbs are gone.
Big players' game: Amazon and Walmart have near-perfected the mechanics of delivering items to customers in the shortest possible time. Walmart is now offering the expertise to local retailers who have suffered shutdowns and losses in the pandemic.
Trust would be difficult to build though. Small retailers have always been wary of these giants gobbling them. It is hard to say if they will trust Walmart with their customer data, a crucial element of modern business.
What Else Made The Signal?
$100 billion market cap: Infosys became the fourth Indian company to reach this milestone on Tuesday, with its shares jumping to a record high.
Khata and Khatabook: Khatabook, a digital book-keeping app raised $100 million in a funding round at a valuation of $600 million. In Pakistan, a company called Bazaar offering a similarly named product also raised $30m.
Firewall chat: The CEOs of Apple, Microsoft, and Amazon are expected to attend a meeting with US President Joe Biden at the White House this week to discuss cybersecurity efforts in the wake of an increase in ransomware attacks.
Moolah: YouTube paid $30 billion to its content creators over the last three years. They have more than 2 million creators now. This shows that tech companies are willing to spend large sums for appealing content.
Rebound: Chinese tech stocks bounced back after strong quarterly earnings from ecommerce companies, JD.com and Alibaba.
Crypto consolidates: Citigroup is getting into Bitcoin futures trading through CME as soon as it is approved. They attempt to attract more clients through this as the popularity of Bitcoin soars.
FOMO: Facebook wants in on the NFT craze, and is considering building products or features related to non-fungible tokens, alongside its digital wallet — Novi.
FWIW
Last call: If you want to own memorabilia that once belonged to notorious gangster Al Capone, this is your chance. His granddaughters are auctioning off his "favorite" gun (a Colt .45 pistol starting at $50,000), a Patek Philippe pocket watch monogrammed with 90 diamonds, and personal letters estimated to sell for $700,000.
Super agent: West Bengal CM Mamata Banerjee is once again stepping in to mediate between Shree Cement and football club East Bengal. The latter's prolonged unwillingness to accept the terms of the deal may jeopardise their 76%-24% joint venture and its participation in the upcoming edition of the ISL.
Got your Vaxzevria yet? : Tired of hearing the same vaccine names? Good news. There are two new weird names now. Pfizer and Moderna are branding their vaccines as Comirnaty and Spikevax with FDI's approval. While AstraZeneca is marketing with the brand name Vaxzevria in Europe. As The Verge says, at least they have 'vax' in their name.
Write to us here for feedback on The Signal.