Discover more from The Signal
The Signal is a daily curated newsletter that helps you understand the latest developments in business, tech, finance, economy, and policy with sharp analysis and crisp insights thats fun to read arriving at 8AM daily in your inbox.
Over 81,000 subscribers
Crypto gets a bad rep (again)
Also in today's edition: Metamates are getting new jobs; Ashneer rebuilds his public image; Byjus goes offline; Is Google Search dying?
Twitter's new CEO Parag Agrawal will step back from his duties to focus on parenting. Although he will return to work in less than 20 weeks, his decision has been welcomed in Silicon Valley circles. Agrawal is proving to be an exception to the rule. Elon Musk admitted that his ex-wife Grimes had a much bigger role to play in being a caretaker. The duo has split since. However, this should not be a surprise, given that Musk, in 2015, had scolded a Tesla employee for missing an event, to witness the birth of his child. Musk, of course, denied this.
In the latest episode of The Signal Daily, we talk about why Google search results are deteriorating. We also discuss the fake meat industry. Currently, the numbers and sales are flattening. So what are the companies doing to recover from this? Tune in to learn more about this!
The Market Signal*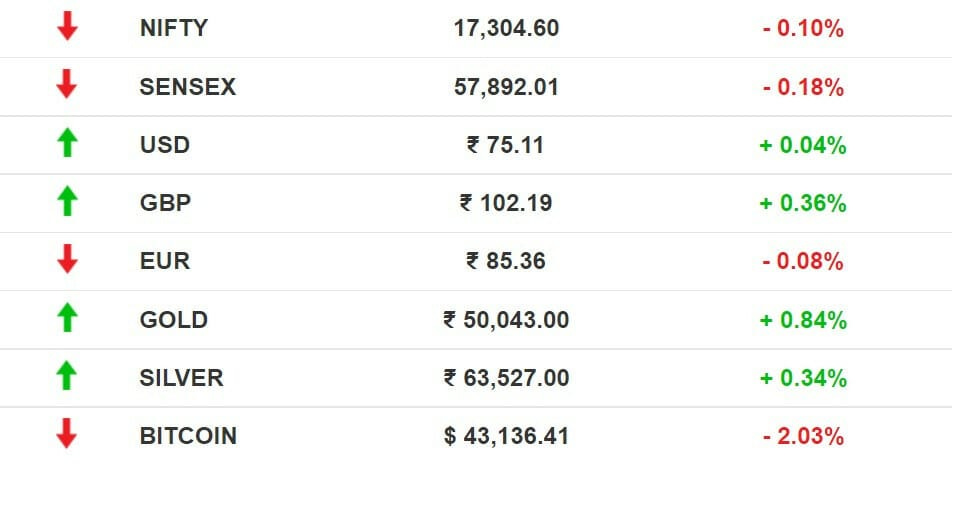 Stocks: Geopolitical tensions between Russia and Ukraine served no respite as benchmark indices ended in the red, continuing the selloff spree. HDFC, Reliance Industries, and Power Grid were the top large-cap gainers today. Shares for tech stocks Paytm, Nykaa, Zomato and Policybazaar plunged.
Zuckerberg Will Stick To Building The Metaverse
Meta CEO Mark Zuckerberg or COO Sheryl Sandberg will likely not be the ones deposing before Congress anymore. Instead, that role will be taken over by Nick Clegg, after the company elevated him as its president of global affairs, according to a Bloomberg report. 
Clegg, who joined the company in 2018, will lead Meta in all its policy matters, something Zuckerberg and Sandberg were overseeing in the last few years, particularly when it came to dealing with governments, politicians such as Donald Trump, and handling speech issues.
What that means: Zuckerberg will now spend more time building the metaverse, with an increased involvement in technology and product. That's all.
Microsoft redux: As The Information reports, Meta is taking a leaf off Microsoft's playbook, with Clegg's elevation akin to that of Brad Smith, Microsoft's former general counsel-turned-president, and responsible for dealing with governments. The move also comes in an election year (midterms) in the United States, where Meta's struggles with content moderation could be put to test.
Ashneer Grover Is Cashing In On His Controversy
BharatPe co-founder Ashneer Grover is mired in controversies. His fate at BharatPe continues to hang in the balance. The fandom he built at Shark Tank India has come in handy, and probably at the right time. Now, he is taking a page out of the brief, and turning into quite a personality. It's just Ashneer playing his usual "authentic" self. 
Social currency: A YouTube interview has garnered 1.6 million views, with maximum interest coming in from the so-called Gen Z audience. It's a figure his social media manager (btw, Grover's nephew) should be proud about. Grover also has a public relations team to scrub clean his public perception, shape his online persona, and perhaps even create sympathy. 
Trollbait: Going by the engagement on the posts, the audience is hungry for more, except that as one Shark Tank India finalist told us, his utterances on the show are inspiring troll attacks against her.
If you're still wondering what the fuss is about, we have curated some essential reads for you.
Byju's Goes Back To Basics
After disrupting the online learning market, education technology company  Byju's plans to open 500 offline tuition centres across 200 cities this year. Its to-do list includes signing up one million students in this venture over the next two years. To this effect, the company is willing to shell out $200 million for these centers.
Byju's, which is going public via the SPAC-route, bought Aakash Educational Services for an eye-popping $1 billion last year. This helped Byju's shore up its ambitious offline play for a time when things open up.
The Signal
This is almost a full circle for Byju's. It started off as an offline teaching centre to help  students crack competitive exams. But soon, it realised that the business can only scale up with technology. So, Byju's jumped into online learning and over the years grew to become the most-valued startup in India. Byjus is going back to its roots is also a move to protect itself once life goes back to a semblance of pre-pandemic normalcy. 
Why? It stands to lose its customers once restrictions are eased. Take Peloton as a case in study. It became a pandemic darling before it saw a crash, not too dissimilar to Zoom. For Byju's, an offline play not only ensures stickiness but also continuity.
With Byju's looking to sign up 3000-4000 teachers for its centres, schools, especially private institutions, should perhaps be worried.
Did Google Sell Out Its Search Engine? 
Google Search is made for advertisers. Try putting in a query on the search box, and you'd have to wade through a torrent of SEO spam: replete with affiliate links, ads et al.
In a viral post, the author lays his case as to why Google is consciously doing a bad job of sifting information and surprisingly, why many are "appending the word "Reddit" to the end of our queries". Tl;dr: It all boils down to ads, SEO and AI.
Numbers game: Google is so busy selling premium ad space that it doesn't mind inconveniencing its users. It also explains why it made $61 billion in ad revenue in its latest quarter. 
Time's up? Google has a challenger in DuckDuckGo, the David who is taking on the Google Goliath. Google's dominance in the online advertising market is also a constant subject of antitrust scrutiny and complaints. Alternatives like Neeva are also taking flight.
The Google founders predicted the ad menace way back in 1998. Well, no such thing as a free lunch.
Crypto Gets the Alpha Charlie Treatment
Charlie Munger just likened crypto to a venereal disease. The vice chairman of Berkshire Hathaway and Warren Buffett's business partner said crypto was beneath contempt and called for its ban. He also called the flood of venture capital in startups a "wretched excess". Is a16z listening?
Munger's comments caught the attention of none other than memecoin flagbearer, Elon Musk.
Elon Musk

@elonmusk
Replying to
@westcoastbill
I was at a lunch with Munger in 2009 where he told the whole table all the ways Tesla would fail.
Made me quite sad, but I told him I agreed with all those reasons & that we would probably die, but it was worth trying anyway.
Feb 16, 2022
119K Likes   12.5K Retweets   4.3K Replies
Mining in the desert: But crypto is gaining credence halfway across Munger's world. The UAE will issue federal licences to crypto companies and foster a crypto mining ecosystem. The country has witnessed a whopping 1500% increase in crypto transactions from last year.
VC firm Sequoia Capital has launched a $500 million crypto-focused fund. Indian exchanges have also seen a flurry of signups since the government decided to tax profits from crypto.
Crypto diktat: Back in the Americas, El Salvadoran president and crypto fan Nayib Bukele has the International Monetary Fund and the former governor of his country's central bank worried about his plans to trade El Salvador's poor-performing sovereign bond for more Bitcoin. His dictatorial tendencies aren't helping, either.
FYI
Twin purchases: Spotify is acquiring two podcast technology companies Chartable and Podsights for an undisclosed sum. Joe Rogan's Spotify deal was $200 million, double than what was initially reported.
Another unicorn: Conversational automation company Uniphore turned unicorn after raising $400 million in its series E round, at a valuation of $2.5 billion. Social commerce company DealShare, already a unicorn, also topped up its Series E round with a $45 million raise.
Mainland-style: Hong Kong will mass test its citizens next month, amid a growing Covid-19 outbreak. All this, with a little help from China. 
Raided: Days after the SEBI penalised former NSE CEO Chitra Ramakrishna, the Income Tax Department carried out a search in her Mumbai residence.
Semi-quick: Flipkart launches 45-minute grocery delivery service in Bengaluru, effectively halving Flipkart Quick's current service time of 90 minutes.
AliSaaS: With regulatory troubles seemingly stifling its primary fintech business, Alibaba's Ant Group is readying a software as-a-service play via a newly-formed subsidiary called Sasi Digital Technology (Beijing) Co Ltd.
Step back: With market appetite souring for Indian tech stocks, online pharmacy PharmEasy is reassessing its valuation.
Going global: In a first, Nepal will adopt India's UPI-based payment system.
FWIW
Self-owned grift: Former first lady Melania Trump decided to put out her first NFT auction last month. It went under the hammer for $180,000 (1800 Solana). A series of blockchain transactions indicate that the winning bid was sold to Melania herself. 
Banned: Swim and surf will have to wait in Sydney. Popular beaches, including the iconic Bondi and Bronte, were shut down. This comes right after a swimmer lost his life in a shark attack, a first since 1963. A charity ocean swim scheduled for Sunday has also been put off.
It's a dog's life: Service dogs are trained to aid people living with conditions such as autism. It is also why they are allowed to fly on planes. Unfortunately, pet owners these days are taking advantage of a loophole in the Americans with Disabilities Act, by traveling with their dogs.
Want to advertise with us? We'd love to hear from you.
Write to us here for feedback on The Signal.