Discover more from The Signal
The Signal is a daily curated newsletter that helps you understand the latest developments in business, tech, finance, economy, and policy with sharp analysis and crisp insights thats fun to read arriving at 8AM daily in your inbox.
Over 81,000 subscribers
Darjeeling tea is in hot water
Also in today's edition: TikTok gets grilled; Ray-Ban's rose-tinted metaverse ambitions; All eyes on SCO summit; Canva has suite dreams
Good morning. Or not, if you're a Roger Federer fan. The Swiss legend, who won 20 Grand Slam titles, announced his retirement from professional tennis at the age of 41. The Laver Cup next week will be his last ATP event. First Serena Williams, now Federer. What a year for tennis! 😭
If you enjoy reading us, why not give us a follow at @thesignaldotco on Twitter and Instagram.
The Market Signal*
Stocks: Public-sector lender State Bank of India has crossed the ₹5-lakh-crore market capitalisation mark, making it the third lender after HDFC Bank and ICICI Bank to do so. SBI broke into the top five in the overall market-cap ranking on Wednesday and was placed seventh on Thursday. Five finance companies are in the top 10.
Early Asia: The SGX Nifty crawled downwards (-0.58%) at 7.30 am India time. The Hang Seng Index (-1.25%) and Nikkei 225 (-1.06%) were also lagging.
COMMODITIES
Storm In The Tea Cup
Darjeeling tea, the favourite of chai connoisseurs, is in crisis. Due to declining demand from Europe and Japan, the top buyers of the premium tea, almost 40%-50% of estate owners in Darjeeling are looking to sell their property.
What's happening?: European buyers are avoiding the brew as they brace for an economic slowdown. The Japanese have cut down on Darjeeling tea ever since the Gorkhaland agitation in 2017, which led to a 100-day shutdown of production.
Bigger issue: The steady decline in the production of Darjeeling tea—which is a registered geographical indication—is not just due to low exports, high wages, or weather disruptions. A dispute between locals (Gorkhas) and elite businessmen from other regions for decades has taken a huge toll on tea production. Nepal's cheaper variety of Darjeeling tea has only added to the distress.
🎧 Byju's earnings scorecard isn't looking good. The Darjeeling tea market is bleeding. The Signal Daily is available on Spotify, Apple Podcasts, Amazon Music, and Google Podcasts, or wherever you listen to your podcasts.
GEOPOLITICS
The Samarkand Interlude
Indian Prime Minister Narendra Modi and Chinese President Xi Jinping will come face to face for the first time after their two armies collided in the Himalayas in 2020. The two premiers are attending the Shanghai Cooperation Organisation (SCO) meeting of 15 countries, underway in the Uzbek city of Samarkand. 
In the background are the Russia-Ukraine war, western sanctions, and the India-China rivalry for global supply chains and trade. India is also set to take over the SCO presidency for the next 12 months at the end of the summit.
Threading the needle: While China is trying to stave off India's challenge to its global economic influence, the energy and natural resources of SCO members are key to both their plans. Modi has an additional balancing act to do—maintain "strategic autonomy". After all, India is the only country that is close to both the US and Russia.
STARTUPS
Canva Has Designs On Enterprise
Australia's tech darling is gearing up to challenge American productivity suites. Graphic design tool Canva, which last raised $200 million at a $40 billion valuation in 2021, announced that it's now called the Canva Visual Worksuite. 
The development comes days after Zoom also transitioned into a productivity suite. Canva will go from competing with Adobe and Figma to rivalling Google Workspace, Microsoft 365, and others.
Details: Visual Worksuite has seven tools: Websites, Print, Whiteboards, Social Media, Presentations, Docs, and Video. The first will place Canva in direct competition with Squarespace and WordPress since it offers web domains, templates, and analytics tools. With the second, users can create 35-plus products and have physical prints delivered to their doorsteps.
Meanwhile: Adobe is closing in with a $20 billion acquisition of Figma.
The Signal
As profitable and ambitious as it is—Canva claims $700 million in cash reserves and is reportedly eyeing a public listing—its valuation has plummeted from $40 billion to $23 billion. While the markdowns this year were due to global tech stock corrections rather than company performance, the time is ripe to expand on its core strength: visual-first solutions.
Canva has a library of over 100 million design assets. By offering interoperability (a presentation can become a doc or a website) and launching a creator programme for designers to sell templates, the company has made clear its intention of bagging enterprise clients; four million paying customers aren't enough.
Takeaway: Canva just became a lot more than your go-to for Instagram templates.
METAVERSE
Ray-Ban's Distant Vision
The world's biggest lifestyle eyewear brand wants to level up, a year after launching smart glasses in partnership with Meta. Ray-Ban plans to build "a gateway" to augmented reality and the metaverse by improving features such as hands-free calling and image capture. 
Throwback: The first version of Ray-Ban Stories, released in 2021, didn't make waves. Meta sold about 120,000 pairs of the smart glasses, far off the 300,000 target. A major hitch was that there wasn't much to distinguish between Ray-Ban Stories and a regular pair of Wayfarer sunglasses.
A lot is riding on version 2.0, with Meta reportedly spending $10 billion last year on metaverse-related hardware and software. However, similar products from Google, Bose, Microsoft, Snap, and others are still nowhere near becoming mainstream. 
Postscript: Speaking of Meta, developers are seeing red over its metaverse marketplace policies.
SOCIAL MEDIA
The TikTok Hypothesis
The past—by which we mean China—is coming to haunt the world's most famous short-form video app. In a US Senate hearing, TikTok COO Vanessa Pappas was peppered with questions about the company employing workers based on political affiliation to the Chinese Communist Party, among other things.
TikTok has been in the eye of the storm for several months, starting with a BuzzFeed investigation. Its American rivals are playing it up as a competitive threat. Reports about a security breach surfaced even as the company denied these claims.
Outcome: As Casey Newton noted, "...TikTok will be held to a higher standard than its rivals in this regard." Whispers of a potential ban or even divestment are getting louder by the day. This, even as TikTok has been drumming up the transparency card and trying to reach an agreement with the US government to address data-privacy concerns.
FYI
Block up: Ethereum successfully completed the biggest upgrade in crypto history with The Merge, moving from a proof-of-work to proof-of-stake protocol. Yes, someone's already created an NFT of its last proof-of-work block.
Monitor, please: An Indian government panel has recommended the creation of a regulatory body under the IT ministry to oversee online gaming, while also suggesting an online gaming law. 
Ad-ding up: Netflix's ad-supported tier could reach a global audience of 40 million viewers by late 2023, according to company estimates.
See you in court: California is suing Amazon for allegedly stifling competition by barring its sellers from offering lower prices for products on non-Amazon websites, including their own. 
Under the lens: Microsoft's $69 billion deal to acquire game maker Activision Blizzard may be investigated by the UK's Competition Markets Authority and the European Union.
Mind the gap: Rapper Kanye West will be terminating his partnership with retailer Gap, which oversaw West's Yeezy brand.
New dawn: Air India announced a five-year roadmap called Vihaan.ai. One of its goals is to increase its market share to 30% in the next five years.
FWIW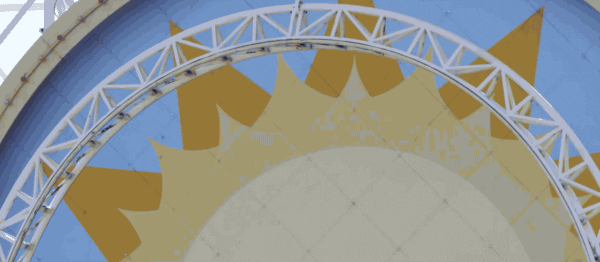 Green deal: Eat the rich, but leave this one out. Yvon Chouinard, founder of outdoor-apparel brand Patagonia, has given away his multibillion-dollar company to a charitable trust. Any money not put into the business will go towards fighting climate change. Billionaires, take note.  
Halted in its tracks: Cafes on the famous Hanoi Train Street have been ordered to shut down. And not for the first time. Even though the street is an Instagram favourite, the cafes, restaurants and shops border the train tracks, raising safety concerns.
House of parks: Move over Disney; Sony is coming for your turf. The media giant is betting on theme parks. Slated to open in Thailand next month, Columbia Pictures' Aquaverse will have themed rides inspired by Ghostbusters, Jumanji, Men In Black, and Hotel Transylvania. Over to you, Netflix.
Enjoy The Signal? Consider forwarding it to a friend, colleague, classmate or whoever you think might be interested. They can sign up here.
We recently got funded. For a full list of our investors, click here.
Want to advertise with us? We'd love to hear from you.
Write to us here for feedback on The Signal.