Discover more from The Signal
The Signal is a daily curated newsletter that helps you understand the latest developments in business, tech, finance, economy, and policy with sharp analysis and crisp insights thats fun to read arriving at 8AM daily in your inbox.
Over 81,000 subscribers
Captain crunch
Also in today's edition: Aam aadmi govt's EV push; Nothing Prime about these ads; Microsoft goes nuclear; Kiss of debt
Good morning! The Empire Strikes Back. After months of uneasy calm, Iran's autocratic clergy is in the news again. The clergy is now looking for ways to harness AI to "have more social impact", the Financial Times reports. What social impact, you wonder? According to cleric Mohammed Ghotbi, one of the ways AI could help is by issuing a fatwa in five hours instead of 50 days. Sigh, any Luke Skywalkers around?
The Signal is now on Telegram! We've launched a group — The Signal Forum — where we share what we're reading and listening through the day. Join us to be a part of the conversation!
🎧 London-based Malayalee designer Harri KS looks at this dog for inspiration. Also in today's edition: AI is set to invade Windows 11 laptops. Listen to The Signal Daily on Spotify, Apple Podcasts, Amazon Music, Google Podcasts, or wherever you get your podcasts.
Today's edition also features pieces by Soumya Gupta, Dinesh Narayanan, Adarsh Singh Jangpangi and Julie Koshy Sam.
If you enjoy reading us, why not give us a follow at @thesignaldotco on Twitter Instagram and Threads.
The Market Signal*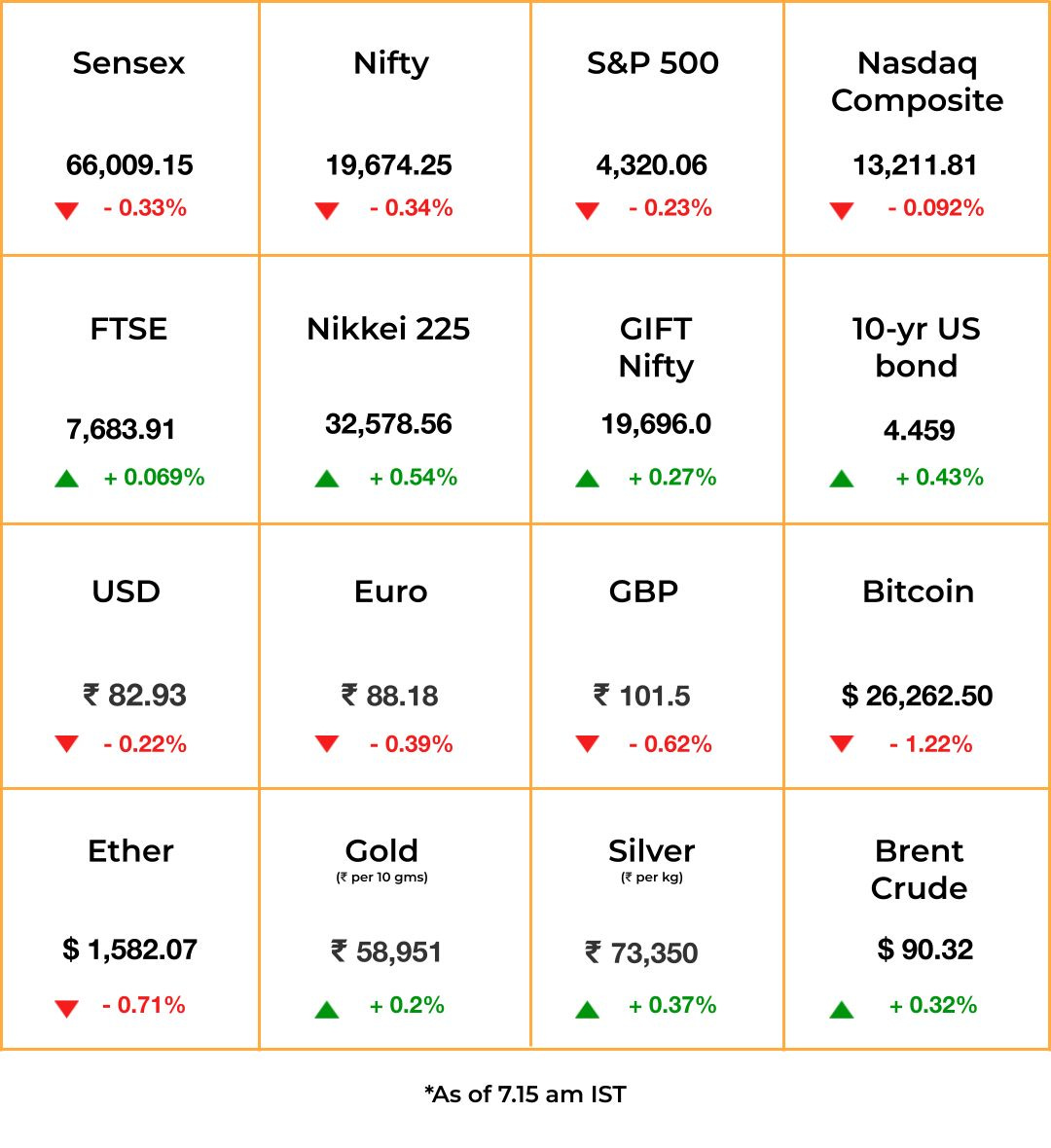 Stocks & Economy: After ending the last week in gloom, Asian markets started Monday morning in a perky mood. Economists believe that central banks' rate-hiking spree has succeeded in slowing down growth enough to tame inflation and the global tightening cycle has ended.
The GIFT Nifty was trading in the green, indicating a positive opening for Indian equities. Shares had taken a beating last week as bearish sentiment from overseas markets spread to India too. Foreign portfolio investors sold heavily as valuations of local companies climbed too high for comfort.
The National Stock Exchange, meanwhile, is planning to keep the market for futures and options open for longer. It is proposing an extra session between 6pm and 9pm, reportedThe Economic Times.
MOBILITY
Delhi's Ambitious EV Ride-Hailing Dream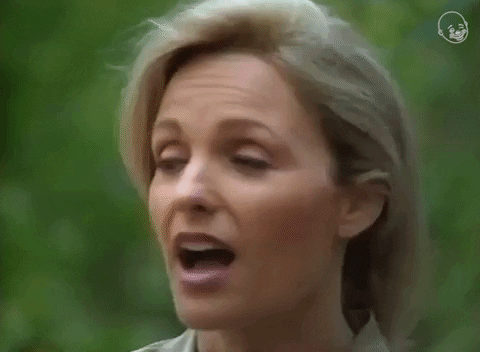 After months of public consultation, the Delhi government has finalised a cab-and-bike aggregator policy that rewards electric vehicles. The policy, reports The Times of India, will follow a "polluter pays" principle where, for instance, only CNG cabs will be charged a licence fee. Cab aggregators will have to transition fleets to 100% electric by April 1, 2030.
However, it's not clear how aggregators are supposed to deal with the high cost of EVs, lack of charging infrastructure, and safety concerns. Take inDrive, for instance. After Delhi, the ride-hailing startup plans to start registering EVs in Kolkata. But it has serious safety and customer support issues. That said, with EV sales steadily increasing, oil marketing companies have started setting up charging infrastructure and battery-swapping stations.
Meanwhile: Tata Motors has cut down on the use of rare earth elements in the motor of the second-generation Nexon EV by nearly a third.
ENTERTAINMENT
Skip Ad? It'll Cost You
You may have to sit through ads in your next binge-watch session, just like the old days. After Netflix and Disney, Amazon Prime Video will show ads to paying subscribers, saying the money will cover the cost of producing shows. Its sprawling ads business already puts Amazon far ahead in this race.
Passing the baton: Meanwhile, the legendary Studio Ghibli has a new home. Japan's second-largest media conglomerate Nippon TV is taking over from founders Hayao Miyazaki and Toshio Suzuki. The studio said that Miyazaki's son, who has a strained relationship with his father, had declined to take over.
TV Boom(ers): Once a pejorative, 'OK Boomer' is now a lifeline. Grappling with a generational shift to streaming and the writers' strike, TV broadcasters are wooing people aged 50+, particularly with reality TV. Advertisers love them too: they have a lot to spend.
AVIATION
Turbulence In The Cockpit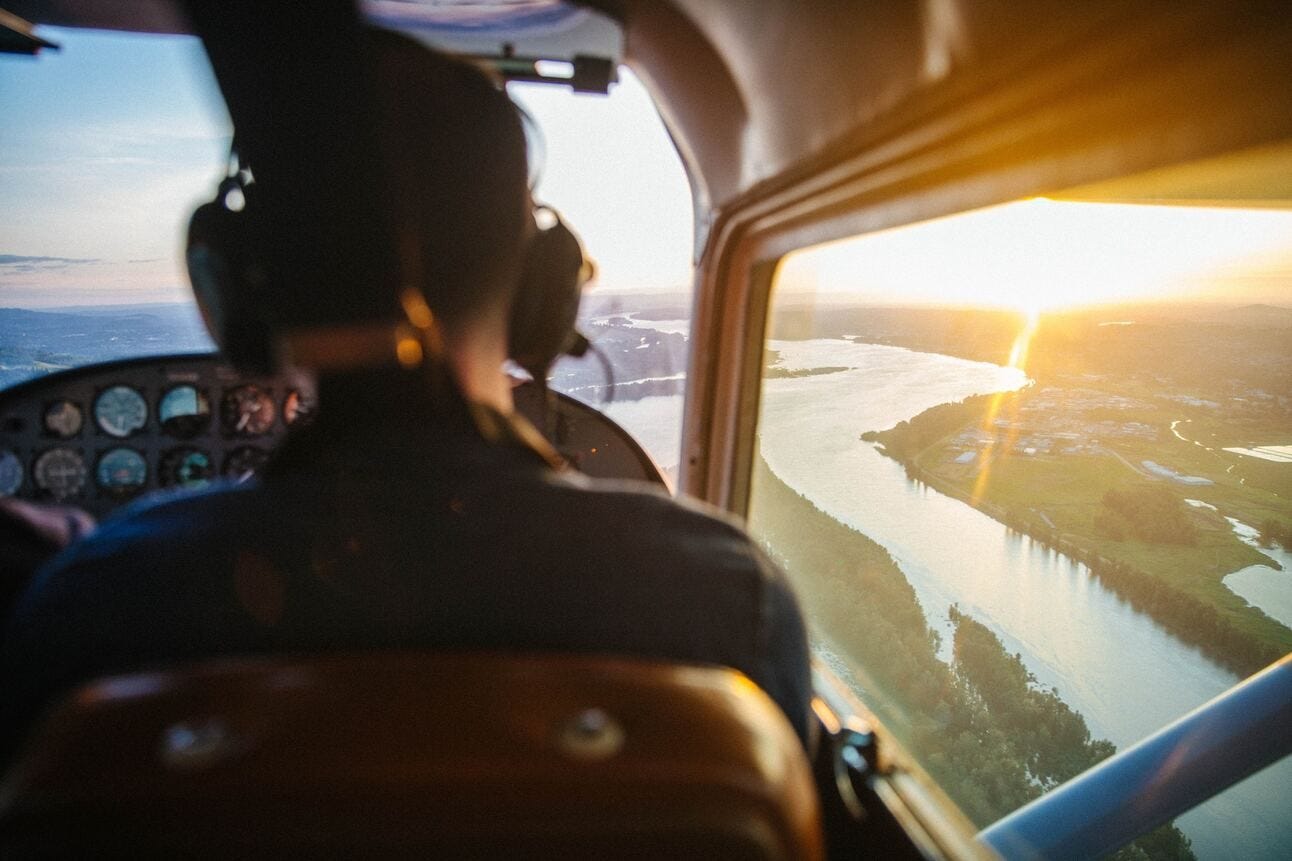 Photo by Avel Chuklanov on Unsplash
Akasa Air, dealing with an abrupt exodus of 43 pilots, isn't just claiming roughly ₹22 crore (~$2.7 million) in damages from each of them. It's also suing India's aviation regulator for not enforcing its rules.
Directorate General of Civil Aviation (DGCA) 2017 rules mandate notice periods of six months and a year for first officers and captains, respectively. But the regulator claims it can't interfere in employment contracts.
It's complicated: It's less about contracts and more about pilot unions moving the Delhi High Court against the DGCA rules. That case is pending. Pilots also allege that in changing salary structures in June, Akasa itself breached employment contracts.
The Signal
You'd think the grounding of Jet Airways and Go First, and SpiceJet's travails would have contributed to a steady supply of pilots elsewhere. Consider the IndiGo-Tata Group duopoly: since both have ambitious expansion plans, they need more pilots to fly both narrow- and wide-body aircraft. It's believed that most Akasa pilots were poached by Tata's low-cost carrier Air India Express, which too has a Boeing 737 fleet.
But Indian aviation is booming while talent isn't. The country has just about 9,000 commercial pilots and will need nearly 2,000 more each year to keep up with fleet expansions, all while the DGCA issues fewer than 1,000 licences annually.
The shortage of experienced captains with at least 4-5 years' experience is most acute. Reason: airlines investing less in training, and a glut of poorly-equipped flight schools prioritising quantity over quality.
TECH
Nuclear Family
Microsoft is guzzling water for data centres that keep AI running, but it's also investing in one of the cleanest—and controversial—energy sources. To that end, it's hiring a principal programme manager for nuclear technology.
What?: Seems like Microsoft eventually wants AI and Microsoft Cloud data centres to be powered by microreactors or small modular reactors. Nuke-powered data centre campuses are becoming a reality in the US.
This is perceived as a ballsy move because Big Tech companies such as Apple are blowing the renewable energy bugle, though not without criticism.
The job listing is a natural progression. Microsoft earlier signed an unprecedented agreement with Helion Energy for commercial-scale nuclear fusion. Unlike today's nuclear power plants that release energy via fission technology, fusion creates no radioactive waste.
PS: OpenAI chief Sam Altman is Helion's largest investor and backs fission startup Oklo. Microsoft co-founder Bill Gates is also big on nuclear energy.
INVESTING
Private Equity = Private Debt
The quest for higher returns in an unpredictable economy is changing the very nature of financing.
The world's leading private equity (PE) firms are junking equity for debt as high interest rates have dampened the appetite for buyouts, which were all the rage when money was cheap. With central banks expected to keep rates high for a much longer period, PEs are preferring to make loans to large companies.
New York-based PE Apollo recently lent $546 million to Air France. Apollo's debt deals this year rose 28% in April-June over January-March and 9% from April-June 2022. Ordinarily, the airline would have borrowed the money from banks. PE's push into banks' turf threatens to take away significant business from them.
Blackstone chief Stephen Schwarzman believes the firm's recently merged credit and insurance businesses could grow from $295 billion to $1 trillion in the next decade.
FYI
Store war: Walmart-backed payments company PhonePe has launched Indus Appstore to take on Apple's iOS and Google's Android app stores. It will not take a cut on app sales or payments from developers.
So long: Samiran Gupta, head of global government affairs for India and South Asia at X (formerly Twitter), has resigned, reports Reuters.
🏗️🏗️: US-based semiconductor maker Micron Technologies has hired Tata Projects to build its $2.75 billion chip assembly and testing plant in Sanand, Gujarat.
💰💰: B2B e-commerce company Udaan is talking to investors to raise $350 million-$400 million. The company was last valued at $3.1 billion in January 2021 when it raised $289 million.
Mega fundraise: Non-banking finance company Bajaj has hired a clutch of investment bankers to raise $800 million-$1 billion, Moneycontrol reported citing sources.
Space is buzzing: A Nasa spacecraft, Osiris-REx successfully sent to Earth a capsule containing a piece of rock dug from an asteroid named Bennu.
🥈🥉: India has opened its Asian Games campaign in Hangzhou, China, winning three silver and two bronze medals. It won the metalware in rowing and shooting.
THE DAILY DIGIT
~500
The number of brands that have exited the global smartphone market between 2017 and 2023. The number of active brands has decreased from 720+ to 250+ in this period. (Counterpoint Research)
FWIW
Skimp skimp skimp: Folks in China have found a way to keep up appearances as the country faces a youth unemployment crisis. These image-conscious young "broke ghosts" exchange tips online on how to have fun on a budget. These include anything from how to throw a party on a budget to how to score a free cup of coffee. One of China's best-known hot pot restaurant chains, Haidilao, has jumped on the bandwagon by offering a place to sleep in a booth for the price of dinner. Restaurants across Shanghai are also heavily marketing the "blind box", where budget-conscious diners enlist for delivered food that remains a mystery until you open it. HotMaxx, a chain of bargain stores, is popular for its deals on snacks, and drinks that are nearing expiration dates.
(Content) farming death: Benjamin Franklin said, "In this world, nothing can be said to be certain, except death and taxes." If he was to live today, Benjie would've added piracy to the list. After music, films and games, the internet is now being flooded with pirated copies of obituaries. Yup, you read that right. Obituary pirates are scraping public obituaries off the internet and converting them into low-quality bite-sized YouTube content for ad revenue. Seeing their success, small media outlets have also joined the bandwagon, running Facebook ads to bring in eyeballs. Aggrieved families are obviously appalled by this phenomenon, but there's little they can do. If only decency could be monetised…
Words worth: In its first review in 12 years, Retskrivningsordboge, the Danish Spelling Dictionary, is doing its bit to eliminate gender stereotypes. Three editors reviewed instances of gendered language in the dictionary, including keywords ending in -man, -woman, and -person. These include 'boardroom women', 'financial women', 'business women', and 'career men'. A few gender stereotypes have also been culled. For instance, "the girls fooled around" and "he is accused of negligent manslaughter" have been removed. The dictionary will be published next year. We approve of the clean-up.