Discover more from The Signal
The Signal is a daily curated newsletter that helps you understand the latest developments in business, tech, finance, economy, and policy with sharp analysis and crisp insights thats fun to read arriving at 8AM daily in your inbox.
Over 81,000 subscribers
Things fall apart for Disney
Also in today's edition: Yet another shady Indian startup; Breaking down the DPDPB; RBI's folly; US-EU fashion showdown
Good morning! Smartwatches may have killed fitness bands. The latter could last for weeks on a single charge and was marginally cheaper than those bulkier smartwatches. And yet, smartwatches are the preferred option. According to Forrester Research, 32% of adults use smartwatches, compared to just 19% who prefer fitness trackers. According to The Verge, fitness bands make little sense today. That's despite smartwatches relying on monthly subscriptions to fund research or even secure a Food and Drug Administration clearance. Well the fitness band era was good while it lasted, we guess.
The Signal is now on Telegram! We've launched a group — The Signal Forum — where we share what we're reading and listening through the day. Join us to be a part of the conversation!
🎧 Is it the end of the road for fitness bands? Also in today's episode: WeWork has issued a bankruptcy warning. Listen to The Signal Daily on Spotify, Apple Podcasts, Amazon Music, Google Podcasts, or wherever you get your podcasts.
Today's edition also features pieces by Soumya Gupta, Srijonee Bhattacharjee, and Julie Koshy Sam.
If you enjoy reading us, why not give us a follow at @thesignaldotco on Twitter Instagram and Threads.
The Market Signal*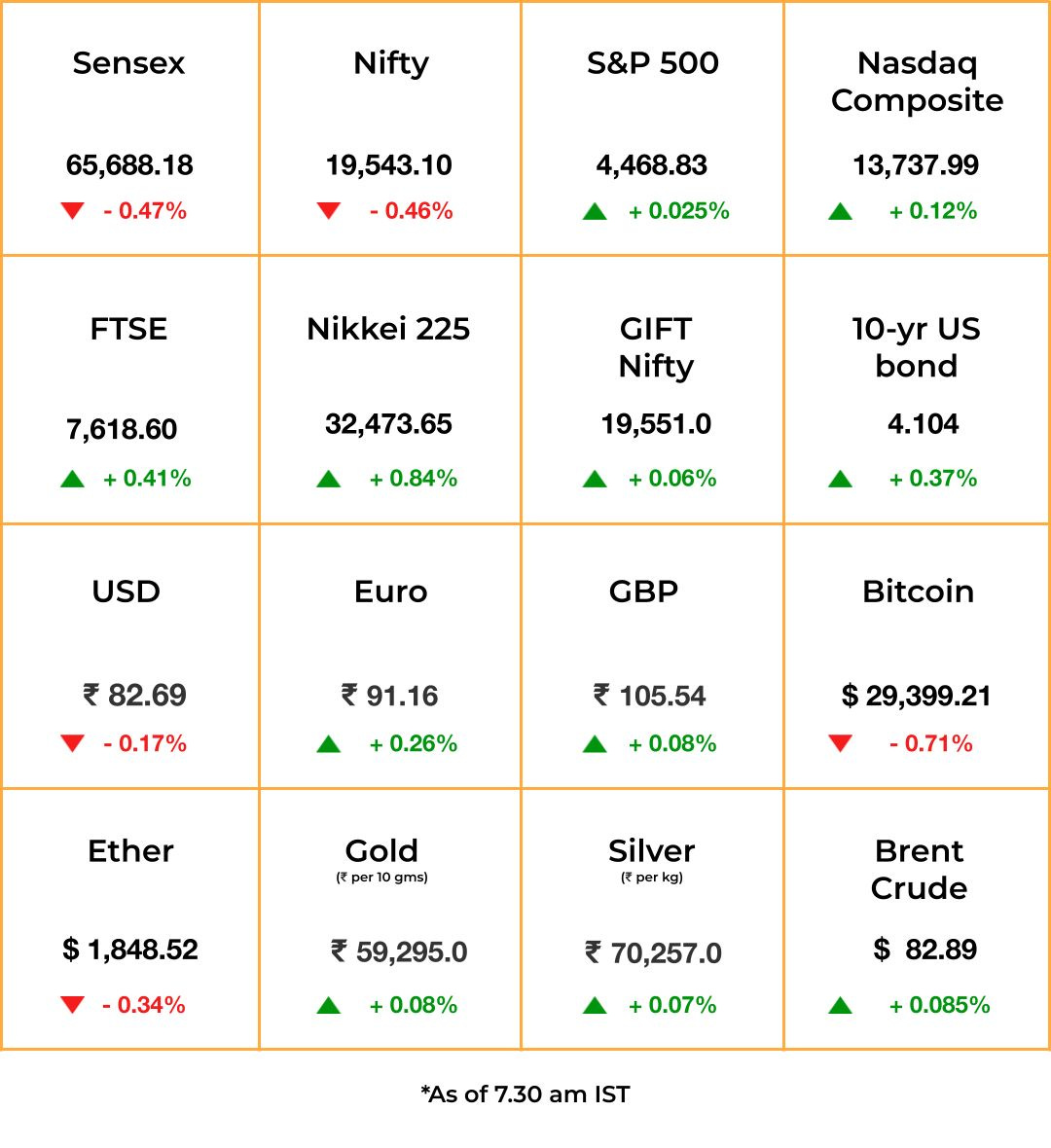 Stocks & economy: While the Reserve Bank of India paused rate hikes despite a spike in prices, with weekly unemployment claims rising and core retail inflation slowing, the US Fed too has reasons to stay paused in September. Investors, however, remain cautious.
Early GIFT Nifty movement signals a muted start for Indian equities. FMCG and bank stocks may remain weak. Their share prices may be nearing the bottom.
The blur on inflation trajectory has kept most central banks from clearly indicating where rates are headed. The exceptions, such as the Bank of Japan that recently indicated a reversal of ultra-loose monetary policy may now be faced with a conundrum as inflation continued to slip for the seventh month.
In yet another sign of the deepening Chinese property sector crisis, Country Garden Holdings missed an interest payment on its dollar bonds on Monday.
ENTERTAINMENT
No Cheese For The House Of Mouse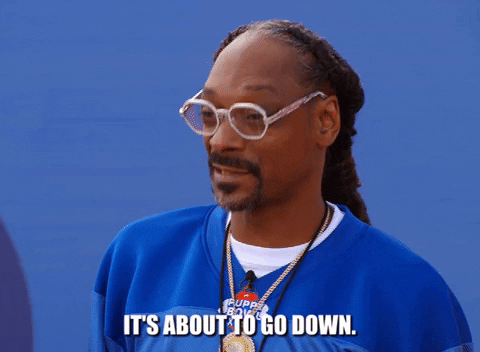 Disney's having a bad time. Its revenue grew 4% this past quarter but linear TV revenue and streaming subscribers fell, pushing it into losses (pdf). Hotstar lost subscribers in India again, by 24%, from the previous quarter. Disney is hiking prices of some streaming plans and cracking down on password sharing.
Cord? Cut: Disney's once-cash cow, linear TV, shrank as more Americans ditched cable. The firm may sell a stake in ESPN, which is making its entry into sports betting. Disney might also offload Star India, which is heavy on cable. The old rumour that Apple might buy Disney is back.
Things get better: Back home, beleaguered network Zee has a win. India's bankruptcy court approved its merger with Sony India, overruling objections from Zee's lenders. Founder Subhash Chandra is settling debts with some of them (pdf). But he and son Punit Goenka are still barred from running listed companies.
STARTUPS
A Class Failure
Dubious companies and greedy founders dot the Indian startup landscape.
The latest to be outed is edtech startup Classplus, whose co-founders have been accused of cheating their former partners. Backed by marquee investors such as Tiger Global, Peak XV Surge, and Blume Ventures and once valued at over $600 million, Classplus is a software-as-a-service firm that helps teachers and institutes create digital teaching aids.
Twin stories by The Morning Context reveal how two co-founders allegedly sidelined, ousted, and duped three others who started the company with them. Court records also show how the duo allegedly repeated the same pattern when Classplus acquired Saarthi, an educational reseller platform with a community of about a million resellers.
Although edtech firms, unprepared for the post-pandemic reopening, have been unable to shore up their businesses, some of them such as BYJU'S and Classplus appear to have fallen prey to greed and hubris.
TECH POLICY
Behold The Nanny State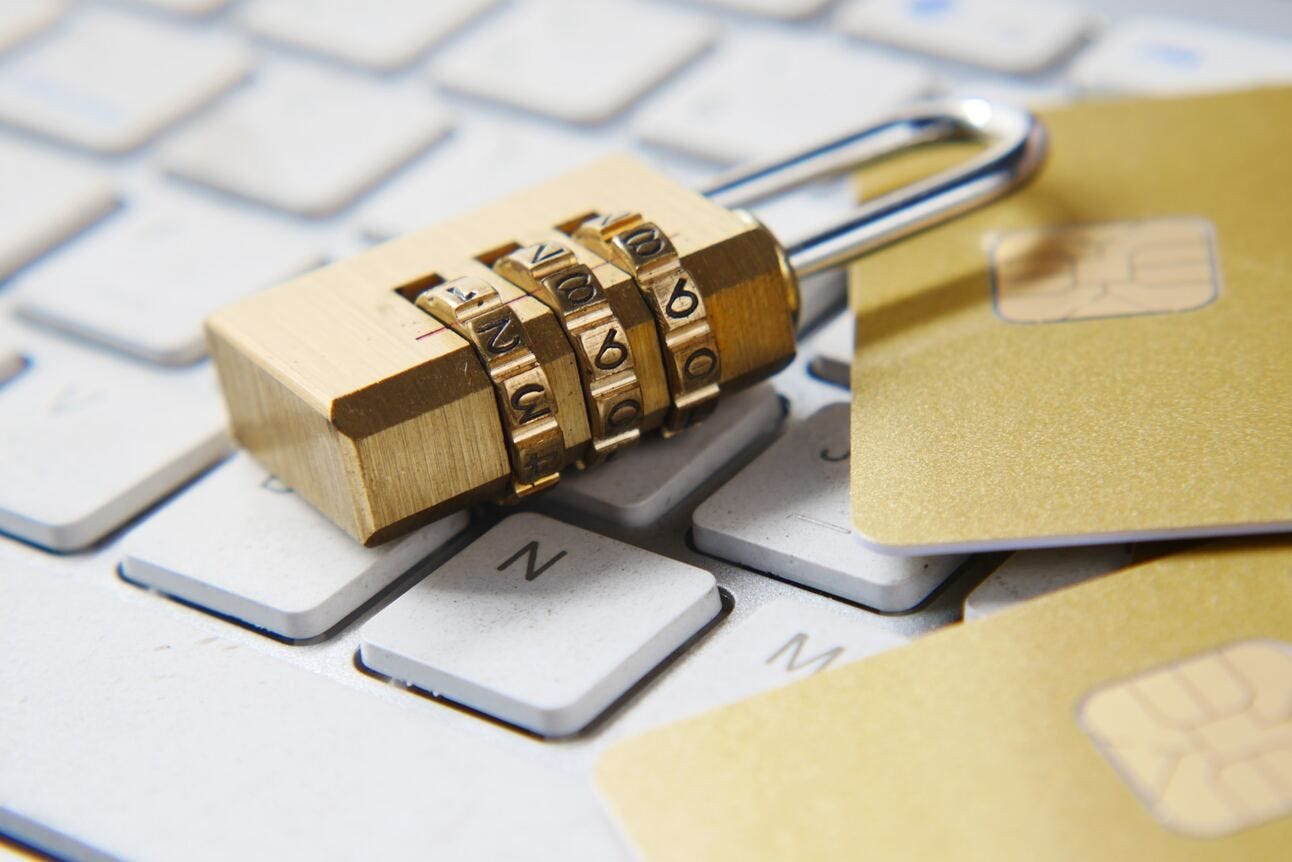 Photo by Towfiqu barbhuiya on Unsplash
Now that India's Digital Personal Data Protection Bill, 2023 (DPDPB) is closer to becoming an Act, let's break things down.
One: identifiable information of data principals—i.e. end users—can only be processed by fiduciaries—entities processing data—after informed consent, and for "legitimate uses". Some are exempt; they include government agencies and certain private entities (subject to "the volume and nature" of data they process).
Two: DPDPB mandates parental consent to verify the identities of those below 18 years of age. The average age of consent worldwide is 16. There are concerns about the risks of uploading, say, Aadhaar details on Digilocker, from where identifiable information will be accessed to use apps/platforms/services.
Three: Fiduciaries will be penalised up to ₹200 crore ($24 million) and ₹250 crore for not meeting obligations pertaining to minors and prevention of data breaches, respectively.
The Signal
As some caution, the DPDPB is less about protecting Indians' privacy, more about transferring power to the state, and to whomever the state grants an exemption. The Data Protection Board—which will oversee compliance—won't be independent, since all members will be appointed by the Centre. This is in a context where DPDPB exemptions extend to subjective interpretations such as "state security" or "the sovereignty and integrity of India".
The DPDPB was already pockmarked by an opaque consultation process. It's not a great look for an increasingly-hawkish India, which is also mulling a separate competition law to reign in Big Tech just when it's courting them to invest in the country.
MONETARY POLICY
RBI Hadn't Seen It Coming In June
The Reserve Bank of India did not raise interest rates on Thursday. But it raised banks' reserve requirements, sucking out cash from the system to control rising prices.
Way off the mark: It sharply revised its July-September inflation expectation to 6.2%, up from 5.2% projected earlier, and expects it to clock 5.4% in FY24. That shows the RBI was celebrating too early when the rate-setting panel met in June. Only one member was uncomfortable with the "self-congratulatory tone" of the policy statement then, even as another foresaw a "Goldilocks", or ideal, economic scenario shaping up.
As the government's debt manager, the RBI will be conscious that higher interest rates will hike its cost of borrowing, which is budgeted at a whopping ₹15.43 lakh crore (~$186 billion) for FY24.
The central bank, meanwhile, will enable AI-driven conversational payments through the Unified Payments Interface.
FASHION
Yanks Vs. Europeans
There's a transatlantic battle brewing for luxury supremacy. Tapestry, the New York City-based owner of all-American brands Coach, Kate Spade, and Stuart Weitzman, has acquired Capri Holdings. The Wall Street Journal had reported on the transaction. Capri owns several iconic brands such as Michael Kors, Jimmy Choo, and Versace, and is valued at $4 billion.
French Revolution: Paris-headquartered conglomerates LVMH and Kering dominate the luxury fashion market with brands like Gucci, Tiffany & Co., and Louis Vuitton. Besides, US consumers, especially the young, are losing interest in luxury as they cut spending due to inflation. Earlier this year, analysts said Tapestry and Capri Holdings could grow slowly.
The luxury division of LVMH nearly doubled its global market share to 22% between 2018 and 2023, Reuters reported. But lately, its growth in the US has come from less expensive brands, such as cosmetics chain Sephora.
FYI
💰incoming: South Korean gaming company Krafton has committed to invest $150 million in India over the next 2-3 years. The announcement comes as the three-month trial for its flagship BattleGrounds Mobile India game comes up for reconsideration.
Rebrand: The Tata Group-owned Air India will sport a refreshed look later this year, with the tail fin of its new Airbus A350 planes first donning the new gold, red, and purple colours. Fun fact: The new Air India logo will also feature its own font called…Air India Sans.
Big deal: Chinese tech majors such as Baidu, ByteDance, Tencent, and Alibaba have placed $5 billion worth of orders for 100,000 of Nvidia's A800 GPUs to power their AI push.
Your turn, hackers: The Indian government has launched a contest to "create an indigenous web browser". Also, the White House announced an AI-based hackathon to find and fix security vulnerabilities in its government infrastructure.
Clean up: Amazon will eliminate several in-house clothing and furniture brands as part of a business overhaul, with a view to cut costs and ease antitrust fears.
More curbs: The government may extend import restrictions on laptops and computers to cameras, printers and hard disks. A slew of other high-demand products are also under review.
Bleeding cash: Ride-hailing startup Ola's parent ANI Technologies' revenues more than doubled to ₹1,970 crore (~$238 million) but losses rose 36% to ₹1,522 crore (~$183 million) in FY22.
THE DAILY DIGIT
$1 trillion
The value of credit card debt in the US. The country has crossed this threshold for the first time, according to data by the Federal Reserve Bank of New York. (CNN)
FWIW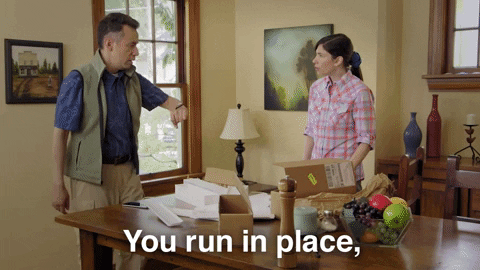 Step up: Never mind that it was a marketing gimmick started by Japanese pedometer manufacturer Yamasa Clock in the '60s; here's some good news for those who can't accommodate 10,000 steps in their schedules. Researchers claim that walking 3,967 steps per day reduces the risk of premature death. Attempting just 2,337 steps a day curbs the risk of succumbing to cardiovascular disease. The kicker is that the researchers didn't factor in 'same step-counting', which may have impacted the final results. Nevertheless, here's your Friday motivation to keep moving.
Brace yourselves: We need to have a talk with whoever was in charge of coming up with early 2010s fashion trends all over again. Peplums, massive belts, and owl motifs have made a comeback from the time machine. Yes, this was only 10 years ago. Btw, we are still not over Katie Holmes' dress-over jeans. Our point is that some trends from that era are better left in the past (looking at you, low-rise jeans). We are going into hibernation until this is officially over.
Too drunk to drive? Italy has your back. The country is currently testing a programme where it provides free taxi rides outside six nightclubs across the country. The project is slated to run until mid-September this year. Italy's Minister of Infrastructure and Transport, Matteo Salvini, says the move is an attempt to curb drunk-driving accidents. Of course, the project has its share of critics, who note that the scheme gives individuals a free pass to drink and drive (?). While this is a novel idea, we wonder if rewarding excessive drinking behaviour, in a way, is a good move.