Discover more from The Signal
The Signal is a daily curated newsletter that helps you understand the latest developments in business, tech, finance, economy, and policy with sharp analysis and crisp insights thats fun to read arriving at 8AM daily in your inbox.
Over 81,000 subscribers
India sucks the life out of gaming
Also in today's edition: Will Disney dump Star? Taking what's left of Future; Google gets the class action treatment; Luxe car buyers unfazed by GST
Good morning! There's a new to-do list to be scratched out if a report in Bloomberg is anything to go by. "Flying dress" photoshoots are a thing. And yes, there are takers. The plan is simple: tourists are getting glamorous professional photo shoots against picturesque backgrounds in dresses with ultra-long trains. Jamaica, Indonesia, France, and Honolulu—you name it, and these services are catching on across countries. Vanity never looked this good, but we don't want such photoshoots to be the new wedding photography. Whatever happened to doing nothing during vacays?
The Signal is now on Telegram! We've launched a group — The Signal Forum — where we share what we're reading and listening through the day. Join us to be a part of the conversation!
Today's edition also features pieces by Roshni P. Nair, Dinesh Narayanan, Srijonee Bhattacharjee, and Julie Koshy Sam.
If you enjoy reading us, why not give us a follow at @thesignaldotco on Twitter Instagram and Threads.
The Market Signal*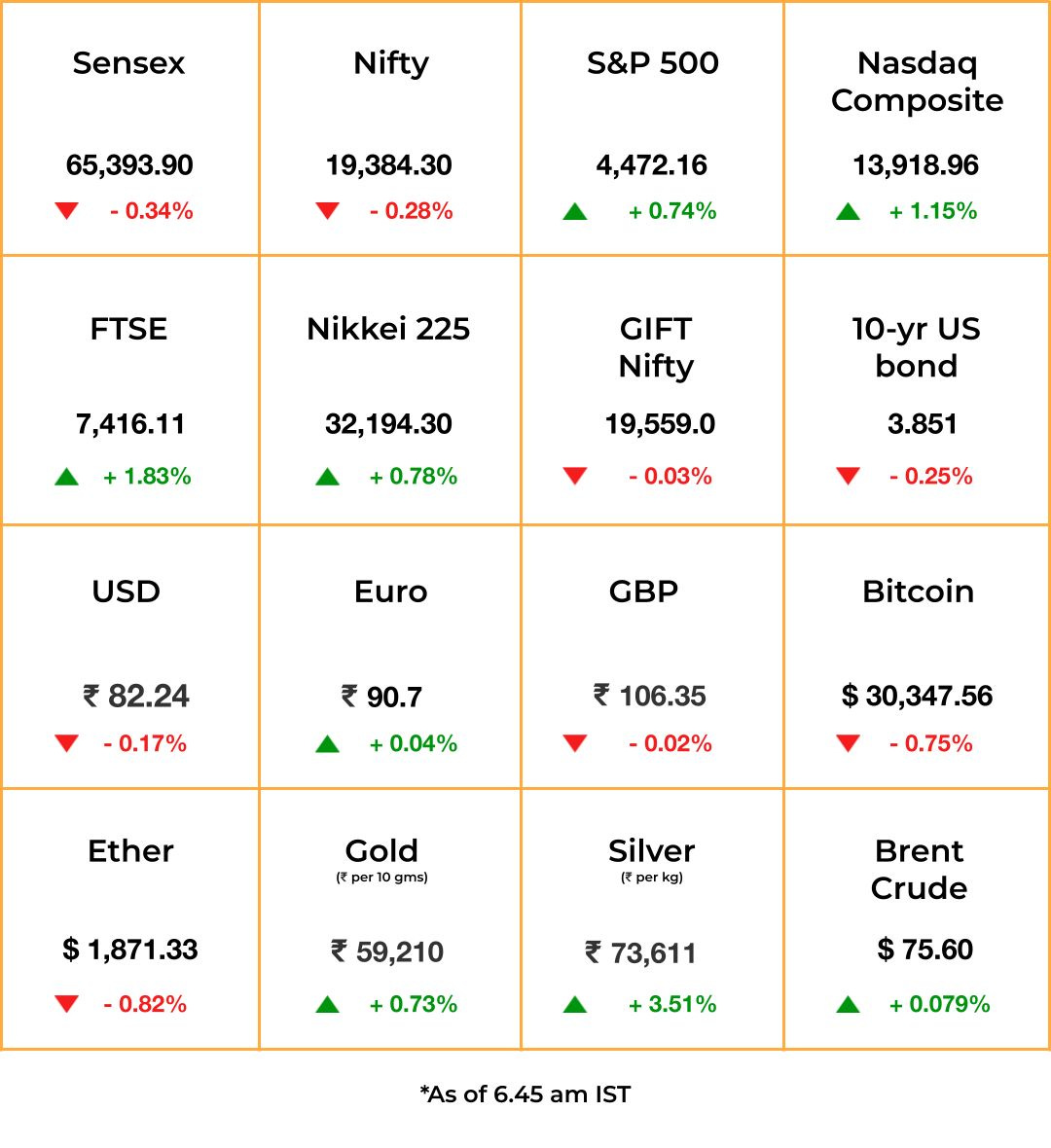 Stocks & economy: The day is here. Relentless interest rate hikes by the US Fed may have broken inflation's back. And it was reflected in the dollar's slump to a 14-month low.
Retail prices are still above the Fed's desired levels and yet, the dramatic decline could just be because of the high base a year ago when energy prices had surged. Labour markets are still resilient. That means despite the breather there is no ruling out the Fed raising rates later this month in a season finale.
Despite a sharp increase in US stockpiles, oil prices stood strong as the demand outlook improved after US retail inflation cooled.
The positive sentiment abroad could lift Indian equities but a rise in retail prices and jitters at the onset of quarterly results will keep gains limited. IT bellwether TCS's earnings met expectations but may not spark much enthusiasm.
ENTERTAINMENT
Buyer's Remorse
Just four years after Disney bought Star India, it's looking to either sell the Indian network or run it as a joint venture, The Wall Street Journal reports. The House of Mouse has reportedly approached Reliance Industries for a potential stake sale, according to Bloomberg. Getting a buyer may be hard; Star India was valued at $15 billion-$16 billion when Disney took over.
Hit-wicket: Disney has been cutting costs since Bob Iger returned as CEO last year. It also took a big hit when Star India lost the Indian Premier League's streaming rights. Star is expected to earn 20% less than projected this year and is also nowhere near the $1 billion in Ebitda (earnings before interest, taxes, depreciation, and amortisation) Fox had promised it will hit by 2020. All major studios, including Warner Bros. Discovery and Amazon Prime Video, are taking a hard look at their streaming budgets.
🎧 Hollywood is counting on Barbenheimer to save the day. Also in today's edition: Is Disney breaking up with Star India? Listen to The Signal Daily on Spotify, Apple Podcasts, Amazon Music, Google Podcasts, or wherever you get your podcasts.
RETAIL
Last Of Future
There is clearly something left to salvage from the wreckage of the Future Group, which pioneered modern retail in India. Reliance Retail, steel maker Jindal (India), and polyester fabric producer GBTL are vying to buy the insolvent Future Enterprises Ltd (FEL).
It's the final stage for the listed company (share price: ₹0.80), which managed the infrastructure backbone, including logistics and warehouses, of the Future Group. In August 2020, the group decided to hand over its 19 companies to Reliance Retail for ₹24,713 crore (~$3 billion) but was stymied by creditors amid a bitter legal tussle with US retailer Amazon, which had an earlier deal to buy the same assets. FEL sold its insurance business last year to avoid bankruptcy but in vain.
Reliance, meanwhile, took over 835 Future Retail stores and now wants their FEL backbone. Those assets are business agnostic. That's why Jindal and GBTL are interested.
ONLINE GAMING
The Beginning Of The End?
Photo by Josue Ladoo Pelegrin on Unsplash
Real-money gaming is going to get a lot more expensive in India. The Goods and Services Tax (GST) Council has announced that online gaming (whether based on skill or chance), horse racing, and casinos will be taxed at 28% on the "full face value of bets".
The decision followed months of deliberation after a GST Council-appointed Group of Ministers failed to reach a consensus. Earlier, gambling attracted 28% GST, while platforms offering skill-based games were taxed 18% on their commissions only. A blanket 28% GST on the amount platforms collect from customers will "wipe out the entire industry" and push users towards offshore illegal platforms, industry officials said. Finance minister Nirmala Sitharaman said the intention was to create "a simplified system".
The Signal
It's no surprise the industry is up in arms. With a higher tax at the point of entry, coupled with the platform fee and a 30% tax deducted at source (TDS) on net winnings, users will have fewer incentives to play. While larger players such as Dream11 and Gameskraft, which posted profits of ₹142 crore ($17.2 million) and ₹937 crore ($114 million) in FY22 respectively, might be able to weather the storm, smaller startups will be hit the most.
It'll also be interesting to see how this decision impacts the process of setting up self-regulatory bodies for online gaming. Or, for that matter, even Dream11's ₹358 crore ($43 million) new jersey sponsorship deal in Indian cricket.
PS: For more insight and analysis into the business of sports and gaming, subscribe to our free, weekly newsletter The Playbook: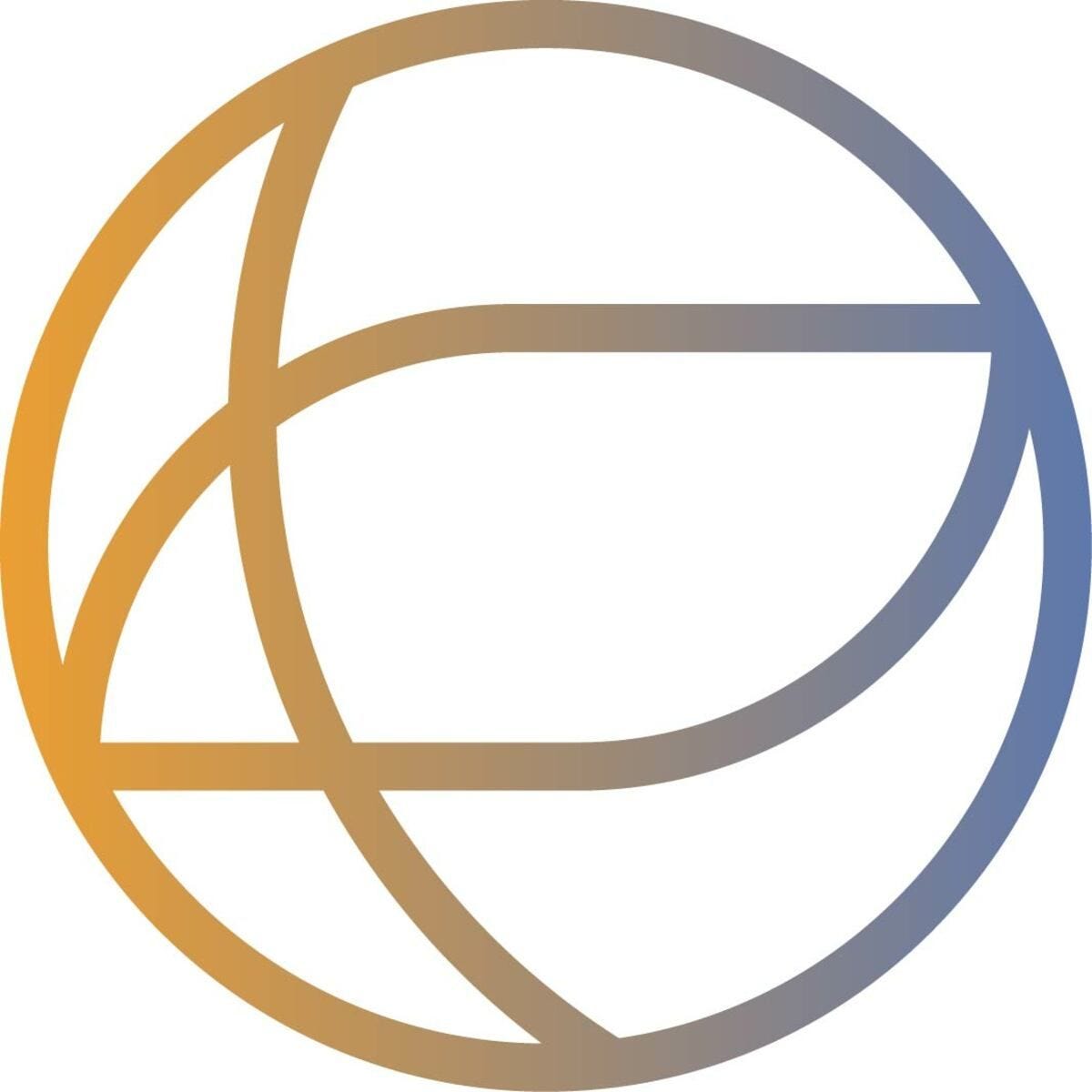 The Playbook
A weekly newsletter that deconstructs the business of sports and gaming.
ARTIFICIAL INTELLIGENCE
Google Gets Served
The Big G has been slapped with a class action lawsuit in the US for scraping users' data "without their consent" to train AI products. The suit also alleges copyright law violation.
The development follows several such suits against OpenAI, Meta, Midjourney, etc. Large language models trained on virtually the entire internet have not only gobbled up copyrighted material, but also people's Spotify playlists, TikTok videos, and dating app photos. Google argues that it's simply updated its now-controversial privacy policy to include AI models. Plaintiffs counter that "publicly-accessible information" doesn't mean it's free to use for any purpose. They want the choice to opt out.
In related news: Google has ditched plans to launch a Gen Z-focussed AI chatbot. Speaking of chatbots, Bloomberg reports that Google's Bard is trained by overworked, underpaid contract workers who are made to "audit" generated responses in deadlines as tight as three minutes. Colour us surprised.
AUTO
Bling Is Bright
Taxing luxury is a no-brainer for any government. And so, the GST Council has raised the cess on sports and multipurpose utility vehicles from 20% to 22%.
Hot wheels: Prices of SUVs and MUVs will go up, but that is unlikely to dampen consumers' enthusiasm. In April and May, utility vehicles had an overall share of 55% among all wheels shipped by automakers. And between January and June, luxury vehicle sales rose by 38%.
The luxury segment is shining bright even as the overall economy struggles to regain momentum. In fact, this sector is expected to continue to grow fast as the number of super-rich in the country is expanding. That is pushing even budget vehicle makers such as Maruti into the premium segment. But the Mercs, Volvos, and Beemers will continue to dominate the upper crust.
FYI
Digging deeper: The Cabinet has approved amendments to India's mining act to permit the commercial mining of lithium, cobalt, nickel, and other minerals, reports ET Now.
Looking up: IT major Tata Consultancy Services (TCS) beat analyst estimates and reported a ~17% year-on-year increase in net profit to ₹11,074 crore ($1.3 billion) in its latest quarterly earnings.
Deal or no deal?: Third-party logistics provider Xpressbees is in early-stage discussions to acquire courier platform Trackon, reports Entrackr.
U-turn: In a reversal of its stance on partnering with food delivery apps in the US, Domino's—the world's largest pizza chain—will now allow orders on Postmates and Uber Eats.
RIP: Czech novelist Milan Kundera, best known for The Unbearable Lightness of Being, succumbed to a prolonged illness at age 94.
Elbow room: The UK's antitrust regulator has softened its stance on Microsoft's acquisition of Activision Blizzard and said a restructured deal would "satisfy its concerns" subject to a fresh investigation.
New toy: Tesla chief Elon Musk has started an AI company called xAI to "understand the true nature of the universe" and hired a dozen industry experts.
THE DAILY DIGIT
$1 billion
The amount Indian IT giant Wipro plans to invest in AI training for its 250,000 employees. (Bloomberg)
FWIW
Barbenheimer started out as a meme: …but it's now a reality. UK cinema chain Vue says 19% of cinemagoers who bought tickets for Christopher Nolan's Oppenheimer have also booked tix for Greta Gerwig's Barbie. US-based AMC Entertainment says over 20,000 of its members have plans to watch the movies back to back. We haven't seen such hype for a double bill in years. Indians would know tho: remember when Devdas and Bend It Like Beckham released on the same day in 2002, and Om Shanti Om clashed with Saawariya in 2007? Boy, that was something.
Not so kosher: Burger King Thailand has debuted a new item called the "Real Cheeseburger", which includes just burger buns and twenty slices of cheese. Because who doesn't enjoy cheese and nothing but cheese in their burger? If you thought this heart attack on a bun is tempting, note that it's bereft of everything else, including meat and pickles. This makes it far worse than a grilled cheese sandwich, in our opinion. Would you order one? 🤢 
2.0: And you thought remakes would be restricted to just songs. Heh. Hrishikesh Mukherjee's Mili and Bawarchi, and Gulzar-directed Koshish—three Bollywood classics from the 1970s—will be remade soon. Anushree Mehta and Abir Sengupta from Jaadugar Films, along with Sameer Raj Sippy from SRS Productions, will work together on these projects. Per Variety, the remakes will be set in contemporary times. Tbh, we have our sceptical spectacles on. As they say, if it ain't broke, don't fix it.