Discover more from The Signal
The Signal is a daily curated newsletter that helps you understand the latest developments in business, tech, finance, economy, and policy with sharp analysis and crisp insights thats fun to read arriving at 8AM daily in your inbox.
Over 81,000 subscribers
Enabling the differently abled
India's digitisation drive picked up after demonetisation, which happened this month six years ago. Yet, apps and platforms ignore an important segment of the population
Good morning! A big hello to readers who signed up this week. Welcome to The Intersection, The Signal's weekend edition. For our story this week, we talk about the lack of accessibility in digital apps and services available in India. Also in today's edition: we have curated the best weekend reads for you.
If you enjoy reading us, why not give us a follow at @thesignaldotco on Twitter and Instagram.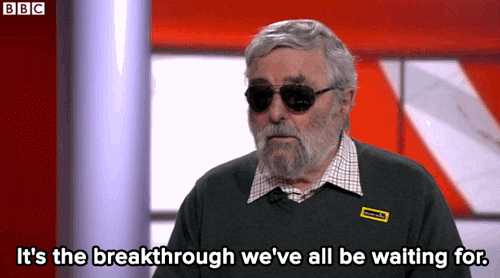 Poonam Pardesi's most prized possession is her iPhone. The 42-year-old was born without sight, so she uses the iPhone's 'VoiceOver' feature and virtual assistant Siri to help her with everything—from consuming news to ordering food. The one app she has stopped using, however, is Paytm.
"It was easy to use earlier," says Pardesi, a programme officer with French NGO Aide et Action. "But with new updates, the app has become inaccessible for people like me."
Mobile phone technology and screen-based transactions through apps have made daily life easy and convenient for most people. It only takes moments to hail a cab, buy groceries, or book a movie ticket. Paying for them is even easier, with a range of options—including digital wallets and UPI-based apps—to choose from. Yet, many companies pay scant attention to a user base of visually-challenged people when building apps and designing websites. While tech solutions are available to make user interfaces differently-abled-friendly, they are often not a priority.
The number of persons with visual impairment in India is ~40 million or 2.92% of the population. About 4.8 million of them are completely blind. This story is about the uphill task they face in sensitising companies and institutions to their impairment and making their digital services accessible.
Reading machine
iOS VoiceOver and Android TalkBack, the features most helpful for visually challenged persons, trace their origins to a device called the Kurzweil Reading Machine. In 1976, computer scientist and futurist Ray Kurzweil combined Optical Character Recognition technology with text-to-speech synthesis and flat-bed scanners to unveil the gadget that occupied an entire tabletop. His mission was specifically to help blind people read.
From Kurzweil's machine to VoiceOver and TalkBack is a long distance but much of it was covered by Ted Henter, a motorcycle racer-engineer, and Bill Joyce, a Chicago businessman, both of whom lost their eyesight to accidents. Their company Henter-Joyce created the screen reader for the MS-DOS operating system called JAWS in 1987.
With VoiceOver or TalkBack becoming standard in smartphones, companies only had to incorporate accessibility features into their apps. Yet, the most common complaint is poor or no labelling of buttons, something that can be easily fixed. Often, the colour contrast is bad. And even if only some parts of an app or website are inaccessible, that renders it practically useless.
"In accessibility, there are no half-baked cookies," says Sam Taraporevala, executive director of The Xavier's Resource Centre For The Visually Challenged (XRCVC), a non-profit housed in Mumbai's St Xavier's College.
Clear-eyed
Taraporevala told The Intersection that app makers and website designers only have to keep a few simple parameters in mind. Like properly labelling visual cues such as graphics and buttons, or watching how linear or nonlinear the flow of information is. But it's rarely observed in practice.
"It's not that they want to exclude people, but they end up excluding them because they haven't given it a thought," he says. That was the case with MyGate, for instance.
"Frankly, we never thought we needed to cater [to blind people] until Amar pointed out that you guys are broken in terms of accessibility," says Shreyans Daga, co-founder and chief technical officer of MyGate, an app for managing gated communities. Daga was referring to Amar Jain, a lawyer and co-founder of the non-profit Mission Accessibility (MA), who connected with the MyGate leadership to make the app accessible.
Daga says MyGate then took a call that however small the user base may be, the company will ensure that the app does whatever is needed to accommodate them. One of the changes the company incorporated was with the visitor approval button, one of the most important use cases for the app. It now has three clear options—allow, reject, and leave the parcel at the gate—that get read out when they're marked separately.
It was not a big effort or cost, according to Daga. "We decided that every part, every major change in versions, every change that will happen, every major upgrade that we do, accessibility will become a part of it," he told The Intersection. 
Making accessibility checks part of the standard operating procedure is key, says XRCVC's Taraporevala. "Even if you make your app accessible today, it is not frozen in time." Continuous improvement also comes at a cost; and hence, prioritising it is a conscious decision. Taraporevala adds that if accessibility is built in at the initial stages, it doesn't add much to the cost. But retrofitting is expensive.
A petition on Change.org by an Ahmedabad-based bank employee Aziz Minat is what brought change at food delivery companies Zomato* and Swiggy. A Swiggy spokesperson told The Intersection that although some of its smaller businesses were works in progress, the biggest two—food delivery and Instamart—were now accessible to differently-abled people. The company's senior product design architect Prasanna Venkatesh grew up with a hearing impairment, which helped the company understand the issue better. Zomato did not participate in this story.
Myopic vision
Visually-challenged lawyer Rahul Bajaj, who was instrumental in setting up Mission Accessibility to consolidate disparate advocacy and activism, began work on the issue during his clerkship with Justice DY Chandrachud. The recently appointed Chief Justice of India was then chairing the e-committee for making the Supreme Court digital-friendly.
MA follows a five-step process, Bajaj told The Intersection. It begins with a letter to the company pointing out the problems, followed by a reminder after a few days. If the company does not respond, MA tries to drum up support on social media. If the company still remains unresponsive, MA sends a legal notice and finally approaches the Chief Commissioner for Persons With Disabilities (CCPwD).
The first company that Bajaj dragged to court for inaccessibility was the health services platform Practo. The company said it was willing to make changes to its app but also argued that it was not bound by accessibility rules and that there were no government guidelines to follow. The CCPwD said the company was bound by the legal framework and rules, and ordered Practo to make its app compliant in nine months.
The next company in line for legal treatment was ANI Technologies Private Ltd, the parent of Ola Cabs. In the complaint filed with the CCPwD, Bajaj's co-founder at MA, Amar Jain, said the services offered on the Ola app were "thoroughly unorganised and completely inaccessible with a screen-reading software". The complaint also said that blind persons were unable to select pick-up location and destination from the search results because the screen reader does not announce it, rendering the key feature of ride-hailing useless.
Ola did not respond to an emailed list of questions from The Intersection seeking comment on the allegations.
Jain began chasing Paytm in 2016, the same year the app became the de-facto digital method for small payments after the Indian government announced the demonetisation of all ₹500 and ₹1,000 banknotes.
Jain unsuccessfully tried to get the attention of Paytm's top leadership with social media posts and emails. A certified accessibility professional, he then reached out to the secretary of Masayoshi Son, CEO of SoftBank. The Japanese investment group was the largest investor in Paytm. That worked, and an update helped improve accessibility, but subsequent updates rendered it inaccessible again.
When Paytm filed for an initial public offer (IPO) last year, Jain wrote to markets regulator Sebi pointing out that the company was violating the Rights of People With Disabilities Act, 2016 (RPwD Act). Sebi merely forwarded it to the IPO managers, and the prospectus published a line in the risk factors section acknowledging that it was non-compliant with some provisions of the law. But Jain says the app remains inaccessible.
Jain is now back before the CCPwD. His complaint alleges that in conversations with Paytm, product managers and engineers seemed sensitive to the issue, but the business and legal departments were not. The complaint states that one person asked, "When the government has not done enough, why should the private sector be obligated to comply with this law?"
Paytm did not respond to questions emailed by The Intersection. This story will be updated as and when it does.
Sebi washed its hands off too, saying that ensuring compliance with the RPwD Act was not part of its remit. In a rejoinder to Jain's complaint, the regulator told the court that the law does not say that Sebi is obligated to ensure compliance with accessibility guidelines.
Legal framework
Changes to long-entrenched mindsets are usually possible only through activism and legal cover. India's disability rights movement was pioneered by Javed Abidi, who founded the Disability Rights Group. He led a protest march to Parliament in 1995, which led to the foundational legislation, the Persons With Disability Act, 1995. Abidi was also instrumental in expanding the scope of the law 10 years later.
In his first term as prime minister, Narendra Modi coined the term 'divyangjan' to address persons with disabilities. In December 2016, the Parliament passed the Rights of Persons with Disabilities Act, which brought the country in line with the United Nations Convention on the Rights of Persons with Disabilities, to which India is a signatory.
Narendra Modi

@narendramodi
Passage of Rights of Persons with Disabilities Bill - 2016 is a landmark moment & will add tremendous strength to Accessible India movement.
Dec 16, 2016
11.5K Likes   2.76K Retweets   539 Replies
The law gave government institutions and private enterprises, including those offering information and communication services, two years from the notification of rules to become compliant. The Bureau of Indian Standards laid down accessibility guidelines for information and communication technology (ICT) products and services.
One of the key compliance requirements was that all documents on websites and apps should be in electronic publication (ePUB) or Optical Character Reader-friendly format. However, six years after the law was passed, awareness about it and compliance requirements is still low.
"Although the law and rules are powerful enough, the regulatory mechanism to enforce them is weak and depends a lot on judicial activism," says MA's Jain.
Even in developed countries, financial inclusion for the differently abled began finding policy space only in the 1990s. The US passed The Americans with Disabilities Act in 1990. The European Union addressed it in The Human Rights Act of 1993.
In the Practo order, the Commissioner for Persons with Disabilities, Upma Srivastava, began a process to comprehensively survey app-based services to identify those that were non-compliant. Srivastava held a general hearing on September 20 this year, at which MA submitted a list of 74 non-compliant apps and websites.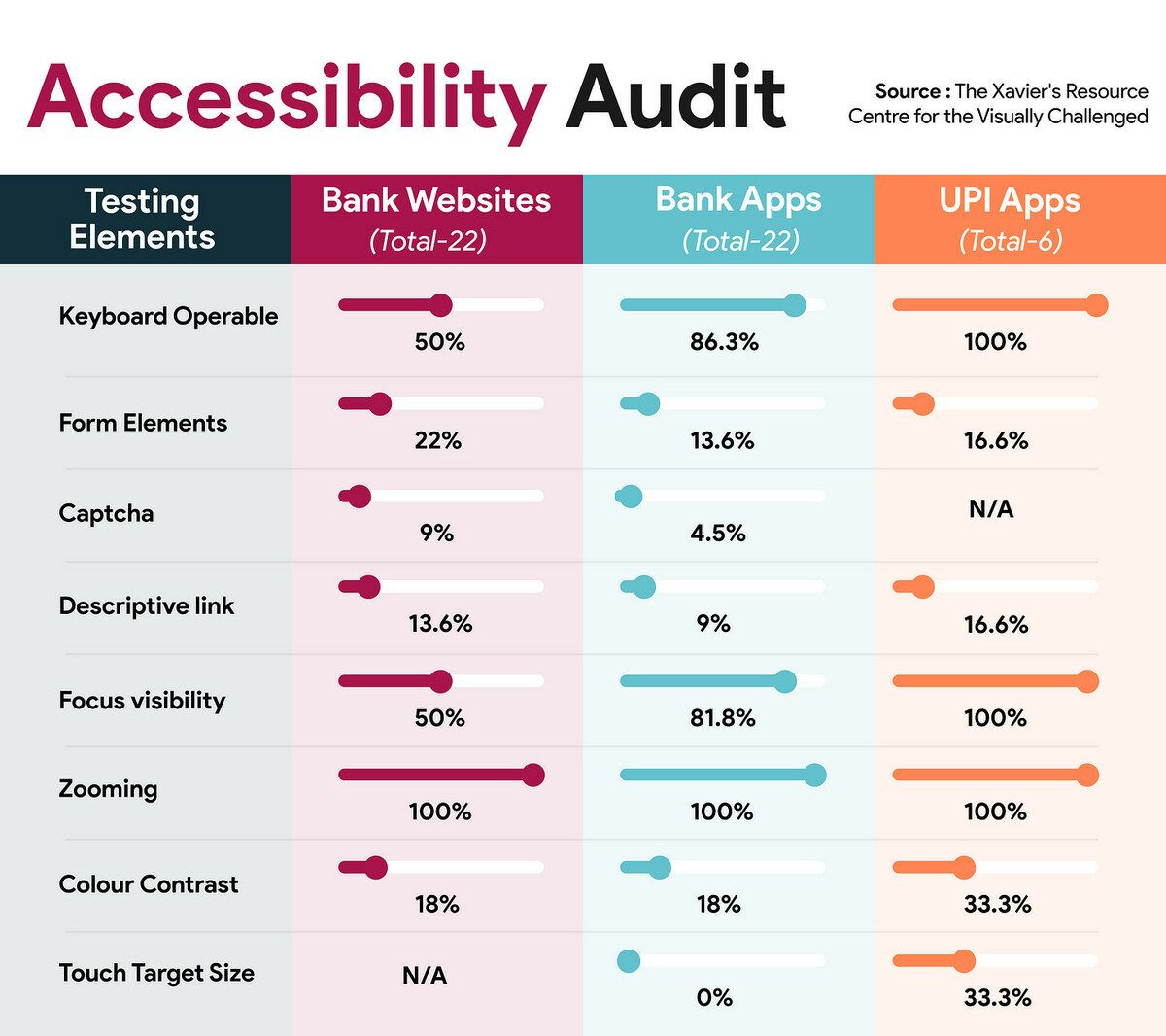 XRCVC's Taraporevala also did a snap study (pdf) of the financial services sector on eight digital accessibility parameters. The quick audit included the websites and apps of 22 banks, including public sector, private and foreign banks, and six third-party mobile wallets and UPI apps. The study found that "digital banking solutions are marred with problems of inaccessibility and there is clear gap in implementation of guidelines". One of the biggest barriers was CAPTCHA, a security measure used in computing to determine whether the user is human.
Except for two foreign banks, no other bank website passed all the accessibility criteria. Among Indian private banks, two passed only on one parameter. No mobile banking or payment app cleared all the criteria, although one—Google Pay—met seven of them.
Even India's new currency notes are a problem for the visually impaired. The National Association For The Blind has complained to the Bombay High Court that it was difficult for visually-impaired persons to distinguish currency note denominations. The RBI told the court that the notes already had several tactile features, such as raised lines and geometrical patterns, to help blind persons.
Clearly, those features are not enough. Perhaps the RBI's new central bank digital currency could be a solution. Poonam Pardesi certainly is looking forward to it.
*Zomato founder Deepinder Goyal is an investor in Frontpage Media Technologies Pvt Ltd which publishes The Signal and The Intersection. For a full list of our investors, click here.
ICYMI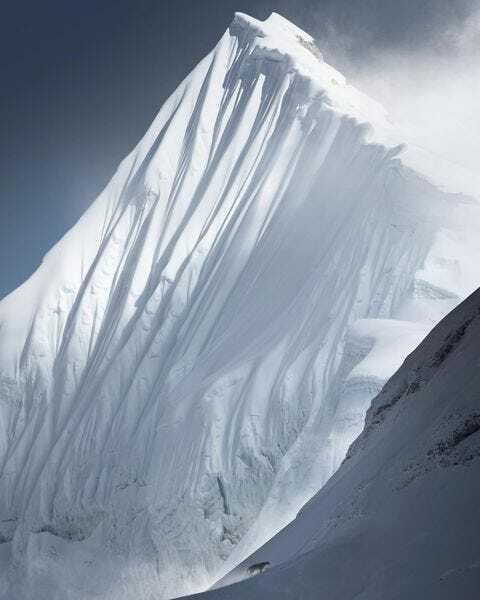 Ghost from the shadows: Mount Everest is home to the snow leopard—the elusive, resilient big cat that disappears into cold air. But US-based wildlife photographer Kittiya Pawlowski was determined to catch a glimpse of the ghost cats. Her hard work paid off. After a seven-hour bumpy road ride, a 20 minute-flight, and a 73 km walk in the Sagarmatha National Park, she finally noticed a silhouette against the majestic Mount Pumori in the background. The results are stunning. Who said the journey is more important than the destination? Credit: @girlcreature
Smell test: Your favourite perfume may smell nothing like it does today, says Sunday Mid-Day. Blame climate change. Inclement weather and shifting seasons are wreaking havoc on the global fragrances industry. Jasmine production in France has tanked, leading to production issues for Dior and Chanel. Importers are sourcing Indonesian patchouli from Sulawesi instead of Sumatra because of the latter's increasingly-arid landscape. The result: a different scent profile that will force changes in formulations. Unseasonal rains also destroyed lavender crops in Uttarakhand. And so, perfumers are moving away from florals to (more) mossy and woody notes.
Cottage industry: If you've heard the Reply All podcast's legendary "Long Distance" episode, you already know about Delhi-NCR's booming industry for tech support scams. A joint investigation by the Bureau of Investigative Journalism and Sunday Times takes things further and uncovers a burgeoning hacking-for-hire sector in Gurgaon. Companies such as Appin and BellTroX have not only infiltrated victims' devices for international clients who pay big money, but have also done offensive hacking for the Indian government. Don't miss this riveting read about Indian hackers, who do everything from reputation scrubbing to undermining government critics.
As American as apple pie: The US midterm elections have finally wrapped up. Now more than ever, battle lines are being drawn in US politics along the issues of race, religion, culture, and immigration. On that note, here is a thought-provoking podcast for your weekend binge that tries to explore the ever-evolving story of America. Hosted by Libyan-American journalist Noor Tagouri, 'Rep', an iHeartRadio Original, delves into the representation and misrepresentation of identities and how they play out in American politics, pop culture, and public opinion.
Blash from the past: It's been a year since Britney Spears was freed from a notorious legal conservatorship, which is typically reserved for the elderly and the differently abled. The superstar singer's father, Jamie Spears, was someone who had trouble paying his taxes, had declared bankruptcy, and ran a small business into the ground. But he was allowed to control not only his adult daughter's finances but also her day-to-day life. During the conservatorship, Britney wasn't allowed to have coffee, couldn't drive, and was allowed to use her phone only intermittently. Close friends were also booted out of her life. The New York magazine's latest cover story, House of Spears, traces how it all began. Spoiler alert: it's got a lot to do with Jamie's traumatic childhood.
The wealth-con con man: Anthony Ritossa, according to his LinkedIn account, is a family office influencer and impact investor with interests in private equity, real estate, and blockchain companies. The 53-year-old Australian claims to be an heir to a 600-year-old European olive oil fortune. He's famous for hosting a series of high-level family-office gatherings in places like Dubai, Monaco, Riyadh, and Miami. But a year-long investigation by Vanity Fair revealed that he's actually a con man who's been repeatedly jailed in Europe and is wanted in the US.
A murder off the tracks: Gravel racing is a relatively new niche in the cycling world. A decade old sport, it derives its name from the cycles – weight, balance, endurance and all that stuff. This New Yorker story isn't as much about cycling as it is about a murder – of Moriah Wilson, one of the sport's "leading athletes." The murder involves Kaitlin Armstrong, a long-term partner of the sport's other leading athlete – Colin Strickland. Strickland was monikered "Gravel Jesus" by his friend on Instagram. And then, things happened, and later went literally south. No more spoilers.
Enjoy The Signal? Consider forwarding it to a friend, colleague, classmate or whoever you think might be interested. They can sign up here.
Want to advertise with us? We'd love to hear from you.
Write to us here for feedback on The Signal.