Discover more from The Signal
The Signal is a daily curated newsletter that helps you understand the latest developments in business, tech, finance, economy, and policy with sharp analysis and crisp insights thats fun to read arriving at 8AM daily in your inbox.
Over 81,000 subscribers
Moving mountains
Also in today's edition: SoftBank goes "poof!" on Alibaba; Covid is back; IndiGo's Gangwal problem; Tata vs. Airtel vs. Jio
Good morning! We've never promoted shows or movies in this newsletter, but will make an exception today. Turns out that the vengeance-championing K-drama The Glory, a Netflix show that was the platform's most-watched series for two weeks last month—in over 90 countries no less—has had a positive effect in its country of origin. Per Bloomberg, South Korean prime minister Han Duck-soo referenced the show and announced that come 2026, any records of bullying will make it onto students' college applications. In case you're wondering, The Glory is a 16-episode revenge opus about a woman who gets her just deserts against the people who tormented her in high school. Bullying is a serious offence (but also a problem) in South Korea.
Today's edition also features pieces by Roshni P. Nair, Soumya Gupta, Srijonee Bhattacharjee, and Julie Koshy Sam.
If you enjoy reading us, why not give us a follow at @thesignaldotco on Twitter and Instagram.
The Market Signal*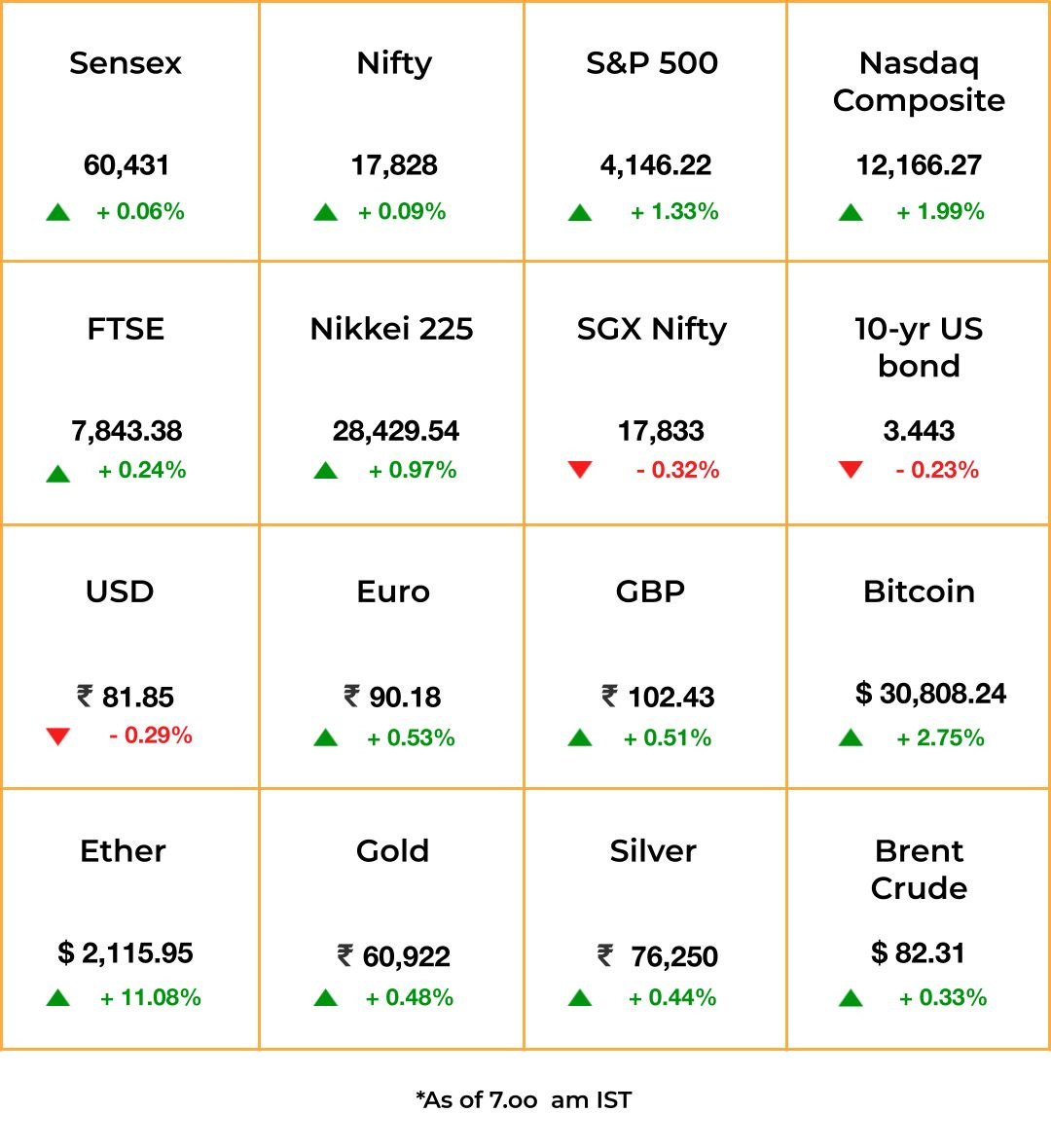 Stocks & economy: US equities gained ground as a moderation in producer price inflation and a rise in jobless claims last week led to the hope that the Fed may pause on rates after May.
The dollar index lost ground and funds moved to dollar-denominated assets such as oil and gold.
Data released at home showed that while the trade deficit widened, exports in 2022-23 rose more than expected by 6%.
The IT index may continue to be a drag as Infosys followed TCS in posting disappointing earnings. The tepid earnings of the two leading companies lays bare broad weakness in the IT services sector. American Depository Receipts of Infosys slid 9% on the New York Stock Exchange.
Bank stocks will likely be in focus Monday after HDFC Bank posts earnings report on Saturday.
Indian financial markets will be shut on Friday on account of Ambedkar Jayanti.
VENTURE CAPITAL
SoftBank's Selling Spree
For the second time in six months, SoftBank has pared its shares in the "crown jewel" of its portfolio — Alibaba, in which it had invested $20 million in 2000.
The Financial Times reported that SoftBank earned $7.2 billion from the sale of Alibaba shares through "prepaid forward contracts". In November 2022, SoftBank netted a whopping $29 billion after cutting its stake from 23.7% to 14.6%. That now comes down further to a mere 3.8%.
Timing: SoftBank needs the money ahead of the imminent $8 billion listing of chip design company Arm, which it acquired for £24.3 billion ($32 billion at the time) in 2016. It also needs to recover losses from other investments that haven't done well.
Keeping it…: …in the family. SoftBank also sold its early-stage venture capital arm, SoftBank Ventures Asia, to Masayoshi's younger brother Taizo Son's Singapore-based Mistletoe Ventures.
THE SIGNAL DAILY
Bad news for coffee enthusiasts. As the world heats up, coffee is at the mercy of climate change, according to a BBC report. In other news, HBO Max and Discovery+ are merging, and as part of the deal, the streaming service will now be called Max. Also in today's episode: we talk about the pot biz thriving in the States. Tune in to The Signal Daily for more!
Listen to The Signal Daily on Spotify, Apple Podcasts, Amazon Music, Google Podcasts, or wherever you get your podcasts.
COVID-19
Not This Sh*t Again
India reported 10,158 Covid-19 cases on Thursday, for the first time in nearly eight months 😷. According to Health Ministry data, the recovery rate stands at 98.71%.
Deets: Omicron sub-variant XBB.1.16 is behind the surge in cases. Per medical experts, the infection is milder this time around, and cases are expected to decline in 10-12 days. The Serum Institute of India has resumed the production of its vaccine, Covishield.
Status report: Maharashtra and Delhi recorded over 1,000 cases on Wednesday. The All India Institute of Medical Sciences (AIIMS)-Delhi has issued a mandatory mask rule after four doctors tested positive.
Aside: In what seems an encore, a host of companies such as Aditya Birla Group, Tata Motors, Panasonic, and RPG Group have reissued pandemic-appropriate behaviour at their workplaces. Singapore and Indonesia are also witnessing a rise in cases.
BIG FOUR
Too Tall A Mountain To Climb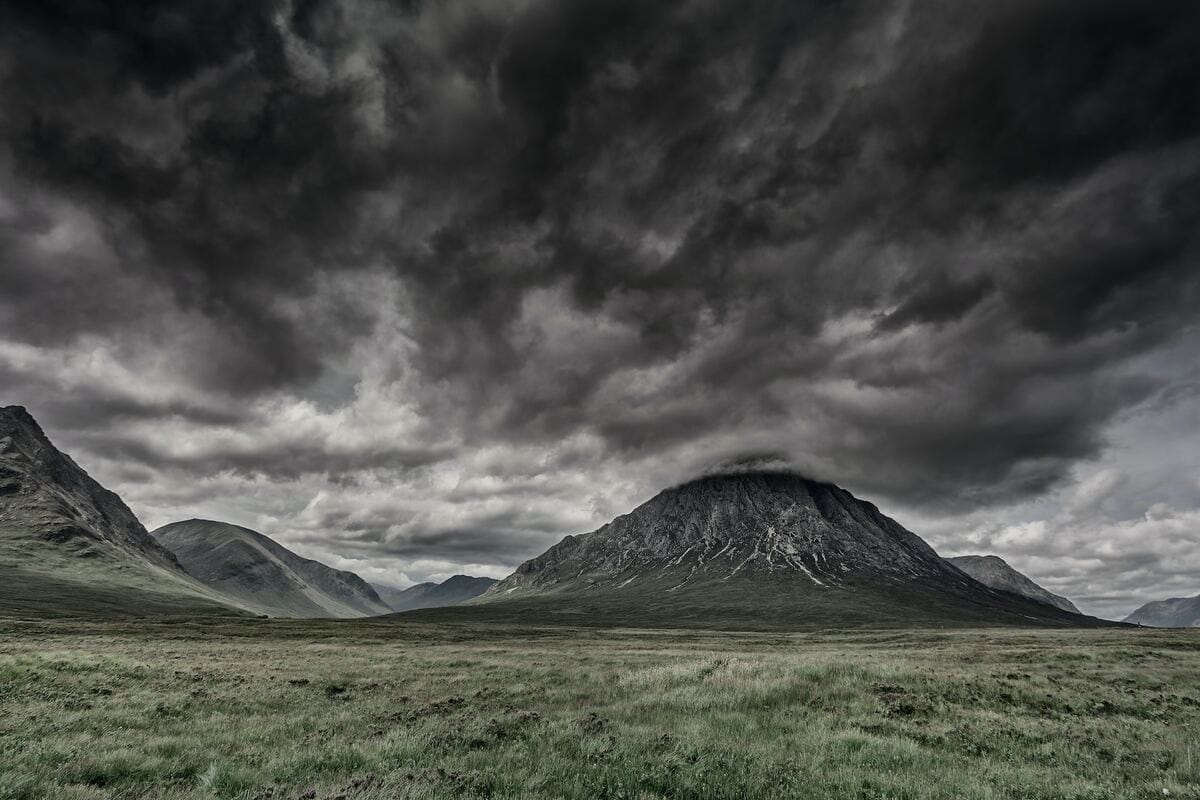 LoboStudio Hamburg/Unsplash.com
Don't code-name a project Everest and expect to romp home. Global consulting firm EY has shut down Project Everest, a monumental plan to break up the towering organisation with 3,90,000 staff.
What?: Last year, EY, under its chairman and CEO, Carmine Di Sibio, decided to split its advisory and audit businesses as consultants were not allowed to advise audit clients.
Di Sibio was counting on EY's 13,000 partners' support, but the fatcat US business, which reeled in 40% of EY's $45 billion 2022 revenue, blew it off despite the promise of windfall gains. Indian consulting partners were set to take home 10-12x their annual pay.
What gave: The deal came off at the seams of the $11 billion tax business, not because either audit or advisory wanted the revenues, but were loath to lose the expertise.
The Signal
To be sure, EY has not abandoned the plan to eventually split. To be doubly sure, it has no clue how to go about it, and the rock on which the current deal came apart is still very much there. Regulatory scrutiny will also remain high.
Moreover, it means giving up lucre that is there for the taking if they were separate businesses. There are already unhappy murmurs about the wasted $600 million that went into a restructuring that never manifested. What is also clear is that the US business—and some influential retired partners whose pensions were on the line—will call the shots whenever the deal happens.
AVIATION
The Gangwal Effect
Pieter Elbers has ambitious international expansion plans for IndiGo. It won't be easy, given rival Air India's dominance of international routes, and newcomers such as Akasa Air eyeing expansion.
Elbers, who became CEO in September 2022, has much to prove. But he also has to face shareholders dealing with the "overhang" effect of IndiGo promoters Rahul Bhatia and Rakesh Gangwal acrimoniously parting ways in 2019.
Explain: Gangwal can't find institutional investors to buy his ~37% stake because Bhatia has an iron grip on the board. The IndiGo stock, hovering around ₹1,800 ($22), will remain depressed until Gangwal finishes selling his stake in the secondary market. Unless, the airline outperforms expectations.
And Elbers has ~467,000 ESOPs… a portion of which is performance-linked.
Aside: Indian Oil Corporation may set up a joint venture with US company LanzaJet to produce sustainable aviation fuel in India.
ENTERTAINMENT
Squabbles
Airtel is accusing Jio of competing unfairly by offering free IPL and live TV with its broadband service. Tata Play is pissed off at both for doing the same thing. It's getting petty. When Airtel asked regulator Trai to ban Jio's latest broadband plans, Reliance countered by saying Airtel should stop the "frivolous complaints".
Meanwhile, Max: That's the new name of the combined HBO Max and Discovery+ service, which will cost ~$20/month in the US (without ads). Max will also have a new 10-year long Harry Potter series adaptation and one from The Conjuring universe. But why drop the iconic HBO brand name? WBD execs were evasive, but bemused users had hot takes:

Keep 'em coming: Streaming platforms in India are aping TV by dropping episodes one by one to get viewers to stay online longer. Figures, now that OTT viewership is ebbing and consumers cut discretionary spends.
FYI
Sawadee Kha: Apple is talking to potential suppliers to assemble MacBooks in Thailand, deepening its manufacturing footprint in the country beyond smartwatches. It also assembled 7% of its iPhones in India in 2022, a 3x jump since 2021; in value terms, that represented nearly $7 billion worth of iPhones.
Tw-exit: American media companies National Public Radio (NPR) and Public Broadcasting System (PBS) are leaving Twitter over its owner-CEO Elon Musk's labelling of the two as "government-funded media".
Clouds on the horizon: IBM is exploring a sale of its weather business, which includes weather.com, as part of its streamlining efforts following a stock rout (trading at 20-year low levels!).
Just toss it: Google will reportedly ask for an end to the antitrust case brought against it by the US Justice Department in 2020.
Closer look: The Reserve Bank of India has begun evaluating potential bidders for a majority stake in the government-owned IDBI Bank. The bidders include Kotak Mahindra Bank, CSB Bank and Emirates NBD, per Reuters.
Et tu?: Amazon has entered the generative AI rat race by offering multiple language learning model-based platforms, including ones made by Anthropic, Stability AI, and AI21 labs, to its cloud customers.
New home: Walmart has sold off menswear brand Bonobo to brand management firm WHP Global and fashion retailer Express in a $75 million deal. Walmart had snapped up Bonobos for $310 million in 2017.
THE DAILY DIGIT
0
What Amazon CEO Andy Jessy received as part of his stock/equity compensation in 2022. (Investing.com)
FWIW
Cuppa woes: Coffee lovers (and snobs) may not be happy about this bit of news. Climate change is coming for Arabica coffee as temperatures rise worldwide. It could be Liberica's time to shine. Originating in Liberia (surprise, surprise), the coffee bean doesn't score well on the popularity index. What's working in its favour is its resilience to weather patterns and leaf rust. Liberica is notorious for its strong, punchy aftertaste and accounts for only 2% of the global coffee bean harvest as of today. But hey, what's a morning without a caffeine rush?
In more bad news..: Head-banging at a rock concert may come with a side of unpredictable weather. Music festivals were all set for a post-Covid comeback, but climate change has other plans. Festival organisers in the UK now have to factor in moody weather in their contingency plans. Consider that Laneway Festival Auckland was canned this year because of record rains, and organisers of the Boomtown music festival in England had to lug in water tankers to keep concert-goers cool through the day. Tl;dr: be prepared for rain or shine, and leave those white sneakers behind.
Crackdown: Eating a steaming bowl of ramen without eggs may feel blasphemous, but it could become a reality in Japan. The country has culled 17 million chickens due to a bird flu outbreak, leading to a rise in egg prices. Fast food giant McDonald's, convenience store chain 7-Eleven, and mayonnaise maker Kewpie are directly affected by the shortage. Smaller businesses have struck off dishes such as fried rice with eggs from the menu. As a result, seafood giant Nissui Corporation is experimenting with Japanese rolled omelette made from Alaskan pollock. Still, it's hard to see the sunny side here.