Discover more from The Signal
The Signal is a daily curated newsletter that helps you understand the latest developments in business, tech, finance, economy, and policy with sharp analysis and crisp insights thats fun to read arriving at 8AM daily in your inbox.
Over 81,000 subscribers
Has Facebook left a backdoor ajar?
Also in today's edition: BlackRock calls on Bombay House, Pinterest boards the e-commerce bandwagon, A toast to the season
Good morning! Quentin Tarantino is going to release and auction seven uncut scenes from Pulp Fiction as NFTs. Along with these seven scenes, the master filmmaker will also be auctioning handwritten scripts and audio commentary from the film. The director is using a platform that maintains the buyer's privacy, so there's a good chance no one will know who bought the NFTs. Just like no one knows what was in the briefcase. If you have a few million lying around, it would make for a good Diwali gift.
Speaking of which, we, at The Signal and The Intersection, are taking a festival break from November 3 to November 7. But that doesn't mean there will be radio silence from us. A shorter version of the daily newsletter will land in your inbox at 8 am. Season's greetings to all our readers. Be safe.
Btw, our podcast has been going strong for over a month now. Tune in on your daily jog, drive to the office, or even as you WFH-ers have breakfast in bed. We promise it'll be music to your ears.
The Market Signal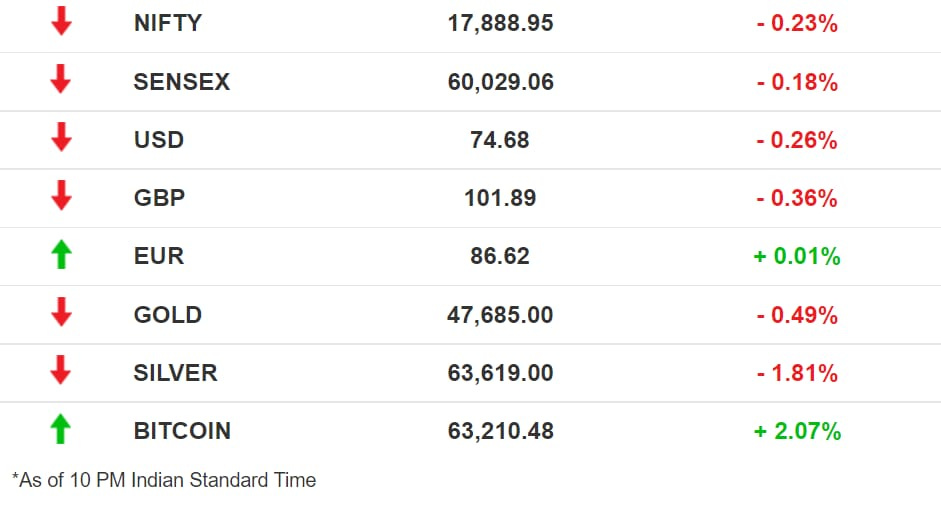 Stocks: A volatile range-bound trading session saw Indian benchmark indices close marginally in the red, albeit above critical support levels. The broader market performed better with the NSE Midcap and Smallcap indices gaining nearly 1% each. All eyes are now on the Federal Reserve's policy meeting where the start of stimulus tapering in the US may be announced.
BlackRock Comes To India's Green Party
The world's largest asset manager, BlackRock, is bringing its heft to the Tatas' green ambition. It will invest $500-750 million in Tata Power Renewable Energy.
A renewables push: It is not just the Tatas that are making the push to clean energy. Reliance Industries is setting aside $10 billion over three years for its 'Green Vision'. Adani Group will invest $50-70 billion over 10 years on green energy. Not just among investors, Environmental, Social, and Governance is now a boardroom matter and related funds are also gaining momentum.
Halting Climate Change: India, one of the world's biggest emitters, has just committed to a 2070 net-zero target, to achieve which Prime Minister Narendra Modi expects billions of dollars in funding from developed countries that are responsible for historical pollution. Early investors in Indian companies will likely reap the rewards in renewables credit markets, integral to fighting climate change, as they transform their energy-intensive businesses to leave fewer carbon footprints.
Facebook Whistleblowers' Tour May Come To India
Facebook, if we can still call it that, is again in the thick of things. Not surprisingly. Having done the tour in Europe, Facebook whistleblowers Frances Haugen and Sophie Zhang could soon be heading to India, courtesy Shashi Tharoor. The Lok Sabha member, who heads the parliamentary Standing Committee on IT has sought the Speaker's permission for the same.
FAQ: India's IT ministry has put out a set of FAQs that share information on the process on how social media platforms need to comply with its demands. The Internet Freedom Foundation, on its part, has rebutted the FAQs.
No more free speech: First, it was Vietnam. Now it is Kazakhstan, where Facebook will allegedly be giving backdoor access to the government to report anything that is potentially harmful. Also, in Nicaragua, ahead of an election, Facebook has accused the government of running social media troll farms.
Elsewhere: The UK wants to police online content and is debating whether to make certain content illegal, punishable with jail time.
Metaverse Prep Under Way
A job posting by Amazon's cloud services company AWS had tongues wagging in anticipation of a giants' race to building metaverse(s), which the ad described as the new frontier. AWS said it wants to build technology to help customers navigate it.
Weng

@AznWeng
$AMZN isn't giving $FB or $U a free pass to creating the Metaverse. They're hiring an Alliance Leader to deepen their relationship w/ Epic Games. Their purpose? To accelerate the adoption of the Unreal Engine by Metaverse developers.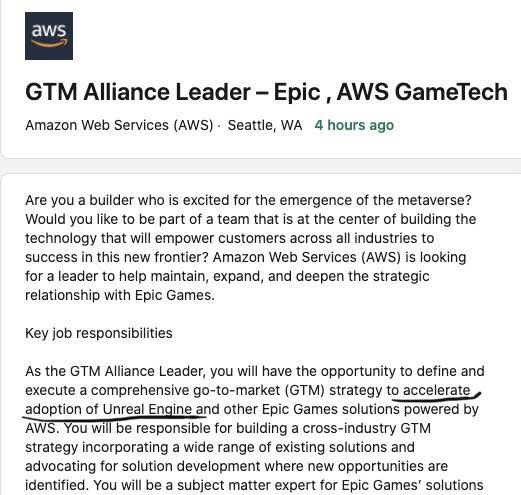 Nov 1, 2021
278 Likes   40 Retweets   7 Replies
New frontier: The post said AWS was looking for someone who could define and execute a strategy to speed up adoption and adaption of Unreal Engine and other Epic Games solutions across industries. Observers were quick to point out Amazon positioning itself as formidable competition to Meta (formerly Facebook) and Apple's Unity.
Separately, the melding of gaming with decentralized finance is luring professionals from Wall Street jobs to explore the frontier.
The Signal
As venture capitalist Matthew Ball, the man who wrote the most definitive essay on metaverse, says, the full rendition of metaverse is decades away but "the pieces have started to feel very real. And as always with this sort of change, its arc is as long and unpredictable as its end state is lucrative". That is why even though the technology (AR, VR, brain-machine interfaces, and even skins) to experience metaverse is still fledgling, companies are committing billions to be the first movers. As Microsoft proved with Windows, Google with Search, and Facebook with social network, a head start gives a distinct advantage of familiarity that creates user inertia to shift from one to another, be it an OS, platform, or tech framework.
For companies, shifting enterprise tech is often costly. AWS is the leader in cloud services with about a third of the global market share and Epic has had an eye on a three-dimensional digital future for years. Strategic deepening of the relationship might help the companies protect their markets by helping customers migrate to new digital realms. But just because Apple, Google, and Microsoft have not revealed their cards does not mean the brain-trusts in those companies are idling.
Pinterest Joins The Live Shopping Trend
Social media companies have built formidable audiences around audio-visual content. They have been advertising products to them. Now they want to host sellers directly. The latest entrant into e-commerce is Pinterest.
Not just video: With Pinterest TV — a series of live, shoppable episodes featuring top creators, including vlogger Manny MUA and fashion designer Christian Siriano — the image-sharing platform wants to turn more users into buyers. It offers users discounts on live shopping from brands such as Patagonia and Outdoor Voices.
As per research firm eMarketer, the number of US social buyers on Pinterest will grow more than 16% to reach 13.9 million by the end of 2021
Target shoppers: Meanwhile, many others such as Facebook (now Meta) and Snap too are eyeing live shopping for revenue after Apple's recent privacy crackdown hurt their advertising business.
Hic Hic Hurray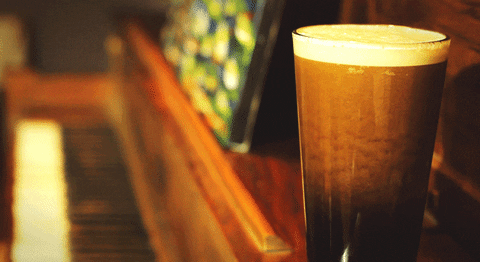 Regardless of whether Indians are drowning their sorrows or adding some spirit to their celebrations, alcohol makers have reason to cheer. Demand for liquors and beer in the country has reascended to pre-pandemic levels in the September quarter.
Happy high: A rise in prices has apparently not been a deterrent in the usually price-sensitive market. Diageo and Pernod Ricard, which have a combined three-fourth of the market share, saw sales grow 14% and 27% respectively for the quarter. However, the rebound hasn't been uniform across the country with some states such as Haryana showing a double-figure growth from the corresponding quarter in 2019 while others such as Maharashtra showed a decline.
Finally: Perhaps encouraged by the uptick, Diageo-controlled United Spirits is piloting Guinness, one of the world's most-consumed beers, in a few Indian states. We'll drink to that.
What Else Made The Signal?
iPad sacrifice: Apple has cut iPad production to save up chips for iPhone 13 manufacturing amidst a global semiconductor shortage.
F society: Facebook is planning to shut down its facial recognition technology which has covered over a billion people, citing societal concerns.
Listing Drive: Amazon-backed electric vehicle startup Rivian is planning a US IPO at a $55 billion valuation which would make it as valuable as rival Honda.
Crypto push: Coinbase, the largest cryptocurrency exchange in the US has purchased Agara, an AI-powered support platform to further its India push.
Restructure: TikTok CEO Shou Zi Chew has stepped down as its parent ByteDance's CFO to focus on running the short video platform full time.
Yahoo quits China: Yahoo is pulling out of China, ending a two-decade relationship after an increasingly challenging operating environment.
Sharing is caring: Gurugram-based GoMechanic has facilitated the sale of 34 employees' ESOPs to investor Tiger Global at its latest valuation of $325 million.
FWIW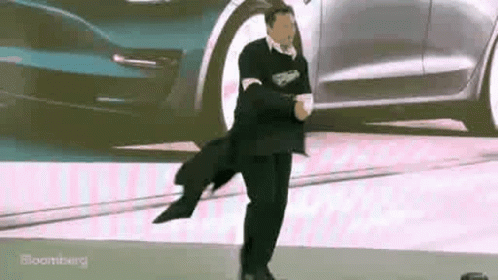 Shorts changed: Three months after a $1,500 fine on the Norwegian women's handball team for playing in shorts sparked outrage, The International Handball Federation has changed its rules to remove bikini bottoms as a mandatory requirement for women players. From January 1, they should wear "short tight pants with a close fit".
Not so fast, Mark: Ha! Facebook cannot run away with a name change just like that. Meta PCs, an Arizona-based company that sells computers and gaming software claims it has the IP for the name. The company, started in November 2020, filed to trademark Meta this August. A co-founder of the company hinted Mark Zuckerberg could have it for $20 million. Experts say that may not be required. There are enough loopholes in the law, apparently. Now, doesn't Zuck know a thing or two about loopholes?
WFP eyes Musk's wallet: David Beasley, director of the UN's World Food Programme said a teeny bit of Elon Musk's wealth donated to the programme could save 42 million people on the brink of starvation. Musk picked up the gauntlet on his favourite platform, Twitter, saying he will sell Tesla stock worth $6 billion and donate the sum if the agency showed publicly how it will spend the money. The tweet-à-tête was not enough for Beasley who asked for a real tête-à-tête.
Elon Musk

@elonmusk
Replying to
@DrEliDavid
If WFP can describe on this Twitter thread exactly how $6B will solve world hunger, I will sell Tesla stock right now and do it.
Oct 31, 2021
324K Likes   55.9K Retweets   12.8K Replies
Want to advertise with us? We'd love to hear from you.
Write to us here for feedback on The Signal.