Discover more from The Signal
The Signal is a daily curated newsletter that helps you understand the latest developments in business, tech, finance, economy, and policy with sharp analysis and crisp insights thats fun to read arriving at 8AM daily in your inbox.
Over 81,000 subscribers
Sting is the secret of my energy
Also in today's edition: Red in the face; A day that will live in two-wheeler inFAMEy; Sony and Microsoft's co-dependent relationship; Where the internet is headed
Good morning! K-pop band BTS can now add best-selling authors to its collective resume. The group's first book, Beyond the Story: 10-Year Record of BTS, is topping the best-selling list since day one of the India release. According to Pan Macmillan India, 25,000 copies were sold in the Indian subcontinent right after the release date. To put things into perspective, any book selling 10,000 copies in a week is considered a bestseller, reports The Economic Times. K-pop indeed has the Midas Touch, no?
The Signal is now on Telegram! We've launched a group — The Signal Forum — where we share what we're reading and listening through the day. Join us to be a part of the conversation!
Today's edition also features pieces by Soumya Gupta, Srijonee Bhattacharjee, and Jaideep Vaidya.
If you enjoy reading us, why not give us a follow at @thesignaldotco on Twitter Instagram and Threads.
The Market Signal*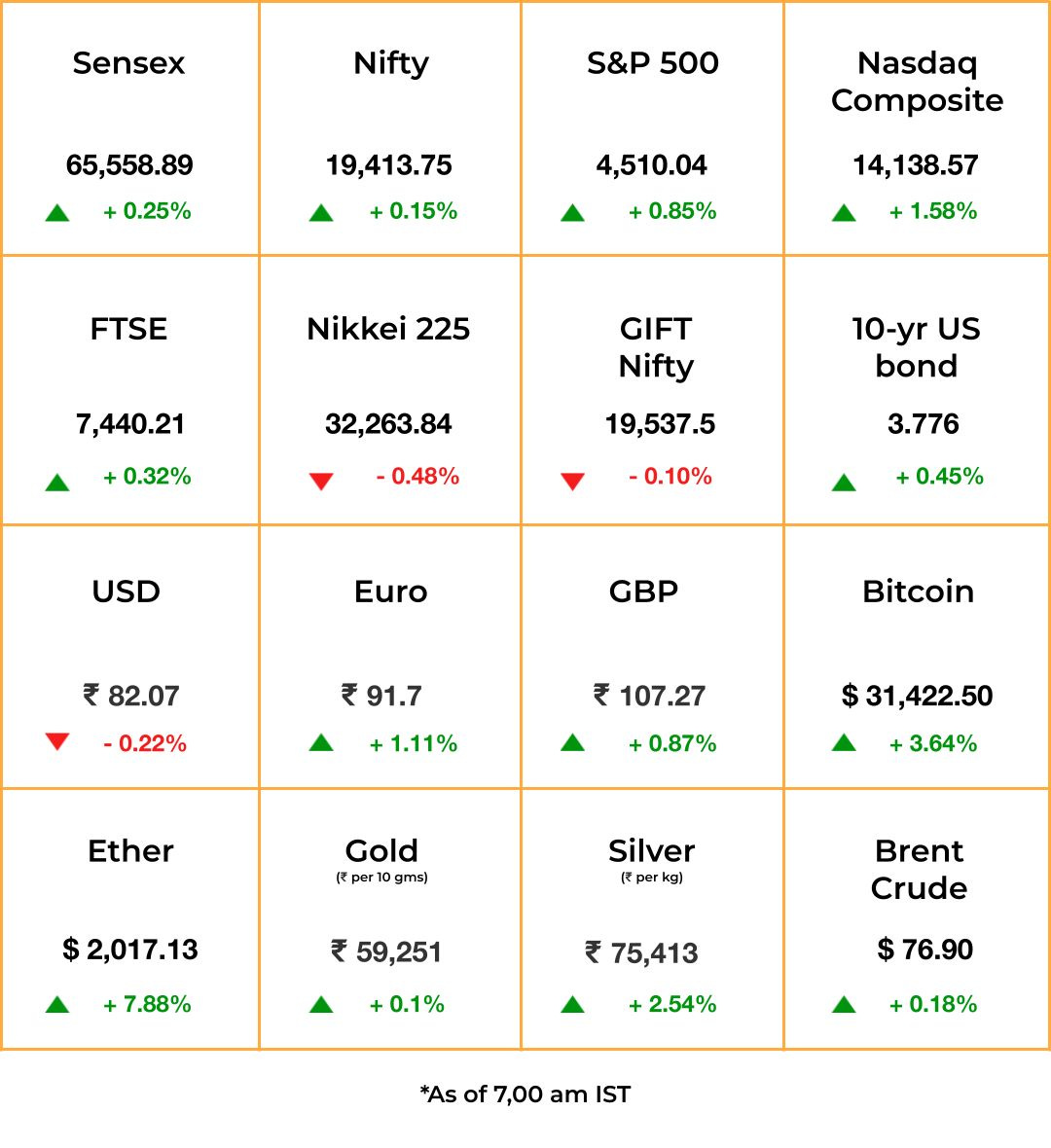 Stocks & economy: Going by Gift Nifty's early morning trend, Indian equities will likely open subdued. Investors will wait and watch as more companies declare quarterly earnings.
US markets continued to celebrate the slump in inflation. Fresh data showed wholesale prices rose marginally and way below what investors expected. Tech stocks have caught wind again.
Western central banks are forcing a global interest rate convergence. Government borrowing costs in emerging markets are drawing closer to developed markets with the gap now the narrowest in 16 years.
The crypto industry got a boost when a New York court ruled partially in favour of crypto exchange and settlement company Ripple in a case where it faced off with the US Securities and Exchange Commission. The court said tokens sold and bought on exchanges and through algorithmic trading were not investment contracts.
FMCG
It's Got A Sting To It
Put that soft drink bottle down, there's a new drinks star in town. PepsiCo India's fastest growing product as of now is Sting, a caffeine-loaded, low-priced drink giving Red Bull a run for its money. So much so that it is padding PepsiCo bottler Varun Beverages' profits and contributing nearly 15% to its total sales (up from 10% in 2022), management told investors in a call this May (pdf).
Make it cheap: Energy drinks in India have been competing with Red Bull. But at ₹20 ($0.24) for a 250ml bottle, Sting and rival Coke's Thums Up Charged cost a fraction of a can of Red Bull. Low prices have expanded the category from supermarkets and fancy bars to kirana shops and regular-Joe customers. The energy drinks market is now worth an estimated ₹2,400 crore and could grow to ₹10,000 crore by 2027.
🎧 PepsiCo's Sting is making waves in the Indian energy drink market. Also in today's edition: We give you a lowdown on how the latest GST rule will weigh heavily on the online gaming industry. Listen to The Signal Daily on Spotify, Apple Podcasts, Amazon Music, Google Podcasts, or wherever you get your podcasts.
CONSUMER
This Ketchup's Got No Tomato
If you've ever grooved to the 2002 hit The Ketchup Song, abandon the nostalgia. Tomato time is over. Devastating floods and a crop virus outbreak has pushed tomato prices to over 300% in the past couple of weeks.
It's a crisis: It's also a black comedy. Fast food chains and street food sellers alike are dropping tomatoes off the menu. In Uttarakhand, residents of border towns are crossing over to Nepal to buy tomatoes at half price. Thieves in Bengaluru and Jaipur are making off with crates of high-priced tomatoes. In a seeming political stunt, a local opposition leader in Varanasi hired 'bouncers' to guard tomatoes at his shop. The central government has now stepped in to sell discounted tomatoes in Delhi and other cities.
Irony: Only a couple months ago, tomato farmers were dumping produce on the roads protesting low prices.
Bonus: we tell you why tomatoes got expensive here.
POLICY
No Fame In Fab Claims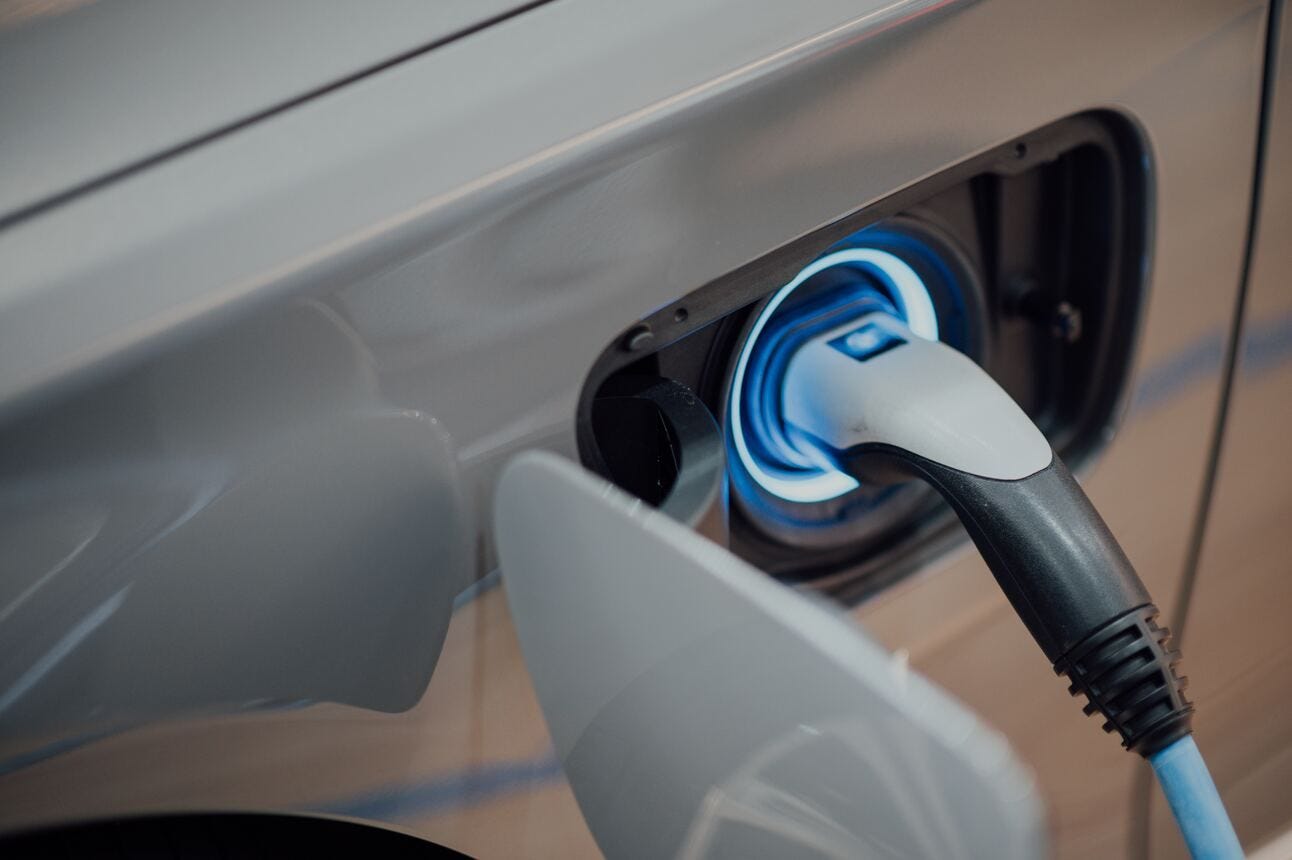 Photo by CHUTTERSNAP on Unsplash
Subsidies don't help when the incentive of purpose is lacking. The Faster Adoption and Manufacturing of (Hybrid &) Electric Vehicles (FAME) scheme to boost electric-powered mobility has ground to a halt even as the Vedanta-Foxconn chip project fell apart after it was unable to secure government funding.
The government has threatened to take vehicle makers to court for cheating on subsidies.
While some were using imported parts instead of sourcing components locally, Ola Electric, Ather Energy, TVS, and Hero MotoCorp were ducking under a ₹1.5 lakh (~$1,800) unit price cap by not including battery chargers in the vehicle prices. Ather charged customers for software upgrades too.
Pay back: The government wants to claw back ₹469 crore (~$57 million) the companies got under FAME.
Meanwhile: Tesla is in talks to set up a factory to build cars with a price tag of ₹20 lakh (~$24,400).
The Signal
The Vedanta-Foxconn joint venture unravelled after it unsuccessfully tried to sneak through a half-baked project to score government incentives (up to $10 billion on offer). The two-wheeler makers too were not innovative enough to meet all the criteria under FAME. Price is the biggest impediment in getting people to shift to electric vehicles. June sales slumped 70% for some electric two-wheeler companies after FAME was halted and they raised prices. The only way is to reduce cost by localising faster. As Ola CEO Bhavish Agarwal says, "we can live without FAME." That is a lasting solution, but a tall ask.
GAMING
Glass Half Empty, Glass Half Full
A US court has rejected the Federal Trade Commission's (FTC's) request to block Microsoft's $75 billion takeover of Activision Blizzard (AB). That's bad news for FTC chair Lina Khan, who's been trying to expand the scope of "competitive harm" in the US.
The FTC is appealing the ruling. All eyes are now on Microsoft's gaming rival Sony, which lobbied hard to stonewall the Microsoft-AB deal. The irony is that the US court greenlit the mega-merger only because of Sony: if it weren't for Microsoft's 10-year commitment to make AB title Call Of Duty (COD) available on Sony PlayStation and Nintendo Switch, the judge would've probably sided with the FTC.
This presents a dilemma for Sony. An estimated one million PlayStation users bought the console only to play COD. If Microsoft makes COD free on its more accessible Xbox Game Pass, this cohort may switch over— multi-console availability be damned.
INTERNET
Open Sesame, Close Sesame
Our takeaway last week on Threads—Meta's Twitter alternative—is that Mark Zuckerberg is capitalising on an open source future. It doesn't come as a surprise, then, to learn about Meta's business motive in choosing to sync Threads with ActivityPub, the decentralised social media protocol on which Mastodon is built.
Mastodon users' data are tethered to the servers or "instances" they're a part of. Compare this to other protocols like AT (the engine for yet another Twitter alternative, Bluesky), which decouples data from users. Tl;dr: ads-driven Meta may access and profit from your Mastodon data whenever it syncs with the platform.
Speaking of Twitter alternatives: Tumblr is bleeding $30 million annually.
While Meta toys with open source-everything, Russia is building a walled garden, a la China and Iran. Moscow wants to block access to virtual private networks, which Russians use to access the "western" internet. It's not succeeding though… yet.
FYI
The real moonshot: India has a tryst with the moon this weekend as Chandrayaan-3 makes an attempt, the Indian Space Research Organisation's second, to soft land on the pockmarked rock. 
Lathering it up: Indian conglomerate Nirma, alongside Sekhmet Pharmaventures, is reportedly bidding for an ~83% stake in pharma major Glenmark Life Sciences.
Saving face?: Embattled edtech major BYJU'S has appointed former Infosys CFO Mohandas Pai and former SBI chairman Rajnish Kumar to its advisory council.
More edtech drama: Entrackr reports that engineering-focused startup Skill-Lync has fired over 200 employees to reduce costs.
Adding delivery muscle: Food delivery company Swiggy has bought Chennai-based logistics startup LYNK, which distributes FMCG products to a network of 1,00,000 stores.
Emily Modi in Paris: India's Defence Acquisition Council has greenlit the acquisition of 26 Rafale fighters and three Scorpene submarines during PM Modi's two-day state visit to France. Indians can now also use UPI for payments in France.
Never ever gonna give you up: US antitrust watchdog FTC, fresh off its federal court setback in the Microsoft-AB deal (see below), is now investigating Microsoft-backed OpenAI's ChatGPT for "publishing false information about individuals".
THE DAILY DIGIT
$4 trillion
An estimate of "excess profits" made by 3,000 top listed non-financial companies by market cap last year, globally. (The Economist)
FWIW
Otternaut: Guess who's taking notes from the orcas? Surfers in Santa Cruz, California, are being greeted by a five-year-old sea otter, Otter 841, who's gaining a reputation for being a surfboard stealer. Wildlife authorities are baffled by her behaviour, since sea otters are typically fearful of humans. If things go south, she may be captured and even euthanised :(. If this is not a sign for surfers to get otter there, we don't know what is.
No blink and miss it, this: The biggest cruise ship by the Royal Caribbean Group is about five times bigger than the Titanic. The 'Icon of the Seas' is set to take its maiden voyage in January 2024. The cruise ship boasts 20 bars and restaurants, seven pools, six water slides, mini golf, a 55-foot waterfall, and an ice rink. Phew! Talk about being extra. And while tickets are flyyyyyyyying, there are concerns over the giant vessel being a giant floating sundae. Would you take a trip? 🚢
To the rescue: Purdue scientist Xiulin Ruan has created a white paint to make the world a cooler place. When painted on a roof, this shade of white can cool down surfaces by -13°C by noon and ~-7 °C at night. Bonus: the paint is so white that it has earned a place in the Guinness Book Of World Records for being the whitest paint on earth. Unfortunately, the paint won't go on sale until next year, as researchers are now testing its resistance to dirt and durability.