Discover more from The Signal
The Signal is a daily curated newsletter that helps you understand the latest developments in business, tech, finance, economy, and policy with sharp analysis and crisp insights thats fun to read arriving at 8AM daily in your inbox.
Over 81,000 subscribers
Unlocking Godrej
Also in today's edition: Dunzo disintegrates; Meta's monetisation mayhem; India shoos Canadian diplomats; Apple's race to the finish
Good morning! They say a good perfume heralds your arrival and prolongs your departure. But for pilots and flight attendants navigating Indian airspace, a quality fragrance could lead to unexpected turbulence. CNN reports that India's Directorate General of Civil Aviation may bar crew members from using alcohol-based perfume due to its potential to trigger false positive breath tests. This follows a series of reports regarding intoxicated flight personnel. Honestly, this is giving major 'missing the forest for the trees' vibes.
Dinesh Narayanan, Soumya Gupta, and Adarsh Singh also contributed to today's edition.
If you enjoy reading us, why not give us a follow at @thesignaldotco on Twitter and Instagram.
The Market Signal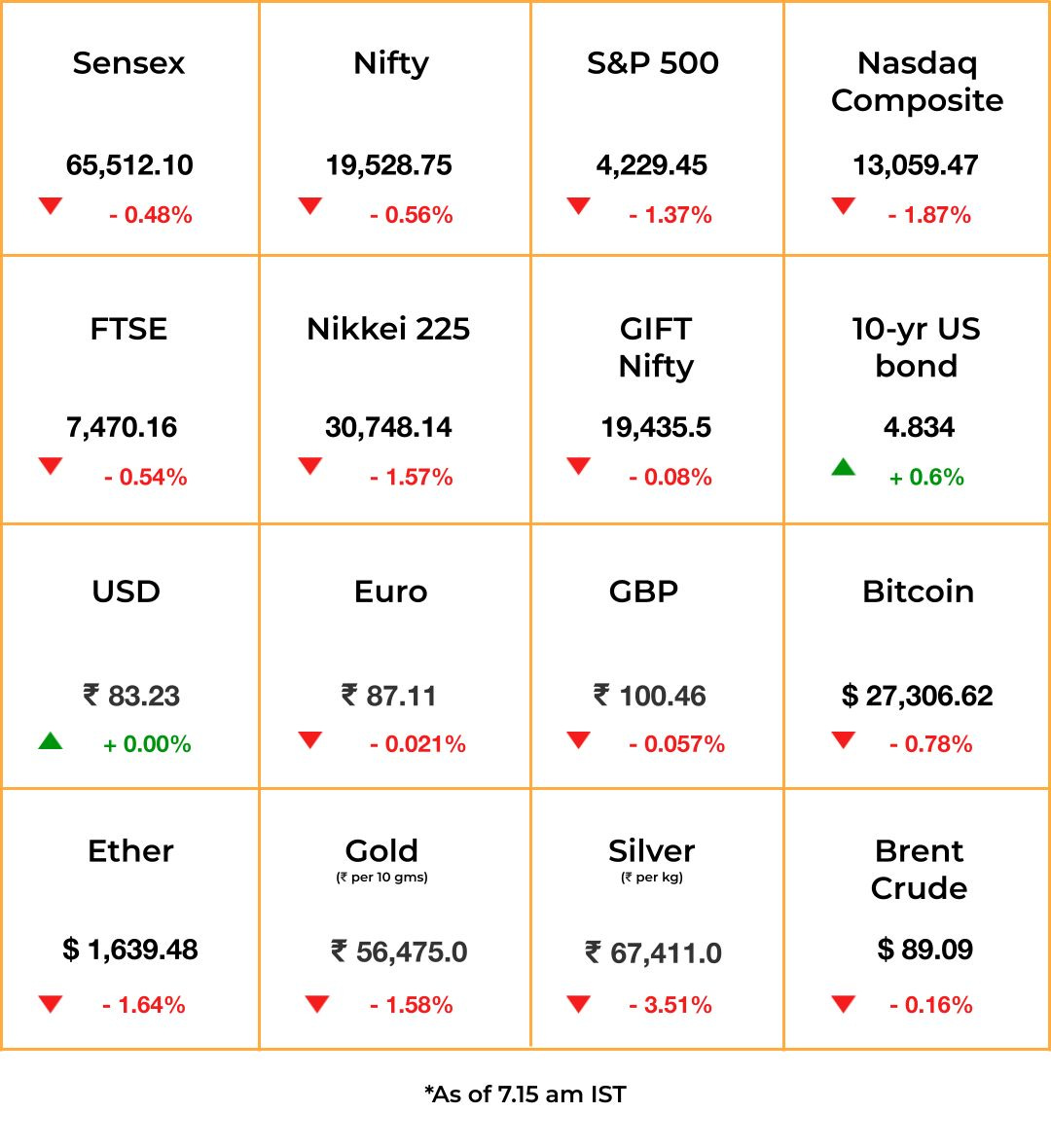 Stocks & Economy: Kevin McCarthy's ouster as House speaker, a first in the US' history, raises the spectre of a dogged fight across the aisle over funding the government when the temporary deal worked out by McCarthy expires in about 40 days.
Asian equities, except in Shanghai, opened sharply lower. Indian investors are facing chilly economic winds. The GIFT Nifty indicates a similar trend for Indian shares.
Although the World Bank has retained its earlier FY24 growth forecast for India at 6.3%, that offers little solace as it raised the inflation projection for the year from 5.2% to 5.9%. Uncertain harvests due to weak monsoon in certain regions and rising oil prices are a worry even as the Indian government urged producers to pump more to tamp prices.
Indian benchmarks remained in the red throughout Tuesday although investors were buying mid cap and small cap shares.
CONGLOMERATE
Split Wide Open
It is difficult to specify the use of a brand that has grown organically for more than a century and is stamped on products as diverse as locks, shampoo, fertilisers, and industrial boilers. But that's exactly the task the Godrej family has set lawyers and investment bankers hired to untangle and divide the eponymous industrial group's ownership among its members.
They also have to value about 3,400 acres of land, including a 1,000-acre swathe in Mumbai alone, that the group owns.
The sprawling conglomerate is currently segmented under two branches of the family. Adi Godrej and his brother Nadir lead Godrej Industries and Associates, while their cousins Jamshyd Godrej and Smita Godrej Crishna manage the unlisted Godrej & Boyce Manufacturing Company.
Family patriarch and chairperson Adi Godrej, 81, is retired from the day-to-day running of the group.
E-COMMERCE
Dunzo's Emptying Cart
In July, we had written about the cash-strapped quick-commerce startup's struggles with the headline "Is Dunzo Done For?" The answer is now clear, with The Morning Context and The Economic Times reporting that a majority of its board has abandoned ship.
This includes co-founders Dalvir Suri and Mukund Jha, and two top executives from largest shareholder Reliance Retail. Such an exodus could either mean they "don't want to be implicated in something that the company has done" or "there is serious doubt on the solvency of the company," a VC investor told TMC.
Try, try again: As the festive season kicks in, Flipkart is making another attempt to challenge Amazon Prime. For ₹499 ($6) a year, Flipkart VIP will offer free same-day/next-day deliveries and fast-tracked returns. It'll be more widespread than Flipkart's existing loyalty programmes called Plus and Plus Premium. Amazon Prime, which costs ₹1,499 ($18) per year, also offers other services like video and music streaming.
SOCIAL MEDIA
Different Means, Same End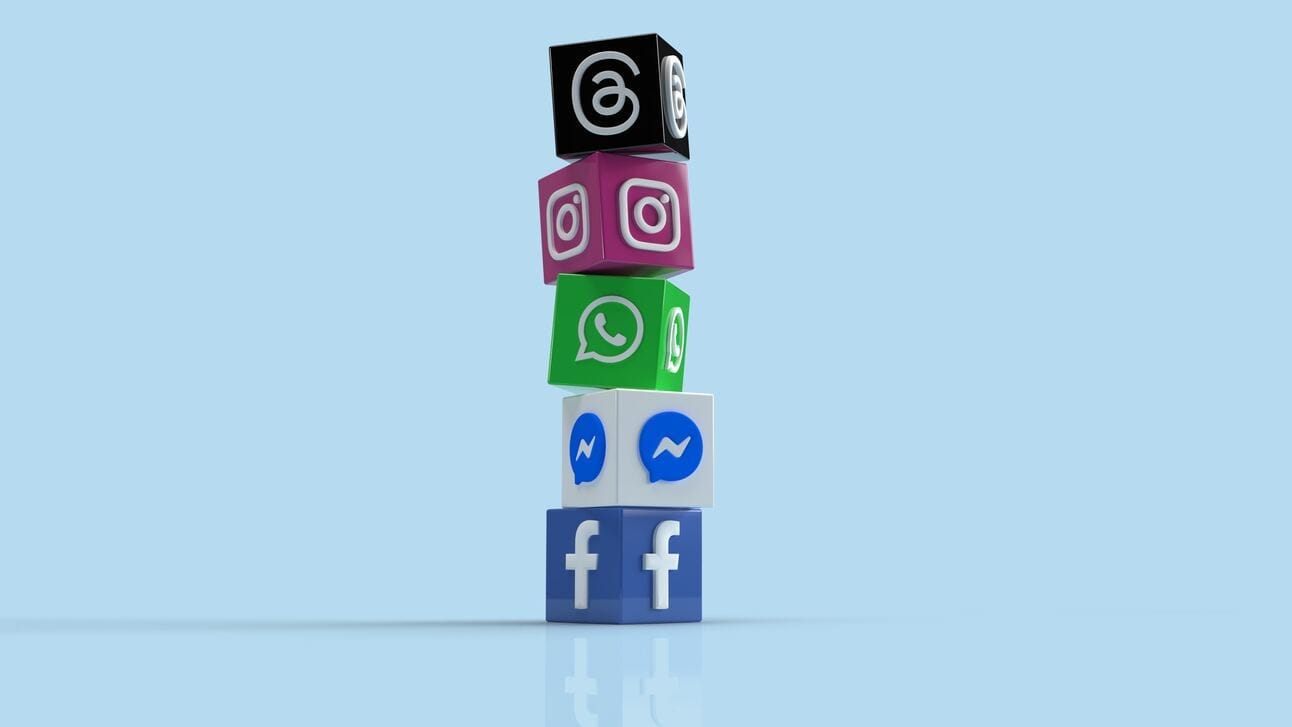 Photo credit: Bastian Riccardi/Unsplash
When news first broke about Meta considering paid versions of Facebook and Instagram in the EU—in light of the bloc's sweeping regulations on personalised ads—it was unknown what European users would be charged for subscriptions. The Wall Street Journal now has the deets. Meta wants to charge ~$14 (for Instagram on phone) and ~$17 (for Facebook plus Instagram on desktop) a month for ad-free versions of the platforms.
As we'd noted, this is a huge shift for a company whose free services became a template for ad-fuelled social media.
The Signal
As headwinds ranging from regulatory scrutiny to declining engagement increase in frequency, social media platforms are throwing everything at the wall to see what sticks. X, struggling to retain both advertisers and creators, is giving live shopping a second chance. Live shopping champ (in Asia anyway) TikTok, too, is piloting ad-free monthly subscriptions as revenue growth slows. Shortform video services are accommodating longer videos, and vice versa.
Meta has gone from being a force to reckon with to a company that's keeping up with the Joneses. This reflects in everything it's tried in a bid to increase margins: digital payments, the metaverse, an unsuccessful Twitter/X clone in Threads, and now, AI chatbots.
It's doubtful whether European users, especially Gen Z and younger, will sign up for Meta's ad-free services in droves. Kids simply don't identify with it. The company's willingness to change things up for Threads also seems like an uphill climb: creators still think it's radioactive.
🎧 Would you pay for ad-free Instagram and Facebook? Also in today's episode: Momos are a hit in China, but not in the way you think. Listen to The Signal Daily on Spotify, Apple Podcasts, Amazon Music, Google Podcasts, or wherever you get your podcasts.
GEOPOLITICS
That Escalated Quickly
India has asked Canada to recall 41 diplomats by October 10, the Financial Times (FT) reports. The development comes weeks after external affairs ministry spokesperson Arindam Bagchi claimed that Canada—which has more envoys in New Delhi than India has in Ottawa—interferes in India's internal affairs. Bagchi had called for "parity and rank equivalence in our mutual diplomatic presence".
FT also claims India "urged" Canada to drop its inquiry into the shooting of Sikh separatist Hardeep Singh Nijjar, and that Ottawa is limiting what information it shares about the murder with New Delhi, lest the investigation be compromised.
The move will further strain already-tenuous bilateral ties, which are now pitting diaspora Gujaratis against diaspora Punjabis. Canada has the largest Sikh population outside India, and the community is a crucial voter base for PM Justin Trudeau's Liberal Party. Trudeau, standing for re-election in 2025, is contending with tanking approval ratings.
ENTERTAINMENT
From Messi to Mad Max?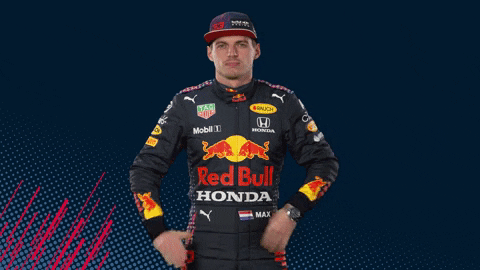 Apple is considering a wild bid of up to $2 billion a year to acquire the global streaming rights of Formula 1, according to a report in the BusinessF1 magazine. That's 2x of what the Formula 1 Group currently makes from global TV rights.
The tech giant's sports streaming ambitions have been buoyed by the incredible start to its $2.5 billion, 10-year exclusive deal with Major League Soccer (MLS), powered by Lionel Messi. While F1's current broadcast rights contracts run for up to five years, Apple could start acquiring the rights on a pro-rated basis until it gets 100% exclusivity. The company has previously suggested it's not interested in acquiring non-exclusive sports rights.
Attention, freeloaders: Disney+ will start cracking down on password-sharing from November, along with launching ad-supported plans à la Netflix.
And: Netflix is likely to appeal against the ₹196 crore ($23.5 million) demand raised by India's income tax department over alleged tax evasion.
FYI
Want more: The International Holding Company of Abu Dhabi has raised its stake in the Adani Group to over 5%.
Rift, Oculus: Reuters reports that Meta is planning to lay off employees in the custom silicon unit of its metaverse division, Reality Labs.
Aftershocks: Tremors were felt in Delhi-NCR and Uttarakhand after four earthquakes—the largest so far measuring 6.2 on the Richter scale—rocked Nepal on Tuesday afternoon.
Getting the Point: American pharma giant Eli Lilly & Co. is acquiring cancer therapy developer Point Biopharma Global for $1.4 billion.
News raiders: The Delhi Police raided homes of seven journalists and contributors to the news website NewsClick, detaining some and confiscating their electronics. The police are investigating allegations that the news portal received funds from China.
Rake it in: After splitting his metals conglomerate into six companies, Vedanta chairman Anil Agarwal said he will sell his steel business by next year and use the proceeds to pay down debt.
Refocus: Edtech firm UpGrad's managing director Mayank Kumar is stepping down as head of the India Edtech Consortium to focus on his current job. IEC is an industry body dealing with consumer complaints.
THE DAILY DIGIT
1.6 billion
The number of people using virtual private networks or VPNs to mask their digital location. The global market for VPNs stood at ~$45 billion in 2022, up 80% from 2019. (Nikkei Asia)
FWIW
The Queen's here: After filling football stadiums across the US, Taylor Swift is busy visiting some more. The popstar was in attendance at the Kansas City Chiefs vs. New York Jets game, cheering on her rumoured Lover, Travis Kelce. It appears that all eyes were on the New Romantics as the match garnered 27 million viewers—the most for a Sunday game since Super Bowl LVII. Notably, it attracted two million more female viewers than usual, a phenomenon attributed to Swift's presence. While the NFL and its broadcaster, NBC, savour the Afterglow of this viewership surge, sceptics point to declining viewership among Gen Z. Their message? You Need to Calm Down.
Hallelujah: After years of disappointing both customers and hosts, Airbnb is trying to get its house in order. The company is addressing its backlog of complaints on a war footing. The checklist contains transparent and low pricing, quality control of enlisted properties using AI (because, why not?), and good customer support. But addressing these issues won't be enough as it faces other challenges like regulatory scrutiny in New York and a rising competitor in Vrbo. Will Airbnb succeed in securing its bread n butter? We'll find out.
To be or not to be: That's what Loro Piana is mulling over. The de-facto couturier for the ultra-rich is experiencing an existential dilemma. Traditionally celebrated for its understated and subtle designs, the brand is shifting towards incorporating logos, influencer marketing, and NFTs (yes, those still exist). This strategic move aims to 'expose' the brand beyond its typical audience of tech-bros and financiers. However, this shift has left its devoted clientele feeling uneasy, as increased recognition threatens to diminish its exclusive allure. Seems like a Catch-22 situation.