Discover more from The Signal
The Signal is a daily curated newsletter that helps you understand the latest developments in business, tech, finance, economy, and policy with sharp analysis and crisp insights thats fun to read arriving at 8AM daily in your inbox.
Over 81,000 subscribers
Walking on gourmet eggshells
Also in today's edition: Pennies for gold; Conundrum in coal country; Hollywood strikes a balance; Life is ebbing out of Evergrande
Good morning! There's a new king in town. Jamtara, the infamous town in Jharkhand, is no longer the numero uno in Indian cybercrimes. In a study published by the Future Crime Research Foundation, Bharatpur (Rajasthan) and Mathura (Uttar Pradesh) have emerged as the new epicentres. Oh, and the change is not just restricted to scenery. Criminals have upgraded their standard operating procedure too, with AI and VPN tools helping them scale up their operations. Netflix… the ball's in your court now.
The Signal is now on Telegram! We've launched a group — The Signal Forum — where we share what we're reading and listening through the day. Join us to be a part of the conversation!
🎧 We bring you the lowdown on the Humans of Bombay-People of India fiasco. Also in today's episode: An abrupt exodus of pilots could hurt Indian aviation ambitions. Listen to The Signal Daily on Spotify, Apple Podcasts, Amazon Music, Google Podcasts, or wherever you get your podcasts.
Today's edition also features pieces by Dinesh Narayanan, Adarsh Singh Jangpangi, Julie Koshy Sam, and Jaideep Vaidya.
If you enjoy reading us, why not give us a follow at @thesignaldotco on Twitter Instagram and Threads.
The Market Signal*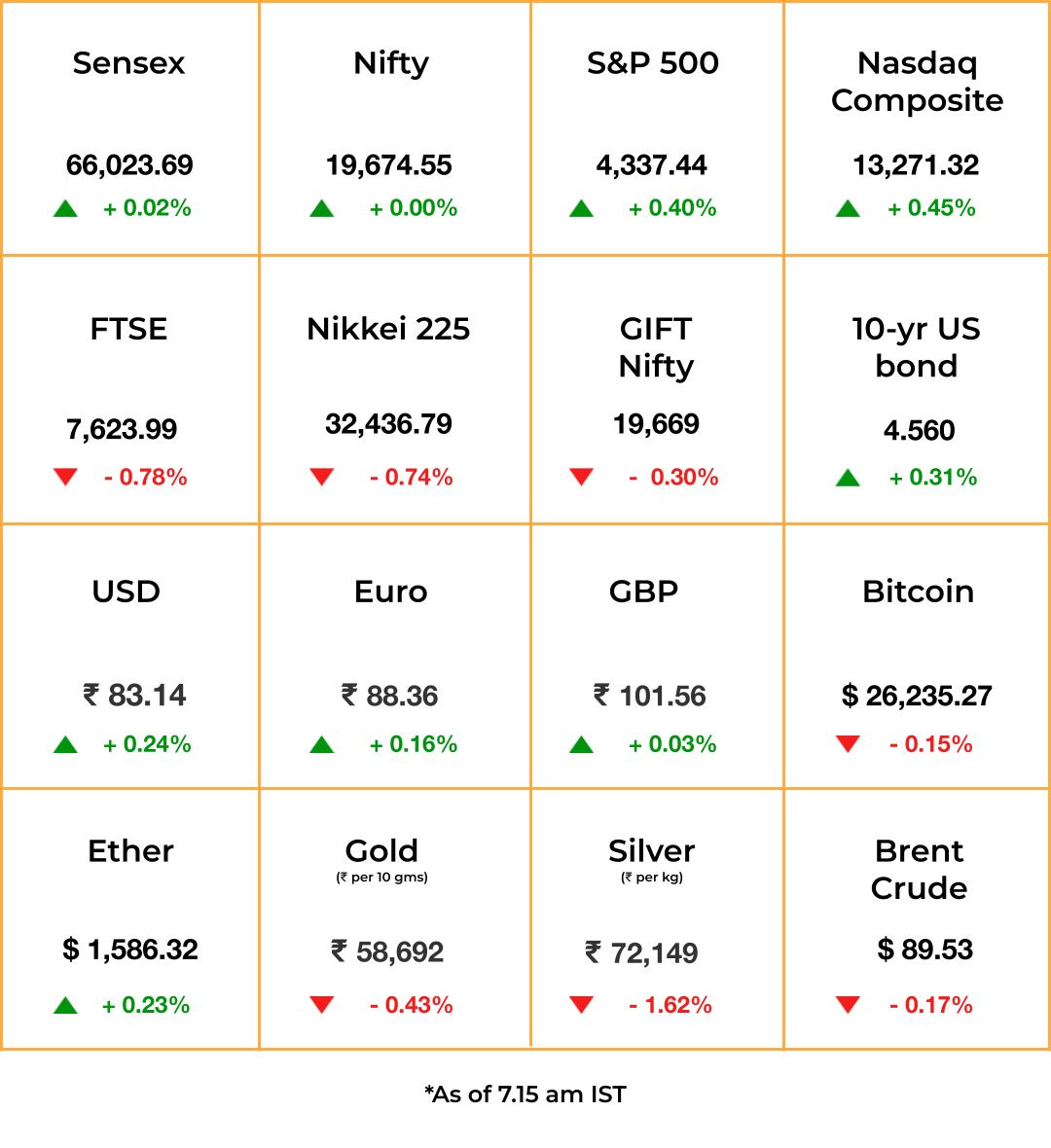 Stocks & Economy: If Indian equities were to follow Asia, benchmark indices are likely to begin the day in subdued form. Asian markets without exception were in the red in morning trade. The GIFT Nifty too indicated a weak opening for Indian shares although domestic institutional buying could prop them up later in the day.
US stocks were up on Monday after a leaden last week. Rising bond yields and the expectation that they will stay high longer are pushing investors away from stocks.
Meanwhile, the threat of a federal government shutdown, at least a partial one, if the congress does not keep funds flowing could be a new worry for markets. It could delay economic data releases as hundreds of staff will be furloughed. Rating agency Moody's has said that it could cost the US its AAA rating.
COMMODITIES
A Golden Run For EMIs
Household debt in India is at a five-year high, but you couldn't tell by the way people are clamouring for gold jewellery. This clamour, however, is enabled by the same easy financing that's fuelling consumption for everything else.
Details: The World Gold Council estimates that India's gold consumption in 2023 will fall by 10% year-on-year. Blame high prices: gold touched ₹60,000 (~$722) per 10 g this March and is still out of the reach of many. Despite that, jewellery retailers, from Tanishq and Reliance to regional players, are seeing surges in "monthly deposits", or EMIs for gold purchases. April-June enrolments for Tanishq's Golden Harvest scheme increased by 50% compared to the same period last year.
Bonkers bullion prices have much to do with China going on a gold binge to diversify from the US dollar. Its purchases are skewing the relationship between the precious metal and fiat currency.
ENERGY
Your Place Or Mine?
What does a green transition look like for the state that has India's largest coal reserves? A self-defeating exercise, whichever way you look at it.
To elaborate: Odisha is increasing the share of renewables in its power mix. But the shift poses an "existential threat". About 25 million livelihoods depend on coal, whose royalties account for 12% of state revenues. Clean energy projects also struggle with limited storage: unlike coal plants running 24x7, wind and solar storage require prohibitively expensive battery technology.
As a result, coal production in Angul, Odisha's mining hub, may triple by 2033 to meet growing energy demand.
In other news: European developers wary of China are calling for the diversification of solar supply chains. And Vietnam is doing all it can to tap its rare earths deposits—the world's second-largest—to challenge China's monopoly in a sector critical to EVs, smartphones, and clean energy.
RETAIL
Not Another Fancy Food Store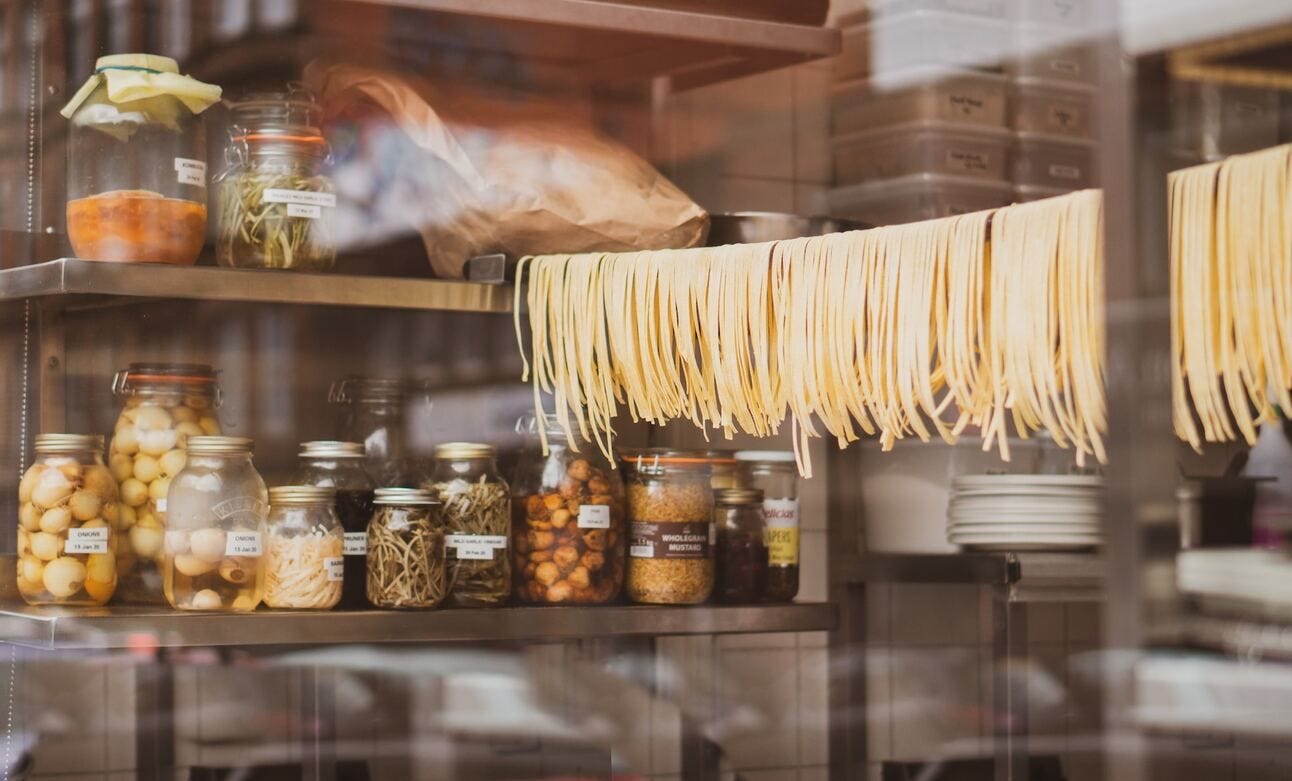 Photo by Eilis Garvey on Unsplash
Mumbai's Linking Road, among India's most expensive shopping districts, has a shiny new occupant. Gourmet grocery store Food Square is opening where retail king Kishore Biyani's Foodhall once stood. Food Square will pay ₹1 crore (~$120,000) in monthly rent to actor Salman Khan.
Tough sell: Older gourmet rivals like Foodhall and Nature's Basket have struggled to scale up and make profits. The Godrej Group sold Nature's Basket to Spencer's Retail in 2019 for a paltry sum; it only operationally broke even in 2021. Foodhall often faced complaints, including allegations of selling expired gourmet goods. New owner Reliance has replaced it with its chain called Freshpik.
The Signal
Supermarkets in India have largely struggled to make money. Small kirana shops still make up 88% of the grocery market, even though local supermarkets and cut-price chains like D-Mart, Big Bazaar (now closed), and Namdhari's have been around for decades.
Supermarket chains struggle with high inventory costs and very low margins. So, to make profits, they must sell in high volumes to Indians who still prefer kiranas. Some, like Delhi-based Modern Bazaar, have thrived by also stocking basic supplies and opening smaller stores. Gourmet supermarkets serve even fewer (rich) customers who can easily buy these supplies online or abroad.
To avoid Foodhall's fate, Food Square will need to aggressively woo Mumbai's rich and keep costs—such as rent—on a tight leash.
ENTERTAINMENT
Beginning Of The End
Nearly five months after Hollywood was disrupted by a labour strike, the end is nigh. Screenwriters, studios, and streaming companies have reached a tentative three-year deal that still needs to be ratified by members.
Unlike the 2007-08 strike that lasted three months, the 11,500 members of the writers' guild managed to stay united for 146 days this time. They've negotiated increased payouts and bonuses, a minimum number of writers per show, and protections against artificial intelligence. However, as Bloomberg's Lucas Shaw notes, this could be a "Pyrrhic victory for writers" as it would further increase the cost of making shows and lead to a drop in production.
Now, all eyes will be on the actors' union. If both strikes are called off, part of the 2023-24 season could still be salvaged. The twin strikes have already led to a $5 billion hit to the Hollywood economy, per one estimate.
ECONOMY
Evergrande Is Barely Breathing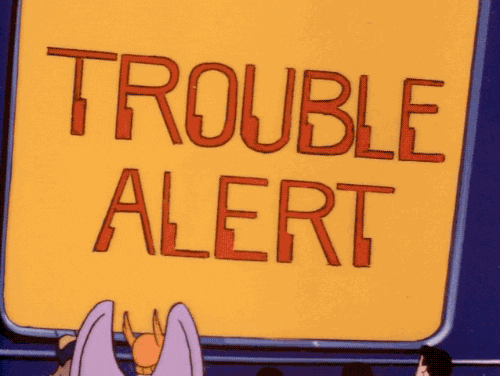 Beleaguered Chinese property developer Evergrande is inching closer to its end after cancelling creditor meetings, with no viable restructuring plan in sight.
If it is unable to put together a plan by October 30, a Hong Kong court could order the company, the world's most indebted real-estate developer with $327 billion in dues, to wind up. Such a denouement could leave a hole in the world's second-largest economy that could take years to fill. To see it from another perspective, China is letting Evergrande suffer punishment meted out by market forces for business and governance failures.
Evergrande is unable to sell enough homes to make a restructuring plan work. The economic crisis in the country is now so acute that it is taking developers 20 months to sell one house—in some small cities, up to 50 months.
FYI
Take it easy: India will ease its gadget import curbs and now ask laptop and tablet makers such as Apple, HP, and Dell to merely register rather than obtain an import licence from November 1.
Intelligent investment: Amazon is pumping $4 billion into Anthropic, an artificial intelligence firm founded by former OpenAI executives, to beef up its cloud business. Incidentally, Google also invested $400 million in Anthropic.
Not so fast, neighbour: India may competitively lower basmati rice's minimum export price after Pakistan pegged its floor at ₹1,050 per tonne.
Do not cross: China has barred Charles Wang Zhonghe, Japanese bank Nomura's investment banking chief in Hong Kong, from leaving the mainland. The ban is reportedly linked to the investigation into tech dealmaker Bao Fan.
Norms in the forge: Edtech firm BYJU'S financial shenanigans appear to have triggered the government, which is reportedly designing a new regulatory framework for large unlisted companies.
Ad bonanza: Walmart-backed fintech firm PhonePe will spend ₹150 crore (~$18 million) on television advertisements on Disney's Star Sports during the cricket world cup, which starts next month.
🥇🥇🥇: The Indian women's cricket team beat Sri Lanka by 19 runs to win gold at the Asian Games. The 10-metre air rifle team of Rudrankksh Balasaheb Patil, Aishwary Pratap Singh Tomar and Divyansh Singh Panwar won the first gold for India.
THE DAILY DIGIT
₹63,807 crore
Or ~$7.6 billion. The amount that 3,972 listed Indian companies spent on legal matters, including regulatory compliance and legal fees, in FY23. It was 21% more than the previous year. (The Economic Times) 
FWIW
Betwixt and between: Companies have long struggled to walk the talk on sustainability. Joining that list is Lego, the world's largest maker of choking hazards toys. Two years ago, the toymaker announced it had tested a prototype brick made from recycled plastic bottles. But research over time found that this new material has a higher carbon footprint than its current oil-based ABS plastic bricks. The company has now decided to le-go (sorry) of the new material. It will instead focus on further reducing the current material's carbon footprint. Recycling is also on the cards for the Danish giant. Kind of a bummer, really. But hey, full marks for honesty.
For the win: The chatbot that won people over with its ability to code games and write fortune cookie messages is now acing the trash-talking competition. People are increasingly using ChatGPT for fantasy football, including using it for heckling purposes. According to descriptions shared on social media by fantasy football fans, views range anywhere from a "stunning display of draft ineptitude" to creating a plan so weak that the projected points "might as well be measured in unicorn farts." New York City entrepreneur James Estime was so impressed with the heckling that he's now counting on ChatGPT to spew trash talk. We guess the bots won the round.
The heat is on: If this isn't terrifying, we don't know what is. Antarctica witnessed its most intense heat wave in March 2022, according to a study published in the peer-reviewed journal Geophysical Research Letters. Eastern Antarctica recorded temperatures that were 39°C above normal in that month. The temperature in the region reached -15°C during this heat wave, instead of the expected -54°C. Researchers have pinned it down to an anomalous air circulation pattern near Australia, but the climate crisis did play a role in triggering the situation. By the end of the century, the team predicts that heat waves could grow warmer by another 5-6°C.