Discover more from The Signal
The Signal is a daily curated newsletter that helps you understand the latest developments in business, tech, finance, economy, and policy with sharp analysis and crisp insights thats fun to read arriving at 8AM daily in your inbox.
Over 81,000 subscribers
RIP passwords?
Good morning! Fresh out of college and looking to set up shop? Don't worry, Nikhil Kamath has your back. The Zerodha co-founder has come up with the details for his WTFFund that he announced on his YouTube podcast. The fund will back entrepreneurs aged up to 22, Kamath said in a LinkedIn post. There's a catch, though. Your startup has to be in the home, fashion, beauty, or lifestyle sectors. On the plus side, you'll be mentored by the likes of Kishore Biyani, Ananth Narayanan, Raj Shamani, and Kamath himself. Sounds like a sweet deal.
Dinesh Narayanan, Roshni Nair, and Adarsh Singh also contributed to today's edition.
If you enjoy reading us, why not give us a follow at @thesignaldotco on Twitter and Instagram.
The Signal is on Telegram! Join The Signal Forum, where we share what we're reading and listening through the day. Be a part of the conversation!
---
The Market Signal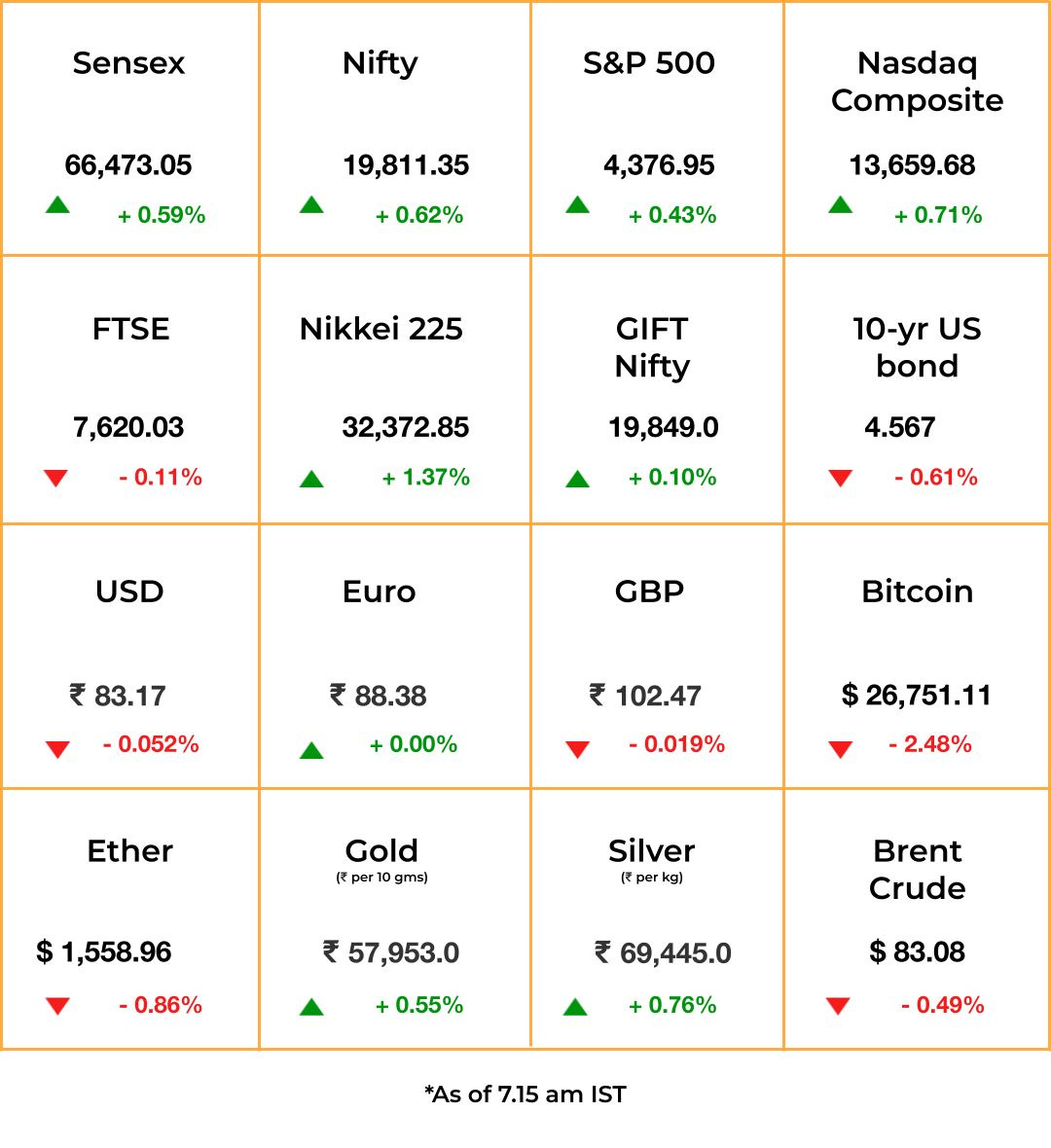 Stocks & Economy: Asian stocks rose in early trade taking cues from the US markets, which were propped up by a series of comments by Federal Reserve officials suggesting interest rates have likely peaked. The US dollar fell against most currencies. Oil prices eased too.
Shares of German footwear maker Birkenstock plunged more than 12%, which, according to Bloomberg, is the worst debut performance in two years by any US novice worth more than $1 billion.
IT bellwether TCS kicked off India's earnings season after markets closed on Wednesday, reporting a near 9% rise in net profit and ~8% hike in revenues in the second quarter of FY24. It also announced a ₹17,000 crore ($2 billion) share buyback that is likely to prop up its stock price, hiding analysts' disappointment.
Early GIFT Nifty movement points to an upbeat start for Indian equities, which will be consistent with the global mood.
---
TECH
Goodbye Passwords, Hello Passkeys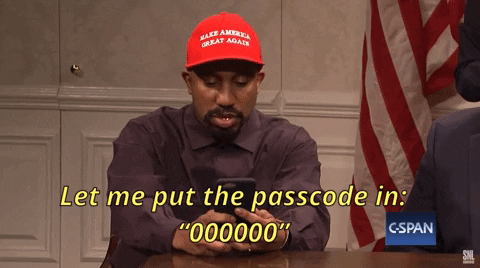 You can finally say goodbye to "123456" or "password". Google has started prompting users to make passkeys, its new password-less login technology that uses biometrics or a screen-lock PIN, the default log-in method. Google says passkeys are 40% faster than passwords and more secure.
Speaking of Google, it reportedly pays Apple $18 billion-$20 billion a year to be the dominant search engine on the iPhone. This deal could be in jeopardy as Google battles a civil antitrust suit in the US.
The (Buy) Everything (Again) Store: Amazon is testing a new feature on its app that encourages users to make repeat purchases, reports The Wall Street Journal. The "Buy Again" button could get more prominent real estate and move to the app's home page.
Fake news: The EU has publicly warned Elon Musk for failing to tackle "illegal content" and "disinformation" on X (formerly Twitter) about the Israel-Hamas war.
---
A MESSAGE FROM OUR PARTNER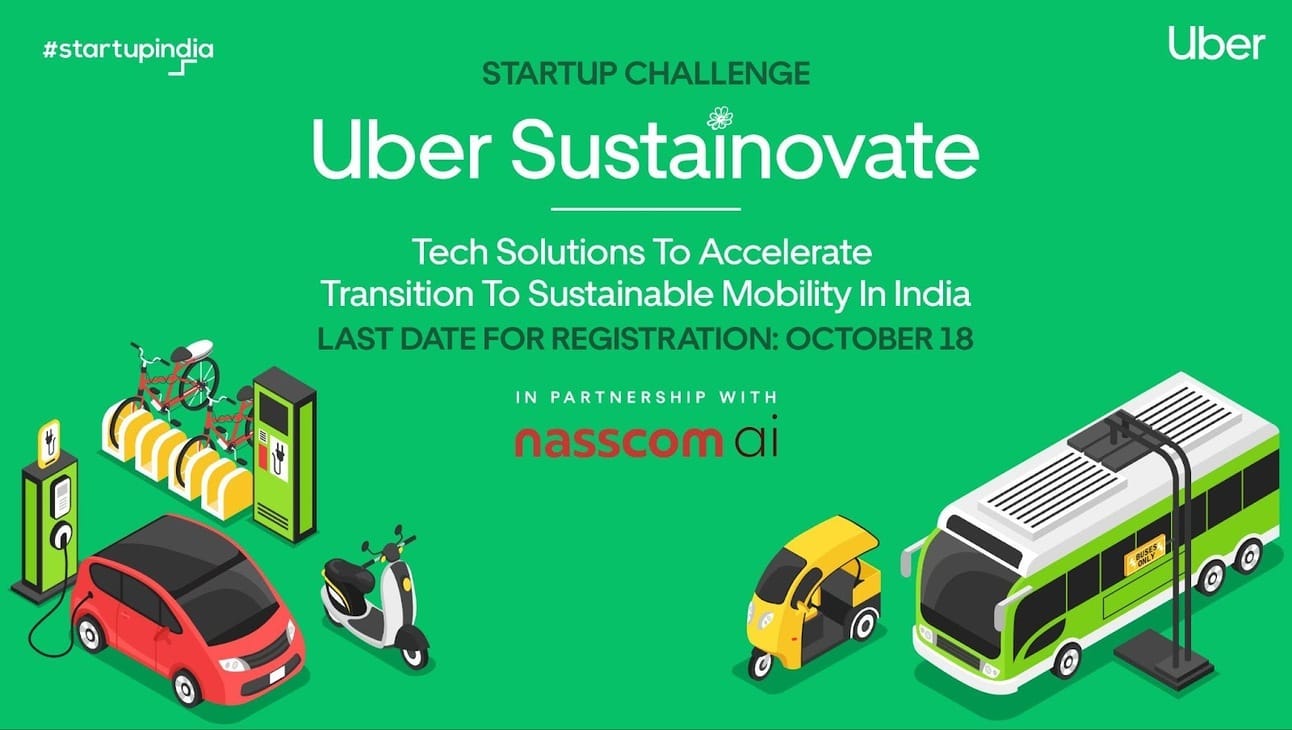 If brainstorming business ideas while watching Shark Tank is your idea of fun, we have the perfect gift for you. Uber is looking for innovative solutions for sustainable mobility.
As the leading ride-sharing company worldwide, Uber is continuously looking for ways to reduce emissions. We've set a bold target of achieving net-zero emissions by 2040. Now, you have the chance to play a pivotal role in this momentous journey by participating in our Sustainovate challenge.
The winning entry will be awarded a grant of $120,000 (~₹1 crore).
So, what are you waiting for? Act now and register before the opportunity slips away!
---
PHARMACEUTICALS
Joke Writes Itself
The Indian Pharmacopoeia Commission (IPC)—an autonomous body under the health ministry that sets drug standards—has become a member of the Pharmacopoeial Discussion Group (PDG). The PDG, which has representatives from Japan, the US, and the EU, harmonises global pharmacopeial standards.
What should I do with this information?: Realise that India will now help set global drug quality standards. This is critical because drug efficacy and safety make or break public health. Harmonisation also eases manufacturer burden and reduces trade barriers.
Good then. Why the acerbic headline?: IPC's inclusion in the PDG makes sense only if you consider that India is the world's largest provider of generic drugs, not its history of regulatory oversight. Most recently, tainted cough syrups manufactured by three Indian companies have been linked to the deaths of 141 children across Gambia, Uzbekistan, and Cameroon. One of those companies, Marion Biotech, has already resumed most production.
---
CONSUMER
E-I-E-I-O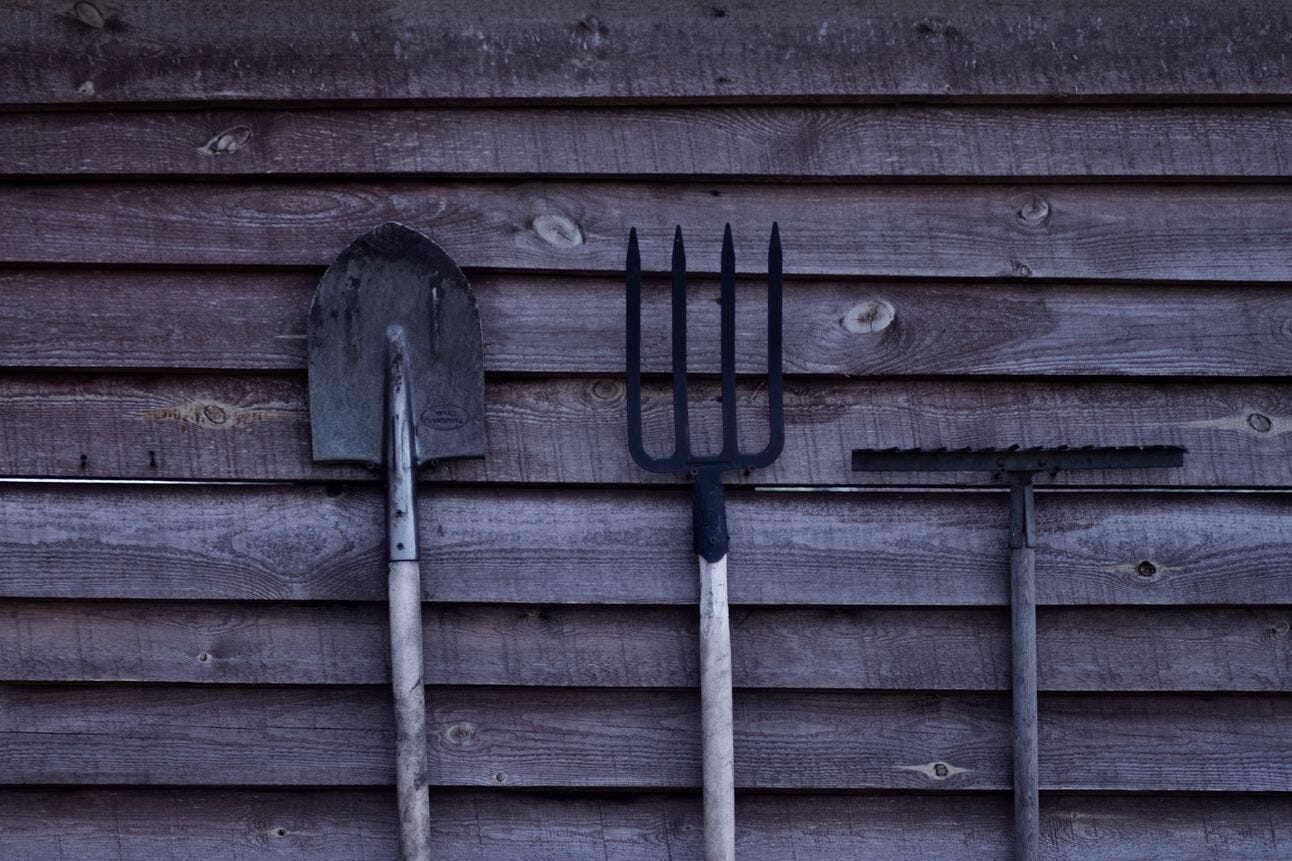 Photo credit: Nastya Kvokka/Unsplash
Old MacDonald had a farm, and on his farm there was brisk business. Small farmers cooperative Sahyadri Farms reported a ₹1,000 crore ($120 million) turnover for FY23, remarkable in an economy with near-perennial farm distress.
It took the company more than a decade to hit this milestone. More than half of its revenue came from selling fresh produce, such as grapes and tomatoes.
Digging gold: Further up the value chain, companies are struggling. Social commerce startup DealShare pivoted from being a discount online grocer. It laid off people, cut back on areas served, and is now opening small kirana-like stores in small towns, hoping to replicate the success of cut-price supermarket chain D-Mart.
Hawking marketplaces: DealShare also abandoned its attempt to supply groceries to kirana stores. But rival Ninjacart has found success in this B2B business. Most of its >₹1,200 crore ($140 million) revenue for FY23 came from connecting farmers with retailers and wholesalers. It now aims to double its revenue by the next fiscal year.
The Signal

Fixing the many broken links in Indian agriculture can help a business make a windfall. Sahyadri Farms' example shows that the farmers' co-operative, with technology such as food processing—first made successful by Amul—is still a viable way to do business.

Meanwhile, well-funded startups are realising it isn't easy to make money in farm produce by merely using e-commerce models. Many inevitably pivot to adopt the traditional, offline business models of the industry they had set out to disrupt.
---
INSTITUTIONS
Fencing For Finance
It is perhaps fitting that the future of the World Bank (officially known as the International Bank for Reconstruction and Development) and the International Monetary Fund (IMF) is being thrashed out in earthquake-hit Marrakesh, Morocco. It is to Africa and Asia that the world's premier multilateral lenders will need to funnel resources to combat poverty, strife, and climate change.
The first step is making the bank bigger, according to new World Bank chief Ajay Banga.
Money power: The key question is who will fund the Global South: an increasingly-assertive China on its own, or the IMF and the World Bank backed by the US, which has a disproportionate influence in these institutions because of its higher voting power. For countries such as India, it is a no-brainer. The September G20 meeting in Delhi estimated that developing nations will need ~$34 trillion by 2030 to tackle climate change alone.
---
GEOPOLITICS
Merlion's Quandary
Singapore, probably the closest to a libertarian free market ideal that we know of, is caught in the middle of a superpower tug of war. The city-state is a major base for oil traders, some of whom source Russian oil, which is often carried on dark oil tankers through Singapore's waters, for China. Not something the US is happy about.
The financial hub, which ranks as the fifth least corrupt country, also took a knock to its image after unearthing what could be the world's largest money-laundering operation, involving several international banks and family offices of wealthy Chinese nationals.
The international financial centre, where few questions are asked of businesses and billionaires, now plans to tighten easy regulations governing family offices and private trusts. That could be a blow to several Indian families, for whom the country is a favourite destination to stash assets.
🎧 Singapore's goody-goody image takes a beating. Also in today's episode: Hacktivists find a new cause in the Israel-Hamas war. Listen to The Signal Daily on Spotify, Apple Podcasts, Amazon Music, Google Podcasts, or wherever you get your podcasts.
---
FYI
Steel to air: Billionaire steelmaker Naveen Jindal is reportedly bidding to take over the Wadia Group-founded, debt-ridden airline Go First through his privately held company Jindal Power.
White knight: Manipal Group chief Ranjan Pai may invest $250 million-$300 million in test-prep firm Aakash Institute, which is caught in a messed up ownership transfer between its founders and acquirer BYJU'S.
Headless: In a blow to beleaguered delivery startup Dunzo, which has delayed salaries and missed payments, its chief of finance Sudarshan N has quit after a brief stint of one year.
Oil's well that ends well: American oil giant ExxonMobil will buy national rival Pioneer Natural Resources for $59.5 billion, in what is its largest acquisition since 1999 and the largest corporate takeover yet in 2023.
Still under the scanner: Reuters reports that Sebi is investigating ties between the Adani Group and British Virgin Islands-registered fund Gulf Asia Trade & Investment for possible violations of share ownership rules.
Sneak attack: Google, Amazon, and Cloudflare reported that they weathered the internet's largest denial of service attack yet; the trio has warned that the new observed technique could "easily cause widespread disruption".
All kosher: The US may lift sanctions on Israeli billionaire Dan Gertler to help him strike mining deals with Saudi Arabia to gain access to critical minerals required for EVs. It had sanctioned Gertler six years ago for alleged corrupt deals in Congo.
---
THE DAILY DIGIT
100
The number of mining jobs that will be lost daily until 2035 due to a shift away from coal. China and India will be the worst hit. (Bloomberg)
---
FWIW
Da Vinci Code: The scientific community's fascination with the Mona Lisa continues. A group of researchers unveiled a breakthrough by identifying plumbonacrite as the base layer of the renowned painting. Plumbonacrite is a byproduct of lead oxide, and its discovery in the painting confirms a long-held hypothesis of the art world. This revelation offers a unique glimpse into the Mona Lisa's creation, taking us closer to its 'recipe'. What we will do with it once we get the answer is a question no one seems to be asking.
Football fever: The last non-footballing nation in the world is finally giving in. Marshall Islands, long known for its association with nuclear tests, is looking to establish a football team. The country aims to get recognised by Fifa soon and then start playing in regional competitions and Olympic qualifiers. But that is easier said than done. The islands are set to lose most of their land by 2050 due to the rise in sea levels. Not sure prioritising football over an existential threat is the right strategy here, but hey, whatever floats their boat.
Zombieland: Virologists are considering reviving ancient zombie viruses from the Siberian permafrost. Why? To study the possibility of them escaping and infecting humanity. This is part of WHO's 'Disease X' initiative, which addresses the risk of dangerous pathogens spreading due to global warming. Notably, virology's power couple and pioneers in the field, Jean-Michel Claverie and Chantal Abergel, have expressed concern about this idea. Maybe a mandatory screening of The Last Of Us would drive some sense into these people.
Correction: This edition has been updated to attribute Reuters, not Moneycontrol, for the news break about Sebi's probe into the Adani Group. We regret the error.
---