Discover more from The Signal
The Signal is a daily curated newsletter that helps you understand the latest developments in business, tech, finance, economy, and policy with sharp analysis and crisp insights thats fun to read arriving at 8AM daily in your inbox.
Over 81,000 subscribers
Degrees of discontent
Also in today's edition: Zilingo's in the news again; How much is enough for Reliance Retail?; Tesla overtakes Audi; Health-tech companies' beef with Apple
Good morning! This is the day Timothy Leary, godfather of the '60s psychedelic movement, would've lived for. The Washington Post reports that OpenAI chief and general AI flagbearer Sam Altman also chairs a startup that wants to revolutionise addiction and mental health treatment with psychedelics. The startup, Journey Colab, is partnering with "luxury rehab" All Points North for late-stage clinical trials on psilocybin (magic mushrooms) and MDMA (ecstasy). It's the latest in a slew of ventures bullish on researching or commercialising hallucinogenic treatments after the US Drug Enforcement Administration gave some candidates "breakthrough status" for potential drug development. The American regulatory and insurance landscapes are still the pits, though. Will something manifest in our lifetime?
🎧 Brazilian influencers are doling out tips on how to mine gold illegally on Tiktok. Also in today's edition: India is dominating the fantasy sports market. Listen to The Signal Daily on Spotify, Apple Podcasts, Amazon Music, Google Podcasts, or wherever you get your podcasts.
Today's edition also features pieces by Dinesh Naraynan, Roshni P. Nair, Venkat Ananth, Srijonee Bhattacharjee, and Julie Koshy Sam.
If you enjoy reading us, why not give us a follow at @thesignaldotco on Twitter and Instagram.
The Market Signal*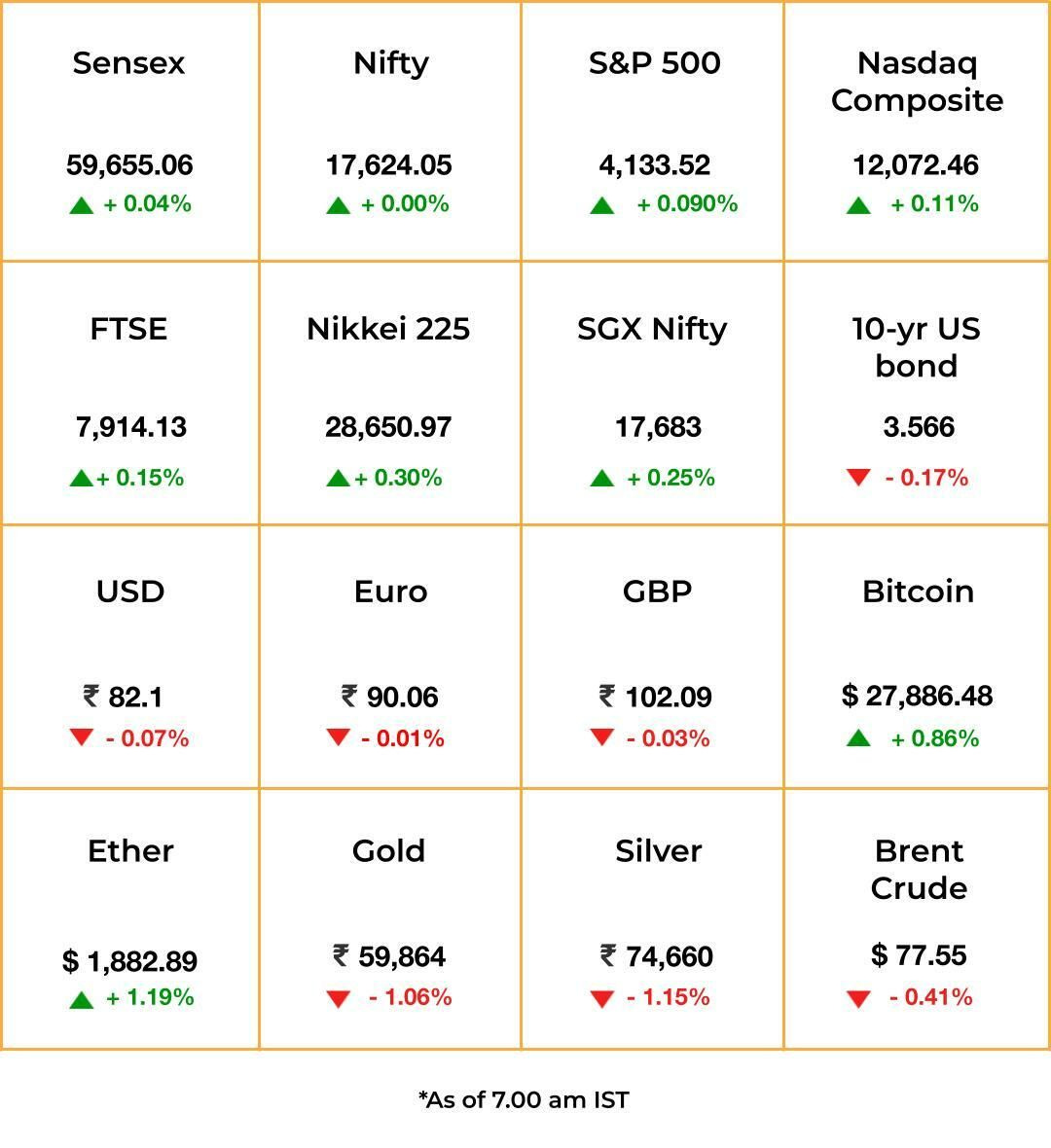 Stocks & economy: Indian equities may gain ground today after ICICI Bank and Reliance Industries reported robust earnings over the weekend.
SGX Nifty is pointing to a perky open for Nifty.
European shares were inspired by signs of gradual economic recovery. US indices scraped some gains before a week packed with corporate earnings.
Cheer over heartening economic data faded quickly as it also implied elevated prices which in turn would mean higher interest rates for longer. Yields on US bonds rose. While central banks across view inflation as the biggest threat, US data this week may underline the persistence of prices in the economy.
After the recent churn, analysts believe, Indian share valuations had turned attractive. After gold's spectacular rally, silver is taking the upward route.
HIGHER EDUCATION
Indians Continue Chasing American Dream
There are now almost as many Indians taking the United States' Graduate Record Examination (GRE) as Americans. The number of Indians taking the test for admission to postgraduate courses in STEM (science, technology, engineering, and maths) increased from 56,782 in 2012-2013 to 114,647 in 2021-2022, reported The Indian Express.
Interestingly, the number of Americans taking the test dropped from 337,782 to 1,24,151 during this period. American universities are increasingly reconsidering the role of such tests in assessing prospective students. Studies have found that the GRE, which costs $220 to take, is biased against people based on their socioeconomic backgrounds.
This doesn't seem to have affected Indians, though, who continue to chase the American dream despite local institutes such as IIT Bombay and IIT Delhi being ranked in the world's top 50 engineering institutions in the QS World University rankings 2023.
STARTUPS
No End To Zilingo Drama
Ankiti Bose—ousted cofounder-CEO of the Singapore-based B2B fashion platform that tailspinned into liquidation after alleged financial mismanagement—has filed a ~$100 million lawsuit against entrepreneur and investor Mahesh Murthy for defaming her in a column.
About that mismanagement: That Zilingo, under Bose's stewardship, reportedly signed off on millions of dollars to vendors without executive approval isn't unknown. But Inc42 cites "dozens of sources" to reveal granular details. These include payments of over $9 million in 2020-2021 to Algo Legal—the same law firm with which Zilingo investor Sequoia had a tussle with—in exchange for services from legal tech firm OneDelta and fintech company EbixCash. Some contracts were backdated. This, and other questionable payments, were allegedly processed by Zilingo's finance team on Bose's insistence.
The report also claims that Sequoia wasn't the only investor that wanted Bose out; Sofina, Koru Investments, Burda Principal Investments, and Temasek also "backed the decision".
RETAIL
Big Bang Year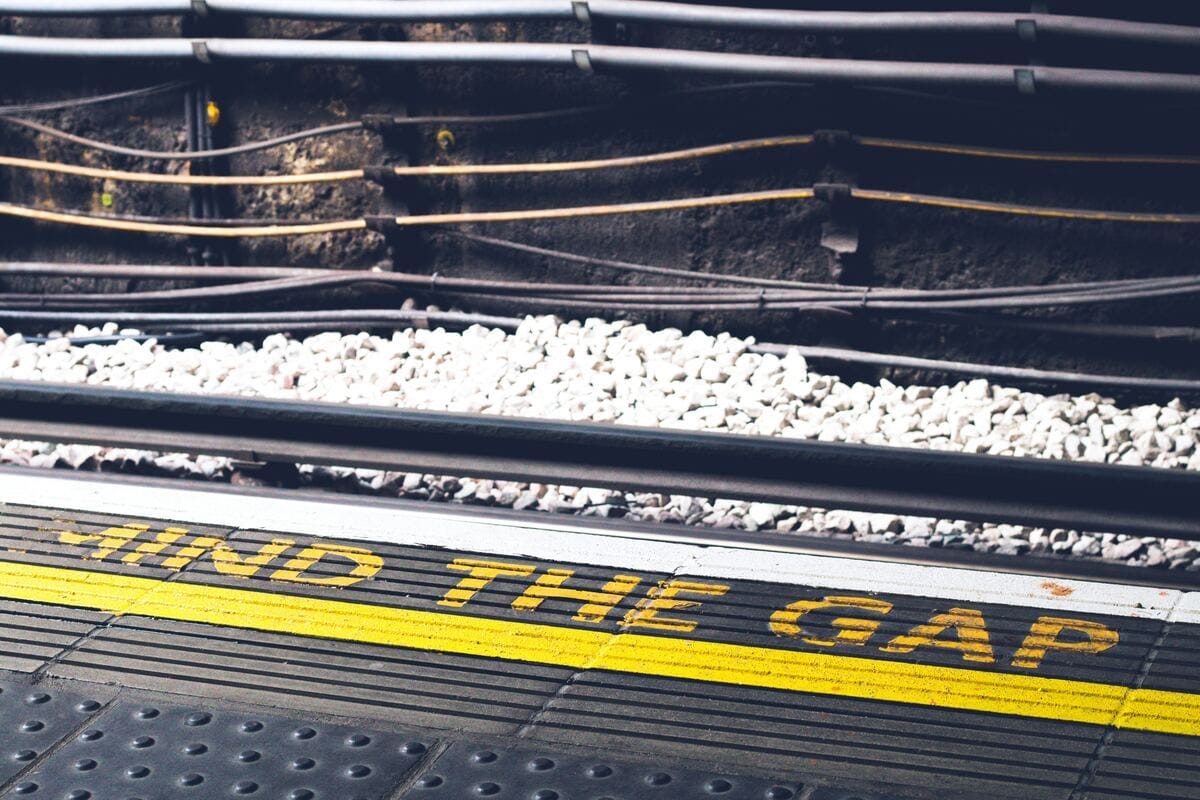 Suad Kamardeen/Unsplash.com
Last Friday, Reliance Industries' retail arm reported impressive numbers. Gross revenue for the year ended March 2023 was up 30% on a massive base, up to ₹2.6 lakh crore (~$31.74 billion), while profit after tax also rose 30% to ₹9,181 crore. Earlier, the electronics business used to drive Reliance Retail's growth. But this time, it has come from the grocery (at record revenue) and fashion and lifestyle businesses, as per Reliance's investor presentation (pdf).
Bingeing: Reliance Retail is also acquiring new FMCG and retail brands at a scorching pace. It opened the first Indian outlet of British sandwich chain Pret A Manger in Mumbai and is bringing another British cafe, EL&N, there. Also, it acquired two more regional brands: Raskik and Toffeeman. And it has set up a JV with toy manufacturer Circle E Retail to support its own toys business.
The Signal
Reliance's retail business is now its second-largest by revenue, nearly 50% of the size of its mainstay oil-to-chemicals business. And in organised retail, it is now growing furiously in every direction, from grocery and fashion to hospitality and FMCG. Much of it is coming from smartly-priced acquisitions and franchise partnerships.
For other organised retailers such as the Tatas, the gap between Reliance and the second-largest is going to be difficult to bridge. Most aren't operating in so many segments, and they are not growing nearly as fast.
AUTO
Tesla Earnings & Twitter Learnings
Tesla beat Audi. Globally. The electric vehicle upstart sold 422,875 cars from January to March, pipping the German premium vehicle maker, which sold 415,700 cars in the same period.
Objects in the mirror…: Research firm Schmidt Automotive, which spotted Tesla nosing ahead, says it's clipping the heels of Mercedes and BMW.
…are closer than they seem: At Twitter, Musk put on show his flippity-floppity management style and, in the process, bestowed business schools with a valuable case study on how to destroy a company. Will he do that to Tesla?
Wrong gear shift: He has said he would ditch margins for market share.
S.L. Kanthan

@Kanthan2030
Xpeng G6 is the new Chinese EV model that might present a serious challenge for Tesla Model Y. Some key features:
🔹755 km of driving range with a full charge
🔹10 minutes of charging the battery = 300 km of driving!
🔹480 horsepower
🔹Meets the highest safety standards in… twitter.com/i/web/status/1…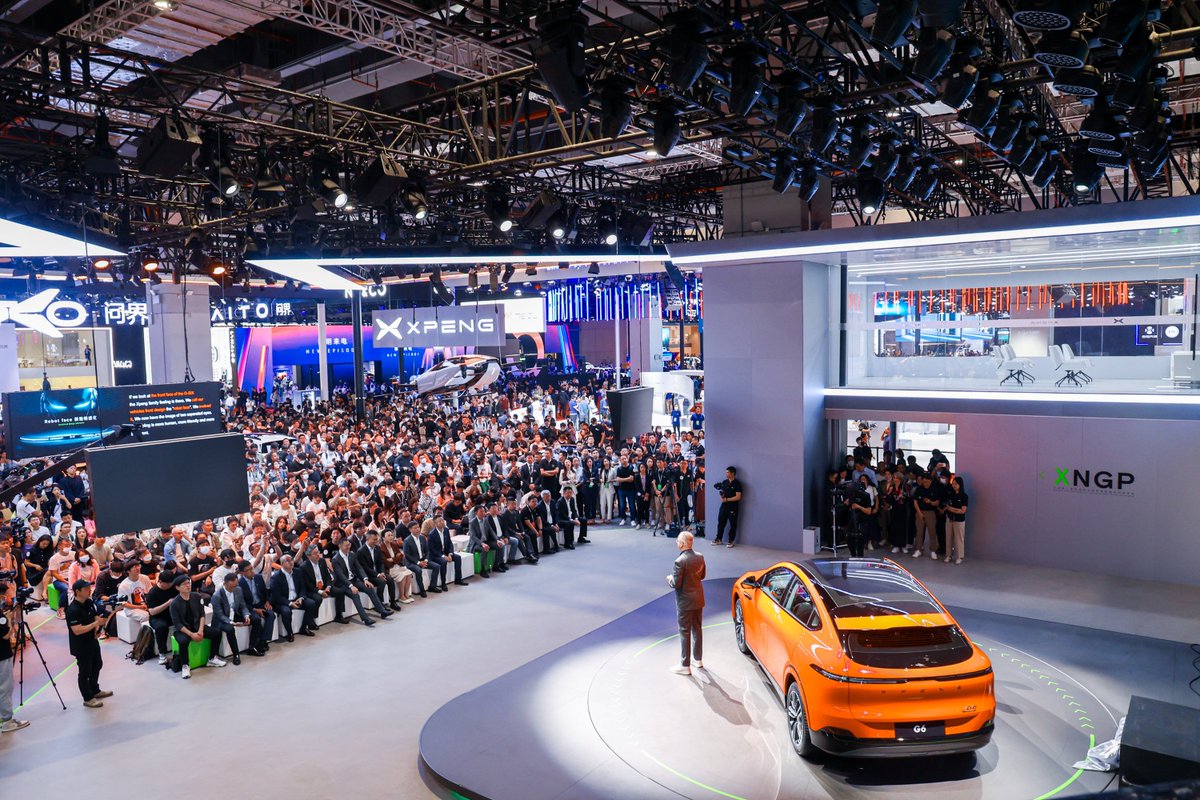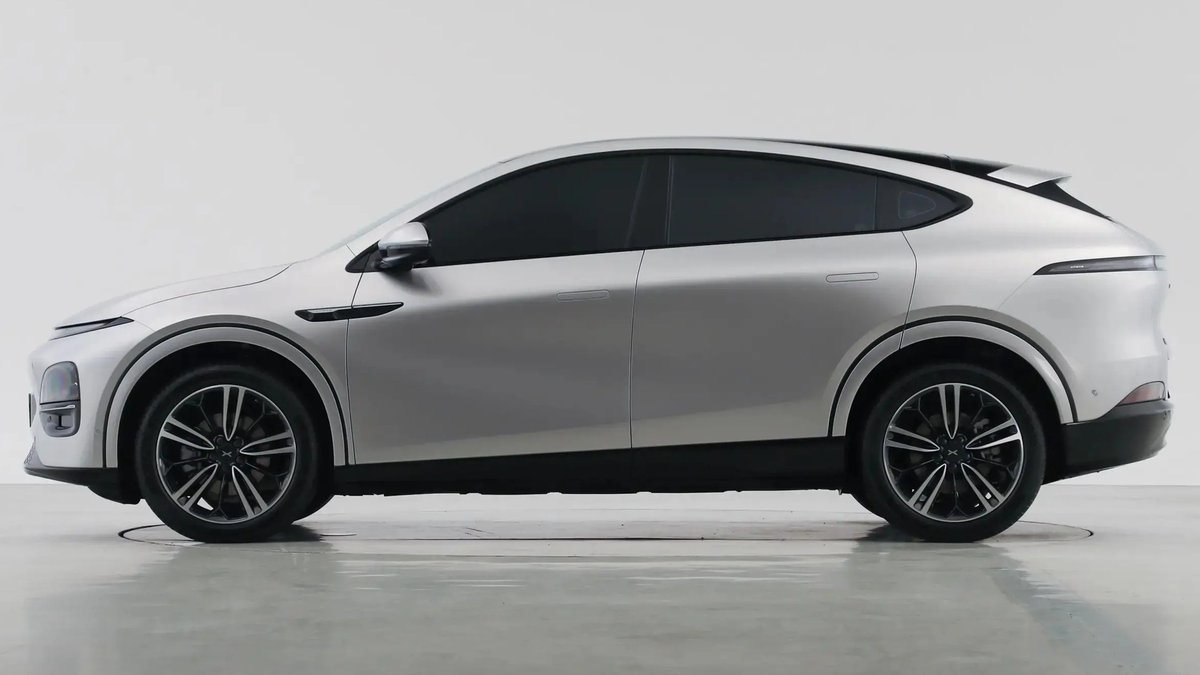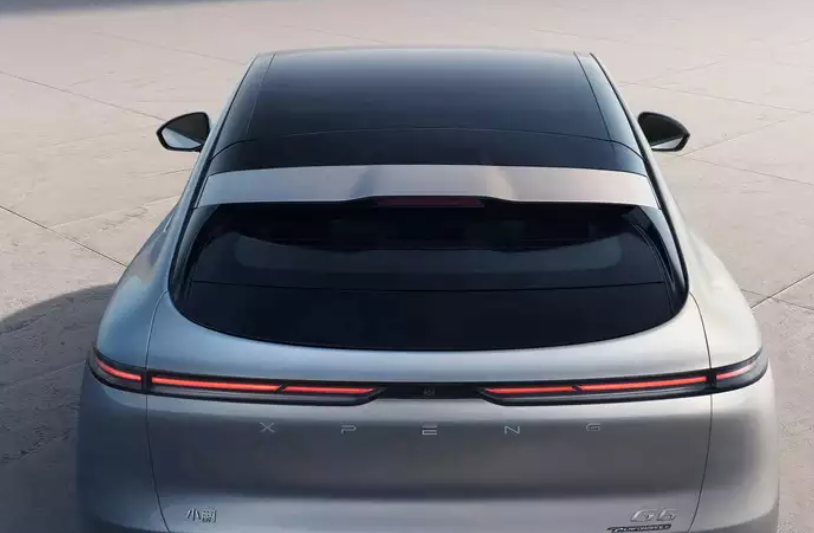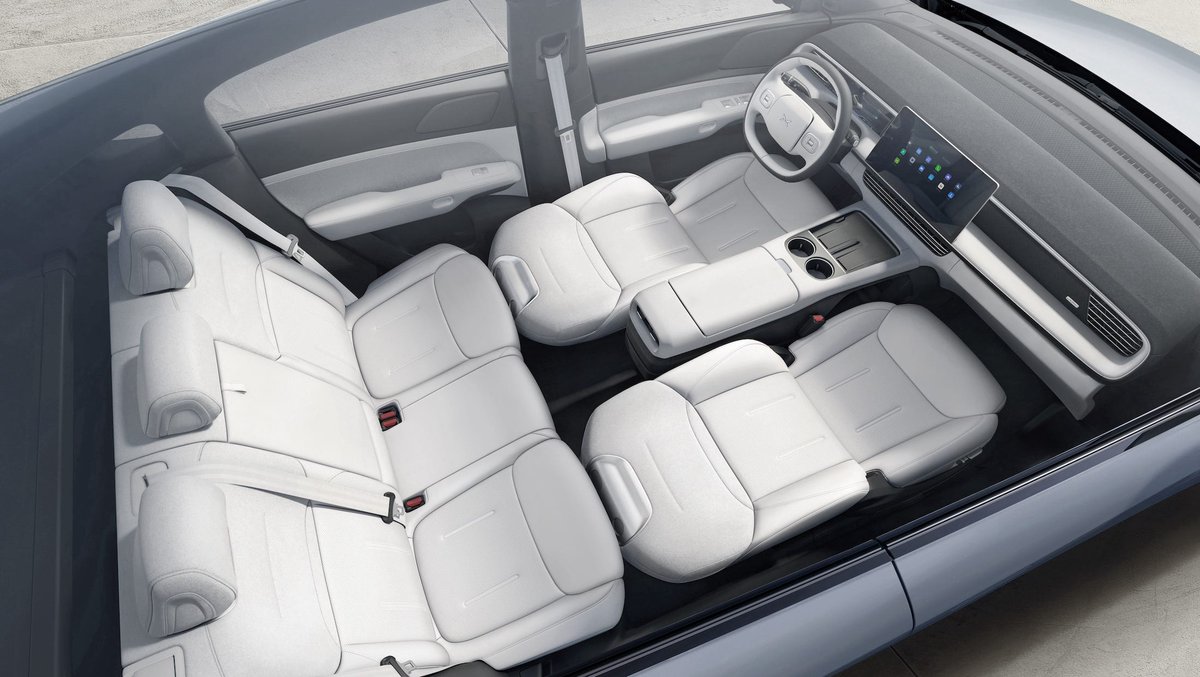 Apr 23, 2023
1.26K Likes   272 Retweets   59 Replies
While Chinese BYD is revving up with a range of vehicles to play the volume as well as luxury games, others such as the XPeng G6 are looming in the rearview mirror.
TECHNOLOGY
Apple's Unhealthy Playbook
Apple's fintech and healthcare bets are seemingly headed in different directions. While Apple's banking ambitions are growing by the day, its healthcare foray is dotted with allegations of copycatting and cannibalising the intellectual property of smaller companies.
"Kiss of death": The Wall Street Journal reports that Apple courts patent-holding companies to integrate their proprietary tech in products such as the Apple Watch, only to ghost them before launching its own version. Health-tech companies Masimo, AliveCor, and ValenCell have all filed patent infringement lawsuits.
Aside: Apple is prepping a journaling app focused on mental health.
"Glacial": Apple's long game with financial services is driving banks such as JP Morgan Chase and credit card companies into panic mode. Why? Apple's access to data and faster adoption of its services by its customers could boost its banking ambitions, which could turn into a high-margin business.
FYI
Whoa!: Alphabet CEO Sundar Pichai's compensation rose to $226 million in 2022, courtesy a stock reward of $218 million. Pichai's pay raise comes on the back of Google laying off 12,000 employees in January. Google will also press pause on its mega San Jose campus.
Pink slips: Ride-hailing company Lyft will trim its headcount by 30% or 1,200 people in a bid to reduce costs. Auditing firm Deloitte will also cut around 1,200 jobs in the US due to a slump in M&A activity.
Opening up: Sri Lanka's proposed divestment of state-run businesses is likely to attract interest from India's corporate sector. The steps to attract foreign direct investment are part of the country's recovery and fiscal consolidation efforts in line with the IMF bailout.
Succession: Uday Kotak, CEO of Kotak Mahindra Bank, will take up a non-executive role in the company after he steps down this year. He will also become a non-independent director in the lender's board.
Pause button: The Adani Group will delay its acquisition of airline maintenance, repair, and overhaul company Air Works after a major shareholder in the latter went into liquidation.
Smoking hot!: ITC, one of India's largest diversified business conglomerates, has surpassed HDFC Bank to become India's seventh most valued company by market capitalisation.
THE DAILY DIGIT
$15 billion
Or 2 trillion yen. The estimated loss that the Japanese entertainment industry—manga, anime, and video games—suffered due to online piracy in 2021. (The Mainichi)
FWIW
Clickbait: AI can possibly give you clicks (and generate outrage), but it can't save your job. The editor of German magazine Die Aktuelle was shown the door for publishing the so-called exclusive interview with F1 legend Michael Schumacher. The fake interview, created using AI chatbot Character.ai, drew widespread criticism and prompted Schumacher's family to take legal action. Publications such as CNET and wire services like Bloomberg, Dow Jones, Associated Press, and Reuters have all used automation to some degree—limited to stocks and earnings breaks, though. AI regulation can't come soon enough; god knows the world doesn't need more concocted news when we're already buried in it.
No selfies, please: Portofino, a coastal town in Italy, wants tourists to move along without taking a selfie. The city will now fine travellers up to $300 for waiting in popular hotspots for "too long" in an effort to ease traffic jams and blocked streets. Italy is not new to taking a stance against tourists. Sitting on Rome's famous Spanish Steps can cost tourists $280 in fines. Venice banned large cruise ships in 2021 and even introduced entrance fees last year to prevent over-tourism. The decision to keep tourists away from Portofino comes at the time when Italy just dropped an AI-generated tourism campaign featuring Italian artist Sandro Botticelli's Venus. Pick a lane.
For a toss?: We don't mean to be killjoys on a Monday morning, but climate change could threaten India's most-loved sport. Cricket is feeling the heat as a dastardly heat wave sweeps over Asia. Test matches, typically played over four-five days, could be affected. The T20 format isn't immune, either. Ice baths, urine sampling, and even personalised hydration drinks (based on how much each player sweats) have become de rigueur during the ongoing IPL. We wonder if Rahul Dravid would've been able to hang onto the pitch and earn his moniker of 'The Wall' in such blistering heat (set to get worse in the future, btw).