Discover more from The Signal
The Signal is a daily curated newsletter that helps you understand the latest developments in business, tech, finance, economy, and policy with sharp analysis and crisp insights thats fun to read arriving at 8AM daily in your inbox.
Over 81,000 subscribers
Chaos at IIM-C
Also in today's edition: Spotify's shots in the dark; Huawei is Kirin it; Cubicle chronicles; Mine over matter
Good morning. The revelation arrived quietly in official G20 dinner invitations, which were from the President of Bharat and not the President of India, as was custom. It exploded on social media after Congress Party leader Jairam Ramesh tweeted a photo of the invite with a comment suggesting that the government plans to rename India to Bharat. To be sure, Article 1 of the Constitution begins thus: "India, that is Bharat, shall be a union of states." There is nothing unofficial about it. So, what's in a name that's already official? Scuttlebutt has it that the special session of Parliament scheduled for September 18-22 may witness a resolution dropping India entirely from that sentence. The agenda of the session is still secret, you see. If that happens, will that mean we will have a Reserve Bank of Bharat, Bharatiya Premier League, Supreme Court of… you get the drift.
The Signal is on Telegram! We've launched a group — The Signal Forum — where we share what we're reading and listening through the day. Join us to be a part of the conversation!
🎧 Invasive alien species are costing the world at least $423 billion every year. Also in today's episode: China is racing ahead in the semiconductor race. Listen to The Signal Daily on Spotify, Apple Podcasts, Amazon Music, Google Podcasts, or wherever you get your podcasts.
Today's edition also features pieces by Roshni Nair and Jaideep Vaidya.
If you enjoy reading us, why not give us a follow at @thesignaldotco on Twitter and Instagram.
The Market Signal*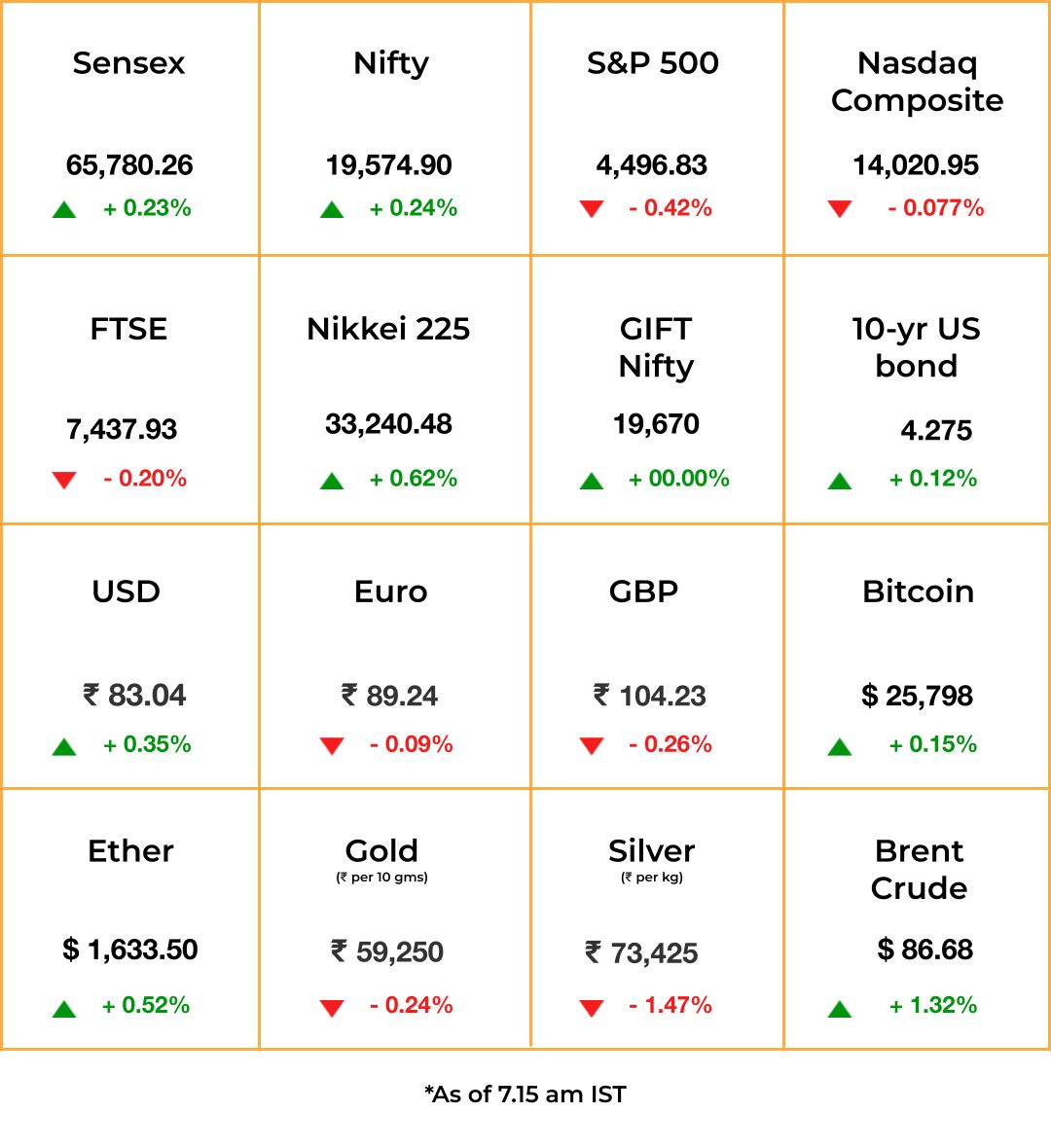 Stocks & Economy: Not only political parties, investors in India too appear to have hit election mode. While broking firm Morgan Stanely is batting for "continuity and majority", Jeffries says there is a 70% chance of the current dispensation returning to power. Morgan Stanley warns that equities will lose 40% market value if the outcome is unfavourable. No guesses about what the firm is hinting at.
Markets regulator Sebi has, meanwhile, said that India will move to instantaneous trade settlement. As a first step it will shift to hourly settlement soon.
Asian stocks showed a mixed trend as oil prices shot up. Brent crude topped $90 per barrel. Subdued US equities too played on investors' minds. Japan has warned it will intervene in the forex market to defend the yen against speculators after the currency fell to a 10-month low.
Indian equities are likely to follow the trend and stay subdued.
ENTERTAINMENT
Turn Off The Mic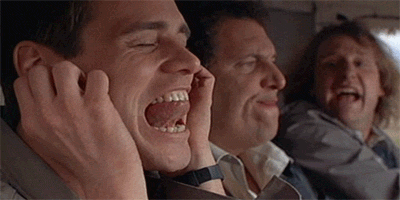 Nobody's listening. Spotify's billion-dollar bet on celebrity-led podcasts hasn't paid off, The Wall Street Journal reports. Most of its shows aren't profitable. This June, Meghan Markle and Prince Harry ended their podcast deal with Spotify, while the Obamas moved theirs to Amazon's Audible last year.
Where's the money?: Spotify is now ditching celebrities for "strong creators" who built their name with this medium. This June, Spotify laid off 200 employees from the podcasting division and merged two studios it acquired earlier—Parcast and Gimlet.
Spotify's podcasts make money from ads rather than subscriptions, but the company can't decide whether to keep shows exclusive or distribute them to a larger audience. Ad inventory on its most popular podcasts like Science Vs. also doesn't sell much, WSJ reported.
Go local: In India, rival Audible is balancing expensive celebrity-led releases with audio adaptations of local language pulp fiction and romance, The Impression reported.
SEMICONDUCTORS
Huawei's Nano Breakthrough
Last month, we learnt about how China is circumventing US sanctions—from a recruitment programme heaping lavish rewards on those who recommend chip talent, to Huawei building a secret fabrication network. So it doesn't come as a surprise to see such efforts paying off, at least in the short term.
What are you talking about?: Huawei's Mate 60 Pro. It has a Kirin 9000s chip using 7nm (nanometer) technology, manufactured by China's largest chipmaker, SMIC. This is believed to be a significant (and worrying) breakthrough for the US, whose sanctions aimed to block Chinese access to chips 14nm and below. The smaller the number, the more advanced the chip.
But: There's only so far China can go once it exhausts existing stockpiles (and contracts) of prohibited technologies. Analysts argue that even if Chinese chipmakers get to 5nm, they'll trail sector leaders TSMC, Intel, and Samsung "by many years".
GOVERNANCE
Missing Management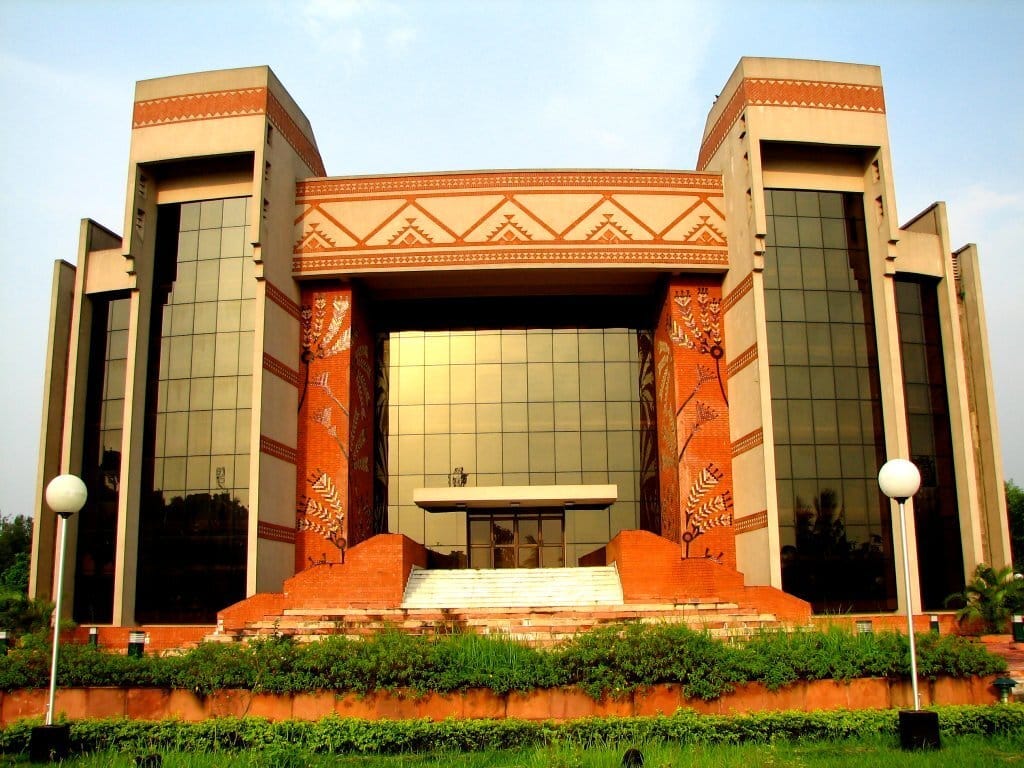 Photo credit: Lakeside Lens Lovers/Wikimedia Commons (CC BY 2.0)
The most difficult to manage are institutions that teach management skills, it seems. Uttam Kumar Sarkar, director of the Indian Institute of Management-Calcutta (IIM-C), has quit, reportedly because of differences with the chairman of the board of governors.
Unyielding chair: Sarkar, who was appointed to lead the country's oldest management institute for five years in August 2021, follows the previous director, Anju Seth, who resigned with a year to spare. Seth, the ​​first woman director to lead IIM-C, left citing "breakdown of confidence" between her and chairman Shrikrishna Kulkarni.
Alternative view: Months before Seth quit, The Ken reported a different version in which she reportedly cut crucial spending for labs, research, and new teachers. New regulations drafted under her watch also sought to increase the director's power and dilute those of the Academic Council.
The Signal
Sarkar's resignation comes at a time when the 20 IIMs in the country are facing a dilution of their autonomy. The Parliament passed The Indian Institutes of Management (Amendment) Bill 2023 last month, which alters the IIM Act of 2017. The new amendment designates the President of India (or shall we say, President of Bharat?) "Visitor" at all IIMs. The Visitor is empowered to nominate the chairpersons of the boards of governors and have a say in the appointment and removal of directors. The Visitor can also order audits and inquiries into the affairs of the institutions, which will be binding on them.
FUTURE OF WORK
Return To Office: Yay Or Nay?
Are you reading this from an office cubicle or on your work desk at home? If you live in Asia, chances are it's the former. Researchers who surveyed over 42,000 people in 34 countries found that remote working today is less prevalent in Asia than it is in North America and Europe.
Why?: Many reasons, including the size of homes (it's hard to be productive in small apartments shared with family members in densely-populated Asian cities), cultural norms, and the fact that Asia did a better job at keeping Covid-19 at bay.
So?: Three-and-a-half years after the pandemic entered our lives, the role of offices is still being debated. As much as $1.3 trillion could be at stake in terms of real estate value in big cities. UK banks are trying to lure employees back to office with flexible policies and, in the case of Lloyds Banking Group, free food.
CLIMATE CHANGE
Castles In The Sky
In 2022, India failed to achieve its renewable energy target—a setback that'd only worsen this year after the country ramped up coal production. The reason: record power demand and generation in the driest August in over a century.
Indonesia too is failing to put its (record) climate deal into action. That plan is the ~$21.5 billion Just Energy Transition Partnerships (JETP). The ramifications—in the run-up to an already-contentious COP28—are serious since Indonesia is the world's largest coal exporter.
Bloomberg reports that the JETP fund, set up by a coalition of mostly western countries and financial institutions, may not meet pre-determined emissions and phase-out targets. One, Indonesia's clean energy transition is powered by captive coal plants. Two, its government policies help keep the fossil fuel cheap. And three, concessional loans within the JETP framework offer little financial incentive in a context where global interest rates are skyrocketing.
FYI
New to the table: Furniture retailer Pepperfry—which raised $23 million from existing investors over the last three months—has appointed co-founder Ashish Shah as CEO, a month after former chief Ambareesh Murthy succumbed to a cardiac arrest.
Bitter truth: Sugar prices in India have risen to a six-year high due to an anticipated decrease in output on the back of a weak monsoon.
Nothing's gonna stop us now: China is launching a ~$41 billion state-backed fund to boost its homegrown chip manufacturing industry, per a Reuters exclusive.
Funding alert: B2B seafood company Captain Fresh has raised $20 million in a Series C round that saw participation by Evolence Capital and Japan-based SBI Investment, among others.
Fast charge: Swiggy is partnering with EV infrastructure services provider SUN Mobility to electrify over 15,000 bikes in its last-mile delivery fleet.
Bank bytes: Reuters reports that British bank Barclays is considering selling a stake in its UK payments unit, estimated to be worth $2.5 billion.
Want more skin in the game: Vodafone Idea will not get any more loans unless they bring in more capital, lenders have told promoters. It jeopardises the telco's network expansion plans.
THE DAILY DIGIT
$2.5 trillion
The record gap in global trade finance—which represents the gulf between import-export financing needs and banks' ability to meet them—in 2022. The figure was $1.7 trillion in 2020. (Asian Development Bank)
FWIW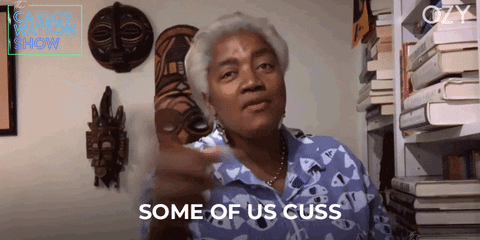 Mind your language: Can you imagine Nawazuddin Siddiqui's Ganesh Gaitonde separated from the immortal line, "G***d mein Brahmaand"? The first season of Sacred Games was replete with such colourfully-expressed life lessons, but Gaitonde and pals spoke less French in the second season, according to a cuss-words study by The Economic Times. In fact, not only Gaitonde, but Kaleen Bhaiyya and others in Mirzapur, as well as characters in Family Man, were sparing with expletives after the first season. Because streamers snuck in through a regulatory loophole—more like an open field really, as they were not governed by regulations applicable to movies and television—the early scripts were liberally peppered with profanities and nudity. But with OTT-savvy subscribers already hooked, platforms are going after a wider audience that may prefer polished protagonists to raw street.
Making hay while the sun scorches: Slowdown? What slowdown? Europe's tourism industry just had its best summer since Covid, despite extreme heat waves and wildfires. According to the Financial Times, flight bookings to northern and southern Europe and from June to August were up 25% and 13% year-on-year. Room rates in Paris in July were 79% higher compared with the same month in 2019. France is expecting a windfall of up to €67 billion ($72 billion) from international tourism this year. The reason? Wealthy Americans, who are happy to pay €30 (₹2,670) for a glass of wine. Prices have shot up to such an extent that some European families couldn't afford many local holiday destinations. Some locals in Venice were even forced to relocate out of the city as landlords looked to rent out their homes to tourists at a premium. As for us, we'd prefer another Goa trip rather than applying for a Schengen visa any day!
Lord's cover: Praying to Lord Ganesha is believed to clear the path to success for devotees. Yet, the devotees know very well that a bit of precaution won't hurt. So, one of Mumbai's richest Ganesha festival organisers, GSB Seva Mandal, has bought an insurance policy worth ₹360 crore (~$43 million) from New India Assurance. That is ₹46 crore (~$5.5 million) more than the previous year's cover. After all, the lord is decked up with gold ornaments weighing more than 66 kg and silverware weighing 295 kg. But ₹289.5 crore (~$35 million) covers people, including volunteers and staff. Ganesh festival processions are jam-packed events, and accidents are common.