Discover more from The Signal
The Signal is a daily curated newsletter that helps you understand the latest developments in business, tech, finance, economy, and policy with sharp analysis and crisp insights thats fun to read arriving at 8AM daily in your inbox.
Over 81,000 subscribers
Indians are mooching on OTT services
Also in today's edition: Musk trolls Twitter; Meta puts metaverse on the backburner; Nandan Nilekani plans to take on Amazon; Boeing hits a snag
Good morning! One of India's most awarded restaurants and one that's consistently earned its brownie points, Indian Accent, is making an entry into Mumbai. All thanks to Mukesh Ambani. The Mumbai outpost will open at Jio World Centre. This falls right in line with Ambani's dream to open a luxury mall. What's next? Watch this space.
The Market Signal*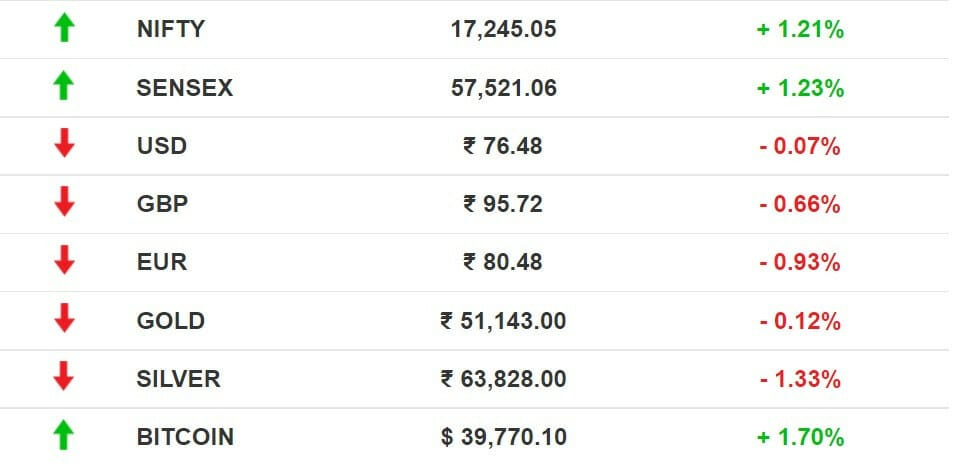 Stocks: Benchmark indices marched ahead buoyed by the April F&O expiry session and buying in index majors such as Reliance Industries, HUL and Infosys amid positive cues from global markets. Foreign institutional investors offloaded shares worth ₹4,064.54 crore on Wednesday.
Early Asia: The SGX Nifty was trading +0.28% higher at 7.30 am India time. The Nikkei 225 was up 1.75%. Hong Kong's Hang Seng index inched downwards.
SOCIAL MEDIA
Trump, Musk And The Free-Speech Thesis
Professional rabble-rouser Elon Musk is turning into a pro-fence-sitter. By that, we mean he's playing both sides of the political divide.
Trumpeting Truths: Musk and Trump have a lot in common: a cultish following, their love for "free speech", and both own social networks. Except, Trump won't join Musk's Twitter (for now), and Musk can't stop talking about Trump's Truth Social. While taking on Trump keeps Twitter's liberals happy, blaming censorship vindicates Trump followers and conservatives. Classic string-pulling. 
Feeding the trolls: But Musk's shitposting has sent racist trolls after Twitter's legal head Vijaya Gadde. This was after he was discouraged to Tweet against the company or any of its representatives. It's now revealed Musk also plans to cut costs and jobs.
Raised eyebrows: Tesla investors are concerned over Musk's full-time focus on Twitter. Twitter investors too are worried about a potential volte-face, should Musk ditch the buyout. And oh, Musk's Twitter buy is under FTC scrutiny. He also sold roughly $4 billion worth of Tesla shares just days after agreeing to buy Twitter, according to the SEC.
Days after accepting Musk's $44 billion dollar deal, Twitter reported that its revenue rose by 16% to $1.2 billion in 2022. But the social media platform has missed Q1 2022 earnings estimates. It also admitted to overstating its number of users since 2019.
A MESSAGE FROM OUR PARTNER
Are You Still Going To A Bank In 2022?

If you're still filling a bucket-load of forms to open a bank account, we have news for you. You can now open an account online with Fi in three minutes. For starters, you can have a zero-balance account. There are no hidden fees and no minimum balance. 
What's Fi? It's a neobanking app with absolutely none of the hassles of opening an account. Fi ensures you save and even win rewards. Take for instance, FIT Rules (like when your favourite cricketer hits a boundary, you save 50 bucks), or Fi Jars that help you save for that swanky new slab of glass and metal or the much-needed holiday. 
Get Smart with Fi. And if this is still not enough, use the code SIGNALONFI to earn up to ₹250 on adding money to your Fi account. 
EARNINGS
Zuck Goes Reels-First, Metaverse Later
It helped that expectations from Meta were low, but it did exceed them in Q1, 2022. 
TL;DR: First things first, daily active users grew to 1.96 billion in 2022. This brought a bit of cheer to investors; its shares soared more than 19%. But Meta also reported the slowest revenue growth since its IPO—we are talking about a 21% year-on-year drop in net income. Ad revenue decreased too. Zuckerberg's metaverse bet also proved costly. It lost $3 billion this quarter; it'd shelled out $10 billion in 2021.
Remedy: Meta now wants to pivot from the metaverse to being the TikTok killer. It even rolled out 90-second long Reels. The copycat approach seems to be working: Reels makes up 20% of user time spent on Instagram. Unfortunately for Instagram, TikTok continues to be the favourite way to stall time. 
RETAIL
India's UPI For Retail Is Here
After Aadhaar and UPI, Infosys co-founder Nandan Nilekani is shepherding what could be India's disruptor to Amazon and Flipkart: the Open Network for Digital Commerce (ONDC). The government project—in association with Nilekani's not-for-profit Beckn Foundation—will pilot today in Delhi, Bengaluru, Bhopal, Shillong, and Coimbatore before launching in 100 cities over the next six months.
Details: Much like UPI merges banking services under one umbrella, ONDC will be a hyperlocal retail network operator, bringing sellers, buyers, logistics providers, and payment processors under one roof. Traders, including small merchants and kiranas, will have a platform to find buyers for everything from staples to airline tickets and participate in India's $1 trillion retail market. ONDC has raised ₹155 crore so far from 17 institutions and is already seeing participation from Dunzo, Delhivery, Shadowfax, and retail platforms such as eSamudaay and Paisool.
The Signal
E-commerce players bundle everything from customer acquisition to logistics. ONDC's unbundled protocol will enable customers to buy directly from sellers and choose from available logistics providers.
But a report by The CapTable raises questions over ONDC's advisory council, which had Praveen Khandelwal, the general secretary of industry body Confederation of All India Traders. Khandelwal is known for his crusade against e-commerce giants; not least Amazon, whose top sellers are being raided by the CCI. There are other alleged conflicts of interest, pertaining to Adil Zainulbhai, an independent director on the Reliance Industries board since 2013. Reliance Retail Ventures—which operates JioMart—is an ONDC participant.
Nilekani is no stranger to controversies over Aadhaar and UPI. ONDC will have to iron out governance issues before doing for retail what UPI did for payments.
🎧 WhatsApp India is using cashback to attract new users. What makes this marketing strategy so popular? Also, the Indian government wants to put a stop to ecommerce domination i.e: Amazon and Flipkart. It even has a plan in place. Dive in!
AVIATION
Dark Skies For Boeing
In what seems like a conclusive step towards sealing the fate of Air India's remaining Boeing 747 airplanes, India's aviation regulator, the DGCA, has deregistered four Boeing 747 jumbo jets. These had been grounded for a while, and Covid-19 quashed any chances of the jets returning to active duty anytime soon.
Worse than expected: Boeing posted more than a billion-dollar loss, after being hit by a series of new one-time costs on its Russia business, the Air Force One presidential jet and the new 777X plane. This comes at a time when deliveries of its 787 jet have been suspended due to production issues.
Decked up: Akasa Air, which will launch in July, is planning to set up a 14,000 sq ft training centre for pilots and cabin crew. 
STREAMING
India Loves Streaming, But Doesn't Want To Pay
The shakeup in global streaming platforms—what with Netflix losing subscribers and Warner Bros Discovery ostensibly cutting flab from its other services—may go an extra mile in India. While the country has an estimated OTT audience of 120 million to 160 million, fewer than 10% pay for subscriptions. Only 2% pay for audio subscriptions; no wonder Spotify CEO Daniel Ek admitted that subscriptions are driven by the EU and US.
Insights: The figures are from an EY report titled 'Tuning Into Consumer'. It also reveals that straight-to-streaming films were watched by people across 4,000 towns and cities, against theatrical releases that peaked at 3,500 screens. But much of the viewership could be attributed to password sharing–which Netflix wants to crack down on.
Postscript: Indian platforms are doubling down on the freemium model. And streaming services in the UK will be regulated by broadcast watchdog Ofcom.
FYI
Ka-ching: D2C meat seller Licious has invested $1 million in pet food startup Pawfectly Made. Furniture platform WoodenStreet raised $30 million in its latest funding round.
Short circuit: The Union Transport Ministry has asked all two-wheeler EV manufacturers to pause new model launches until the investigation into EVs catching fire is concluded. 
Phone tag: China's smartphone market has witnessed a 14% year-on-year dip in smartphone sales. Once-bestselling Huawei is lagging behind Vivo, Oppo, Apple, and Honor.  
Bag of chips: Semiconductor giants GlobalFoundries, Intel, Samsung, and TSMC are reportedly evaluating locations for manufacturing plants in India. 
Censored: For the fourth consecutive year, India has emerged as the country with the highest number of internet shutdowns for reasons ranging from curbing protests to preventing online fraud. 
Hit pause: Denmark will suspend its Covid vaccination campaign from May 15, after noting that the pandemic was under control. It is the first country to halt its vaccination programme.
Rolling: Apple delivered a profitable quarter revenue record of $97.3 billion for March. The tech giant warned that its June 2022 quarter could be set back by $4 billion-$8 billion because of Covid-19 related supply chain constraints.
FWIW
About time: Google is finally making some changes to avoid instances of doxxing. As part of its latest policy, Google will consider removal requests for sensitive information such as phone numbers, email addresses and confidential log-in credentials from Google Search results. Unforch, it can't erase this information from the website itself.
JOMO no more: Officegoers in South Korea are unhappy after the country lifted its Covid-19 restrictions earlier this month. Why? As part of their company culture, hoeshik or drinking get-togethers and after-work dinners are back on the table. While restaurants are happy about it, young employees aren't too thrilled about having to entertain outside office hours. 
Welcome move: There's a lot in a name. A constitutional court in Italy ruled that children in the country should carry the last names of both parents. The only exception is when both parents agree to give their child just one surname. The landmark proposal is yet to be approved by the Italian parliament. 
Want to advertise with us? We'd love to hear from you.
Write to us here for feedback on The Signal.