Discover more from The Signal
The Signal is a daily curated newsletter that helps you understand the latest developments in business, tech, finance, economy, and policy with sharp analysis and crisp insights thats fun to read arriving at 8AM daily in your inbox.
Over 81,000 subscribers
India's leg-up for Instagram
Also in today's edition: Pak's new security mantra; Check your facts, YouTube; Africa in a Chinese knot
Good morning! What's in a name? A business idea if it's Snoop Dogg! It comes as no surprise then that the rapper's next venture is selling hot dogs. This is six years after he swore to never eat a hot dog again. Well, never say never.
In the latest episode, we discuss why the government is keen on regulating the Indian edtech sector. The otherwise competitive industry appears to have joined hands to form its own "code of conduct". Also do you like word games? Well, Josh Wardle and his partner definitely do. What are we talking about? Tune into The Signal Daily to find out!
The Market Signal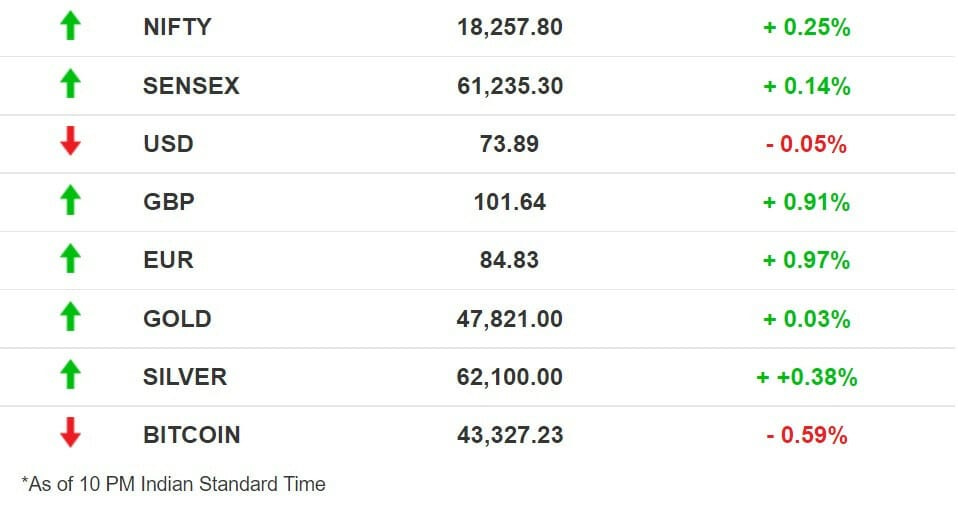 Stocks: Although benchmarks closed in the green markets were tentative. Indices see-sawed as rising retail inflation and slowing factory output reflected in stocks. Metals gained but private banks lost ground. The Paytm stock dropped to less than half of its IPO price. 
Pakistan's Olive Branch To India
It would be a first. Pakistan is expected to release a 100-year no-hostility with India security policy today. The code will focus on internal and external security issues.
Huge potential: The hostile neighbour had cut off trade ties after India abolished Kashmir's statehood. The new policy is expected to revive economic ties and trade in the region. The World Bank had earlier estimated India-Pakistan trade potential at $37 billion.
Even with borders shut, the two countries use another route—Dubai—to unofficially send goods. It does increase costs but business happens. India is also close to signing a free trade deal with the UAE, which would give a boost to the workaround should the borders remain closed.
Tracking The Third Wave
The numbers tell a story. India needs to get its citizens jabbed. Stat. India notched up the highest number for the second consecutive day.
There's no relief in current curbs in Maharashtra as cases are still high. A whopping 96% admitted to Mumbai hospitals are unvaccinated. Cases are rising in Delhi. Over 18,000 cases were registered in Bengaluru on Thursday.
The ICMR has made testing optional for patients. Doctors are concerned.
Elsewhere: Thailand will collect fees to revive tourism. China's port city Dalian is the epicentre of an outbreak and could potentially clog the global supply chain. Cases are ebbing in NYC. French President Emmanuel Macron was serious about annoying his citizens. France has passed the vaccine pass.
Meanwhile, EU regulators say frequent boosters aren't a great idea.
Instagram Has India To Thank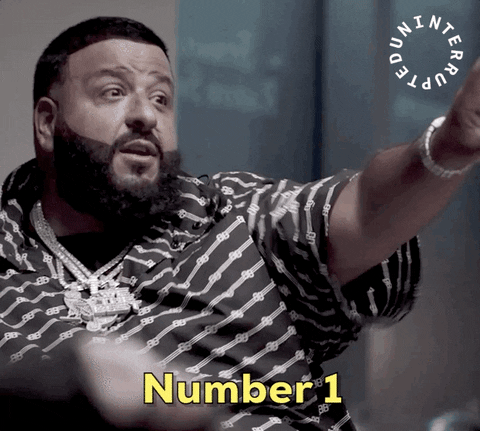 Instagram had a great finish to 2021, powering past 2 billion monthly active users, a good many of them from India. The timeline coincides with a government ban on short-video app TikTok in June 2020. A Sensor Tower report shows that Instagram's installs in India "climbed 135% from Q2 2020 (TikTok ban) to Q4 2021." That's massive.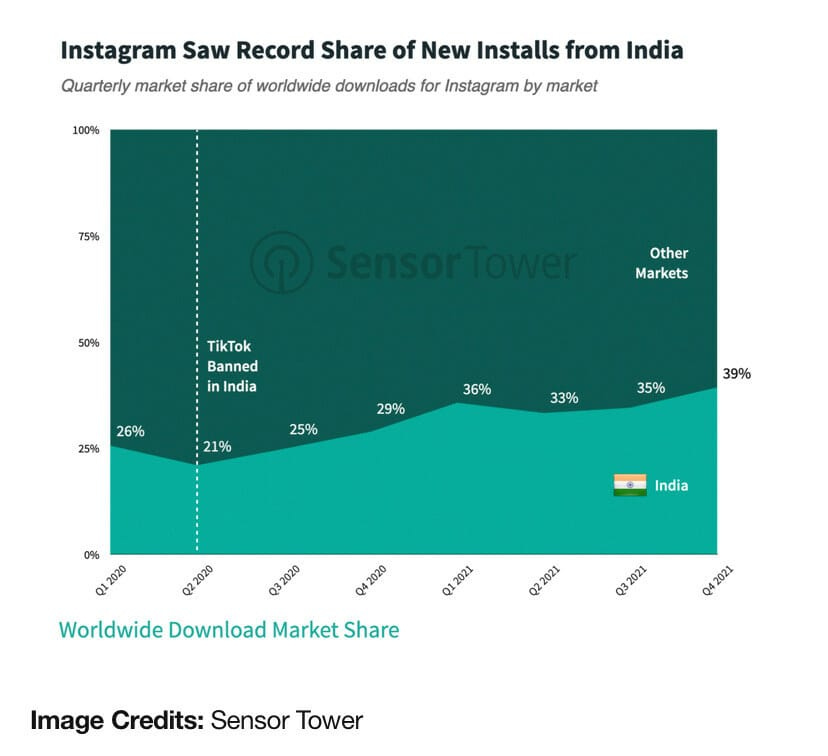 (Source: Sensor Tower via TechCrunch)
What the numbers say: Simple. Indians are missing TikTok.
At the time of the TikTok ban, "approximately 21% of Instagram were from India." That number rose to "39% by Q4 2021." On a year-on-year basis, India contributed to about a fourth of the app's downloads in 2020. Cut to 2021, and that number grew to 36%.
The Signal 
None of this should be surprising. While the ban irrefutably fired up Instagram, it kept hacking growth too.
As we wrote last year, Instagram has been gradually metamorphosing into a TikTok. That pivot started in India with Reels in July 2020. It later doubled down on Reels with India-specific tweaks. The clone paid rich dividends.
This also coincides with copycats emerging soon after the TikTok ban, fragmenting the short-video content space for both creators and users. The rise and rise of D2C commerce in India, and Instagram emerging as a critical discovery and acquisition channel also played a part.
Take-Two: Fact-checkers vs Platforms
Fact-checkers aren't too pleased with YouTube. So much so that nearly 80 of them have shot off an open letter to YouTube CEO Susan Wojcicki. Their concern: YouTube's role as a "major conduit of online misinformation and disinformation worldwide."
Stop Joe: Beyond YouTube, scientists and doctors have also written to Spotify to "implement a misinformation policy" over the latest controversy surrounding Joe Rogan, and his prior misdemeanours, where he allegedly "spread vaccine misinformation and discouraged vaccines".
Big Tech elsewhere: Twitter is back in Nigeria after complying with its government requirements. Stateside, as the Senate considers an antitrust bill for markup, lobby groups representing Big Tech are not happy with a "rushed process". And well, a Chinese app called Bilibili has banned live streaming of "violent" games such as Grand Theft Auto and Witcher 3.
(Disclosure: One of the co-founders of Frontpage Media Technologies Pvt Ltd, that publishes The Signal, is also the publisher of Newschecker.in, a fact-checking website. The copy has been independently curated and written, and does not bear any editorial inputs from Newschecker, its publisher or any of its staffers)
Africa Ensnared In China's Debt Trap
Crisis-hit Sri Lanka last week not only asked Beijing for easier debt repayment terms, but also sought fresh loans. Sri Lanka is not the only one with massive IOUs to China. It is merely an early sufferer of Beijing's debt-trap diplomacy.
Debt trap: China is one of the world's largest creditors. It is estimated to have secretly lent $385 billion to 165 countries along its Belt and Road Initiative.
African crisis: Over a 20-year lending spree, Chinese banks have left more than 20 African countries highly indebted. The pandemic has eroded their repayment capacity and they are on the verge of losing strategic assets. Uganda may lose the Entebbe airport, Financial Times reported. Beijing denied reports that it is slowing down lending because of repayment worries.
FYI
Putting in cash: Qatar Insurance and others bought OYO stake worth ₹230 crore. Edtech firm Lead School became the third unicorn of 2022 with a $100 million fundraise. WayCool Foods, India's fastest growing agritech firm raised $117 million and gaming community platform Turnip raised $12.5 million.
Buy out: Flipkart Group bought Yaantra for $40 million to expand its reverse commerce business. Vedanta has offered $12 billion to buy refiner Bharat Petroleum.
Big shift: Private equity firm TPG's restructuring of performance fees ahead of its $1 billion IPO is expected to fundamentally change conventions in the buyout industry.
Shake hands: South Korea's POSCO and Adani Group signed a $5 billion multi-industry investment deal that includes setting up a green steel plant in Gujarat.
Richest Asian: Binance CEO becomes Asia's richest, beats Mukesh Ambani with an estimated net worth of at least $96.5 billion.
New player: GM gets into used car space with CarBravo. It will compete with Carvana, CarMax and other used car sellers.
To be taxed: Incentives for crypto exchange employees paid in cryptocurrencies would likely be taxed soon.
FWIW
Something for everyone: The best deals are on the Buy Nothing group on Facebook. There's no barter here. You just give away stuff you don't want for free. In fact, it's grown so popular that the digital community now has an app of its own.
Abandoned glory: India's first indigenously designed and manufactured car, Pingle, built by a Hyderabadi engineer in early 1950s was found half-dumped in a scrapyard. The daughter-in-law of the owner of Pingle plans to restore the vintage car.
Money talks: Real estate prices are soaring. Investors are pumping in millions. But this is for a piece of land in the metaverse. In fact, it is so popular that prices for virtual plots went up by 500%.
Want to advertise with us? We'd love to hear from you.
Write to us here for feedback on The Signal.