Discover more from The Signal
The Signal is a daily curated newsletter that helps you understand the latest developments in business, tech, finance, economy, and policy with sharp analysis and crisp insights thats fun to read arriving at 8AM daily in your inbox.
Over 81,000 subscribers
IndiGo's milestone voodoo
Also in today's edition: The bane of 24x7 banking; Why financial planners are a rare breed; Rosneft wants an Indian partner; AI's smartphone shakeup
Good morning! Did you know the Industrial Revolution militarised India and turned it into a colonial superpower that invaded Great Britain? And that the late Queen Elizabeth married into an Indian royal family? This is history, rewritten by AI. Rest Of World found a subset of TikTok creators who use generative AI to reimagine what the world would've been if colonisers and the colonised swapped roles. They're using ChatGPT to generate scripts, and Midjourney and Stable Diffusion to generate accompanying visuals. The videos are getting millions of views, and users from the Global South are requesting alternate storylines for their countries. Honestly, we're all for this brand of revisionist history.
🎧 How much money do you need in the bank to be a part of the world's richest club? Also in today's edition: We give the deets on the crisis-hit ZestMoney. Listen to The Signal Daily on Spotify, Apple Podcasts, Amazon Music, Google Podcasts, or wherever you get your podcasts.
The Signal is now on Telegram! We've launched a group — The Signal Forum — where we share what we're reading and listening through the day. Join us to be a part of the conversation!
Today's edition also features pieces by Roshni P. Nair, Soumya Gupta, Srijonee Bhattacharjee, and Jaideep Vaidya.
If you enjoy reading us, why not give us a follow at @thesignaldotco on Twitter and Instagram.
The Market Signal*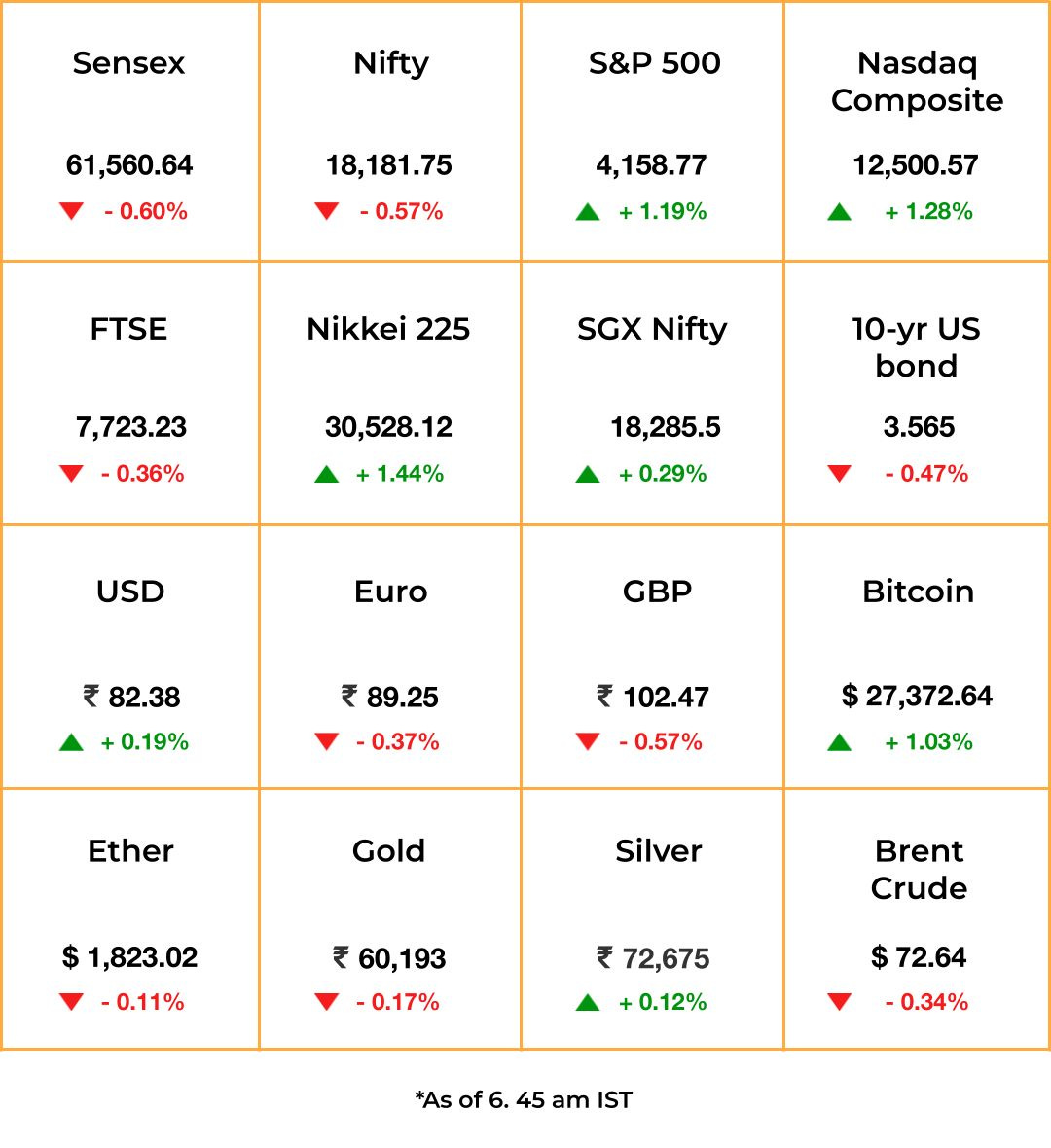 Stocks & Economy: Indian stocks will likely begin in positive territory as investors' appetite for riskier assets improves globally. But the session could turn volatile depending on State Bank of India's earnings report due later on Thursday.
Traders may look for selling opportunities at higher levels after the recent surge in indices. This will likely continue till indices convincingly rise past a key level, analysts say.
US equities were buoyed by optimism that the debt ceiling impasse will be resolved after President Joe Biden expressed confidence that a default will be avoided.
The treasury may run out of cash to run the government unless the ceiling is raised by June 1. Bank of America cautioned that investors should appreciate risk more and hedge their exposure to stocks and gold.
AVIATION
Hardship By The Hundreds
"Each time IndiGo adds 100 planes to its fleet, one of its competitors lands in the ICU…is it mere coincidence?"
That's the premise of this story by The Economic Times. Over the last eight years, soon after IndiGo's fleet size touched 100, 200, and 300, three of its rivals—SpiceJet, Jet Airways, and Go First—either went bankrupt or nearly did.
IndiGo stole a march on rivals on certain routes by operating a higher frequency of flights with larger, fuel-efficient aircraft (Airbus A320neos), the report says. Its rivals were unable to replicate this because they didn't have long-term plans and didn't infuse enough capital at the right moments.
IndiGo is expected to post its best fourth-quarter financials since the pandemic. And it could get even better in the following months, with Go First suspending operations and airfares shooting up by 50% on many routes. IndiGo is expected to cross the 400-plane mark in 2025. 👀
A MESSAGE FROM OUR PARTNER
Hottest Stock Ideas Delivered Every Morning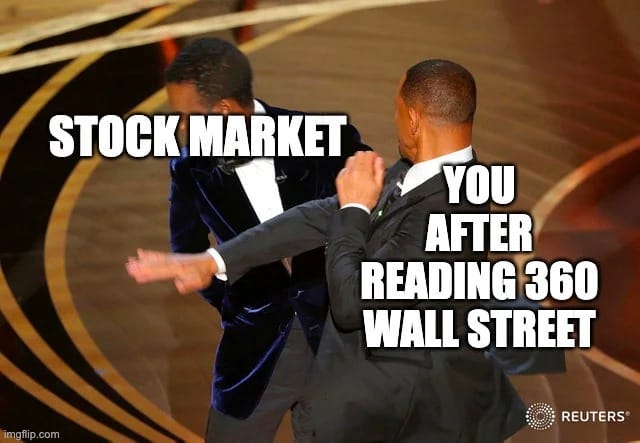 Get the most out of the trading day with 360 Wall Street.
Before the market opens, our experts have already found the 3 stocks they think have the best potential to make the biggest moves – stocks that you'll see everyone else talking about – tomorrow!
This email is like a little gift 🎁 in your morning inbox, you can get the full details on the top 3 juiciest stocks on our radar - in less than 3 minutes.
Cut through the meaningless news and get right to what is most important!
Over 100,000 people rely on 360 Wall Street to make better-informed decisions.
Best of all... there is absolutely no cost to join!
Subscribe to start getting the best ideas delivered FREE to your inbox!
FINANCE
Interrupted Flows
The plumbing in India's financial system is showing peculiar blockages. Some lenders are borrowing at higher rates than the Reserve Bank of India's (RBI's) emergency lending rate to banks—Marginal Standing Facility—of 6.75%.
What: Lenders have to maintain safety reserves at the end of every day, but sometimes fall short and have to borrow in what is known as the interbank call money market. The rate at which banks lend to one another is an indicator of liquidity pressures in the system. Banks have been telling the RBI about the uneven flow problem, but it is not convinced.
Why: One reason for the liquidity imbalance could be 24x7 banking. That and e-commerce have reduced the quiet hours. Meanwhile, payment companies want the RBI to relax rules for them to be able to scale their business and UPI is expanding its e-commerce footprint, raising demand for money.
PERSONAL FINANCE
Why Finfluencers Are Spreading Like A Rash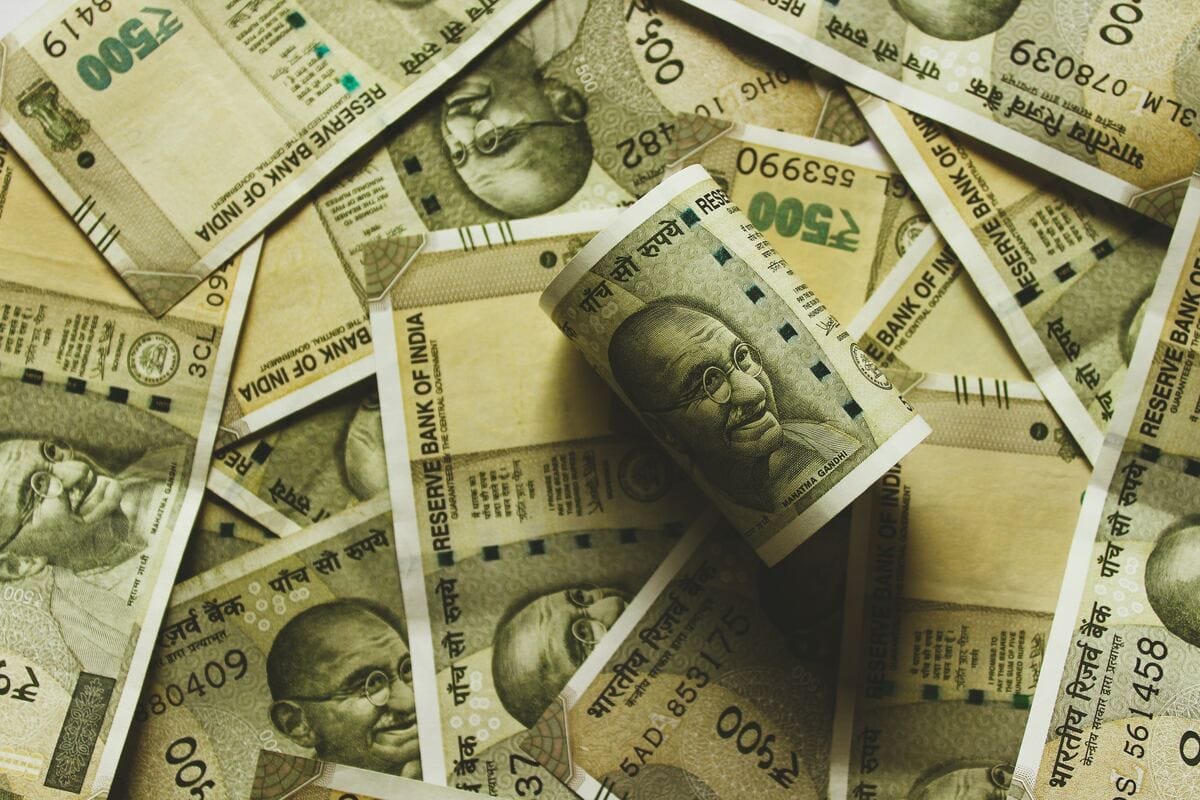 India has just 1,325 registered financial advisors (RFAs), the only people literally qualified to give investment advice. That's just four more than the 1,321 RFAs we had two years ago.
As we recapped yesterday, unlicensed "advisors", including financial influencers (finfluencers), are incentivised to make recommendations, however terrible. But the creator economy remains unregulated; orders by markets regulator Sebi and the Advertising Standards Council of India aren't legally enforceable.
The situation is worse when you consider that RFAs have high entry barriers, as Mint details. These include minimum five years' experience in the securities market and a postgraduate degree/diploma/CFA charter in finance. The compliance requirements are far more prohibitive.
The Signal
RFAs are best placed to offer sound advice. They don't distribute, execute, or sell financial instruments and, therefore, don't earn commissions. RFAs charge yearly fees capped at ₹1.25 lakh (~$1,500), or 2.5% of the value of assets under advice.
But Indians don't like paying for advice. RFAs would perhaps still get by if they didn't have to spend lakhs each year on audits, KYC checks, etc. Because they must store every bit of client communication (even a text), RFAs pay big money to data storage providers—who in turn must adhere to draft data protection laws and be certified.
Sebi's measures to curb malpractice are well-intentioned. But there's a difference between push and shove. RFAs—rare as they are—are now cancelling their licences. Can we afford to have the good guys leave the building?
ENERGY
Oil's Not Well
India's public oil companies want foreign partners to build smaller oil refineries. They're tired of waiting for a much-delayed project along the west coast. Now, Russian firm Rosneft is interested in these partnerships and may strike a deal with Indian Oil Corp or Bharat Petroleum Corp, The Economic Times reported.
Fuel up: India needs to boost domestic production through 'greenfield' or new projects. In 2018, Saudi Aramco and UAE's Adnoc acquired a 50% stake in the $44 billion west coast refinery, but land acquisition and other issues caused delays. There are talks of a revival, but no concrete proposals have come in from the state of Maharashtra or investors.
EU-ssues: India ramping up energy ties with Russia has not gone down well with the EU. The bloc wants a crackdown on fuel exports from India because those are refined from Russian crude.
ARTIFICIAL INTELLIGENCE
Pocket Change
Tech's latest fad requires a lot of computational power. That means advanced chips and data centres. The second is why the AI wars are essentially cloud wars.
But what if AI models aren't restricted to expensive data centres? What if scaled-down versions can run on phones?
This possibility will revolutionise AI, and Google hinted at it last week when it ran its large language model, PaLM 2, on a Samsung Galaxy phone. Chipmaker Qualcomm showcased a "quantised" or smaller version of Stable Diffusion on an Android device. And Stanford University researchers have developed a version of Meta's LLaMa that runs on Google Pixel 6.
As The Financial Times notes, hybrid, locally-run versions of AI models also present an opportunity for privacy-championing Apple, which has maintained a cautious approach but can make bank from AI app developers. From the looks of it, first mover Microsoft seems at a disadvantage… for now.
FYI
RIP: Billionaire SP Hinduja, chairman of the Hinduja Group and the oldest of the four Hinduja brothers, passed away in London at age 87.
They've had it: The Advertising Standards Council of India has identified real-money gaming as India's most non-compliant sector in its 2022-23 annual complaints report.
We'll believe it when we see it: Reuters reports that Tesla has proposed setting up an India factory for both domestic EV sales and exports. The development comes a day after Tesla executives visited the country to discuss sourcing local components.
Tumble: LIC shares have plummeted 40% from the IPO price, making the life insurer one of the worst-performing newly-listed companies in India.
Cleared: The Indian government has approved an updated Production Linked Incentive scheme for IT hardware, with an outlay of ₹17,000 crore (~$2.1 billion).
Third wheel: Amazon announced a slew of updates for its Echo lineup and "pledged to bring ChatGPT-style artificial intelligence to Alexa-powered gadgets".
Back on the runway?: Beleaguered airline Go First may resume operations from May 27 with a revamped schedule, per The Economic Times.
THE DAILY DIGIT
2.5 million
The estimated number of Indians displaced in 2022 because of natural disasters. (Business Standard)
FWIW
Another one: We've had the Osbournes and the Kardashians bare it on reality TV. Hollywood star Sylvester Stallone is following in their footsteps. Roughly inspired by Keeping Up With the Kardashians, the show will will give a sneak peek into the Stallone's gilded inner lives as they try hard to reinforce the banal trope: celebrities are just like us! Stallone has roped in his old friend Al Pacino to make a cameo on the show. For all we know, Stallone fans might tune in to watch the actor onscreen. Just don't expect Rocky to step into the ring any time soon.
Rude surprise: Low-cost airlines that dole out cheap tickets in the US come with a caveat. Budget carriers such as Avelo, Breeze, and Frontier offer dirt-cheap one-way flights with much fanfare for as low as $19 or $39. But there's no guarantee that they'd make it back home. Passengers end up taking a last-minute ticket that runs in hundreds. Moral of the story here: if it's too good to be true, it probably is.
Did you know?: What is the colour of the sun? a) white; b) yellow; c) green. If you choose a) or b), you may want to take a guess again. Nasa says the sun is blue-green in colour. Its light peaks at 500 nanometers on the visible light spectrum, which translates to blue-green. The sun sometimes appears like a giant white orb with shades of yellows and reds during sunset because our eyes cannot handle the brightness even as it is 93 million miles away 🤯. At this point, we double dare you to not stare at the sun.