Discover more from The Signal
The Signal is a daily curated newsletter that helps you understand the latest developments in business, tech, finance, economy, and policy with sharp analysis and crisp insights thats fun to read arriving at 8AM daily in your inbox.
Over 81,000 subscribers
InMobi's Glance fails screen test
Also in today's edition: Rural India's smartphone sale slowdown; Cred, the lender; Sebi breather for investors; Saudi's filmy dreams
Good morning! Dunder Mifflin has a new address in India. The Office, apart from other popular shows such as Parks and Recreation, Downton Abbey, and Suits, will now stream on JioCinema. Per TechCrunch, Viacom18's streaming service has signed a multi-year deal with NBCUniversal to stream its movies and TV shows, most of them exclusively, in India. This includes movie franchises such as Fast & Furious, Jurassic Park, and Bourne. Not too long ago, JioCinema snapped up the streaming rights for HBO and other Warner Bros. Discovery titles, including Succession, House of the Dragon, and Harry Potter. What will JioCinema come for next? We have our 🍿 ready.
The Signal is now on Telegram! We've launched a group — The Signal Forum — where we share what we're reading and listening through the day. Join us to be a part of the conversation!
Today's edition also features pieces by Roshni P. Nair, Jaideep Vaidya, Srijonee Bhattacharjee, and Julie Koshy Sam.
If you enjoy reading us, why not give us a follow at @thesignaldotco on Twitter and Instagram.
The Market Signal*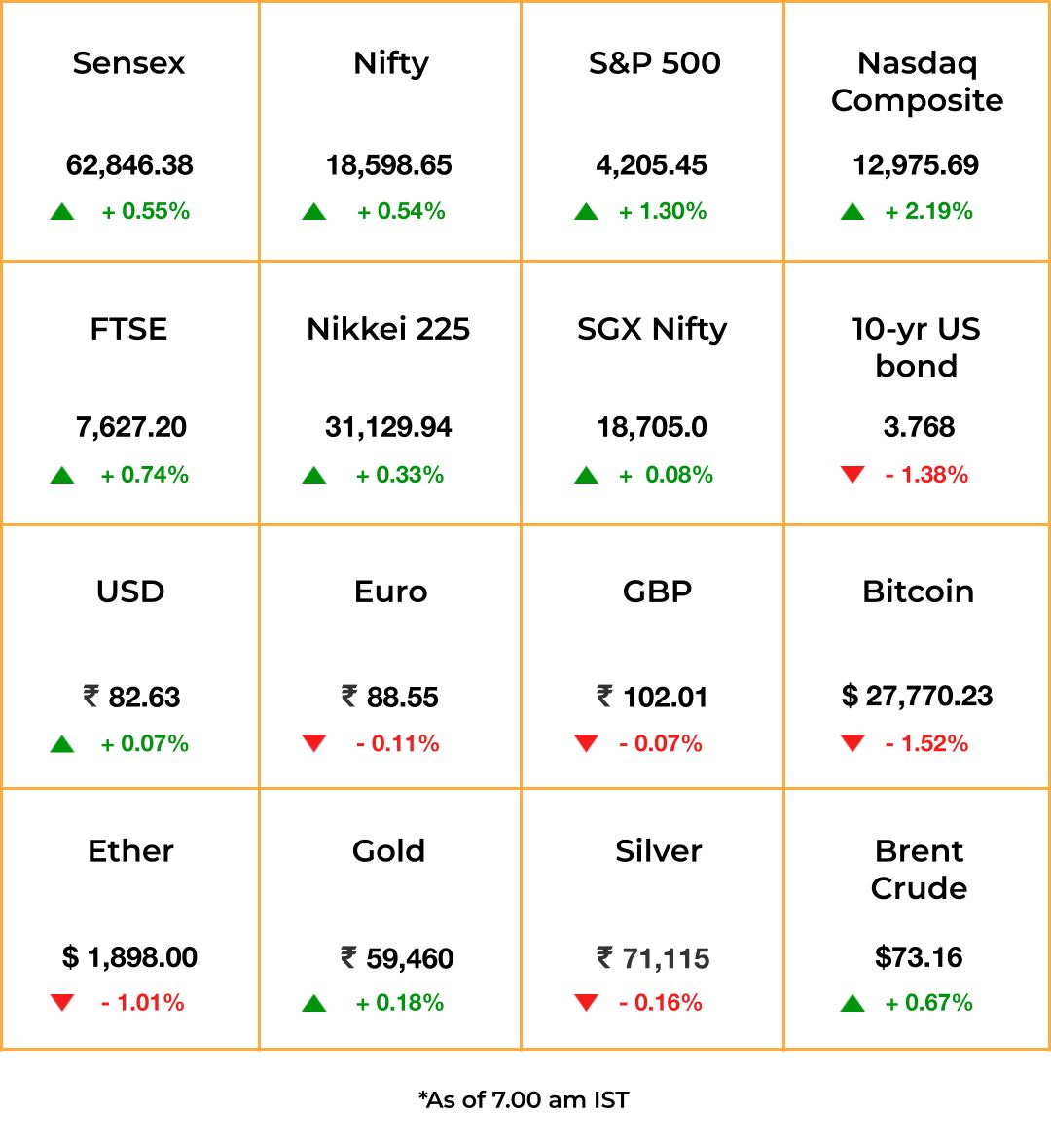 Stocks & economy: Equity indices in India are off to a muted start with fewer signals as US and UK markets open after an extended weekend. Optimism that the debt deal would be approved by the US Congress kept up investors' appetite for riskier assets.
As Indian indices advance towards record highs, traders could book profits and lighten portfolios to make room for fresh positions.
Oil prices gained, so did US treasury bills maturing early in June in Asian trade as lawmakers stepped up efforts to get the debt deal passed before the government runs out of cash.
Worries of a US recession are pushing investors towards shares of companies that are expensive but promise steady revenue growth. Big technology companies look like responsible bets.
Meanwhile, China's manufacturing sector showed minor improvements in May.
TECHNOLOGY
Flop Screens
Adtech firm Glance shows video, games, and shopping on your Android phone's lock screen. Now, it's discarding this very business model. According to The Morning Context, Glance's parent firm InMobi has found it hard to attract and retain viewers for lock-screen content. So, it wants to open up Glance's backend to lock-screen developers who think they might have better luck offering content (and ads). Glance is targeting richer geographies like North America and Europe. Only problem: iPhones dominate these regions, and Apple is already working on an interactive lock screen.

Money well spent?: Glance raised $200 million from Jio Platforms last year. Since 2019, it has acquired short-video app Roposo, gaming company Gambit Sports, and shopping platform Shop101; it also invested in talent management firm Collective Artists Network in 2021. They all helped Glance make content to push on lock screens. What will happen to these investments now?
🎧 Surprise, surprise. Indian roads are highly dangerous. Also in today's edition: InMobi's Glance is looking to revamp its business model. Listen to The Signal Daily on Spotify, Apple Podcasts, Amazon Music, Google Podcasts, or wherever you get your podcasts.
TELECOM
Rural Indians Have Stopped Buying Smartphones
That's what two independent studies on smartphone sales in India have found. The digital divide has been widening, with the share of sales in small towns and villages remaining flat at 35-40% since mid-2021, per research firm IDC India.
Why?: In one word: inflation. Prices of smartphones, especially 5G-enabled ones, have been rising. Rural Indians prefer feature phones because they're cheaper and have longer battery life. Moreover, 5G networks are still not available in villages.
Meanwhile: The absence of a 5G network is starting to hurt the beleaguered Vi. Its per-capita data consumption growth remained flat at 15.1 GB between the December 2022 and March 2023 quarters. While Airtel's was flat as well at 20.3 GB, it's expected to rise significantly over the next 12-18 months due to its expanding 5G network. Data consumption in 5G is 2.5x that of 4G.
FINANCE
A Craving To Lend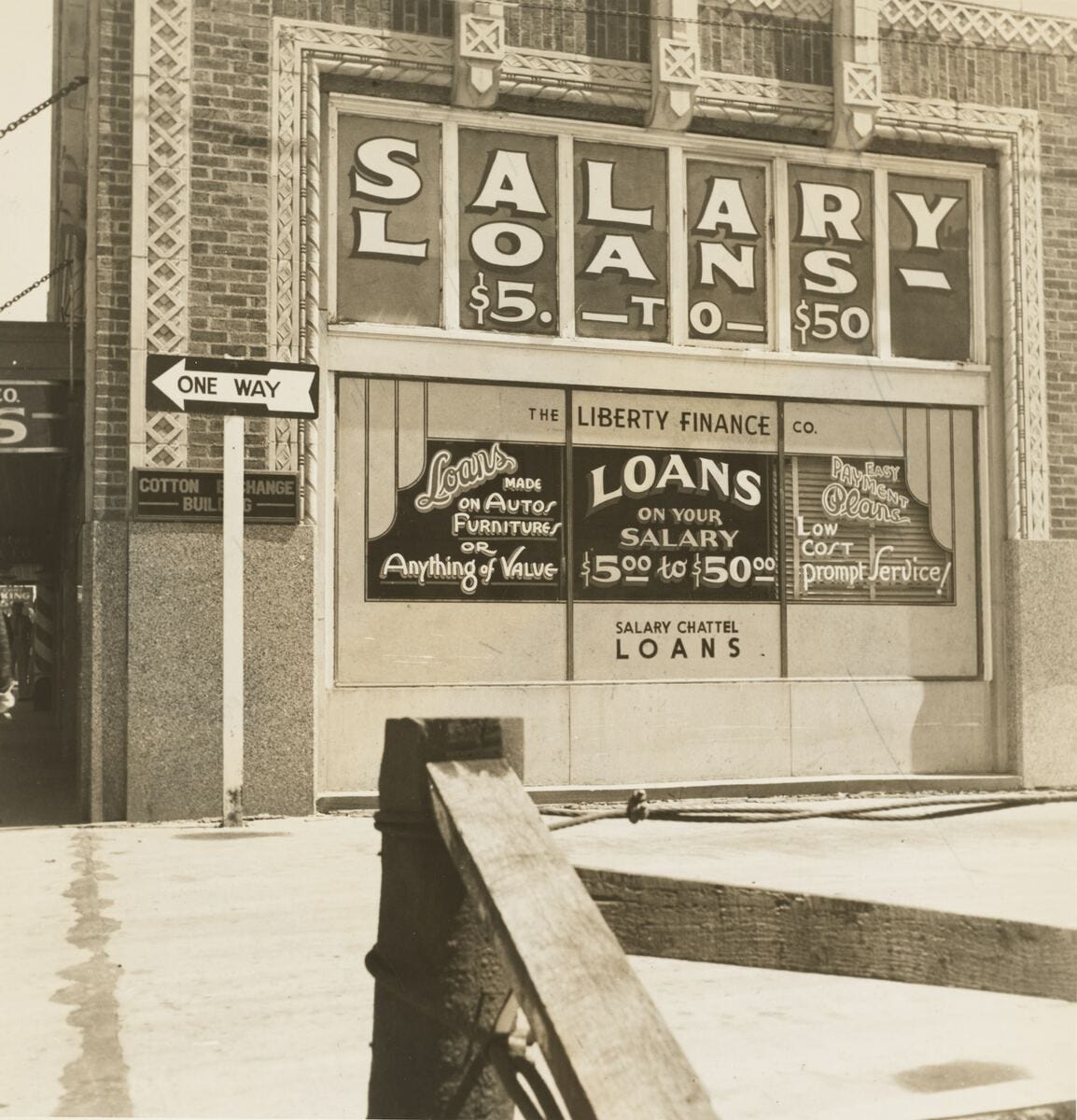 The New York Public Library/Unsplash.com
Twitter guru Kunal Shah-led CRED is entering deeper waters of the lending business. The Economic Times reports that the credit card bill payments platform's new strategy is to target first-time borrowers.
Noob loans: CRED wants to expand its product portfolio to include consumer loans and point-of-sale finance. It's doing this through Prefr, the digital lending platform of CreditVidya, a CRED-acquired startup that crunches customer data to assess creditworthiness.
A second company, Newtap Technologies, that's 80% owned by Shah and has a non-banking financial company licence, is reportedly courting CRED's existing investors to raise $50 million-$70 million to bolster the lending business.
The Signal
While creditworthiness is Shah's touchstone for a CRED customer, and his target cohort is the top 25 million families in the country, by now it must be clear that it's very difficult to make money off them. CRED spends ₹4 to earn every ₹1 from its community, where the entry threshold is a credit score of 750. It had grown to 11.2 million at the end of the financial year ended March 2022.
CreditVidya seems to have a fix on about 25 million individuals. Cross-selling financial products and services to CRED's user base is tough because it's not necessarily "needy". The new-to-credit segment is being courted by every fintech player. It's uphill even for Paytm, with a user base of 350 million. CRED may successfully build a safe-credit community, but scale is another matter.
INVESTING
Fewer Checklists Soon
The regulatory-heavy weather that foreign venture capital (VC) and private equity (PE) companies were facing in India may clear up soon.
Why: Capital markets regulator Sebi is reportedly looking to reduce the compliance burden of VCs and PEs. As funds started flowing heavily into Indian companies and astronomical valuations made headlines, Sebi started tightening regulations, including those for valuation, treatment of investors, conduct of fund officials, and disclosures.
An additional cost was the ratification of various regulatory filings by a merchant banker.
Funding winter: The regulatory rethink comes at a time when the funding tap has been drying up. Although compliance had little to do with it, foreign funding in Indian startups fell by 72% in 2023.
Many Indian funds, meanwhile, are sitting on "dry powder" raised in recent months. The biggest among them is betting on private credit to finance many transactions.
ENTERTAINMENT
Saudi Strikes A Reel Deal
The country that'd once banned movies made its presence felt at the 76th Cannes Film Festival, and how. Three films competing for the Palme d'Or—including Johnny Depp starrer Jeanne du Barry—were backed by producers from Saudi Arabia. Bloomberg details that Saudi is going on a film sponsorship, funding, and subsidisation push to incentivise shoots in the country.
It's an extension of ruler Mohammed Bin Salman's concerted push to diversify oil-fuelled bets. As we'd told you last month, Saudi's sovereign Public Investment Fund is also brokering Hindi cinema deals, buying stakes in gaming companies, and ploughing money into private equity and VC funds. Lest we forget, Saudi Arabia is all in on sports too.
Aside: Saudi is also keen to join BRICS, per Financial Times. The multilateral group and its lender, New Development Bank, want to strengthen funding options in the wake of western sanctions against Russia.
FYI
Paying the price: Singapore's sovereign fund Temasek will cut compensation for the investment team and senior management executives responsible for its decision to invest $275 million into cryptocurrency exchange FTX.
Left the building: Anuj Rathi, Swiggy's senior vice president of revenue and growth, is the latest top-level executive to leave the company in the last couple of months. Rathi joins Dale Vaz, Ashish Lingamneni, and Nishad Kenkre among those who've left the foodtech giant.
Foray: Coupang, the SoftBank-backed South Korean e-commerce company, is reportedly in talks with the Indian government to launch its operations in the country, per Business Standard.
To the moon and (orbit): The Indian Space Research Organisation (Isro) successfully launched a second-generation navigation satellite (NVS-01) using its GSLV-F12 rocket. Isro will also launch the lunar lander Chandraayan-3 in July.
Counting down: North Korea, per reports in Japan, might be launching a satellite of its own. Japan's PM Fumio Kishida is fuming.
Fresh moolah: Gurugram-based smart wearables company Noise is reportedly in talks to raise $40 million-$50 million as part of a growth round. The company was the market leader for the segment by unit sales last year.
Hiccup: Tech giant Apple has refused to comply with the Ministry of Electronics and Information Technology's order to bar betting apps from its App Store in India, and asked for a "concrete reason or a legal requirement" to follow the directive.
THE DAILY DIGIT
33 million+
The number of viewers who watched the final of the Indian Premier League on Viacom18's JioCinema concurrently. This is a new global record, surpassing the 25.3 million viewers glued on to rival Disney+ Hotstar during the 2019 World Cup.* (TechCrunch)
FWIW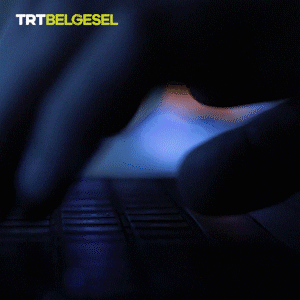 Back to black: There's a new trend gaining traction on YouTube, and it doesn't have our vote. There's a dedicated fan base for black screen videos. A 24-hour video of a black screen in HD by, well, "Black Screen Guy," has raked up over 40 million views. "24 hours of pure white screen!" has collected another 44 million views. Use cases include playing the video overnight while downloading games, or keeping the bright light away at night instead of turning off the screen. Very environmentally friendly. 🙄
Small joys: It's no surprise that jazz doesn't make the record charts on music streaming platforms. In fact, the genre made up only 0.8% of on-demand US audio streams in 2022, per music industry data provider Luminate. It doesn't help that jazz aficionados also tend to be older and take a while to warm up to streaming music. Artistes too snub audio platforms for the chump change they hand out. However, jazz is proving to be a hit among vinyl users—it accounted for about 6% of vinyl album sales last year. US record label Verve is now trying to convince Barnes & Noble and Target to partake in the vinyl boom. Our (jazz) hands are up in the air.
Voice trumps text: ...at least when it comes to using a search engine. According to a study, dictating is better since users put in serious thought before entering a query, much like thinking in a second language. About 2,500 participants were instructed to conduct an online search for wireless headphones. About half of the designated participants who used the voice search option referenced a brand name and shared more details such as budget and features. In fact, they even scored higher on the satisfaction scale than those who used good ol' text. Next time, give those fingers a rest.
*The IPL viewership numbers mentioned in Tuesday's Daily Digit were peak concurrent viewership and not for the whole match.