Discover more from The Signal
The Signal is a daily curated newsletter that helps you understand the latest developments in business, tech, finance, economy, and policy with sharp analysis and crisp insights thats fun to read arriving at 8AM daily in your inbox.
Over 81,000 subscribers
High hanging fruit
Also in today's edition: That '00s Show; Revenue vs. profit; Warehouses of horror; From Hero to (near) zero
Good morning! Court judgments in India will soon have to do away with terms such as 'slut', 'chaste woman', 'fallen woman', 'fa**ot', and 'concubine', among other outdated terms. All thanks to the Supreme Court, which has launched a handbook to fight gender stereotypes. According to the handbook, 'career woman' should just be 'woman', 'feminine hygiene products' are 'menstrual products', and 'unwed mother' is 'mother', reports The Times Of India. The handbook also has a section dedicated to rubbishing gender stereotypes in an effort to create an inclusive legal system. Suffice to say this initiative has our thumping vote.
The Supreme Court of India publishes a handbook on fighting gender stereotypes. Also in today's episode: Have you ever thought about what happens to the orders we return? Listen to The Signal Daily on Spotify, Apple Podcasts, Amazon Music, Google Podcasts, or wherever you get your podcasts.
The Signal is now on Telegram! We've launched a group — The Signal Forum — where we share what we're reading and listening through the day. Join us to be a part of the conversation!
Today's edition also features pieces by Soumya Gupta, Srijonee Bhattacharjee, and Julie Koshy Sam.
If you enjoy reading us, why not give us a follow at @thesignaldotco on Twitter Instagram and Threads.
The Market Signal*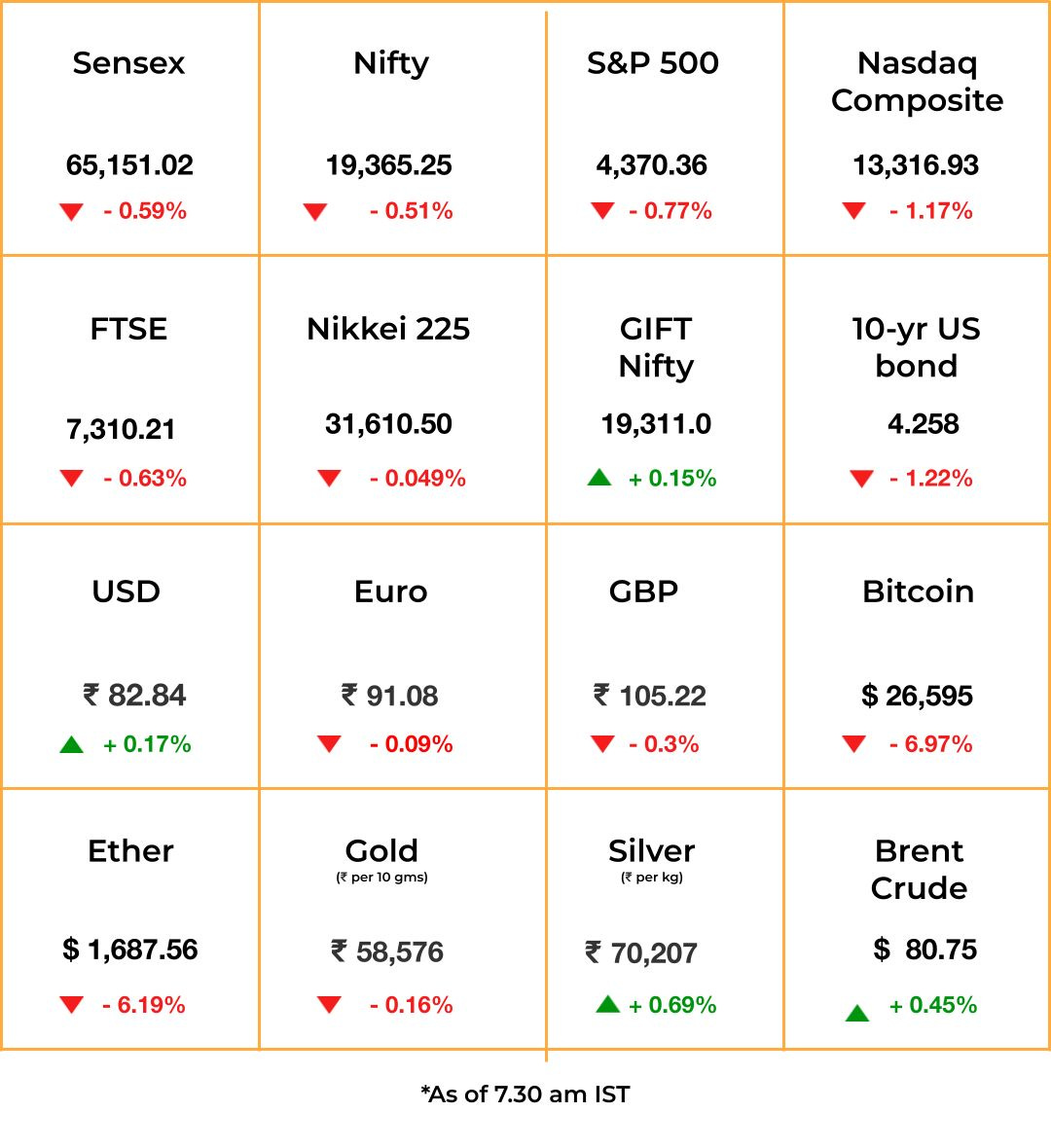 Stocks & economy: Strategists are preparing traders for a return to "5% world", a period of high interest rates in the US before the subprime crisis pushed them to near zero. Persistent inflation and ballooning US sovereign debt (close to 113% of GDP) have contributed to pushing global bond yields to the highest levels since 2007.
The Indian rupee fell to its life-time low of 83.15 against the dollar. Indian equities may also fall as nervous investors bet that central banks may not be done hiking rates. A wealth management strategist cautioned that liquidity drying up could choke firms and institutional implosions like shadow bank IL&FS' in 2018 couldn't be ruled out.
An article in the RBI's monthly bulletin on Thursday called for supply chain reforms to counter price pressures from perishables such as vegetables.  
Meanwhile, China's Evergrande has filed for Chapter 15 bankruptcy protection in the US.
FOOD SECURITY
India Stuck In Mixed Fruit Jam
Prices of the common man's berry have breached uncommon territory. Banana is retailing for upwards of ₹100 ($1.2) due to dwindling supplies from Tamil Nadu. Some plantations in the state have also been affected by leaf spot disease, which affects yield. Prices may not stabilise asap due to rising demand on account of auspicious events countrywide (Shravan, Onam, Navratri, etc.).
In the north, apple farmers in Himachal Pradesh—already dealt a heavy hand by climate change—face significant losses due to disruptions caused by torrential rains. Production may tank to 10-10.25 million boxes, compared to the annual average of 30.5-40.5 million boxes.
Aside: Chana prices are high too because of a lack of quality produce and "aggressive procurement" by the National Agricultural Cooperative Marketing Federation of India. And India is reportedly in talks with Russia to import 8-9 million tonnes of wheat to curb soaring domestic prices.
MEDIA
Feels Like The '00s
India's ageing superstars—Sunny Deol, Akshay Kumar, and Rajnikanth—have pushed cinemas to their biggest weekend of all time. Gadar 2, the sequel to the 2001 classic, drew audiences to single screens and may make over ₹300 crore (~$36 million).
OMG 2 will cross ₹100 crore (~$12 million) in ticket sales. Rajnikanth's Jailer is already at nearly ₹400 crore (~$48.1 million).
NO-stalgia: Sequels of old classics have been doing well: Bhool Bhulaiyaa 2 was among the few Bollywood hits last year. But nostalgia hasn't worked for Hollywood. The latest Indiana Jones flopped, and Mission Impossible 7 couldn't pull enough crowds. Extremely high budgets also held them back.
TV is back: It's the '90s here. Upcoming state and general elections are boosting Indian news channels' fortunes. In focus are stories on Manipur's ethnic violence, the government's push for a Uniform Civil Code, and proposals to let Hindus worship in Varanasi's Gyanvapi mosque.
CORPORATE
The Cost And Price Show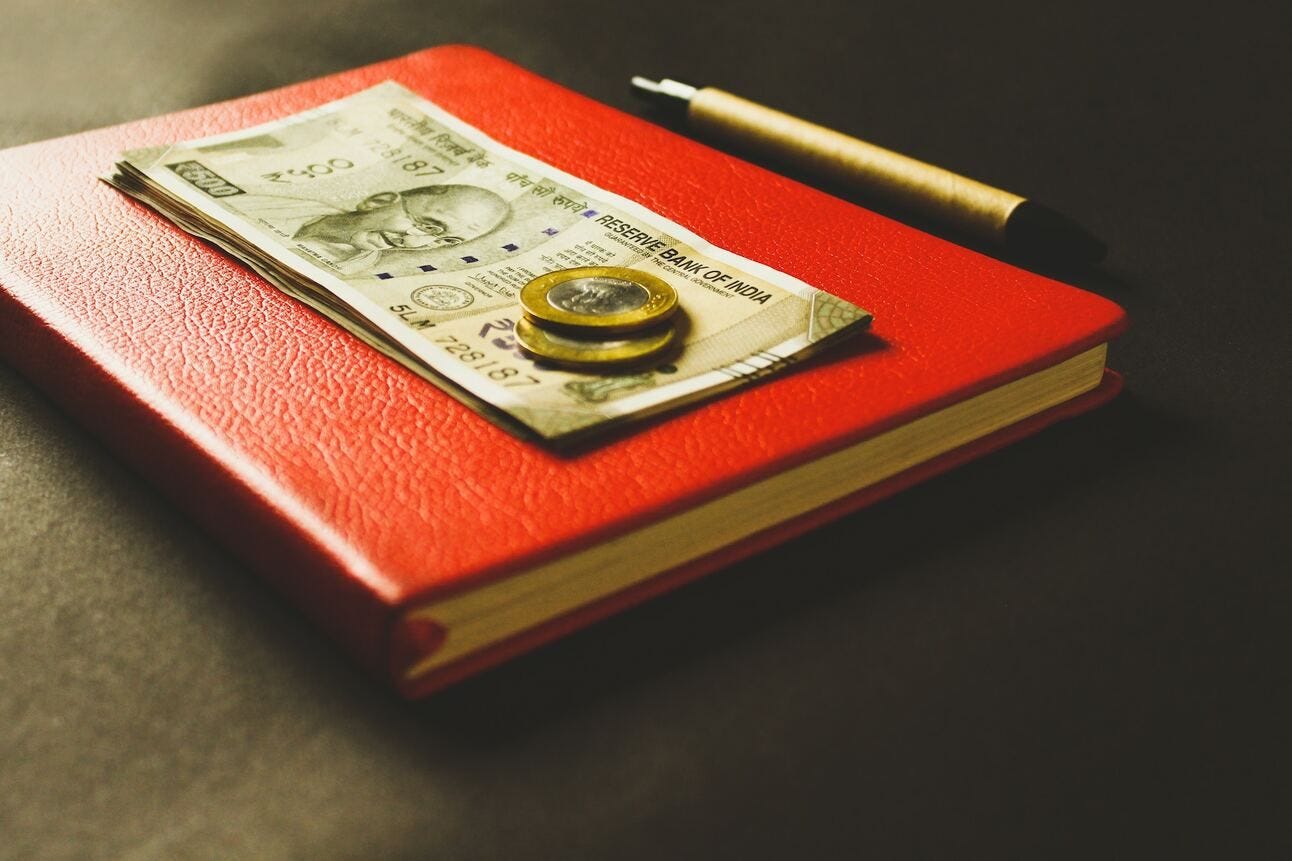 Photo by rupixen.com on Unsplash
The Indian corporate sector never had it so good. The profits are flowing in. The same cannot be said for revenues. And therein lies the story of demand, prices, and margins.
Big profits: An analysis in The Economic Times of 3,901 companies' quarterly performance showed that their revenues rose by 6.2%, the slowest in nine quarters. Their net profit, however, jumped 39%, the highest in a year and a half.
Banks and financial services companies accounted for a large share of the bump; their combined net profits in the sample rose 52.2% year on year. Without them, the revenue growth of the sample slumps to a mere 2.3%.
The Signal
Although the economy has seen its ups and downs, listed companies have managed to protect their profit margins by passing on the increase as well as decrease in prices to consumers. When input costs rose, they raised prices, depressing sales. Product prices went down as input costs eased, but they also kept the overall sales value subdued. Squeezed between inflation and stagnant wages, retail consumers appear to have borrowed more even as interest rates rose, propping up the financial services industry. Price-sensitive sectors such as FMCG are tweaking pack sizes hoping for a demand revival in the coming months. There is an uptick in informal local businesses, which, with their low overheads, are giving stiff competition to large companies and retail chains.
TECH
Bone-Breaking Labour
What's common between the Amazon warehouse workers who suffered a torn ligament, skull fracture, concussion, and busted ankle? They were pushed to continue working despite their injuries, according to a WIRED investigation. The publication also details citations by the Occupational Safety and Health Administration (OSHA), which oversees worker health and safety in the US. OSHA is investigating 18 Amazon warehouses and has issued at least three warnings since 2016 to AmCare, Amazon's on-site first aid clinic.
Of the several allegations, the most disconcerting is AmCare making emergency medical technicians—trained by profession to suggest definitive care—report to managers who dissuade them from sending workers to doctors "on the first day of injury".
Amazon is also being investigated by the US Department of Justice (DOJ) for underreporting injuries. Speaking of, the DOJ has received an appeal by authors and booksellers to investigate the company for monopolising the literary market.
ELECTRIC VEHICLES
Fickle FAME And Fortune
The scooters are sold but the tanks are empty. As the government withholds over ₹500 crore (~$60.2 million) in subsidies, credit ratings agency Crisil has downgraded EV maker Hero Electric's debt to 'Crisil D', indicating a default. The government found that Hero (and others) were passing off imported parts as local to comply with its FAME-II subsidy programme.
Faking it: These firms also sold scooter chargers and software as add-ons, another programme violation. So far, they've refunded only ₹10 crore (~$1.2 million) of the ₹300 crore (~$36.1 million) to be returned to customers. India plans to scrap FAME-II altogether.
Future bright: Electric two-wheeler makers may be in trouble, but there's money up the value chain. Battery maker Amara Raja Batteries is expanding into chargers and lithium ion battery packs for electric scooters and bikes.
FYI
Investor magnet: Abu Dhabi energy and water company TAQA may invest up to $2.5 billion in Adani Group, reports The Economic Times.
Tag team: German sportswear maker Adidas' Indian unit is in talks with Bata India for a strategic partnership to leverage the latter's 700-city, 2,100-store retail network, CNBC reports.
Eye for a deal: Texas private equity fund TPG Growth and Singapore's sovereign heavyweight Temasek will invest $80 million in Dr Agarwal's Group of Eye Hospitals.
Not looking good: Japan's exports fell for the first time in two-and-a-half years as its major market China continued to grapple with an economic crisis.
Gone ape: Remember Bored Ape Yacht Club non-fungible tokens? Several investors who bought them are suing auctioneer Sotheby's and celebrities such as Justin Bieber and Paris Hilton for misleadingly promoting the tokens.
💰💰💰: Ola founder Bhavish Aggarwal is reportedly canvassing investors, including investment firm Matrix partners, to raise up to $100 million in a new company called Krutrim SI Designs.
Saddled: There is a good chance Vodafone Idea might become the third loss-making telco owned by the government, after MTNL and BSNL.
THE DAILY DIGIT
₹27,000 crore
Or $3.25 billion. The estimated value of private equity investments in Indian hospitals over the last two years, according to rating agency ICRA. (Financial Express)
FWIW
Who moved my cheese?: It's 2023, and even cheese is getting smarter. Parmesan producers are now inserting microchips in the stuff to discourage knockoffs of their 90-pound cheese wheels. Parmesan isn't the only food getting chipped, btw. More than 3,500 EU-origin products including Greek feta cheese, Champagne, and Italian Parma raw ham have protected status. This market is worth $87 billion according to an EU study published in 2020— and the figure is roughly the same for counterfeit products. The microchips, sourced from Chicago-based p-Chip, use blockchain technology (?!) for traceability. What's more, the chips can be read through ice and are edible too. Gotta love this crossover episode.
Reeling 'em in: Movie criticism is just another gig on TikTok. Wannabe movie critics (but god forbid you call them that) are posting bite-sized 30-90 second reviews at least once a day. The videos help "reviewers" bag contracts with Hollywood studios, and of course, gain legions of followers. A sponsored post to promote a film or streaming service can earn them anywhere between $1,000 to $30,000. Sony executives cited MovieTok campaigns for the success of the horror mystery film, Insidious: The Red Door, which was made on a budget of $16 million and earned $183 million worldwide. On that note: let's label MovieTok reviewers for what they are: freelance marketers. 🎬
It's cancel time: You may not want to hear this on a Friday, but here goes: you may want to keep tabs on your subscription services. After all, there's a subscription for virtually everything, meaning it's impossible to separate the wheat from the chaff. That forgetfulness is costing you though. Researchers at Stanford and Texas A&M estimate that our subscription "inattention" contributes anywhere between 14%-over 200% to companies' revenues. So comb through your credit card statements, or as study co-author Neale Mahoney suggests, set up a calendar to cancel recurring subscriptions. All the best with that.💀