Discover more from The Signal
The Signal is a daily curated newsletter that helps you understand the latest developments in business, tech, finance, economy, and policy with sharp analysis and crisp insights thats fun to read arriving at 8AM daily in your inbox.
Over 81,000 subscribers
JioCinema fails the FIFA World Cup test. Next up: IPL
Users encountered several technical glitches while watching World Cup matches. The streaming platform is in a race against time to fix them ahead of the Indian Premier League
Good evening,
After a controversy-filled buildup that lasted 12 years, the FIFA World Cup Qatar 2022 is finally underway. And boy, what an absorbing tournament it has been. There's something absurd happening every day, both on and off the pitch. And it's just been five days! I honestly don't know how much more drama I can take 😅.
On some level, all the gazillion off-field controversies this World Cup has attracted are so unfortunate (thanks, FIFA!). Because they're taking the spotlight away from the football, which is, at the end of the day, what the World Cup should be about.
We've already seen Saudi Arabia dominating and beating Lionel Messi's Argentina, before Japan coach Hajime Moriyasu's astute second-half substitutions led to Germany losing their opening World Cup game for the second time in a row. And just yesterday (Thursday), Richarlison announced Brazil's arrival with a moment of brilliance (see ICYMI section for video).
It's clear this World Cup doesn't really need any off-field drama to sell itself. But alas, the people that govern world football have ensured that Qatar 2022 will be remembered for all the wrong reasons, no matter what happens on the pitch.
Back in India, we had some World Cup drama of our own, thanks to JioCinema.
Jio Cinema's baptism by fire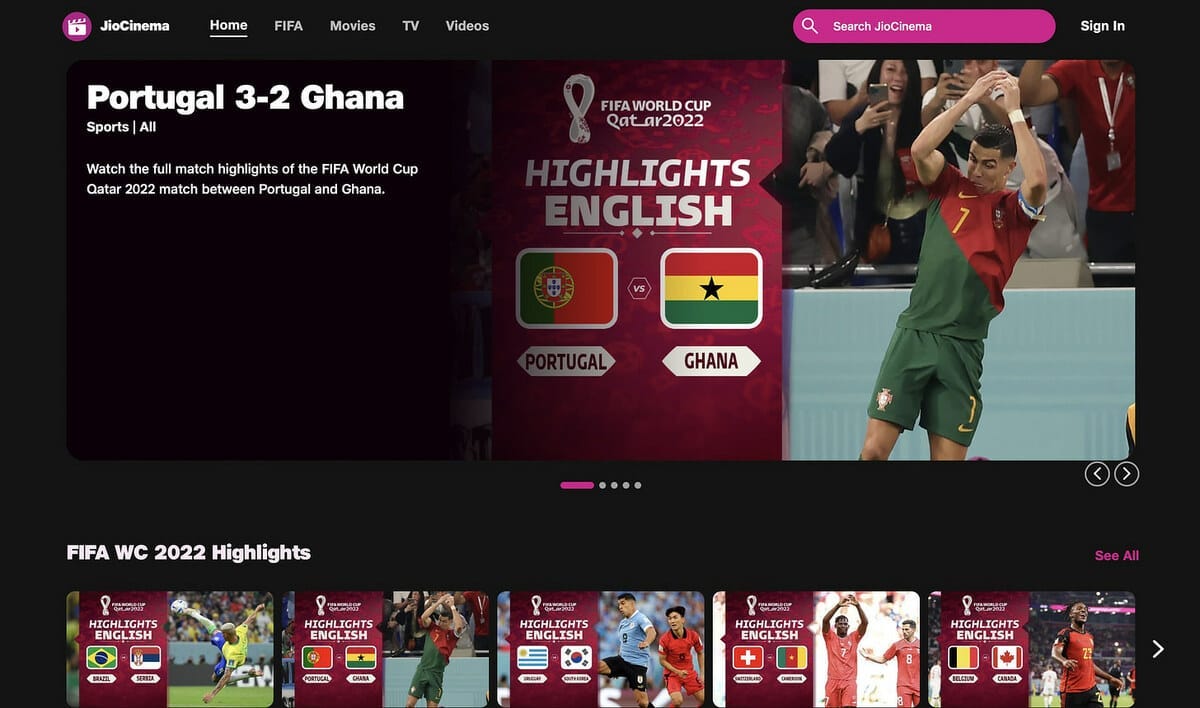 On November 19, a day before the World Cup began, the Twitter handle of streaming platform JioCinema posted a tongue-in-cheek reply to a tweet from Elon Musk: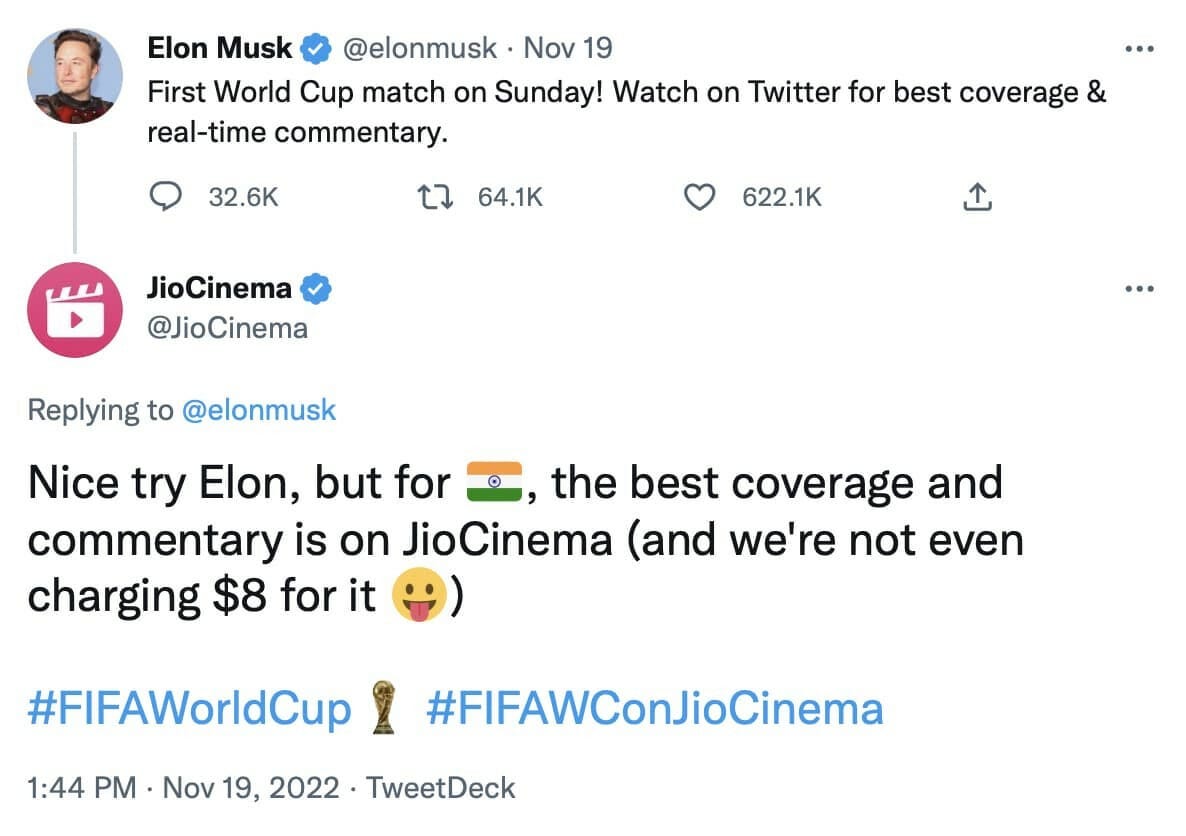 Little did the company's social media team know that this tweet would come back to bite them so bad.
By November 21, JioCinema was all over Twitter like a rash. And not for the right reasons.
Users trying to watch the opening match of the World Cup between Qatar and Ecuador complained of several technical glitches, from buffering and lag to the inability to log into the app. Some users then started posting whatever hacks they could find, while others resorted to jokes and memes.
To put things mildly, it wasn't the best of starts for JioCinema as a live sports streaming platform.
If you're wondering why an app called JioCinema is showing live sports, you're not alone. Parent company Viacom18 raised quite a few eyebrows in October when it announced that the FIFA World Cup won't stream on Voot, its other video-on-demand (VOD) platform that has so far housed all its live sports content, but will be on JioCinema instead.
Before the World Cup started, JioCinema was an exclusive VOD service for subscribers of telco Reliance Jio. Both Reliance Jio and Viacom18 are subsidiaries of India's largest conglomerate, Reliance Industries. JioCinema, which had movies and TV shows, was free to use for people with a Jio SIM, and inaccessible for subscribers of other telcos like Airtel and Vi.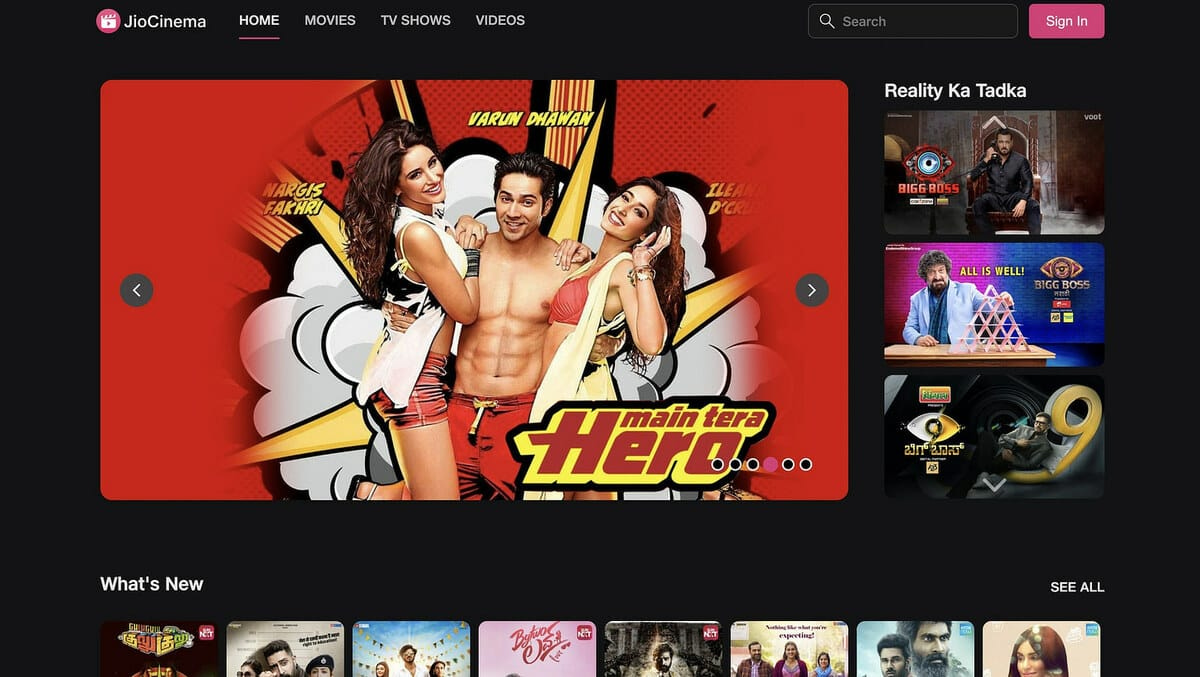 Starting with the World Cup, that's no longer the case. JioCinema is now accessible to everyone, regardless of which telecom network they're on. And its content, including the World Cup, is free. Viacom18 had paid ₹450 crore ($55 million) for the rights to broadcast the World Cup in India.
Explaining why JioCinema was picked to stream the World Cup instead of Voot, Viacom18 sports head Anil Jayaraj had said, "I think it's got lifetime downloads of some 400 million. So, it's actually quite massive. We believe that bringing up some of the marquee content that we have, including FIFA, gives the sporting viewers a unique opportunity to watch it."
Viacom18 figured that the best way to reach the 722 million Indians who watch sports was via a free app that already has a substantial user base. The company's other live sports properties, including LaLiga football and NBA basketball, are still on Voot, which has annual subscription plans of ₹299-599 ($3.6-7.3). But the plan is to eventually move these properties over to JioCinema.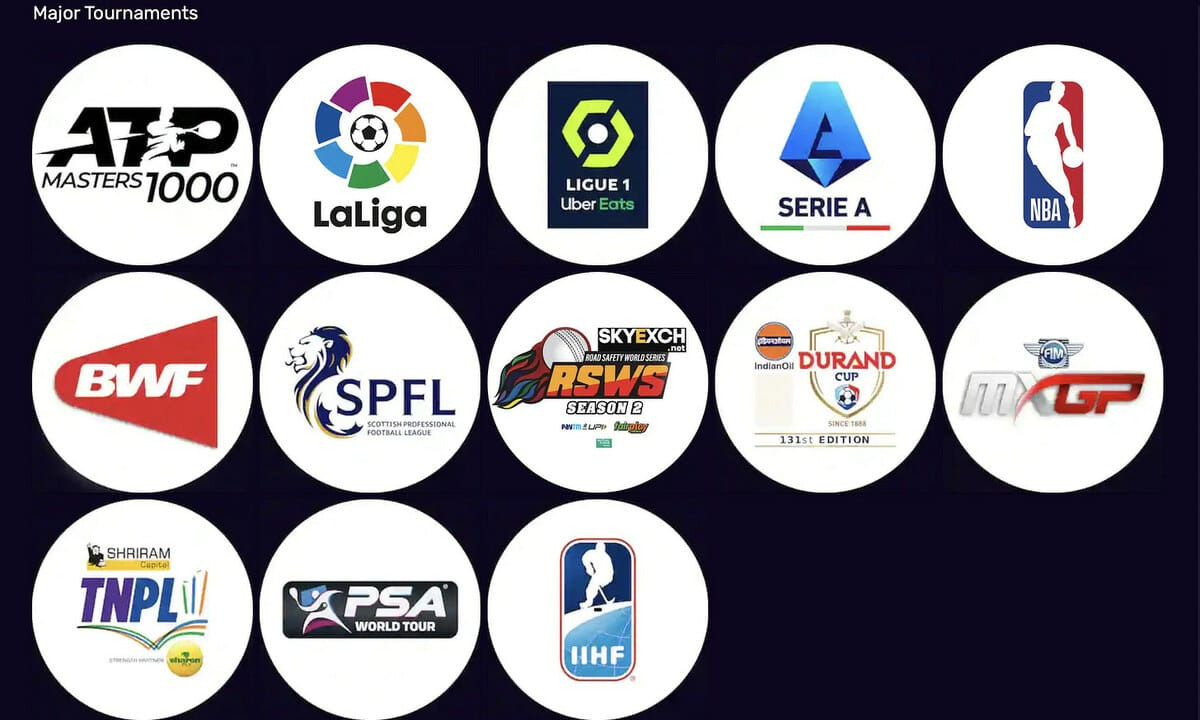 Also in the Viacom18 sports stable is the Indian Premier League (IPL), whose digital rights it purchased for a cool $3 billion in June. The company hasn't yet taken a decision on where and how it will stream the IPL. It's unlikely that Viacom18 will offer a $3 billion property for free, even though, monetisation of live sports will predominantly be ad-driven for Reliance.
Reliance is banking on the lifetime value of a Jio subscriber. My hunch is that Jio is trying to hook users by offering sports for free on JioCinema. And then, when the IPL comes around, it'll either put up a paywall for non-Jio subscribers or ask them to switch to Jio to watch it for free.
In that sense, the FIFA World Cup was a test event for Viacom18 ahead of hosting the IPL. By putting the World Cup on JioCinema and offering it for free, thereby opening it up to hundreds of millions of potential users, the company probably wanted to see if it has the tech chops to handle a mega sporting event.
The 2022 edition of the IPL had garnered 400 million viewers across television and digital, with streaming platform Disney+ Hotstar seeing a peak concurrency of 8.7 million. The FIFA World Cup is unlikely to get that many, but the 2018 edition had attracted 110.5 million viewers across TV and digital for broadcaster Sony Pictures Networks India. But Sony hadn't offered the World Cup for free, so you can expect Viacom18 to get more viewers for the 2022 edition.
If what happened on the opening day of the 2022 World Cup is anything to go by, JioCinema has failed the test. However, things have progressively gotten better since then for me at least, although I'm still seeing complaints on Twitter.
I spoke to a couple of product managers who have worked in the streaming industry. They told me that there are two major factors that differentiate regular VOD, like streaming a movie or TV show, from live sports: latency and load balancing.
Latency: It's the time gap between what's happening live and what you're seeing on your screen. To reduce latency, streaming platforms need to have multiple content delivery networks (CDNs).
A CDN is basically a geographically distributed network of servers that work together to distribute video streams quickly. "It allows you to store the information in different regions," says one of the product managers. "Let's say the information is getting streamed from California. You can store a copy of that information in, let's say, Singapore. This improves the latency, since the data will not transfer all the way from California to your device. It'll come from Singapore."
Load balancing: While watching live sports, users hop in and off the stream quite frequently. So, streaming platforms need to have a system in place to balance the load and deal with the fluctuation. "Cricket, for instance, is a very dynamic game, where viewerships shoots up in the last few overs. So, you need to be able to ramp up the service whenever viewership spikes and then ramp it down again when users go away," says the product manager.
Apart from this, streaming platforms also need to solve for multiple devices and operating systems. For example, you could be watching the World Cup on your phone, which could be iOS or Android. Or it could be on a laptop, which has its own OS. Or it could be on a connected TV, which has a different system altogether. There are so many different use cases to solve for.
For instance, on the opening day of the World Cup, the JioCinema TV app didn't allow me to log in without a Jio number. However, I was able to log in on its mobile app and website. This was fixed quickly the following day, and I have since been able to watch the matches via the TV app.
"Device support, if not optimised, can be quickly scaled up," says the second product manager. "They might have realised that it seems to be failing on, let's say, iOS or Samsung TV devices. So, they would have plugged that hole very quickly."
The heavy buffering and lag from the opening day, which is due to the latency, has also gotten better. Since it was optimised quickly, Jio probably has a CDN close to India.
Load balancing, however, is something that can't be fixed very quickly. "I think that is the major problem they would have faced," says the second product manager. "Load balancing is the Achilles heel. It requires a lot of effort with the transcoding and encoding... how do you handle a sudden deluge of users, how do you scale down when the users leave."
Given the short time frame that JioCinema had to prepare itself for the World Cup, it's no surprise it wasn't prepared. The company probably figured that since they're offering it for free, people won't mind the glitches and it's not a deal breaker," says the second product manager.
This brings us to the next big question: will JioCinema be able to fix all these issues before the IPL, which is just four months away? Both product managers believe it's not possible. "You need at least a year, if not more, to solve these things. Even Hotstar has still not perfected load balancing after being in the business for so long," says the first product manager.
The IPL will also bring the added complexity of inserting ads in between live play. "You're adding another level of complexity," says the second product manager. "You might also want to customise these ads, which is another massive effort. Hotstar is also struggling to build that utopian world where everything is hyper-personalised."
So, as viewers, we have no choice but to be patient and hope that JioCinema's live sports streaming experience improves over time. It's a different matter whether advertisers will also be patient, though.
Viacom18 has signed on 18 sponsors for the World Cup, including Mahindra, Amul, Visa, ET Money, and the Association of Mutual Funds in India (AMFI). According to reports, JioCinema is expecting to make ₹300 crore ($36.7 million) as advertising revenue from the World Cup. Will all the technical glitches during the FIFA World Cup affect its earning potential for the IPL? We'll have to wait and see.
⚡️Quick Singles
⚽️🔴⚪️ The Glazer family is open to selling Manchester United if they receive the right offer. And if British tabloid The Daily Star is to be believed (I wouldn't), Apple is interested. With a market cap of $2.4 trillion, Manchester United's $4.6 billion valuation, according to Forbes, will be pocket change for the American tech major.
But as we've already written in The Signal, it'll be interesting to see how potential buyers/investors react at a time of economic downturn. Especially when Liverpool, a much more professionally managed club, is also potentially up for sale.
PS: Even Manchester United legend and Qatar World Cup ambassador (🙄) David Beckham is interested, according to the Financial Times.
⚽️🏆🤑 Despite all the controversies, FIFA is laughing its way to the bank. The governing body announced record revenues of $7.5 billion in the four years leading up to the 2022 World Cup. And revenues are expected to approach $10 billion for the next four-year cycle thanks to a new financial strategy for women's football and the expanded 2026 World Cup in the United States, Canada, and Mexico.
🏎️🟠 Two-time Formula One champion Max Verstappen has zoomed past Lewis Hamilton as the highest-paid driver in the sport in 2022, according to Forbes. The 25-year-old earned $60 million pretax from salary and bonuses this year, overtaking Hamilton's $55 million. The British driver had topped the Forbes rankings from 2013 to 2021.
🏏🏴󠁧󠁢󠁥󠁮󠁧󠁿🛢️ The England cricket team will be allowed to boycott the player of the match award at the upcoming ICC Women's T20 World Cup 2023. The award is sponsored by the Saudi Arabian Oil Company, more popularly known as Aramco. Some England players expressed reservations about the state-owned company, which was "the single greatest contributor to global carbon emissions of any company in the world since 1965," according to The Guardian.
🏏🇱🇰🇰🇪 Sri Lanka and Kenya are both launching their own T10 cricket leagues. The first seasons of the Lanka T10 and the Africa T10 will both be held in June 2023. While Sri Lanka already has a T20 league in the Lanka Premier League, the Africa T10 will be the first franchise-based league organised by Cricket Kenya. The OG T10 league, the Emirates Cricket Board's Abu Dhabi T10, kicked off its latest season on November 23.
🏏🇮🇳🇧🇩 Sony Sports has bagged the rights to broadcast India's tour of Bangladesh. Featuring two Tests and three ODIs, the series will be held from December 4-26. Sony had earlier acquired the rights for India's tour of Zimbabwe.
🎲🇮🇳 Nearly two-thirds of Indians consider fantasy sports as gambling, according to a survey conducted by community social media platform LocalCircles. The survey received 17,201 unique respondents from across India. Despite operators classifying fantasy sports as games of skill, 65% of the respondents believe they are games of chance, with financial risks involved.
📖 Weekend Reads
⚽️🇵🇰 If you own a football, there's a good chance it was manufactured in Sialkot, a city in northeast Pakistan. More than two-thirds of the world's footballs are made—mostly hand-stitched by women—in one of the city's 1,000 factories. That includes Adidas' Al Rihla, the official ball of the 2022 FIFA World Cup. Bloomberg Businessweek has a nice feature on this.
🇶🇦🛏️ Would you spend $200 a night to sleep in a shipping container? It's what several fans visiting Qatar for the World Cup are doing—the ones who can't afford a hotel room. Tbf, the shipping container rooms in the Fan Village do have ​​two twin beds, Wi-Fi, air conditioning, a refrigerator, and a bathroom. This New York Times story offers a peak inside container life in Qatar.
📺 The Watchlist
Here's a selection of the best World Cup matches to catch over the weekend:
🏴󠁧󠁢󠁥󠁮󠁧󠁿England vs 🇺🇸USA | Saturday 12.30 am IST
🇫🇷France vs 🇩🇰Denmark | Saturday 9.30 pm IST
🇦🇷Argentina vs 🇲🇽Mexico | Sunday 12.30 am IST
🇪🇸Spain vs 🇩🇪Germany | Monday 12.30 am IST
All matches are live on Sports18 and JioCinema.
👀 ICYMI
🇧🇷😍 Brazil toiled for a little over an hour in their World Cup opener against Serbia on Thursday, before Richarlison decided enough is enough. The Spurs forward scored a brace to get his team's campaign up and running, including an exquisite bicycle kick for the second.
JioCinema

@JioCinema
ACROBATIC 🤸‍♂️
Watch @richarlison97 smash home #Brazil & his second goal of #BRASRB 📽️
Watch more action from #FIFAWorldCupQatar2022, LIVE on #JioCinema & @Sports18 📺📲
#WorldsGreatestShow#FIFAWorldCup#FIFAWConJioCinema#FIFAWConSports18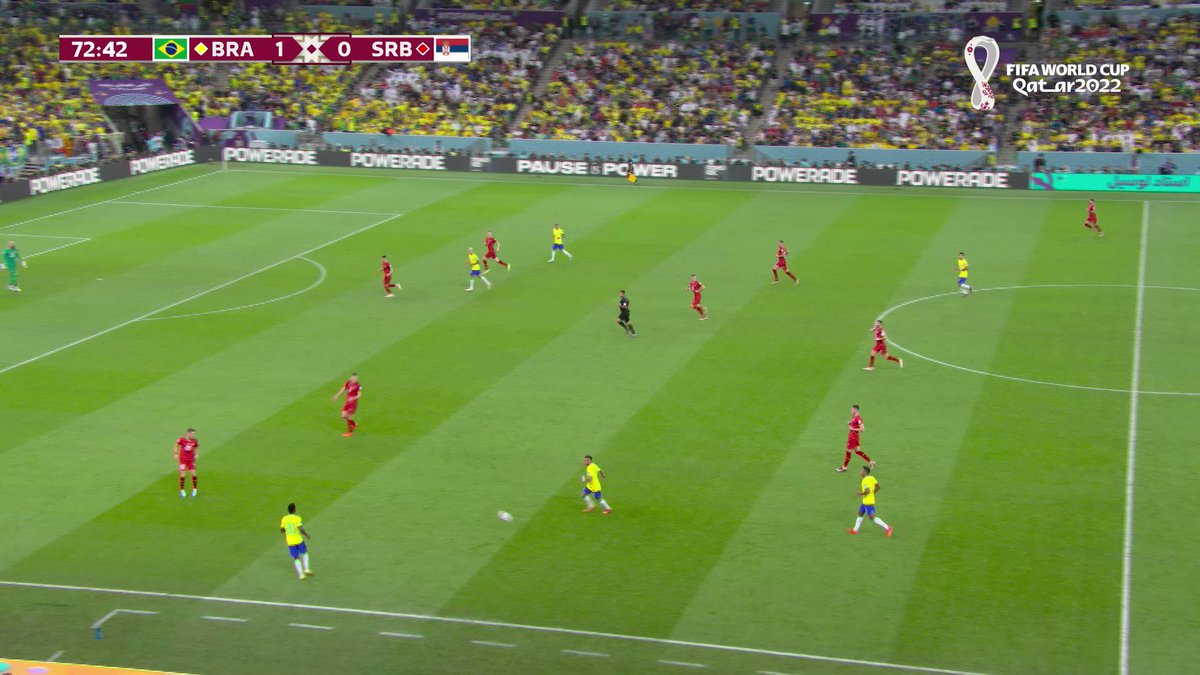 Nov 24, 2022
15 Likes   7 Retweets   0 Replies
Early goal-of-the-tournament contender. Here's another angle:
FIFA World Cup

@FIFAWorldCup
Richarlison! What have you done?! 🤯
#FIFAWorldCup | @richarlison97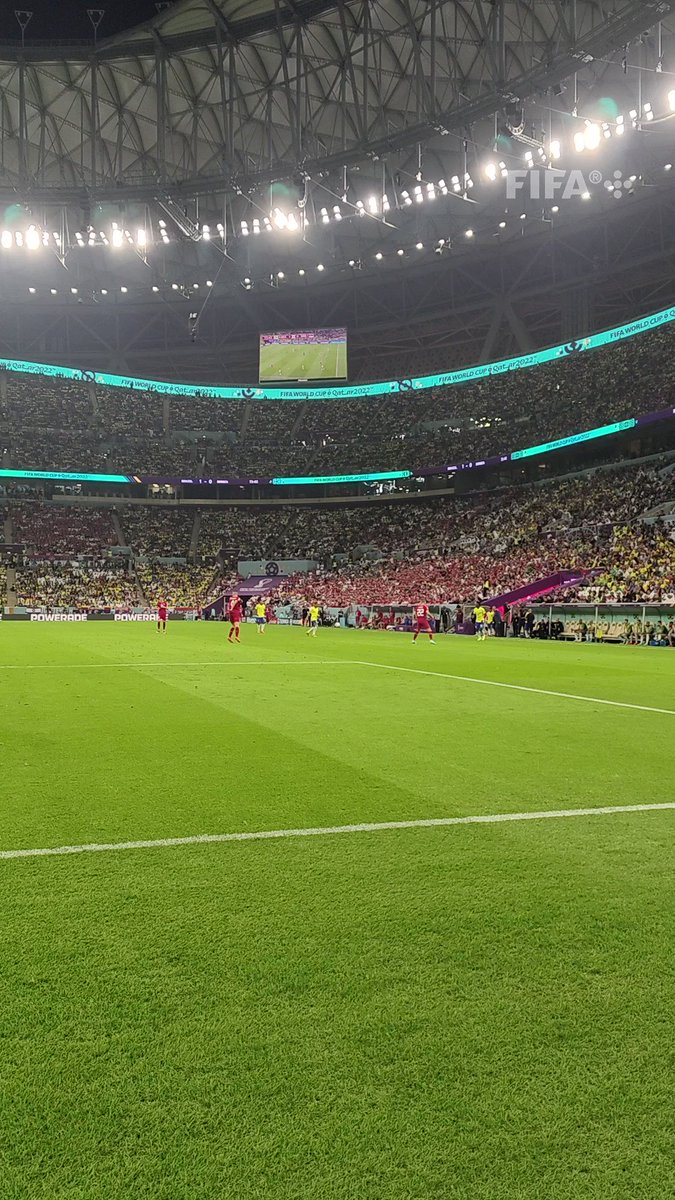 Nov 24, 2022
76.4K Likes   13.8K Retweets   1.22K Replies
Brazil—and Richarlison—have arrived!
That's all from The Playbook this week. Please feel free to write to me with any feedback or suggestions for topics to write on. See you again next Friday!
Best,Jaideepjaideep@thesignal.co