Discover more from The Signal
The Signal is a daily curated newsletter that helps you understand the latest developments in business, tech, finance, economy, and policy with sharp analysis and crisp insights thats fun to read arriving at 8AM daily in your inbox.
Over 81,000 subscribers
Too much of a good thing
Also in today's edition: ByteDance Sheikhs its money maker; Indian telecom's tower trip; AI booster for Google Workspace; Puma's edge over Nike and Adidas
Good morning! Trademark fiascos seem to follow Blinkit CEO Albinder Dhindsa wherever he goes. First, there's the eight-year, still-ongoing suit by Redstone Consultancy, which operates a startup called Groffr. Redstone Consultancy accused Grofers (as Blinkit was known then) of "passing off" with a similar sounding name. The Morning Context reports that a Bengaluru civil court is currently siding with a software service provider named Blinkhit Pvt Ltd, which registered 'Blinkit' three weeks after Dhindsa's newly-named company applied for the trademark in 2021. Will he (and by extension, Zomato) get a reprieve? Watch this space.
Today's edition also features pieces by Venkat Ananth, Srijonee Bhattacharjee, and Jaideep Vaidya.
If you enjoy reading us, why not give us a follow at @thesignaldotco on Twitter and Instagram.
The Market Signal*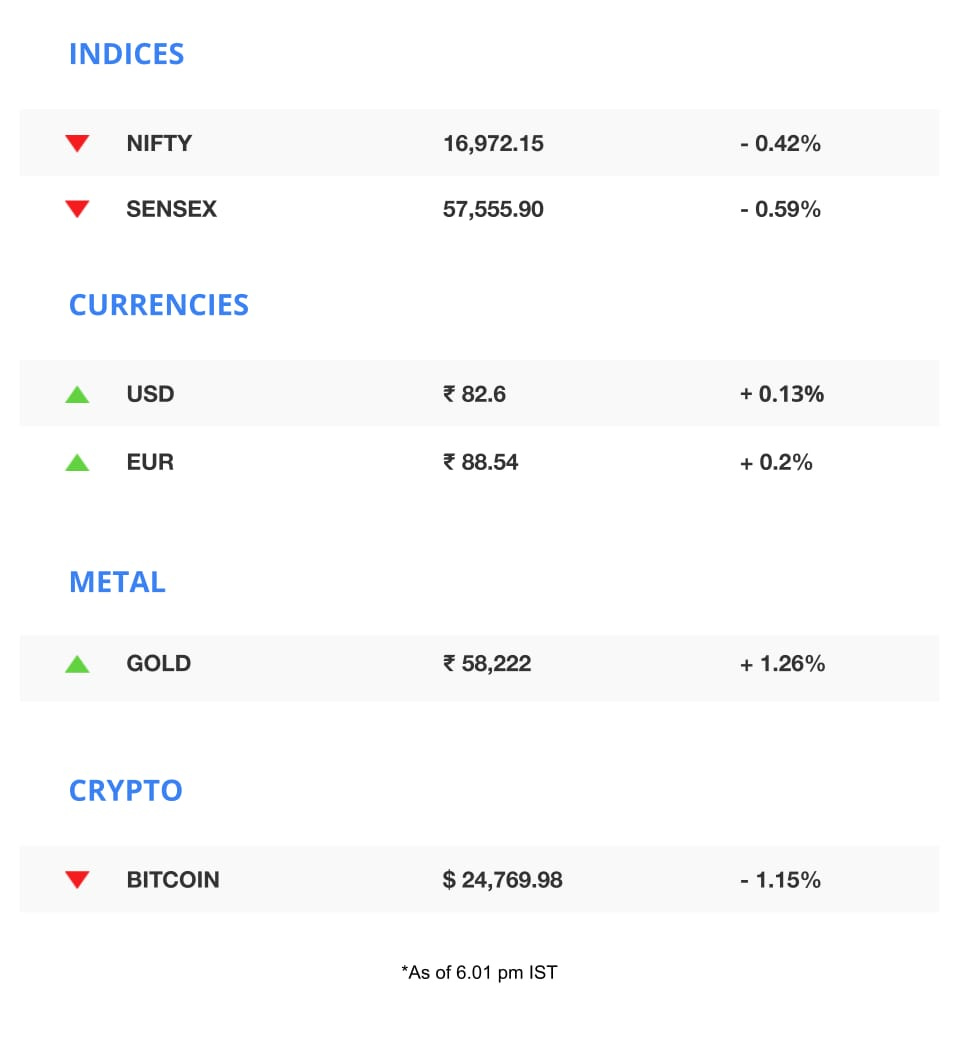 Stocks and economy: Indian equities are set to fall as investor appetite for risk took another hit globally after shares of Credit Suisse plummeted. The Swiss lender's largest shareholder, Saudi National Bank, refused to increase funding, critical to the bank's sustenance in case depositors wanted to withdraw their funds.
European financial regulators extended help on liquidity to the "systemically important" lender. Among other measures, Credit Suisse will now reportedly borrow $50 billion Swiss franc ($54 billion) from the Swiss National Bank.
Despite the sharp sell-off in European indices over fears that the Silicon Valley Bank debacle may plague the broader global financial system, the European Central Bank may raise rates by half a percentage point on Thursday to rein in inflation.
Back home, technology stocks may consolidate after the recent plunge as the US central bank may raise rates slower than anticipated as inflation data indicates that they may be gaining a grasp on prices.
SOCIAL MEDIA
TikTok's Desert Dance
For a company undergoing an existential national security review in the United States, ByteDance seems to be in demand among spymasters (beyond its own!).
G42, a technology company founded by the United Arab Emirates' national security advisor and Abu Dhabi royal Sheikh Tahnoon bin Zayed Al Nahyan, has bought a $100 million+ stake in ByteDance via a secondary transaction.
Haircut: Tahnoon's transaction was done at a $220 billion valuation, short of ByteDance's September 2022 share buyback offer ($300 billion), and less than half its peak valuation of $460 billion in 2021.
Eric Newcomer

@EricNewcomer
Tiger Global told investors this year that it invested $1.1 billion in ByteDance at a $460 billion valuation in 2021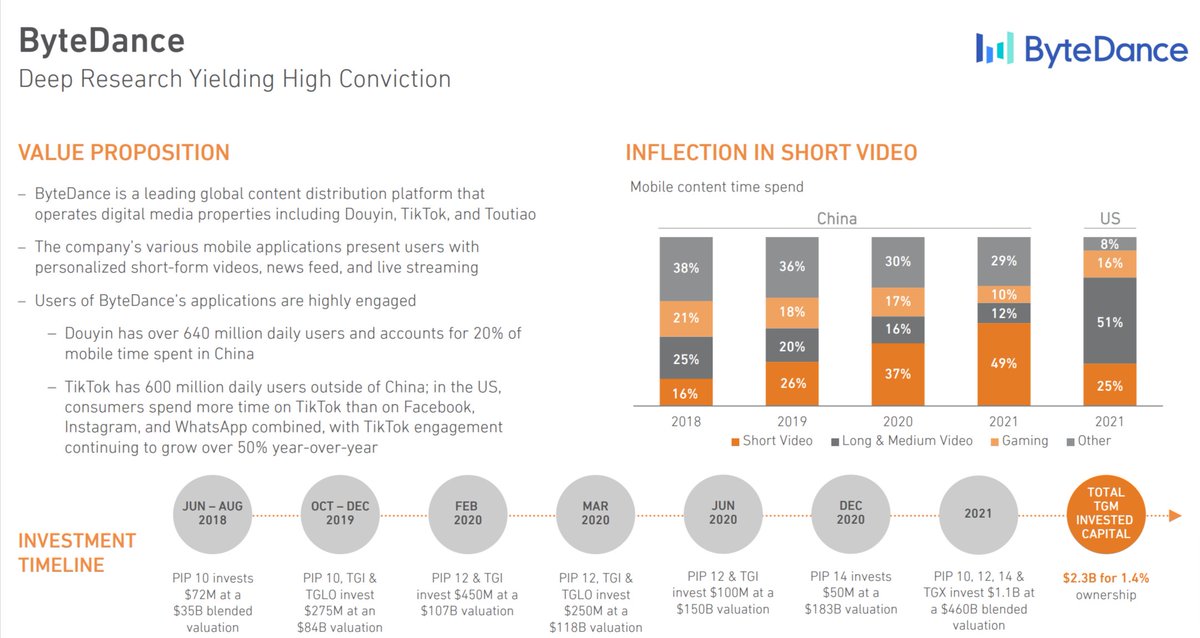 May 13, 2022
1.9K Likes   211 Retweets   41 Replies
Rising profile: The stake purchase is a testament to Tahnoon's growing influence in business circles, as evidenced by his blurring of private and state interests and elevation as the head of the Abu Dhabi Investment Authority, the kingdom's $790 billion sovereign wealth fund. Tahnoon also participated in Adani Enterprises' now-cancelled FPO, and was named in the Pandora Papers.
🎧 Pink Floyd's plans to sell their $500 million music catalogue may have hit a wall. Also in today's edition: TikTok has received funding from an Abu Dhabi-based firm despite the constant regulatory scrutiny. Listen to The Signal Daily on Spotify, Apple Podcasts, Amazon Music, Google Podcasts, or wherever you get your podcasts.
TELECOM
Vi Unsettles The Towers That Be
Indus Towers is far from the only telco infra provider suffering delayed payments from the beleaguered Vodafone Idea (Vi). India's largest telecom tower firm has company in the American Tower Corporation (ATC). Things are so bad for ATC that it wants to minimise its exposure to India.
Details: ATC is reportedly looking to private investors for a stake sale in its India unit, ATC Telecom Infrastructure Pvt Ltd. The development follows the inability of Vi—ATC's largest customer in India—to resume payments in full. Vi's Indian promoters, the Aditya Birla Group, are prioritising a capital infusion to improve operations and execute 5G upgrades. Unlike better-positioned competitors Jio and Airtel, Vi is yet to roll out 5G services.
Speaking of Jio, the Reliance-run telecom operator announced a host of new postpaid plans that rival those of Airtel and Vi in price, benefits, and family packs.
ADVERTISING
Free Rein, Tight Spot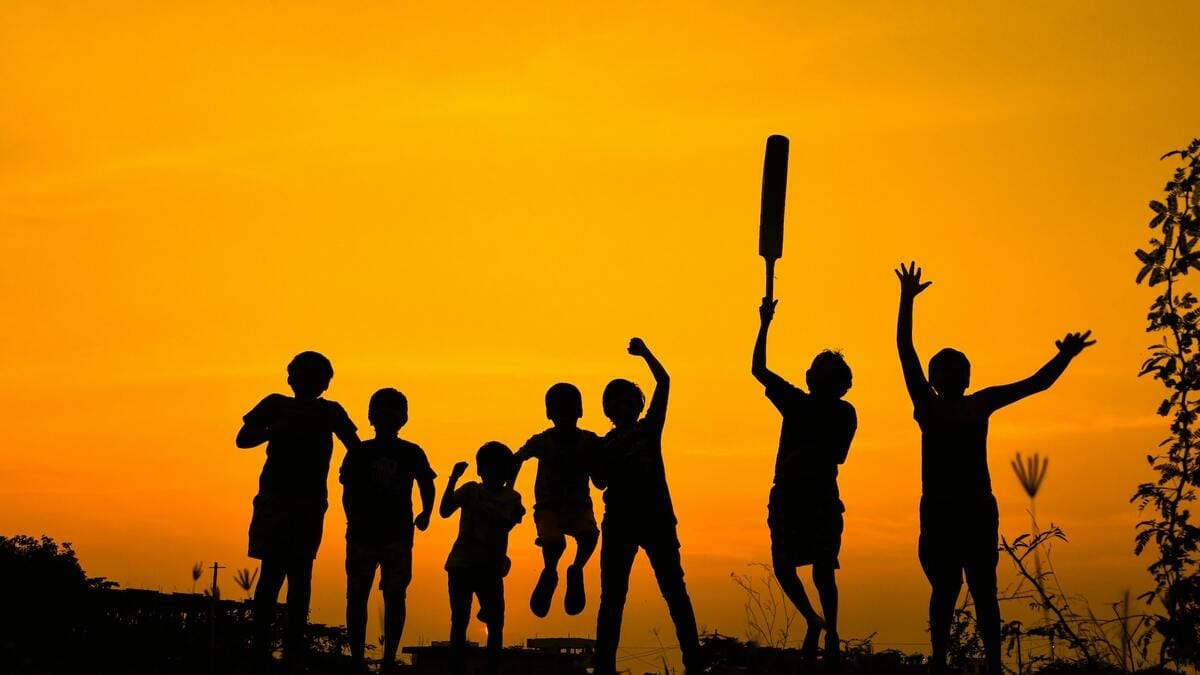 @vickyadams_007/Unsplash
We're getting to watch the Indian Premier League for free this season on digital, but that's making advertisers nervous. Broadcaster Viacom18 claims it will get 1.5x more viewers than the previous record of 330 million in 2018. But tantalising figures aside, advertisers are finding it hard to locate a relevant target audience and estimate a return on ad spends. Advertisers are also questioning whether Viacom18's streaming platform JioCinema and internet service providers can handle the swell of concurrent viewers. Disney Star, meanwhile, is wooing brands on the reach and stability of television over digital.
The Signal
Disney Star and Viacom18 are locked in a battle to close ad deals before the season begins on March 31. Startups have slashed ad budgets due to a funding slowdown, so traditional brands are stepping in.
What is the impact of this push-and-pull on ad rates? The Ken found that cost per mille (or CPMs, a measure of ad rates in rupees per 1,000 impressions) and entry-level prices have fallen by about 20-25%. But Moneycontrol reported that CPMs have risen by 10-15% for a 10-second spot.
What's more likely? Prices were set to rise, but competition between Disney Star and Viacom18 has pushed both to sweeten the pot to close deals in time. Perhaps both platforms would have been better off keeping a paywall? Consumer research firm Kantar found that ad spend is 5.5 times higher for paywalled content, because that's where viewers pay more (money and attention).
A MESSAGE FROM OUR PARTNER
Design & Design Thinking for Enterprises
IT giant TCS relied on them for a B2B enterprise web app; FMCG major Unilever counted on them to create a sales and distribution app that measured sales performance; Internet Service Provider ACT tapped them for a workflow management app that focused on sales, and quicker resolution in services.
These design & design-thinking-led enterprise applications are enabling growth, increased productivity, and of course, happier customers.
We are talking about NetBramha, a UI/UX design studio that employs design expertise, a research-led structured approach, and attention to detail to get the job done! It's why 250+ clients across industries, startups, products, and Fortune 500 companies, have worked with NetBramha, to include design thinking in their strategy.
Over the last 15 years, NetBramha has won several global design awards but more importantly helped 100+ enterprise companies in the design journey.
Check out some of their work here.
Want to chat about product strategy? The Signal readers get a free design audit or consultation to customise your design transformation journey!
Get free design audit/consultation
ARTIFICIAL INTELLIGENCE
Dispatches From The Madding Crowd
OpenAI has officially announced GPT-4, an update of the large language model that powers its AI chatbot, ChatGPT. Unlike GPT-3.5, GPT-4 can parse images, although this image description feature won't be released yet due to concerns over possible misuse.
The latest iteration performs better on simulated standardised exams and is 82% less likely to respond to prompts for disallowed content. But while it's more precise, humorous, and better at editing, it's seemingly behind on reasoning skills. Factual errors remain an issue.
Elsewhere: Google, which once issued a code red over the ChatGPT threat, announced generative AI features—the kind that turn bullet points into mails and prompts into full job descriptions—for its Workspace apps… a day before competitor Microsoft is expected to reveal details about AI incorporation in its own productivity suite.
Anthropic, the AI startup founded by ex-OpenAI folks, has launched a ChatGPT rival named Claude.
RETAIL
Puma Continues To Devour India
The German company consolidated its position as the largest sportswear brand in India in terms of sales, with a 46% year-on-year jump in revenue to ₹2,980 crore (~$360 million) in the year ended December 2022. That's more than the combined earnings of Adidas, Nike, and Reebok, according to The Economic Times. The report didn't mention Puma's expenditure.
How?: For one, Puma distinguished itself as an athleisure brand rather than just a sports brand. With a "gym-to-the-runway" strategy, it could tap into a wider audience base. For every Virat Kohli and Harmanpreet Kaur on its brand ambassador list, there's also an Anushka Sharma and Harrdy Sandhu.
Make in India: A multichannel approach—e-commerce contributes to over 44% of Puma India's sales—and the ability to keep prices low by manufacturing locally also helped its cause. Nearly 50% of its products are made in India, up from 31% three years ago.
PS: Puma has been able to rule India's sportswear market despite never having sponsored the Indian cricket team. Adidas has reportedly just picked up the sponsorship for ₹350 crore over five years, despite Nike pulling out in 2020 because it didn't make financial sense. In this week's edition of The Playbook, our sports business newsletter that's out every Friday, Jaideep Vaidya dives into the business of Indian cricket kit sponsorship. To make sure you receive it, subscribe to The Playbook for free: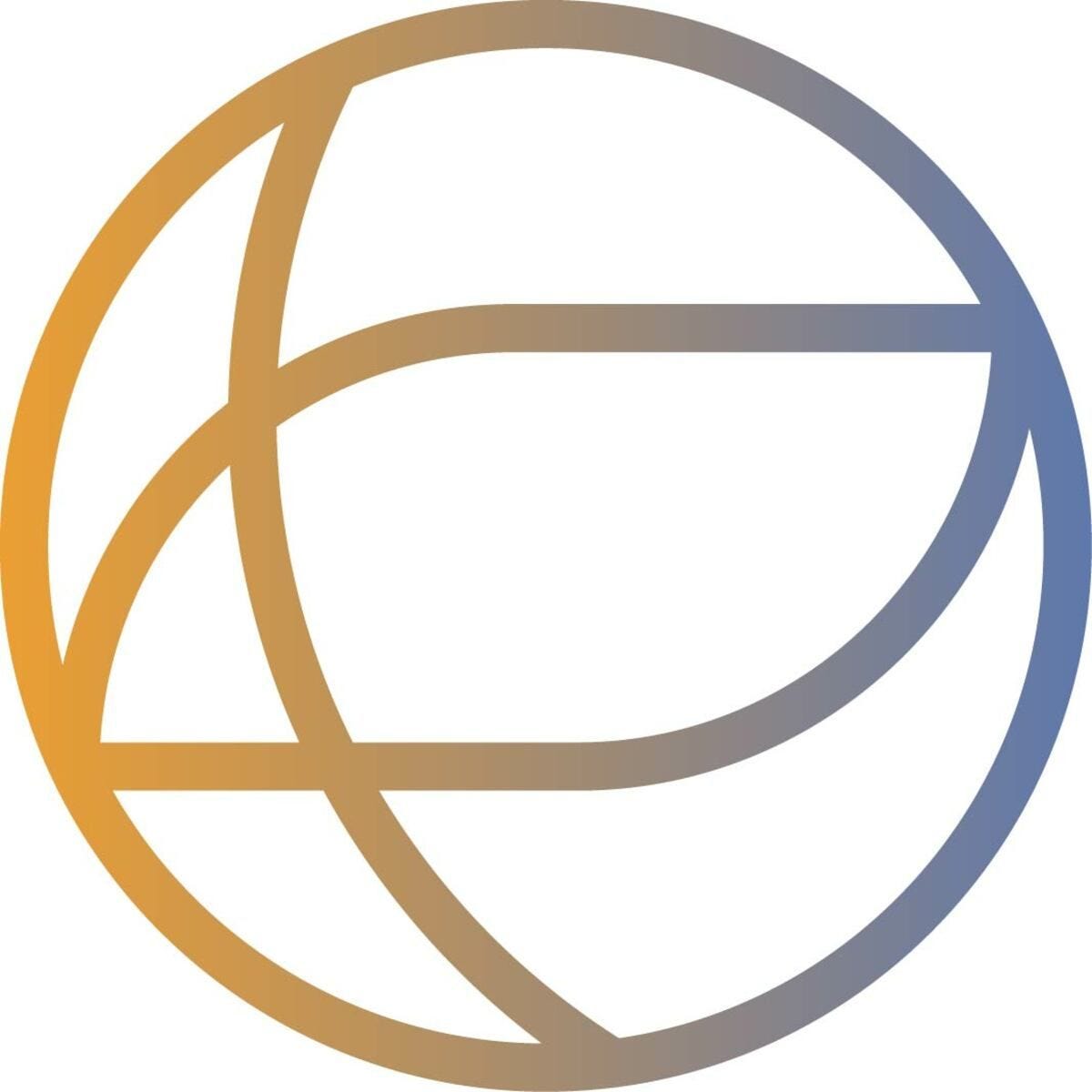 The Playbook
A weekly newsletter that deconstructs the business of sports and gaming.
FYI
De(a)luge: Healthtech startup HealthPlix raised $22 million as part of a Series C round led by Avtaar Venture Partners and SIG Venture Partners. Indian influencer marketing platform One Impression also bagged $10 million from South Korean gaming giant Krafton, while Ayurveda-based women's health startup Gynoveda also raised $10 million.
Green-ish signal: The Bar Council of India will now allow foreign lawyers and law firms to practice in India. However, they cannot appear in courts or tribunals, and their remit is specific to areas such as corporate matters, mergers and acquisitions, legal advice, etc.
ChatGPT or…: Tokyo-based fintech company LayerX has made it mandatory for its fresh recruits to use the buzzy AI-chatbot and Notion AI. It is also testing these recruits on their knowledge of the technology.
Lean year: iPhone manufacturer Foxconn reckons that a slump in demand for consumer electronics is likely this year, as it readies its EV manufacturing push in the US.
Not so lean: Samsung will reportedly invest $230 billion over the next two decades on five semiconductor plants in South Korea, as part of the country's ambitious plans to build "mega semiconductor clusters."
Big deal: Abu Dhabi Investment Authority has poured $500 million into Indian eyewear company Lenskart, taking its valuation to $4.5 billion. The money will be used to expand its international footprint.
Shaky: San Francisco-based First Republic Bank is considering several strategic options including a sale. The development follows its downgrade by S&P and Fitch to junk.
THE DAILY DIGIT
60%
The year-on-year decline in dealmaking volumes in India in February 2023, as a result of VCs writing fewer cheques. (The Economic Times)
FWIW
Anti-climax: Trust Netflix to be the bad guy here. The streaming giant has reportedly scrapped romcom legend Nancy Meyers' comeback project over budget issues. The Something's Gotta Give and Father Of The Bride director reportedly asked for a whopping $150 million, but Netflix wouldn't budge beyond $130 million. Viewers are being deprived of an aesthetically-designed kitchen, a long-running theme in the director's work. We hope Meyers' project finds a new home.
Comfortably numb: Looks like even $500 million isn't enough for Roger Waters and David Gilmour to put their rivalry behind them. Pink Floyd's proposed catalogue sale may bite the dust. According to Variety, its fate is up in the air. Waters' recent anti-Semitic comments aren't helping matters. Rising interest rates, tax issues, and the plunging British pound, among other reasons, have possibly slowed the deal. Well, time hasn't healed wounds, and money clearly isn't the motivator. We think the group could do with some divine intervention.
Unicorns are unreal…: As are dream jobs, according to new research. About 46% of adults in the UK believe that the dream job doesn't exist. Most workers want flexible hours, a good pay package, regular hikes, and the chance to travel. Are employers listening? Healthcare, creative arts and design, sport, and tourism are a few fields that respondents thought would get them closer to their dream job. In related news, money does make you happy. Our pro tip: go chase that dough.