Discover more from The Signal
The Signal is a daily curated newsletter that helps you understand the latest developments in business, tech, finance, economy, and policy with sharp analysis and crisp insights thats fun to read arriving at 8AM daily in your inbox.
Over 81,000 subscribers
JioMart scorches retail distribution
Also in today's edition: Calls will get costly, DTC brands sweep small towns, Global supply chains mending slowly
Good morning! Everyone wants to be Elon Musk, the man who claims 50% of his tweets are from the porcelain throne. Now, so does Vijay Shekhar Sharma. In a town hall, the founder of Paytm said that Tesla was once one of the most shorted companies in the world, now it is one of the most valuable companies. He said that would happen to Paytm too. VSS' company has seen its share dive 40% from its listing price.
Btw, our podcast has been going strong for two months now. Tune in on your daily jog, drive to the office, or even as you WFH-ers have breakfast in bed. We promise it'll be music to your ears.
The Market Signal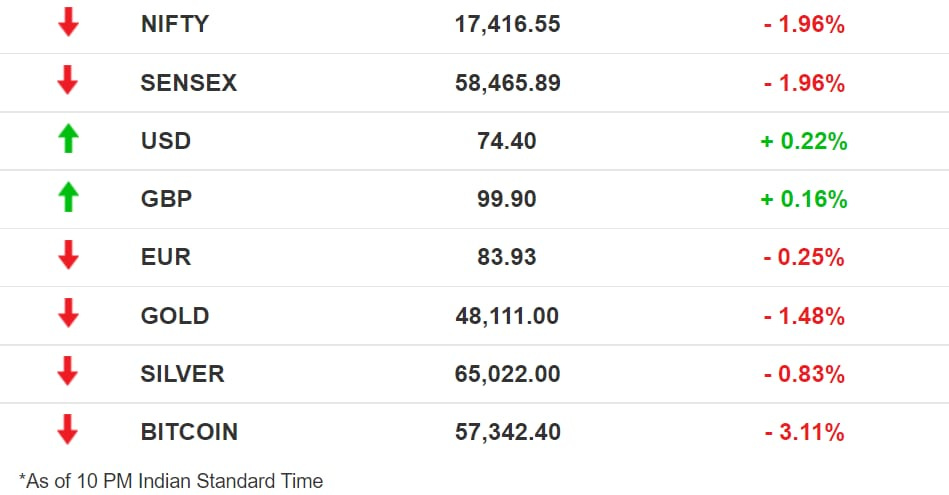 Stocks: Benchmark indices recorded their fourth straight trading session in the red with their steepest single-day fall in seven months. India VIX, a gauge of volatility, soared 18%. Among the factors contributing to the slide were the reimposition of lockdowns in Austria and some other nations to combat a surge in Covid-19, and a fall in crude oil prices off the back of the US releasing some of its reserves.
Cut to size: Paytm's torrid debut at the bourses extended to its second trading session, closing nearly 13% lower for the day. Overall, it has lost over ₹50,000 crore in market cap since its debut following the successful close to India's largest IPO to date.
Airtel Bites The Bullet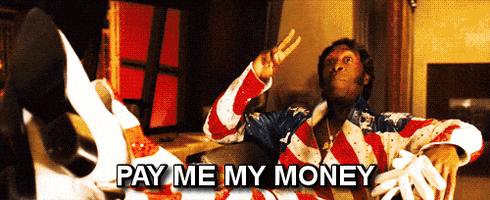 After about five years (though there was a minor hike in 2019) of bottom-hugging tariffs, telecom prices are set to move up. Bharti Airtel has set the ball rolling by hiking prepaid tariffs by 20-25% across the board. The increase is to ensure that the average revenue per user (ARPU), a key profitability metric, rises to ₹200 and then eventually to ₹300 from the current ₹153.
Sustainable business: The hikes, effective November 26, will boost Airtel's return on capital, help fund its 5G rollout, and bolster spectrum investments. The company's chairperson, Sunil Bharti Mittal, said in July that Airtel would raise prices if others joined in. In August, he reiterated that tariff increases were the only way for the industry to survive.
Debt turnaround: in September, telcos like Airtel and Vodafone Idea received a four-year moratorium on dues repayment. The tariff hikes will give them more breathing room. Vi, which is struggling with high debt, is expected to follow suit.
D2C is finding a new home, small-town India
First, some funding news. A direct-to-customer (D2C) brand just raised some money. We're talking about SleepyOwl Coffee here, which just bagged $6.5 million in its Series A round. But this also comes on the heels of an interesting trend, where Tier 2 and 3 towns are contributing to the category's growth, according to The Economic Times. Nearly 40-50%. That's a whoa!
Tell me more: D2C brands across categories such as grooming, cosmetics, skincare, smart wearables, and healthy foods are seeing considerable adoption in these smaller towns, the report adds. A mix of first-time consumers and affordability has meant appetite and demand for these products. The boom helped brand aggregator Mensa become the fastest unicorn in just six months.
The takeaway: Online shopping becoming a habit during the last 18 months (thanks, Covid), is definitely a pull factor. This paired with several brands and merchants opting for their own storefronts (instead of marketplaces such as Flipkart and Amazon) has given consumers choice. Growth of the digital payments ecosystem and logistics has smoothened transactions and delivery. This dovetails with the marketing push from social media such as Instagram and other regional language influencer-led platforms.
Reliance Reprises Telecom Strategy to Disrupt Retail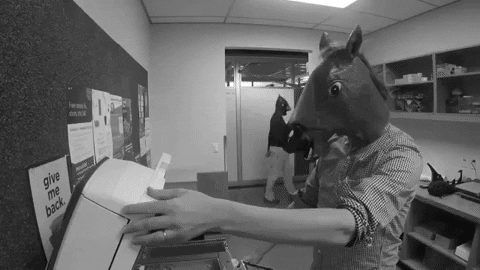 Small distributors, often family-owned, are feeling the heat as billionaire Mukesh Ambani's Reliance Industries-owned JioMart carves through the retail distribution business across the country with a scorched-price strategy.
Jio promise: Small retailers or kirana stores now order goods on JioMart Partner which promises deliveries within 24 hours at prices that are often a third less than traditional distributors can offer. Reliance also teaches store-owners how to order, offers them credit and free product samples.
Huge network: Reliance wants to eventually integrate 30 million small merchants with its network. It currently has only 1% of that target but hopes to add 10 million merchant partners by 2024. Research firm Jefferies projects that kirana sales for Reliance could touch $10.4 billion by 2025 from just $200 million in 2021-22. That will be at the cost of traditional distributors.
The Signal
Reliance's JioMart strategy appears to be straight out of Jio's telecom copybook. Reliance Jio had first launched its broadband services in 2016, disrupting the market with free 4G data, voice, and video services for six months. It triggered a bruising price war with Airtel and Vodafone quickly dropping their tariffs.
In the retail distribution market, however, there is no one player. Most consumer goods companies farm out dealerships and distribution to small local businessmen. Reliance is playing the classic oust-the-middleman game by leveraging the power of its 1,100 supermarkets who are the clients of consumer goods makers to drive bargains. It then uses the price advantage to offer unmatchable discounts to retail merchants. It recently purchased search and discovery company Just Dial that gave it access to a nationwide database of over 30 million merchants and enterprises, exactly the number Mukesh Ambani alluded to three years ago as the company's target.
Green Is The Colour Of Akasa
Billionaire investor Rakesh Jhunjhunwala-led ultra-low-cost airline Akasa Air has placed a $9 billion order for 72 Boeing 737 MAX airplanes.
The disappearance of several airlines, including Kingfisher, Air Deccan, and Jet Airways from the Indian skies, had moved pricing power to the remaining few companies such as Indigo and Vistara. The entry of Akasa could bring much-needed competition.
Go green: One reason why Akasa opted for the Boeing 737 Max was its reported fuel efficiency and smaller carbon footprint. Fuel costs are the biggest expense for an airline. Boeing 737 Max claims to reduce emissions by 14%. Cutting aviation emissions was a hot topic at the COP26 summit too.
At what cost? But Boeing's attempts at cost reductions have attracted allegations of compromising safety. The 737 MAX had been grounded in 2019 by the Directorate General of Civil Aviation after an Ethiopian Airlines plane crashed, killing 157 people.
Global Supply Chain Gets a Breather
The worst of the global supply chain disruptions that affected everything from food to automobile delivery may be behind us. Or so the trend indicates. Energy shortages in Asia have been easing, ocean freight rates have been declining and the number of ships anchored offshore in different US ports has dwindled.
Far from normal: This doesn't mean everything is hunky-dory. Challenges persist. Container costs are still three to four times higher than pre-pandemic levels and labour shortages in many parts of Asian production hubs continue to be a problem. Companies are simply adapting.
Stocked up: Big retailers such as Walmart and Home Depot have imported goods well in advance of the holiday season. Target, for instance, has additional inventory worth $2 billion at the end of the third quarter compared to the previous year. Unexpected circumstances, such as another covid-19 flare-up at key ports, could, however, put pressure on the global supply chain once again.
What Else Made The Signal?
Down, but not out: Saudi Aramco has not given up on investment opportunities in India, even as RIL scrapped a stake-sale deal with the Saudi-based firm.
Thrice lucky? Infra.Market is looking to raise $200-250 million at a $4.5 billion valuation in its third funding round in 2021 at a 400% value jump in a year.
EV highway: The government is planning to install 6,000 charging stations for electric vehicles across nine expressways in the country.
New player: Flipkart is entering the online healthcare sector with its new Flipkart Health+ and is acquiring a majority stake in online pharmacy Sastasundar Marketplace.
No more restriction: With the double Covaxin shots, now you can travel to Canada and the UK freely.
Sector monopoly: Edtech major Byju's is acquiring another language learning startup Hello English for $25 million.
Stay on: Jerome Powell is set to continue as the US Federal Reserve Chairman for another term.
FWIW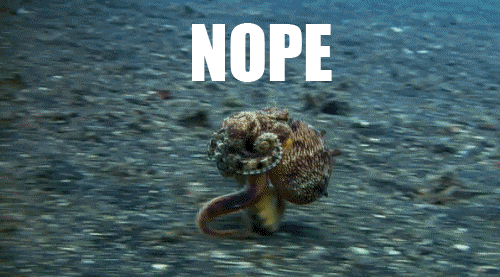 Decentraland IRL? El Salvador President Nayib Bukele is quite the dreamer. He has a plan that is not unlike what Dubai or Singapore had when they decided to turn into financial centres. Bukele wants to build a Bitcoin city. The country will issue bonds for $1 billion, half of which will go towards shopping for Bitcoins. The rest will be used to build the city complete with an airport, offices, rail, restaurants, residences, and a central plaza with a huge Bitcoin symbol. All of it sounds quite Trumpian, actually. Oh, and a volcano is an integral part of the plan.
No hard feelings: The UK will consider octopuses, crabs, and lobsters as sentient beings because studies show they are capable of feelings such as pain, hunger, joy, and excitement. Not entirely a surprise, we think. Craig Foster had already vouched that octopuses can teach a thing or two about emotions. We would go one step ahead and wager that they are not just sentient but even clairvoyant. At least Paul was. So was Rabio, a similar football-loving psychic octopus that could predict outcomes of Japan's matches. But its owner decided Rabio was better as sashimi, leaving people with mixed feelings.
Play: British singer Adele told Spotify she did not want the shuffle button on her albums because it broke the story. Adele said, "Our art tells a story and our stories should be listened to as we intended." Spotify listened. Now 'play' is the default button on all albums.
Want to advertise with us? We'd love to hear from you.
Write to us here for feedback on The Signal.