Discover more from The Signal
The Signal is a daily curated newsletter that helps you understand the latest developments in business, tech, finance, economy, and policy with sharp analysis and crisp insights thats fun to read arriving at 8AM daily in your inbox.
Over 81,000 subscribers
Welfare biscuit for filter kaapi
Also in today's edition: Amazon returns to the drawing board; Adani weathers Hindenburg hurricane; JioCinema goes freemium; Grief for a new chief
Good morning! Remember when we told you last week that Swifties were shelling out $45 to pre-order an unnamed, unpublished memoir they thought was Taylor Swift's? They're in for a Cruel Summer. Turns out the book—codenamed '4C Untitled Flatiron Nonfiction Summer 2023'—was about… Korean boyband BTS. The official title is 'Beyond the Story: 10-Year Record of BTS'. We dk if the Swifties who pre-ordered it and propelled it to the US bestseller lists will want to escape in a Getaway Car, but bookshops seem to be doing All Too Well. Bengaluru's Bookworm Bookstore tweeted that its pre-orders are sold out, and thanked the ARMY for the response. Talk about salt in the wound.
The Signal is now on Telegram! We've launched a group — The Signal Forum — where we share what we're reading and listening through the day. Join us to be a part of the conversation!
Today's edition also features pieces by Dinesh Naraynan, Julie Koshy Sam, Srijonee Bhattacharjee, and Jaideep Vaidya.
If you enjoy reading us, why not give us a follow at @thesignaldotco on Twitter and Instagram.
The Market Signal*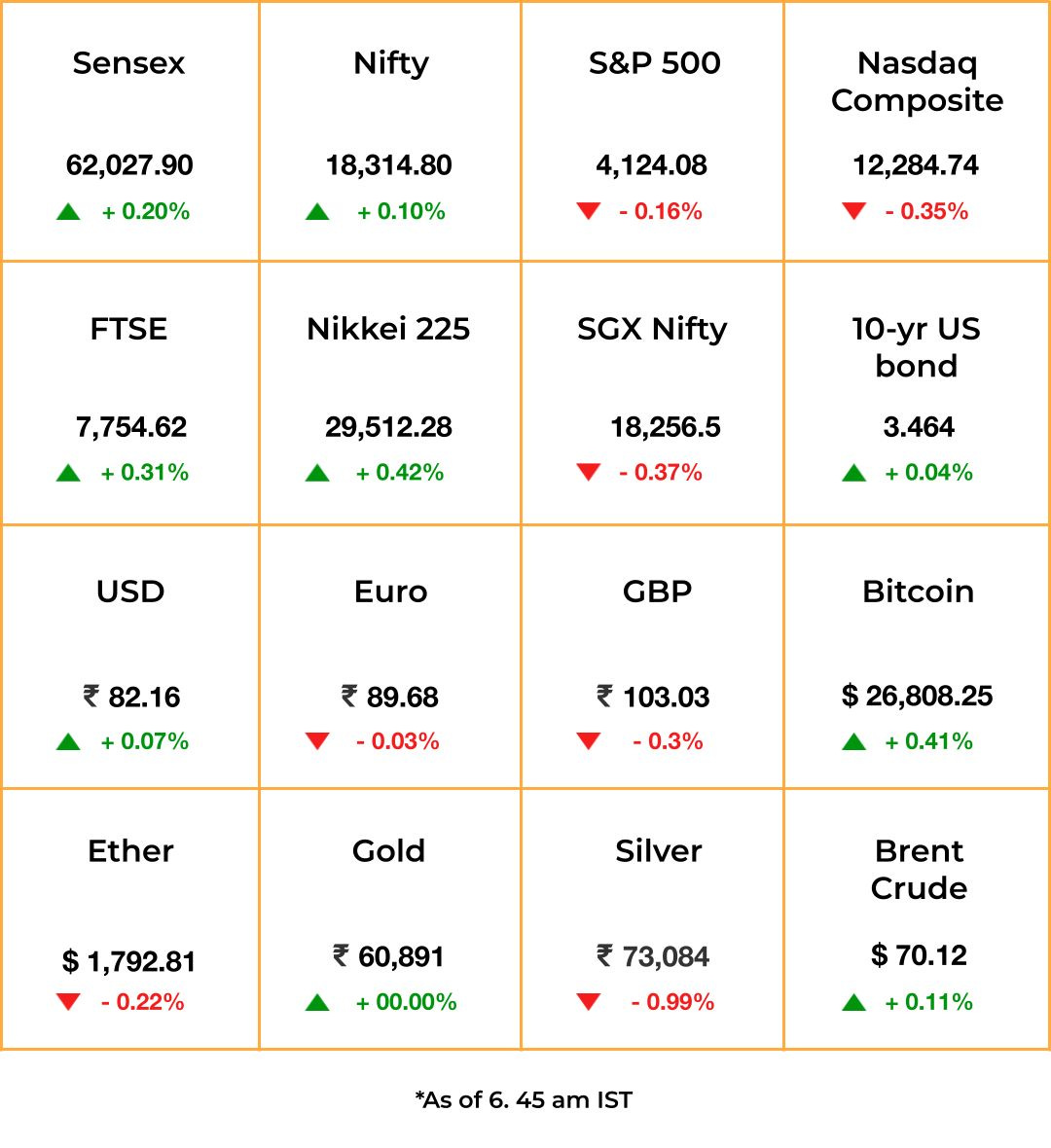 Stocks & economy: Indian shares may be off to a lower start today because of a weak handover from US and most Asian peers.
US equities took a hit on Friday as persistent inflationary concerns and comments from some Fed officials made investors unsure whether the central bank was done raising rates for the time being. On the matter of the US debt ceiling, a resolution was still far in sight.
Back home, markets may not receive the Congress Party's sweep of the Karnataka assembly too well as it indicates a victory for populism and welfare which investors frown upon.
Foreign investors' recent interest in Indian assets has pumped up the country's forex reserves. Relatively cheap oil may support the Indian currency today. Major investors globally are betting that emerging-market currencies are at the cusp of a rally, with the Indonesian rupiah and the Indian rupee starting as favourites.
E-COMMERCE
Your Parcel Is On The Way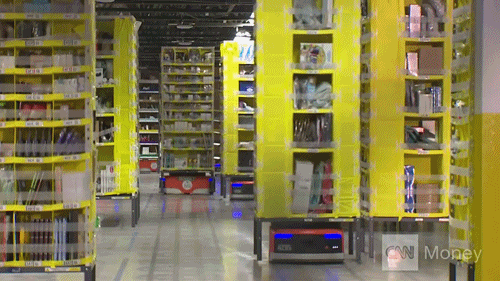 …to your doorstep: After going big in the pandemic, Amazon is now revamping its logistics network in the US to make deliveries faster and more efficient, while cutting costs. Instead of shipping a parcel across the country, Amazon will now move goods within eight "self-sufficient regions". It is relying on its widespread warehouses in the US; Amazon had doubled warehouse space in the pandemic years.
…to your fridge: Despite dabbling in it for years, Amazon is lagging behind the competition in the US grocery business. Amazon is expected to attempt buying more grocery chains to add to its physical store footprint, but regulatory action might limit its ambitions, The Wall Street Journal reports. In India, the company is committing to pushing e-grocery in smaller cities. But late last year, it shut other businesses, including B2B wholesale distribution and restaurant deliveries.
THE PLAYBOOK
Should India Legalise Sports Betting?
In May 2018, the US Supreme Court abolished a federal ban on sports betting and cleared the way for states to take their own call on the matter. Five years since then, 33 states and the District of Columbia have legalised sports betting, and Americans have reportedly spent over $220 billion on legal sports bets. In this week's edition of The Playbook, our newsletter on the business of sports and gaming, Jaideep Vaidya writes about the parallels between the sports betting and fantasy sports industries in the US and India, and what India can learn from the US' journey. You can check it out here and subscribe to The Playbook for free below.
CONGLOMERATE
Back For Backing
The Adani Group plans to raise $2.6 billion for two companies, less than four months after a US short-seller attack knocked out a $2.4 billion public share sale by flagship Adani Enterprises Ltd (AEL) and forced its billionaire promoter Gautam Adani to prepay creditors the same amount before FY23 ended.
No show: AEL is expected to raise up to $1.5 billion from institutional investors. A key West Asian backer, Abu Dhabi's International Holding Co (IHC), however, has said it would not buy any Adani Group shares "at this point". IHC has so far invested $2 billion in Adani companies.
Dropped: The infrastructure-to-energy conglomerate lost over $100 billion in market value after the Hindenburg Research attack and had to hit the brakes on rapid expansion. Meanwhile, global index provider MSCI will drop Adani Transmission and Adani Total Gas from the MSCI Global Standard Index.
ELECTIONS
Karnataka Rides The Welfare Wave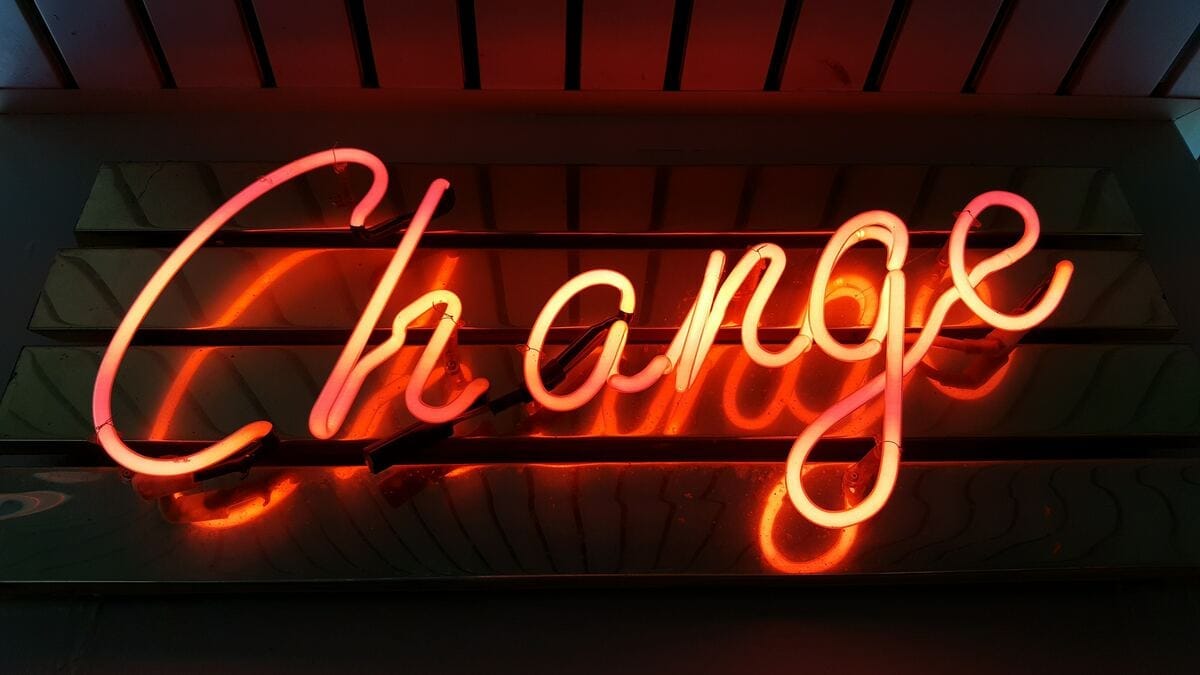 Photo by Ross Findon on Unsplash
On Saturday, the Indian National Congress (INC) registered the largest victory margin by any party in Karnataka in 34 years. Analysts credit the victory to a unified state cadre, party leader Rahul Gandhi's Bharat Jodo Yatra, and a campaign focused on local issues, largely related to economic distress. The last factor also helped INC in last year's Himachal Pradesh elections, where it promised to restore the Old Pension Scheme (OPS).
Five vows: In Karnataka, INC promised Yuva Nidhi (allowances for unemployed youth), Gruha Lakshmi (₹2,000 or $25 a month for every woman householder), Uchita Prayana (free bus travel for women), Gruha Jyothi (200 units of free electricity for every household), and Anna Bhagya (10 kg of rice per person per month for below-poverty-line families).
The Signal
Inflation, unemployment, and agri distress are triggering rural disgruntlement. The skew in rural-urban vote share between the ruling Bharatiya Janata Party (BJP) and INC in Karnataka underlines this.
Perhaps sensing electorate pushback, the BJP-Shiv Sena government in Maharashtra eased up on its rigid position on OPS after the Himachal Pradesh elections. Never mind that experts warn against the bad economics of OPS and doles will burden the public exchequer, it is clear that livelihood pressures are becoming too real for voters and the BJP will certainly think about it in the upcoming state polls and the national dustup in 2024. The Karnataka victory will encourage INC to double down on doles as well. That should have the finance ministry worried.
STREAMING
JioCinema's Free-Lunch Offer Ends
That's if you like bingeing on Succession, House of the Dragon, DC movies, and other Hollywood content. Reliance Industries' streaming platform has introduced a subscription tier called JioCinema Premium, costing ₹999 (~$12) annually, for all its recently-acquired English content from Warner Bros. Discovery, including HBO Max originals. Its other content, including non-English movies, TV shows, and sports, is free. For now.
This is a deviation from earlier reported plans of introducing much cheaper subscription tiers starting from ₹2/day. An annual subscription only for HBO content is unlikely to move the needle much, considering it reportedly garnered <480,000 viewers when rival Disney+ Hotstar had the rights. Hotstar, which charges ₹1,499/year (for all content), eventually decided it wasn't worth the $10 million-a-year fee.
Meanwhile: Netflix plans to cut spending by $300 million this year, but there'd be no hiring freeze or more layoffs, per The Wall Street Journal.
CORPORATE
When Leader Turns Lieutenant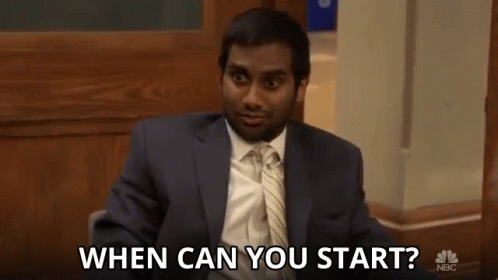 Linda Yaccarino is Twitter's new CEO. The former advertising chief of NBCUniversal—who once criticised new media's trashy content and their opacity in sharing ad data—now has to turn around a social media platform. She joins Dara Khosrowshahi (Uber) and Mary Barra (General Motors) in having to clean up messes left behind by predecessors.
Yaccarino will have to placate miffed advertisers, vendors, and high-profile users, while prioritising profitability and dealing with an impulsive former chief who'll now oversee "product design and new technology".
Speaking about the former chief, Barron's has an excellent analysis of why Elon Musk's bad management at Twitter and Tesla can be blunted (even if a little bit) by a potential $70 billion SpaceX IPO. To summarise, the company has no active threats (read: close competition) just yet. Musk owns 42% of SpaceX and can free up shares to bandage the other companies.
🎧 Linda Yaccarino is Twitter's new CEO. Also in today's edition: Vodafone Idea's future looks bleak. Listen to The Signal Daily on Spotify, Apple Podcasts, Amazon Music, Google Podcasts, or wherever you get your podcasts.
FYI
In the bag: Austin Russell, the 28-year-old CEO of auto-tech company Luminar, has acquired a majority stake in business media company Forbes, in a deal that values the outlet at $800 million. Forbes had declared Russell the world's youngest self-made billionaire in 2021.
Under the scanner: The Competition Commission of India (CCI) is investigating Google for allegedly breaching a previous antitrust order. The breach concerns the service fee Google charges for in-app payments via its User Choice Billing system.
Consequential: Turkey and Thailand voted on Sunday in elections that upend the dynamics of their current leadership. In Turkey, Recep Tayyip Erdogan was said to be facing an existential electoral battle, while in Thailand pro-democracy parties were ahead of military establishment-backed candidates.
🔥: But the summer is unrelenting everywhere—from some parts of India to Singapore and other South-East Asian countries. Singapore, for instance, recorded its highest temperature in 40 years.
Fresh face: Praveen Sood, the director-general of police in Karnataka, has been appointed the director of the Central Bureau of Investigation for two years.
It's here: Cyclone Mocha made landfall along the Bangladesh-Myanmar coast on Sunday.
Snatch: Air India, IndiGo, and Vistara have taken up slots left vacant by Go First, right in time for the peak summer travel season.
THE DAILY DIGIT
₹15,000 crore
Or $1.82 billion. The estimated worth of nearly 2,500 kg of methamphetamine that was seized by the Narcotics Control Bureau and the Indian Navy in a massive drug bust off Kochi, Kerala. It is supposed to be one of the biggest drug operations by the agency. (The Economic Times)
FWIW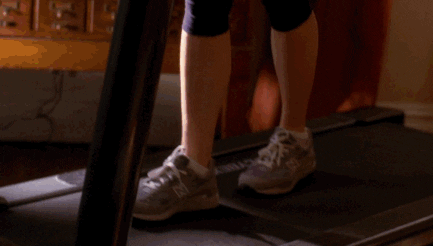 Wild workout: Running on the treadmill is so yesterday. Apparently. Gym rats are now imitating apes, bears, donkeys, and crabs to maintain their fitness. These routines involve crawling, rolling, kneeling, and maintaining balance. Expect more fitness bloggers and gyms to jump on this trend. Coz Pinterest, for one, has named "primal movement" as the fitness trend this year. As you can tell, there's no room for sloths here.
There's a disaster brewing: Your cuppa joe could be more expensive this year. There's an acute shortage of robusta beans, the humble variety used in instant coffee and ground blends. The situation won't get better anytime soon. Vietnam, the world's largest producer of robusta, reported its smallest harvest in four years. Farmers in the region are also switching to harvesting avocados and durians. Other major coffee producers like Brazil and Indonesia have been hit by inclement weather. You know things are objectively getting worse when even cheap instant coffee won't be so cheap anymore.
Cheers: Americans are falling out of love with juice, yet juice-ifying beer, seltzer, and wine. Supermarket shelves are now lined with spiked fruit beverages such as SunnyD, a childhood favourite from the 1990s that now has a boozy version. New Belgium's Voodoo Ranger line, which had the biggest craft beer brand debut in history last year, is being lauded for its bold flavours. Beatbox, which makes wine and malt-based punches, may not win sommeliers' approval, but it has takers elsewhere. We dk about you, but we'd rather stick with beer-flavoured beer.