Discover more from The Signal
The Signal is a daily curated newsletter that helps you understand the latest developments in business, tech, finance, economy, and policy with sharp analysis and crisp insights thats fun to read arriving at 8AM daily in your inbox.
Over 81,000 subscribers
Short-lived commerce
Also in today's edition: Amazon isn't having a prime time; Founders promoters; Homework pays off for UBS; Who moved my summer?
Good morning! AI chatbots literally getting facts wrong and going cray-cray was funny af, but the joke's long over. One, we already have too much misinformation in today's world, thank you very much. Two, a report from Reuters underlines how damaging false news and information are to one's reputation. Australian mayor Brian Hood may file the first defamation lawsuit against OpenAI's ChatGPT. The bot claimed Hood served time for bribery when he was the one who'd notified authorities about the graft scandal in the first place. Hood may claim over 200,000 AUD ($133,729) in damages over the bot's "false sense of accuracy" and failure to include footnotes. You show 'em, Mr Hood.
🎧 Former US president Donald Trump is in the dock. Also in today's edition: pharma giant Johnson & Johnson has offered to pay $8.9 billion over alleged cancer talc claims. Listen to The Signal Daily on Spotify, Apple Podcasts, Amazon Music, Google Podcasts, or wherever you get your podcasts.
Today's edition also features pieces by Dinesh Narayanan, Julie Koshy Sam, Srijonee Bhattacharjee, and Jaideep Vaidya.
If you enjoy reading us, why not give us a follow at @thesignaldotco on Twitter and Instagram.
The Market Signal*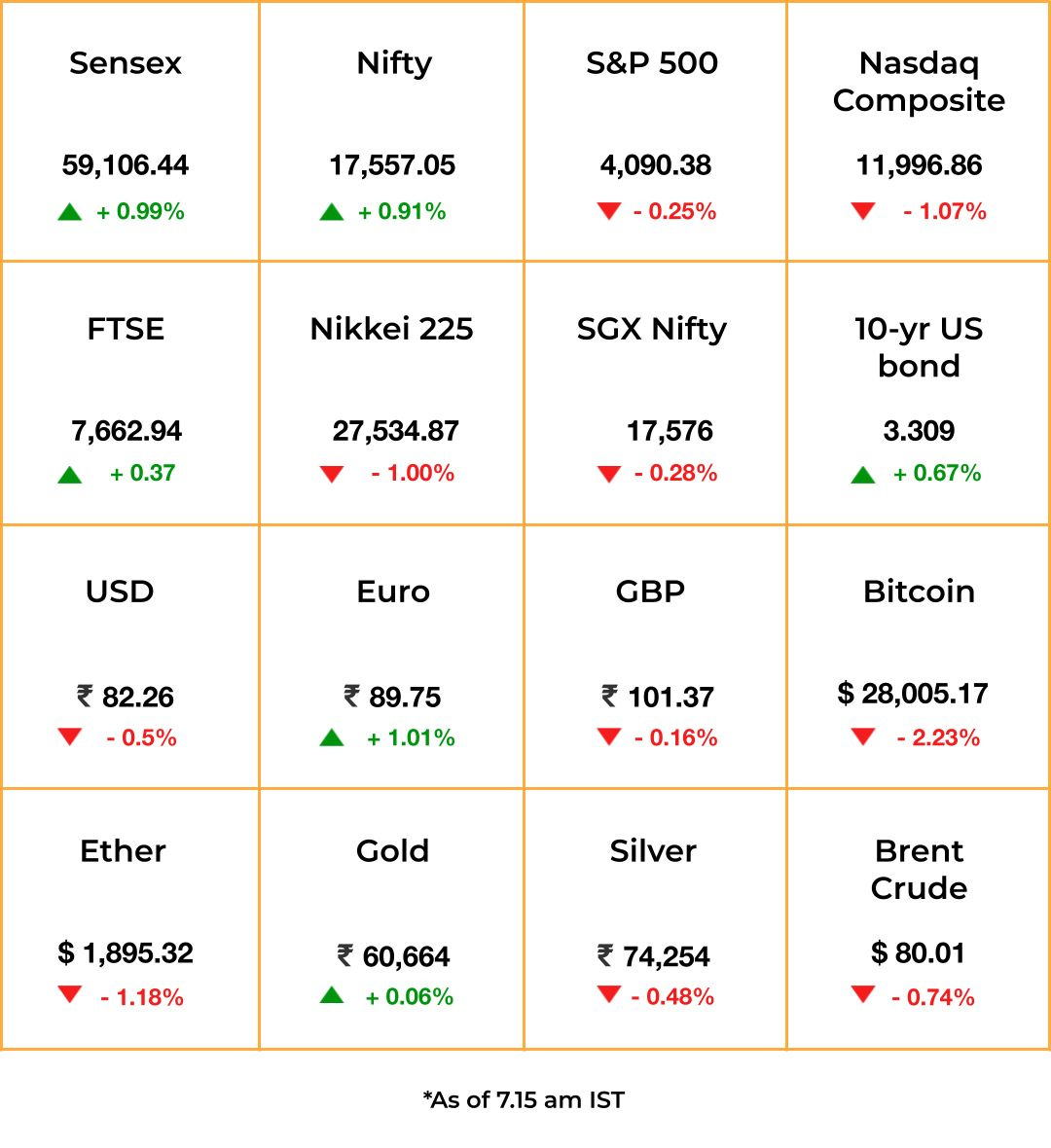 Stocks & economy: Indian equities may start the day cautiously, SGX Nifty's movement indicated. Globally, investors shuffled portfolios in favour of safer assets such as gold, the Japanese yen, US treasuries and the dollar on fears that a recession lurked upon the world's largest economy.
US data points this week have repeatedly underlined this fear. Oil prices were weighed down by expectation that demand will slow as growth moderated.
Back home, indices will likely not see swings until the outcome of the RBI's meeting is known at 10 AM IST. Reading into the alignment of domestic bonds and swap markets, rates would have peaked after an expected 20-25 bps hike by the central bank today.
Inflation is persistent but growth, at least one-third of the rate-setting panel has clearly admitted, has become a concern. That, analysts believe, will keep the committee from explicitly committing to a pause today.
STREAMING
Not So Great Prime Numbers
Amazon has struck gold with Farzi, currently India's most-watched subscription video-on-demand (SVOD) show. But while Prime Video India is seemingly doing well enough to have about 100 local originals and some theatrical releases in the bank, the mothership is grappling with a crisis of confidence.
Prime Video's marquee The Lord of the Rings: The Rings of Power reportedly had completion rates (i.e. people who watched the entire show) of just 37% and 45% in the United States and overseas, respectively. Sources also told The Hollywood Reporter that Amazon Studios has "no vision" for Prime shows, that it has an opaque reporting structure, that several shows have showrunner problems, and that Studios' chief Jennifer Salke and Mike Hopkins—Amazon's senior VP for Prime Video & Amazon Studios—have their differences.
Aside: As if the past cutbacks weren't enough, Amazon has now pink-slipped around 100 staffers in its video game divisions.
REGULATION
A Sebi Spanner In Startup IPO Plans
Startup founders and investors looking for a quick exit through the IPO route might have to wait. Markets regulator Sebi is asking founders to become promoters.
Big deal? Yes. The 'promoter' is a uniquely Indian concept and is subject to tougher regulations and compliance requirements. The first entrepreneurs to be reclassified as promoters are Meena Ganesh and Ganesh Krishnan, founders of home healthcare brand Portea Medical, The Economic Times reports.
Per current norms, promoters should own at least 25% of a company. There is no announcement and it's all just nudge-nudge, but Sebi is lowering the floor to 10%.
Impact: Startups may rethink IPO plans as promoters must now carve out 20% of company stock for an 18-month lock-up. Portea founders, for instance, own only 18.07%. Investors Accel India and Ventureast are filling the gap.
E-COMMERCE
We Interrupt This Livestream…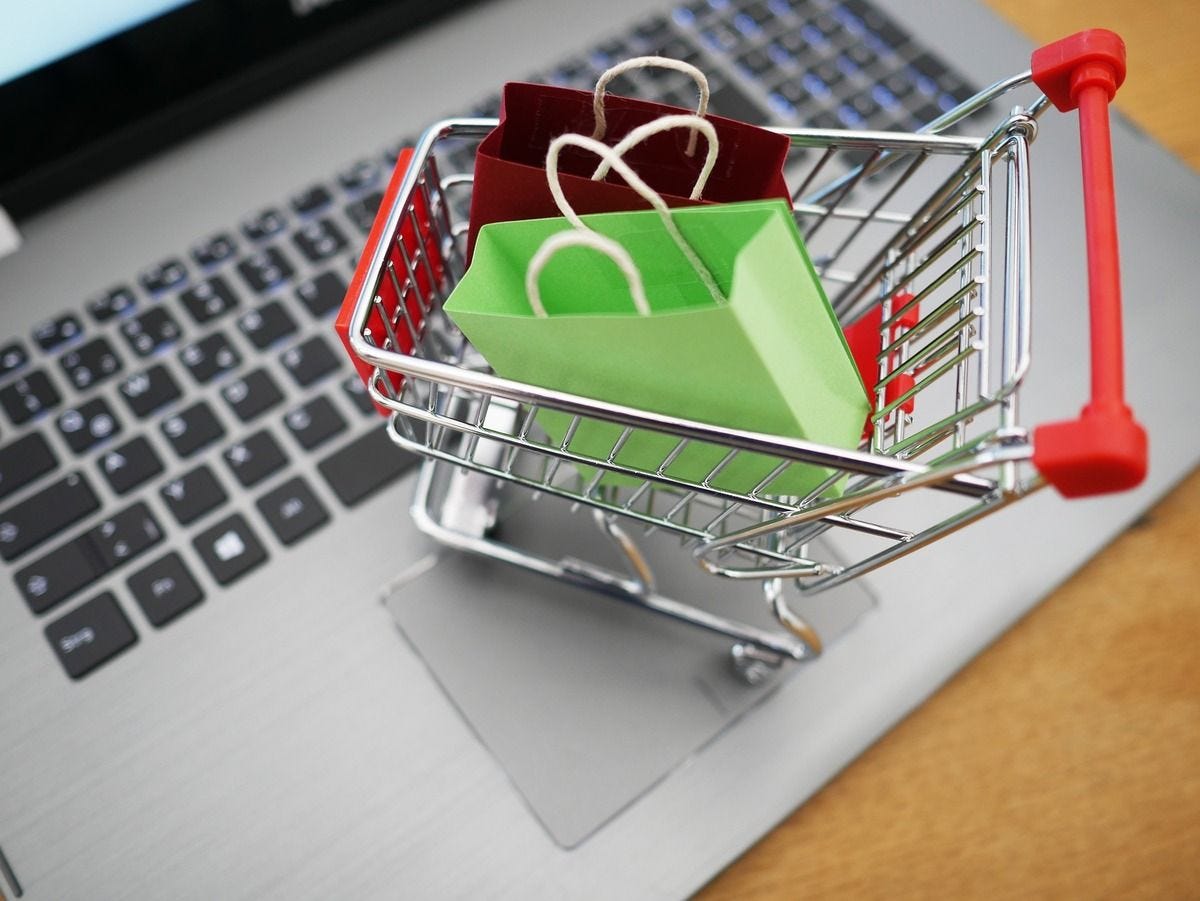 …to bring you some bad news. Live commerce is choking even before going mainstream. The Economic Times reports that social media and e-commerce companies are now either canning live commerce or going slow on investing in it. This includes DailyHunt, ShareChat, Instagram, and YouTube, which shut down its acquisition simsim earlier this year.
Swiped: These companies were betting on live commerce to fetch them bigger audiences, higher engagements, and more sales. Myntra and Nykaa have had live commerce streaming in their apps for a while now; Amazon India launched its version in September last year, and Meesho followed a few months later. But in reality, sellers didn't get a sustained surge in sales, ET reported.
The Signal
A lot of time and money is needed to get Indians used to live commerce. But a funding crunch is forcing companies to conserve cash and focus on profitability. The tepid stock performance of listed firms such as Nykaa isn't a confidence booster either. The companies must resolve tech irritants such as the checkout process drawing the viewer away from a livestream. Live commerce as a channel is also hard to discover because it does not show up when customers search for goods online.
YouTube Shorts and Instagram Reels both still have shoppable links but not in live streams. Interestingly, in his first letter as YouTube's new CEO, Neal Mohan put shopping fairly low on the company's list of 2023 priorities.
BANKING
It Pays To Be Prepared
The UBS-Credit Suisse merger may look like a white-knight operation in a pinch, but the former has been at the drawing board for many years, carefully planning for such a deal. That's why it was able to complete the deal with surprising swiftness.
Bloomberg reports that months ago, when UBS chairman Colm Kelleher saw Credit Suisse's clients withdraw billions of dollars, he quietly hired a bunch of Morgan Stanley advisers to work on a contingency plan. Scenario mapping had been done as early as 2020. The project was so secret that only a handful of people at UBS and Morgan Stanley knew about it.
UBS shareholders are worried about the concentration of risk. Kelleher, who now captains a banking behemoth with $1.5 trillion in assets and over 12,000 managers overseeing the wealth of the richest people on the planet, admitted the risk was "huge".
RETAIL
Rains Wash Away Cola Campaigns
Not too long ago, FMCG companies were looking forward to an early onset of summer. Soft drink and ice cream brands have been stretching their campaigns to four-five months as India recorded heat waves in February. However, climate change has now decided to rain on their parade, quite literally, as Delhi, Maharashtra, and Kerala witnessed a wet March.
Anti-climatic: Clouds on the horizon don't spell good news for summer products. After a February high, unpredictable rains weakened air-conditioner sales in March. Surprise rains made Coca-Cola and Pepsi look silly and out of touch with the weather after they rolled out beat-the-heat summer campaigns in February.
Ka-ching: Coca-Cola India, among other brands, witnessed the "best-ever" volume growth in the April-June 2022 quarter because of an early summer.
FWIW, India is bracing for more heat waves in the coming months.
FYI
Huuuuge: Reliance Industries and its telecom unit Jio Infocomm have raised $5 billion in back-to-back foreign currency loans from a total of 73 banks, reportedly the largest syndicated loan ever taken in India.
Surveillance for hire: An Indian defence agency bought equipment from an Israeli spyware firm, Cognyte Software, which is being touted as a potential alternative to Pegasus, reports The Hindu.
Not spending: Aluminium maker Hindalco is planning to reduce its capital expenditure by 43% due to a global economic slowdown. The five-year capex will shrink from $7.9 billion to $4.5 billion.
Final chapter?: Pharma major Johnson & Johnson has proposed paying ~$9 billion in compensation to thousands of people who sued the company over allegations that its talcum powders caused cancer.
India bound: Apple CEO Tim Cook may be headed to India to open the company's first owned store in the country. Of course, meetings with India's top decision-makers are also being lined up.
Second innings: After delivering her final speech in parliament on Wednesday, former New Zealand prime minister Jacinda Ardern is set to join the board of trustees of Earthshot Prize, an environment-protection charity founded by Britain's Prince William.
Bold move: British casualwear brand Urbanic is delisting from e-commerce platform Flipkart to go direct-to-consumer.
THE DAILY DIGIT
₹1,600 crore
Or $195.4 million. The amount the Maharashtra Government may pay to snap up the iconic Air India building at Nariman Point, Mumbai.(The Times of India)
FWIW
Ear-resistible: We've all been there. You listen to a song and you find yourself singing it over and over again until you can't get it out of your head. There's finally some research on earworms, or should we say every songwriter's dream? Australian researchers have pinned it down to choruses, where repetition of lyrics triggers the "cognitive itch". How to get rid of it? The answer lies in getting to the end of the song or thinking of another one. For giggles: here's an earworm. And another one. Let us know how it goes.
Pimp your ride: Navigation app Waze is an astro-fan. The app will give out driving directions and make astrology jokes based on your zodiac. So, the Aries voice is lively, while Virgos get more deets because of their trait. For starters, astrology has everybody divided. We see a few friendships being tested while on the ride. At least we can blame this outcome on the stars!
Size does matter: …when it comes to chicken. Fast food restaurant chains such as KFC and Chick-fil-A are having a busty poultry problem. Chick-fil-A and KFC both use ~4-pound chickens for their sandwiches and trademark buckets, respectively. While prices for big birds have dropped, smaller chicks still command a higher price range. US chicken suppliers such as Tyson Foods, Pilgrim's Pride, and Wayne-Sanderson Farms prefer raising bigger birds because it proves to be more bang for the buck. Who will relent?