Discover more from The Signal
The Signal is a daily curated newsletter that helps you understand the latest developments in business, tech, finance, economy, and policy with sharp analysis and crisp insights thats fun to read arriving at 8AM daily in your inbox.
Over 81,000 subscribers
Netflix's final frontier
Also in today's edition: Maruti's Innova engagement; The Tesla standard; Revolving doors at WeWork; Israel's not sleeping well
Good morning! All you need is AI to resurrect John Lennon, per Sir Paul McCartney. Sort of. The Beatles may drop a new song, with a little help from AI. Reuters reports that McCartney relied on the tech to isolate Lennon's voice for what will be (will it?) "the last Beatles record". TBH, we've never been fans of AI bringing the dead back to life. This brings us to: AI regulations couldn't come sooner.
The Signal is now on Telegram! We've launched a group — The Signal Forum — where we share what we're reading and listening through the day. Join us to be a part of the conversation!
🎧 Credit cards are getting increasingly popular in India. Also in today's edition: the CoWIN data breach is a privacy nightmare. Listen to The Signal Daily on Spotify, Apple Podcasts, Amazon Music, Google Podcasts, or wherever you get your podcasts.
Today's edition also features pieces by Soumya Gupta, Srijonee Bhattacharjee, and Julie Koshy Sam.
If you enjoy reading us, why not give us a follow at @thesignaldotco on Twitter and Instagram.
The Market Signal*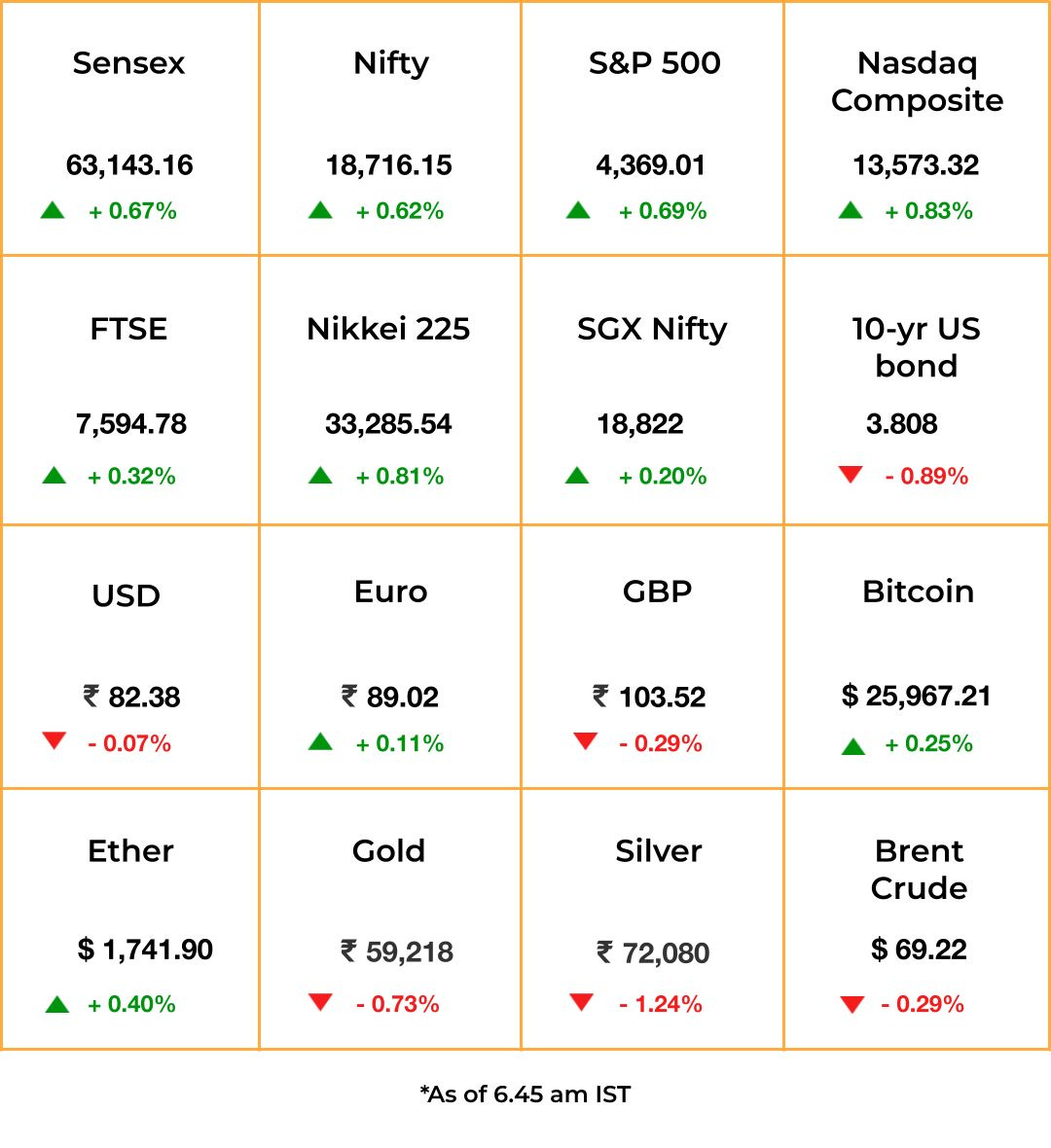 Stocks & economy: Investor risk appetite fired up as inflation clocked lower in the US underlining the possibility of the Fed taking a breather after 10 straight months of rate hikes. In a telling sign, market volatility receded further globally.
Odds of a 25-bp hike in July are still higher than a pause.
China cut rates to support economic recovery, but traders aren't convinced that it would be enough to pull the economy out of distress. Worries of the country faltering on local debt linger. Oil prices remained lower on weak demand outlook in China but two major Chinese oil traders squared off in Dubai crude with one side selling huge volumes and the other buying up as much as 11 million barrels.
Asian stocks were buoyant and Indian indices are seen rising more. After the recent correction, the Nifty is all set to climb new peaks.
ENTERTAINMENT
Going Live In 3…2…1
Netflix is taking another stab at live sports, reports The Wall Street Journal. It's planning a celebrity golf tournament starring golfing pros from Netflix's Full Swing and Formula One drivers, a nod to its F1 hit Drive to Survive. This is Netflix's second attempt at sports; it had previously bid for Formula 1, but lost to ESPN.
Gamechanger: Live sports is now becoming indispensable for streaming platforms, as we wrote in The Playbook last year. Disney+ had fewer subscribers post-IPL. In the US, Apple TV+ began streaming Major League Baseball and might bid for more sports. Last year, it lost the bid for the NFL Sunday Ticket to YouTube. But livestreaming is fraught with tech complications, not least because a platform must serve the stream concurrently to millions of viewers. Earlier this year, Netflix's livestream of a Love Is Blind reunion special failed while 6.5 million viewers tuned in.
AUTO
Toyota Innova To Engage Maruti
The Innova is arguably Toyota's most popular vehicle in India. It will now be made by Maruti Suzuki too, but called Engage.
Enduring partnership: The two companies have had a global alliance since 2017, under which both launch the same vehicle models with minor tweaks. So Maruti's Brezza becomes the Urban Cruiser in Toyota shops, and the Toyota Glanza becomes Baleno in Nexa showrooms.
Cautious: Toyota has been hedging its India bet because of high taxes. It felt unwanted, it had said in 2020. It has not added any new production lines, although last year it pledged a ₹4,800 crore (~$583 million) investment to make EV components. Meanwhile, the Japanese carmaker revealed its EV future on Tuesday. Chairman Akio Toyoda, however, is under fire from some heavyweight shareholders for his "multiple pathways" approach of a wide range of product offerings.
ELECTRIC VEHICLES
Double Standards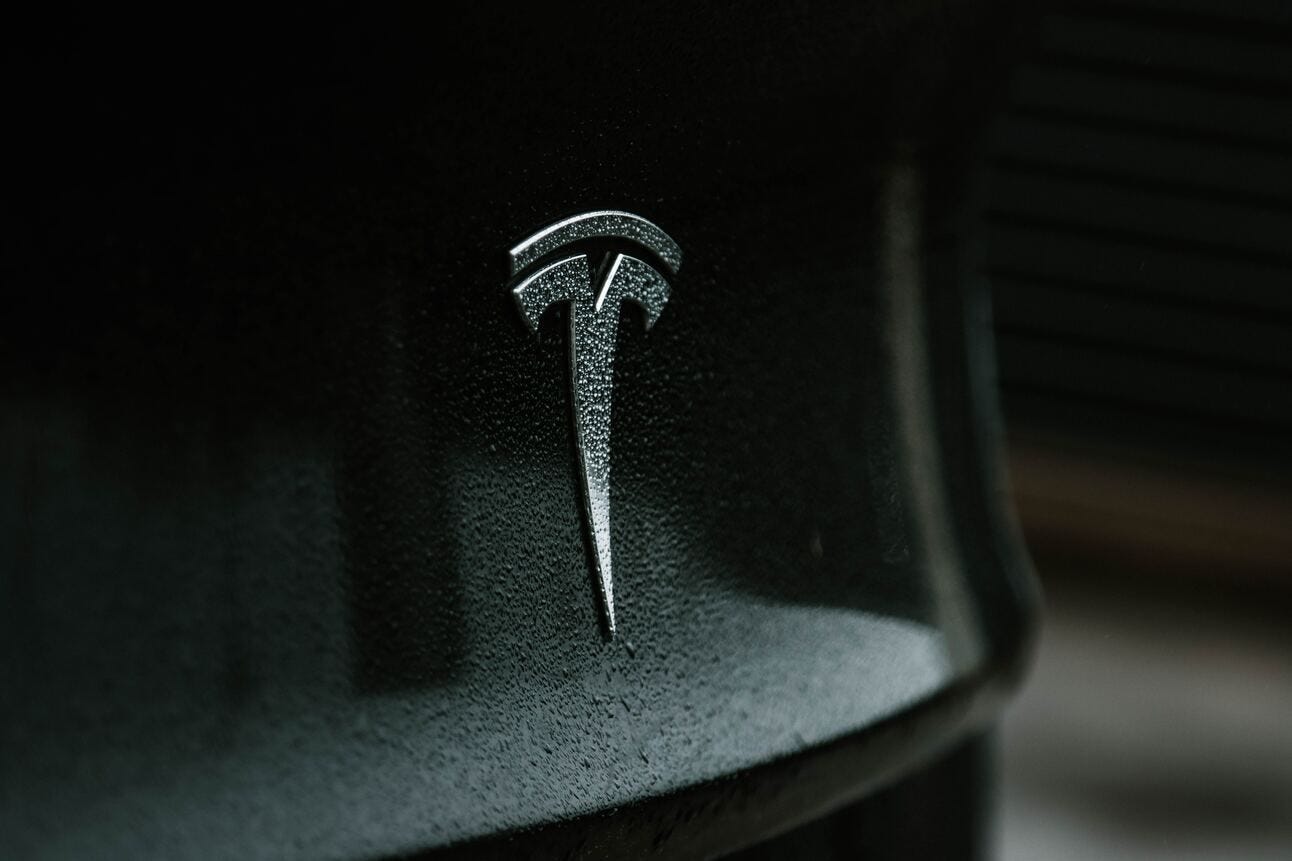 Photo by Austin Ramsey on Unsplash
The US' biggest automakers, General Motors and Ford, are adopting rival Tesla's EV charging standard: the North American Charging Standard (NACS). In doing so, the trio—which command 72% of the EV market in the US—are kicking the Combined Charging System (CCS) to the curb… kinda. As an analyst tells The Verge, the move is like "Samsung saying they will use the Apple lightning charger on its phones".
Context: CCS is eligible for public funding as part of the Biden administration's $7.5 billion corpus to ramp up EV infrastructure. Unlike Tesla's proprietary NACS, CCS was developed by an industry body, the Society of Automotive Engineers.
CCS has more connectors worldwide, but Tesla's outnumber it in the US and Canada. Tesla owners also have a more seamless experience via an app and (included) CCS adaptors that allow them to charge their vehicle at non-Tesla stations.
The Signal
Tesla's NACS port is lightweight and faster, and the eventuality of Ford and GM adding it natively in 2024 and 2025, respectively, is already forcing charging companies to adapt. But interoperability is a concern. Questions remain about Superchargers being able to power higher-voltage EVs with bidirectional charging features (i.e. charging appliances and in some cases, even homes). Then there are added costs for non-Tesla EV owners.
NACS may be top dog for now, but CCS is no pushover. The fact that Tesla must build 'Magic Dock' CCS adaptor stations to be eligible for federal funding is telling in itself.
SHOUTOUT
The Complete Briefing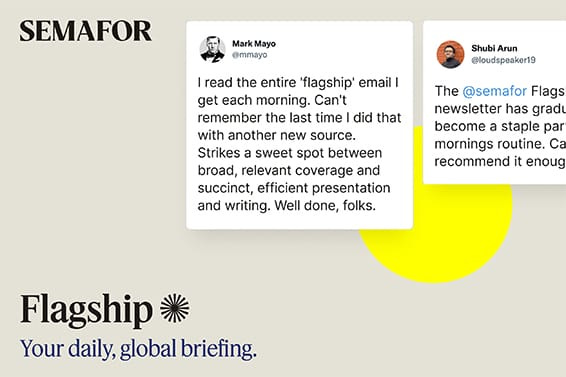 There is a feeling of empowerment when you glance at the front page of an international newspaper. Just the headlines would do. It relays the reassuring sense of being informed about the world.
Semafor Flagship is the modern complement to the global newspaper front page. Unlike the clutter and noise of social media fuelled by the mechanical recommendations of AI engines, their editors handpick 10 stories from the internet that will give you quick visibility of the most important stuff happening globally. The selection will connect you to food, culture, health, technology and history in the rest of the world.
STARTUPS
The WeWork Saga Isn't Over Yet
Judging from an exclusive in The New York Times, WeCrashed, the Apple TV+ original miniseries about one of the world's most infamous startups may be due for a sequel.
Details: WeWork, still bleeding, could "shrink substantially, perhaps through bankruptcy" after the exits of CEO Sandeep Mathrani and CFO Andre Fernandez, who left within weeks of each other. Mathrani, a real estate veteran who was hired to save the company after founder Adam Neumann almost ran it to the ground, was frustrated with SoftBank's hands-off approach to restructuring WeWork's debt. Neumann was also reportedly interested in investing $1 billion in his alma mater and buying back some of WeWork's debt. But Mathrani didn't bite.
Unconducive: Companies worldwide are cutting back on office spaces. The result is a glut of zombie buildings in the US. Companies looking for coworking spaces are also spoilt for choice when it comes to cheaper sublets.
GEOPOLITICS
On Pins And Needles
A delicate diplomatic dance is happening in West Asia, taut with anticipation and foreboding at the same time.
The China-brokered deal between Iran and Saudi Arabia is giving Israel the jitters as it believes the new alliance will embolden Iran to build a nuclear bomb with Tel Aviv written on it. Iran is said to have already enriched enough uranium to create a mushroom cloud.
Experts fear Israel will strike Iran's nuclear facilities, as it has done in the past. What could stop any of this from happening is Israel and Saudi Arabia finding a rapprochement. The elephant in the room is Palestine. Incidentally, Palestinian Authority leader Mahmoud Abbas arrived in Beijing on Tuesday. Is another China-mediated compromise brewing in West Asia? It would have to be a real political deal, unlike the mirage of 1993 on the White House lawns.
FYI
Booster shot: China is reportedly preparing a package to pump up its sagging economy. The measures could include rate cuts and stimulus for the real estate sector.
Indicted: At his first appearance in a Miami court on Tuesday, former US President Donald Trump was charged on 37 counts. Trump pleaded "not guilty" to all charges, including violation of the Espionage Act.
Fresh dough: MSME lending startup IndiFi has raised $35 million (₹290 crore) in its latest funding round from a clutch of backers such as British International Investment and Omidyar Network India. Elsewhere, Uber has led a $20 million (~Rs 164.5 crore) investment into Mumbai-based fleet company Everest Fleet.
End of the road: American writer Cormac McCarthy, explorer of the dark side of human nature in novels such as No Country for Old Men and The Road, has died at 89.
Drone deal: President Joe Biden is clearing the ground to sell armed SeaGuardian drones to India in what could be a deal worth up to $3 billion when Prime Minister Narendra Modi visits the US next week. 
Gargantuan: Bunge, the world's largest oilseed processor, will merge with Glencore-backed grain-trading company Viterra to create a $34 billion food-processing giant.
Press pause: Microsoft has been temporarily restrained from completing its $68.7 billion acquisition of Activision Blizzard by a federal court.
THE DAILY DIGIT
100,300
The value, in Indian rupees (that's ~$1,220), of tyre maker MRF's stock on Tuesday—making it the only Indian company whose shares have crossed the milestone. (The Economic Times)
FWIW
Living in DeNile: Which is the longest river in the world? While Britannica, Guinness World Records, and the US stick to the River Nile in Egypt, chances are that the Amazon in Brazil could snag the title. You see, international researchers and explorers are on a mission to get to the bottom of the issue. Also up for debate is what defines a river in the first place, since floods, shorelines, and man-made canals directly impact a river's length. May the best river win.
Keep calm and pickle on: Pickleball, a cross between tennis, ping pong, and badminton, is all ✨ the rage ✨ in the US. Fans are making vacation plans based on locations that have the courts, and resorts and companies are cashing in. The US' fastest-growing sport had about 8.9 million active players in 2022. Even basketball and tennis courts are morphing into pickleball courts. Fwiw, we'd told you about how pickleball is catching up in India way back in August 2022.
Gone with the wind: This is a curveball author Elizabeth Gilbert didn't see coming. The Eat Pray Love author has indefinitely withdrawn her latest novel, The Snow Forest, from publication. Gilbert was criticised by Ukrainian readers for the book's plot, which takes place in 20th-century Russia. The book was later review-bombed on Goodreads. If you ask us, binning a book just because it's set in Russia counts as virtue signalling. What do you think?