Discover more from The Signal
The Signal is a daily curated newsletter that helps you understand the latest developments in business, tech, finance, economy, and policy with sharp analysis and crisp insights thats fun to read arriving at 8AM daily in your inbox.
Over 81,000 subscribers
Meet investor Zomato
Also in today's edition: Big Tech bets on metaverse economy, Paytm IPO tests market depth, Gated communities drive consumption
Good morning! There is the Elon Musk way. And then there is the Tim Cook way. One is boisterous. The other is understated. But both send social media spinning. Apple CEO Cook, a billionaire in his own right, revealed to Andrew Ross Sorkin of Dealbook that he invests in cryptocurrencies as a way of diversifying his portfolio. He added that it should not be taken as investment advice. Apple might also be looking at crypto although do not hope to buy an iPhone with Bitcoins anytime soon.
tw, our podcast has been going strong for over a month now. Tune in on your daily jog, drive to the office, or even as you WFH-ers have breakfast in bed. We promise it'll be music to your ears.
The Market Signal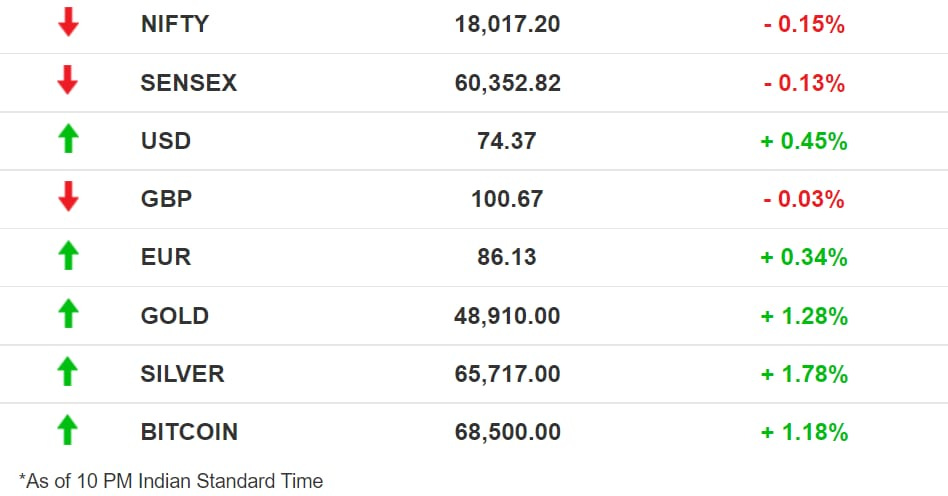 Stocks: Despite Nykaa's bumper listing, benchmark indices traded in a very narrow range with support at key lower levels balancing out resistance from higher levels. Trading today might be influenced by US monthly economic data, but the markets may remain indecisive until corresponding figures for India are reported on Friday.
Build It And They Will Come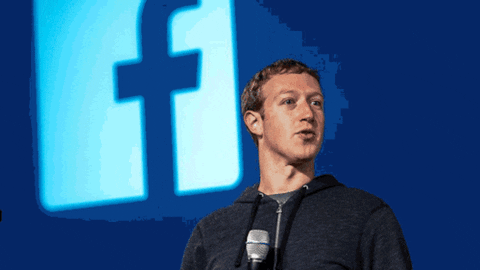 The big technology companies are all making huge bets on metaverse, until now a sci-fi fantasy which they are determined to make reality. It's where they see the next pot of gold although all of it is rather vague. The closest gauge is the $80 billion virtual goods sold in video games annually.
Hard touch: Clearly, there is a market but the access tools are prohibitively expensive. Meta sells Oculus headgear — the most popular model costs $299 a pop, and is working on augmented reality (AR) devices. Snap Inc. sells AR glasses for $380 a pair. Microsoft hopes business users will buy its HoloLens headsets, the cheapest of which costs $2,975. Its biggest customer? The US Army. The average Joe might, however, need those prices to drop a bit. Perhaps the Chinese can help. There's no game until then.
Soft touch: Many entertainment companies such as Roblox and Fortnite hope to take their immersive concerts with megastars such as Ariana Grande to the next level. Microsoft would adapt its software, including Office Suite, for the metaverse. Meta will fund creators.
Mahindra Wants Money, Expertise To Make EVs
Mahindra and Mahindra, one of the earliest to bet on electric vehicles, will launch 16 new EVs in the next five years. It is hoping to attract private equity and strategic investors, both for finance and expertise.
Partner to learn: Historically, M&M has partnered with global automakers such as Ford and Renault, offering them its manufacturing plants and marketing muscle in exchange for technological learnings. M&M's first foray into EVs was over a decade ago when it picked up a majority stake in Bengaluru-based Reva Electric Car Company which made an eponymous car. Based on Reva's technology, it launched the e20, which spluttered to a stop after a few years as sales were poor. Now it plans to invest ₹3,000 crore in the EV business in the next three years.
Big spend: Other companies such as TVS Motor and Bajaj Auto are also setting up separate subsidiaries for EVs mainly for fundraising. Globally, carmakers are expected to spend more than $500 billion on EVs and batteries by 2030.
Paytm Scrapes Through, Nykaa Busts The Charts
In what can be seen as proof of the increasing depth of the Indian capital markets, One97 Communications-owned Paytm pulled off the biggest ever IPO, comfortably crossing its $2.5 billion target. Although subscriptions were lagging on the final day, it more than made up in the home stretch as both retail and institutional investors crammed in.
Glamming it up: Meanwhile, online cosmetics marketplace Nykaa listed at a valuation of almost $13 billion as the share price rocketed to 1,600 times its earnings.
Nikhil Kamath

@nikhilkamathcio
Nyka lists at 1600 times price to earnings.
They sell cosmetics online, paytm next, best thing for a value stock investor might be to go on a really long holiday right about now.
Nov 10, 2021
6.38K Likes   503 Retweets   188 Replies
Founder Falguni Nayar became India's wealthiest self-made female billionaire.
The Signal
In the nine months between January and September, 72 companies made their stock market debut. Before the Nykaa and Paytm issues, tech companies had raised close to $9 billion in share sales, indicating a voracious investor appetite. Easy availability of money at low interest rates has also helped investors crank up leverage or borrowing to invest in IPOs. The massive first-day gains recorded by stocks such as Nykaa's point to investors exiting as soon as the shares were listed. Those who borrow to invest usually wait until near the close before applying, which is why Paytm saw a last-minute surge in subscriptions. The Indian stock markets appear to have deepened significantly judging by the ability of investors to absorb big IPOs. However, it will be really tested early next year when new RBI rules will curb IPO financing by NBFCs and LIC will hit the market with a ₹1 lakh crore issue.
Zomato Takes Lessons From InfoEdge
Zomato is taking cues from its early investor InfoEdge. The food delivery platform has now begun a series of investments in internet-first companies beginning with $175 million in three of them. It plans to deploy another $1 billion over two years.
Big Daddy: In its first set of deals, Zomato has bought 16.1% in discovery and rewards platform Magicpin for ₹371.3 crore and 7.89% in logistics firm Shiprocket for ₹557.17 crore. The company is also buying 6.4% in Curefit for approximately ₹742.3 crore ($100 million). Simultaneously, Zomato is selling subsidiary Fitso to Curefit for ₹371.26 crore ($50 million).
Slow moves: Zomato has set eyes on quick commerce under its $1 billion vision. In August, it invested $100 million in grocery platform Grofers. Now the company is beefing up its corporate team to identify other potential investments. Amidst this, Zomato saw a steep increase in its Q2 consolidated net loss to ₹435 crore.
Gated Purchasing Power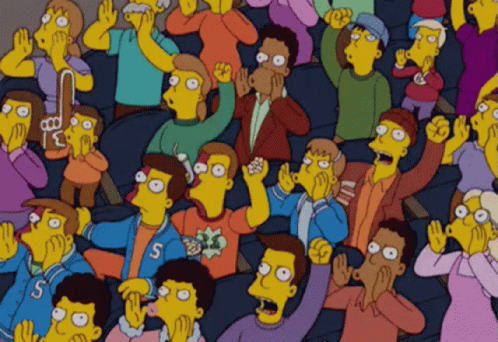 Gated communities are emerging as the hotspots of consumption and hence a lucrative opportunity for digital consumer businesses as more people opt for the convenience of stuff delivered home.
Big buyers: Consumption in these enclaves is expected to cross half a trillion dollars by 2026 with each household spending about $20,000, according to a RedSeer report. About a third of the population in the top 50 Indian cities live in such communities and account for nearly 45% of the overall consumption expenditure. More than 95% of these households shop online and digital channels record 15-20% of spending in these households. RedSeer estimates that 32 million families will be living in gated communities by 2031.
Leg-up for digital: Large household clusters with similar purchasing patterns help businesses such as Grofers, BigBasket, and Swiggy optimize logistics and service networks. It also helps social commerce companies such as Meesho and Dealshare in achieving economies of bulk orders.
What Else Made The Signal?
Yes to privacy: Online platform users can soon opt out of algorithm-led personal data tracking for content delivery if a proposed bill is passed in the US.
Pill pinch: Pharma lobby IDMA has sought government approval for companies to hike non-scheduled drug prices by 20% in the wake of rising input costs.
New release: US cinema chain AMC plans to launch its own cryptocurrency and partner with Hollywood studios to release NFTs related to major movies in a hat-tip to meme investors.
Sold: Billionaire Elon Musk sold Tesla shares worth $1.1 billion. It amounted to less than 1% of the company's shares.  
Hit the roof: Factory gate prices in China rose at their fastest pace in 26 years in October, as crippling power shortages and commodity prices hit the country.
Runaway inflation: Prices in October in the US rose the highest in three decades as supply shortages continue to persist while demand rises.
Big haul: EV startup Rivian raised $11.9 billion in the largest US IPO in seven years.
FWIW
The bigger they are: After a fervent buy-in into Tesla's stock saw Elon Musk's worth surge past $300 billion, an equally swift selloff has seen it plummet by $50 billion in two days. It includes the largest single-day dip in personal wealth since Jeff Bezos lost $36 billion in 2019 following the news of his divorce.
Valuable copy: A replica of Leonardo da Vinci's "Mona Lisa", one of the most famous paintings in the world, fetched 210,000 euros at an auction in Paris on Tuesday. The 400-year-old copy was sold for much more than the auction house, Artcurial, had expected.
Next hotshot? Potato, duh! After soy, almond, oat and pea milk – now comes potato's turn to become milk. Potato milk is low in sugar and saturated fat, so a healthy alternative to cow's milk for those following plant-based diets. According to Waitrose' Food and Drink report, the new milk drink will dominate coffee shop menus in 2022.
Want to advertise with us? We'd love to hear from you.
Write to us here for feedback on The Signal.