Discover more from The Signal
The Signal is a daily curated newsletter that helps you understand the latest developments in business, tech, finance, economy, and policy with sharp analysis and crisp insights thats fun to read arriving at 8AM daily in your inbox.
Over 81,000 subscribers
Microsoft loses the game
Also in today's edition: Starbucks needs its Indian North Star; First Republic sends jitters again; Reliance has plans for JioCinema; You may see fewer crowds at airports
Good morning! Filmmaker Joe Russo—one half of the Russo brothers who directed those Avengers movies—says we're two years away from AI-created films. Indiewire reports that Russo has a specific take: he reckons AI will render our "photoreal avatars" and voices to weave us, the viewers, into storylines. In short, movie stars will become obsolete. That makes sense, because young audiences are already indifferent to superstardom. What doesn't make sense, though, is how certain Marvel movies were greenlit. Russo also shared that Marvel boss Kevin Feige would "poke his head in the door" to say he needs a movie in 1.5 years, meaning their team would have to come up with a story in "10 minutes". Colour us shocked: we could've sworn everything after Phase Three of the Marvel Cinematic Universe was already written by AI.
The Signal is now on Telegram! We've launched a group — The Signal Forum — where we share what we're reading and listening through the day. Join us to be a part of the conversation!
Today's edition also features pieces by Roshni P. Nair, Soumya Gupta, Srijonee Bhattacharjee, and Jaideep Vaidya.
If you enjoy reading us, why not give us a follow at @thesignaldotco on Twitter and Instagram.
The Market Signal*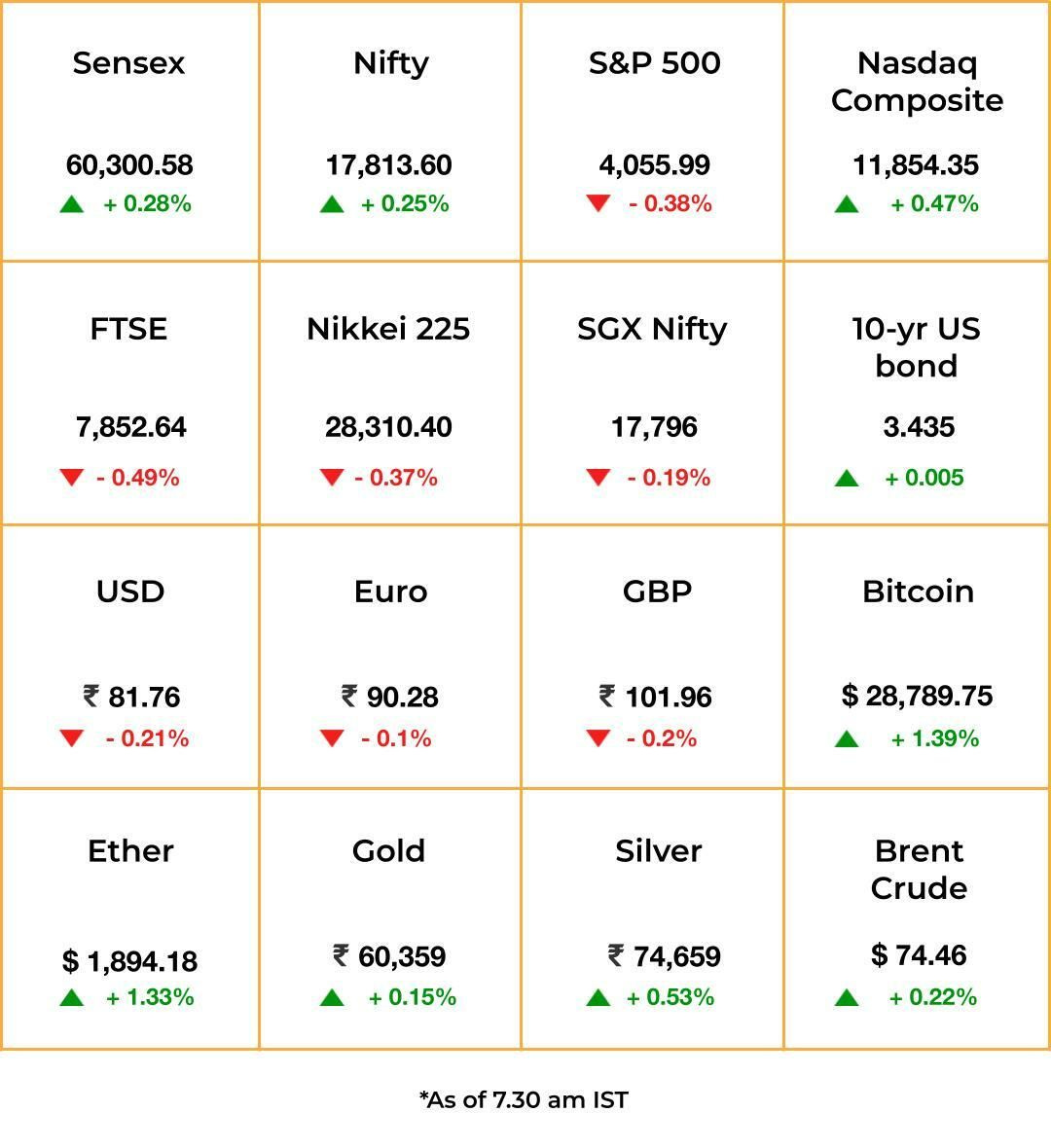 Stocks & economy: Indian equities may start the day slightly lower because fears of the US banking crisis spreading reemerged, as California-based First Republic bank wiped another 30% (it halved its value on Tuesday) as the bank stares at borrowing curbs by the Fed.
Financial stocks in India may continue to fare well as Bajaj Finance adds to a bunch of strong earning performances in the sector.
The Nifty, analysts say, will continue to pull its weight, albeit taking breaks for investors to cash in on gains every once in a while.
Tech proved to be a bright spot in the US, with the Nasdaq index rising on the back of robust results from Alphabet, Microsoft (shares rose even as UK regulators blocked the Activision-deal) and Meta.
In focus now: GDP and inflation data due today and Friday will provide cues on US rate trajectory. The rate-setting panel in Japan began its two-day meeting today.
TECH
Deal Lost, Game On
The United Kingdom's antitrust regulator has shot down one of the biggest deals in history—Microsoft's $69 billion acquisition of gaming company Activision Blizzard. The Competition and Markets Authority said Microsoft could not address its concerns and merely selling titles like Call of Duty did not cut it.
Earnings: The blow comes a day after Microsoft and rival Alphabet exceeded (rather low) earnings expectations.
Growth in Microsoft's moneymaker, cloud computing unit Azure, decelerated to 27% from 31% in the previous quarter but still beat estimates. Chief Satya Nadella's bullish assessment to investors on the future of search—currently Google's fiefdom—lifted Microsoft's stock.
Half empty, half full: Google parent Alphabet reported $54.5 billion in ad sales, marking the second consecutive drop in ad revenue (third for YouTube alone). Its cloud unit recorded an operating profit for the first time, raking in $191 million versus a $706 million loss a year ago.
RETAIL
Star's Not Shining Enough
Starbucks, an integral symbol of modern American work culture, completed 10 years in India. It also crossed a milestone by clocking ₹1,087 crore ($133 million) revenue in the year ended March 2023.
Decade of losses: Starbucks never made a profit in India. Revenue jumped 71% from ₹636 crore ($77 million) in the previous year. It opened 71 new outlets last year and now operates 333 stores in a 50:50 joint venture with the Tata Group. Per-store revenues rose 33% year-on-year to ₹3.2 crore (~$400,000) in FY23.
The coffee chain has tried to attract more customers by Indianising its menu and trimming prices, a strategy long adopted by food chains such as McDonald's. Yet, profit has remained elusive. The going will get tougher as Starbucks will face stiff competition from new entrants such as Pret a Manger and Tim Hortons.
🎧 Music publisher Primary Wave Music is making its way to India. Also in today's edition: Will Starbucks crack the India code? Listen to The Signal Daily on Spotify, Apple Podcasts, Amazon Music, Google Podcasts, or wherever you get your podcasts.
ECONOMY
First Republic's Second Stroke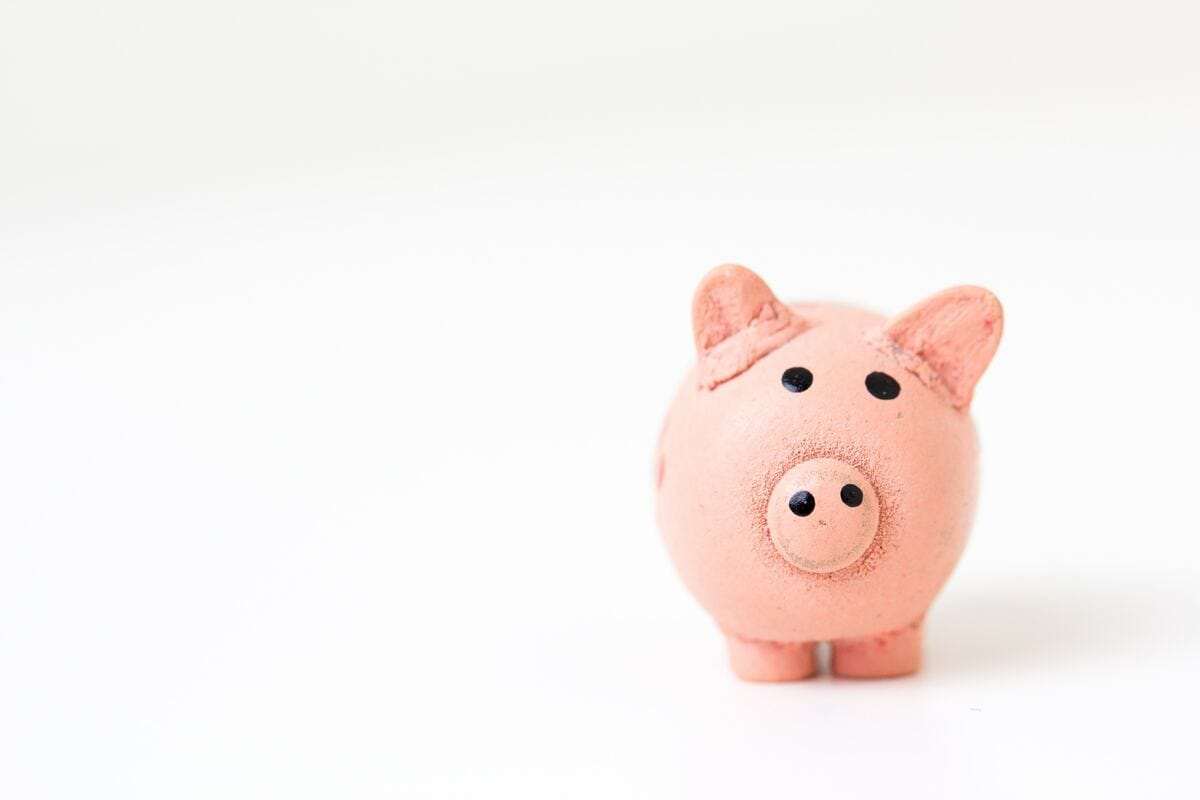 The California bank, which had to be propped up with a $30 billion deposit from the largest US banks a few weeks ago, is spreading the chill once again.
Market blues: First Republic has dropped hints that it would be happy to climb onto a life raft if Washington and Wall Street were to find one. It is mulling asset sales of up to $100 billion.
While the bank's troubles have made investors wary, Bloomberg reports that a top Goldman Sachs analyst has spotted a major source of funds, which fuelled prices, drying up. Quants, or traders who use mathematical methods to bet on assets, have bought equities worth $170 billion and are now likely to begin selling.
Insulated: Meanwhile, the Indian finance ministry says domestic banks are well-placed to handle any stress emanating from the international banking system.
The Signal
A banking crisis is the last thing anyone wants to deal with now. Although the US banking sector's troubles have still not got out of hand, they are certainly keeping investors and policymakers on their toes. The Federal Reserve was expected to raise interest rates by 25 basis points in May, but that does not look like a foregone conclusion any more. Inflation is beginning to look somewhat under control in many parts of the world, partly because of base effects. Asian banks have paused rate hikes. However, a demand pick-up could reverse that trend and commodity prices could again start moving up.
ENTERTAINMENT
Show Me The Money
Reliance-owned streaming platform JioCinema, currently free to use, is reportedly planning to introduce subscription plans at nominal rates—₹99/month, ₹499/year, and ₹2/day. Earlier this month, its film distribution unit Jio Studios announced it was working on a massive 100-title slate of original films and series, including some meant for theatrical release.
Cash grab: India is known to be a difficult subscriptions market, but Reliance is using a familiar tactic to make it work—undercutting competition with absurdly low prices. Its telco Jio pioneered rock-bottom data prices back in 2016.
Once the Indian Premier League (IPL) ends next month, JioCinema will have to rely on this 100-title slate to retain users. That's crucial for its ad solutions unit JioAds to keep growing beyond the IPL season—something rival Disney+ Hotstar struggled with. As for subscriptions, low prices might eventually prompt a change in user behaviour.
AVIATION
India's Air(port) Support
Remember the chaos at Indian airports during last year's holiday season? The civil aviation ministry wants to avoid an encore, with air travel during the summer expected to reach record levels. Already, between 370,000 and 440,000 people have been flying daily in India over the past month, crossing pre-Covid highs of 420,000.
Mint reports that the ministry has drafted a three-step plan to tackle airport congestion: more passenger-screening points while entering the terminal, a digitised pre-queuing process, and a cap on the number of flights during peak hours. Indian airports will also get modern scanning equipment at the security-check area so that travellers don't have to take electronic devices out of their bags while screening.
Meanwhile: India's largest domestic carrier IndiGo is expected to buy up to 20 wide-body aircraft as it looks to expand international operations. IndiGo's current fleet of ~300 largely comprises narrow-body aircraft.
FYI
Arresting the slide: Meta reported a 3% increase in revenue for the first quarter of 2023, reversing a trend from the previous three quarters. CEO Mark Zuckerberg has found a new toy —AI, which will come soon across the company's products.
In the fast lane: Electric vehicle maker BYD earned the bragging rights as China's best-selling car brand for the first time. Volkswagen held the spot since at least 2008.
Lifeline: Walmart-owned PhonePe will reportedly write off the $18 million loan it had earmarked towards lending startup ZestMoney for a commercial deal. The acquisition was abandoned in March 2023.
Done deal: Tiger Global-backed neobank Jupiter has bagged a non-banking finance company (NBFC) licence from the Reserve Bank of India, which will help it bolster its credit line. The startup is now on the lookout for a CEO to helm the unit, per The Economic Times.
Looking ahead: Chinese tech giant Tencent is shifting its focus towards overseas gaming companies in an attempt to move away from Beijing.
Pacifier: Chinese president and Russia's ally Xi Jinping took on the role of a mediator as he got on a phone call with Ukraine's Volodymyr Zelensky for the first time since the war started last year.
Red signal: Telegram will be banned temporarily in Brazil by a federal court after it refused to share information about neo-Nazi groups with the country's police.
THE DAILY DIGIT
55.2%
The percentage of water bodies that are privately owned in India. According to the first census conducted by the Ministry of Jal Shakti, India has 2.4 million water bodies. (The Print) 
FWIW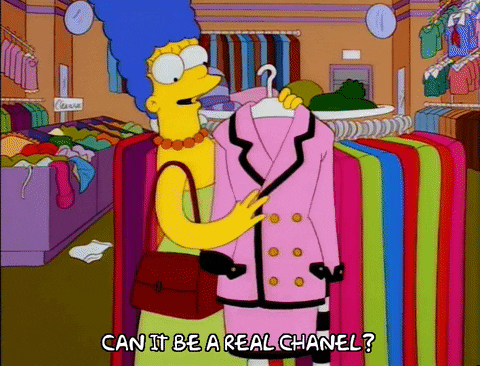 Fake is fabulous: GenZs and millennials love luxury. Never mind that it is a dupe. So, they are snapping up luxury goods without draining their bank accounts. According to a survey by the EU Intellectual Property Office, 37% of participants surveyed purchased a fake product in 2022, up from 14% in 2019. Clothes, accessories, and footwear are popular categories for knockoffs. Fake dupes are so popular that they have dedicated hashtags on TikTok that rack up millions of views. No surprise, then, that influencers have swooped in to promote counterfeit hacks on social media. The younger consumers are all about flexing their frugal choices since inflation is the villain in today's times. Well, can't argue with that.
Talking about inflation..: IKEA, the mecca for 20-somethings, is on a budget. And so, it has tweaked some of its popular designs. You see, shipping costs for metal, glass, wood, and plastic have become expensive, and customers think twice about parting with their money. So bathroom hooks previously made from zinc are made with recycled aluminium. The armrests on the Flintan swivel chair are shorter to save up on manufacturing costs. The Billy Bookcase, which according to IKEA sells every five seconds, has also undergone a makeover. It's now made with paper foil, with wood patterns instead of wood veneer. Ah, so a bookshelf made of paper, then? What's not to love about adulting in this economy? 🙃
Spam central: AI has so far been employed to write sci-fi, mimic Drake, and find love on dating apps. Amazon already had a fake review problem. Now, AI is adding to its woes. It now appears that product reviews on the website for waist trainers, children's textbooks, car batteries, baby car seat mirrors, and video game controller accessories are written with a little help from these chatbots. Even as Amazon does its bit to weed out fake reviews, it may have an even bigger problem on its hands. Is this funny? Yes. Is it unexpected? No. If it helps, this newsletter is brought to you by humans, and that ain't changing any time soon.