Discover more from The Signal
The Signal is a daily curated newsletter that helps you understand the latest developments in business, tech, finance, economy, and policy with sharp analysis and crisp insights thats fun to read arriving at 8AM daily in your inbox.
Over 81,000 subscribers
All over the map
Also in today's edition: Folding it in; BlackRock is back; Amazon plays catch-up; Mattel wants to build an IP empire
Good morning! Let the outrage begin. Bollywood flick Bawaal, which stars Janhvi Kapoor and Varun Dhawan, has attracted the ire of the Simon Wiesenthal Center, a Jewish human rights organisation, for "drawing inspiration" from the Auschwitz concentration camp in one of its scenes. According to The Indian Express, the group has asked streaming service Amazon Prime Video to remove the movie from its library for the "banal trivialization of the suffering and systematic murder of millions of victims of the Nazi Holocaust". Yikes. The second-hand embarrassment we are feeling rn is real.
The Signal is now on Telegram! We've launched a group — The Signal Forum — where we share what we're reading and listening through the day. Join us to be a part of the conversation!
A publishing note: We are taking a publishing break today on account of Muharram. There will be no edition of The Intersection on Saturday. We'll see you on Monday!
🎧 The Indian saffron market is booming. Also in today's edition: Can cricket make it big in the US? Listen to The Signal Daily on Spotify, Apple Podcasts, Amazon Music, Google Podcasts, or wherever you get your podcasts.
Today's edition also features pieces by Soumya Gupta, Julie Koshy Sam, Srijonee Bhattacharjee, and Jaideep Vaidya.
If you enjoy reading us, why not give us a follow at @thesignaldotco on Twitter Instagram and Threads.
The Market Signal*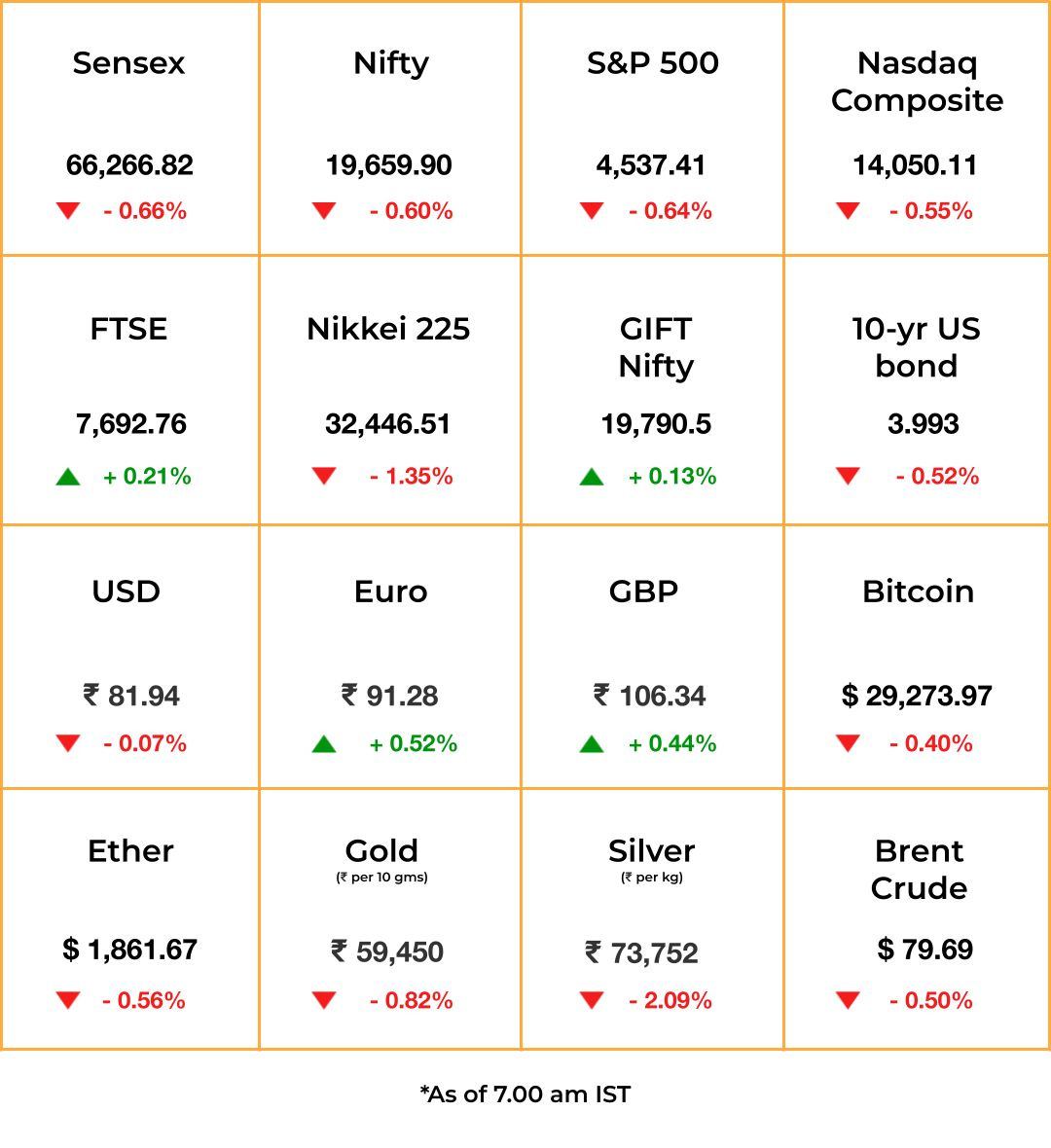 Stocks & economy: Global markets wobbled as Nikkei reported that the Bank of Japan may allow 10-year yields to rise. US equities fell, the volatility index surged and investors sold US bonds on fears of large capital reversal if Japanese bonds rates rose after being stationary for 7 years.
Indian indices like its peers may fall early in trade today since it was reported that Japan, the only major Asian economy that hadn't restricted monetary policy on price worries, may now give in. The Japanese central bank's policy is scheduled to detail its policy decision today. Inflation print for July turned out stronger than expectations earlier today fanning fears.
The European Central Bank raised rates by 25 bps as anticipated and kept the possibility of further tightening alive.
In the US, strong growth and housing data, and lower unemployment claims for the week indicated strength in the economy despite rates being at a 22-year high.
TECH
Map Projection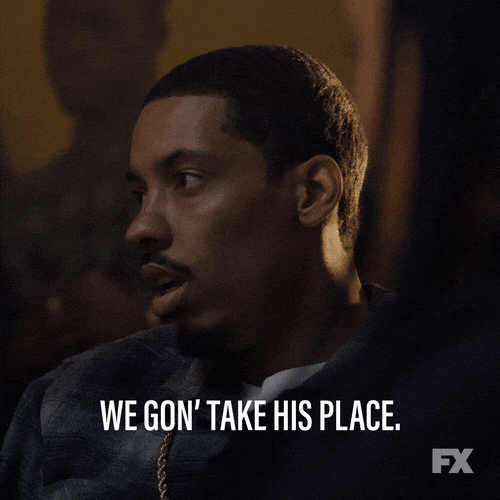 Will the Microsoft-Meta-Amazon triumvirate dethrone Google from one of the two things it has a monopoly over? It would hope.
What are you talking about?: The Overture Maps Foundation (OMF), a group formed by Microsoft, Meta, and Amazon in 2022, just released its first open dataset. It includes 59 million "points of interest", such as administrative boundaries, landmarks, transport networks, and restaurants.
Why's this a big deal?: Google dominates online search and navigation. OMF, which also has mapping company TomTom as a member, wants to disrupt the latter. For good reason. Location data is critical for tech giants whose business models rely on everything, from ad revenues and big data visualisation to spatial mapping for the metaverse. Speaking of the metaverse, it's not turning out to be a great bet for Meta.
Google and Apple charge developers for accessing their Maps APIs (application programming interfaces). OMF doesn't.
ELECTRONICS
Samsung Goes Flat Out
The world's largest smartphone maker, which brought back foldable phones in 2019, is now looking to make them more affordable.
Samsung's latest generation of foldable phones, which now close flat without a gap, start at $999. It's in talks with suppliers to reduce costs without compromising on key specifications, reports Bloomberg. That'll help it expand its lead over Apple, whose non-foldable mainstream iPhones start at $799. Apple's first foldable iPhone is expected only in 2025, while it's also reportedly considering a foldable iPad. Google's Pixel Fold is sold only in four countries so far.
Is fold the future?: Per market research firms IDC and Counterpoint Research, between 50 million and 100 million foldable phones are expected to be sold annually by 2027, up from 14.2 million units in 2022. In comparison, nearly 1.2 billion conventional smartphones were sold last year.
FINANCE
Big Guns Loading Up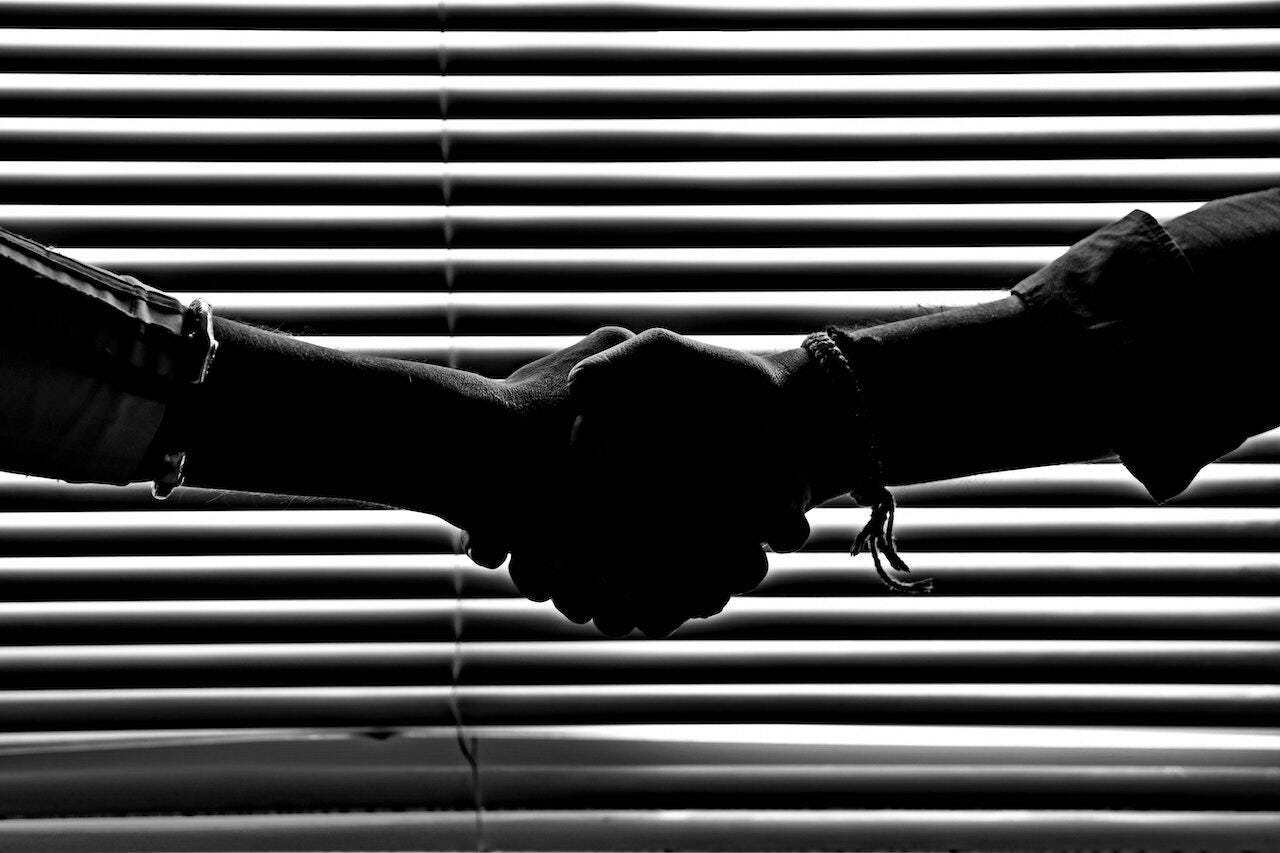 This company just moved out of its parent's home last week and changed its name. It is now moving in with a new partner. We're talking about Reliance Strategic Investments and Holdings née Jio Financial Services (JFS).
The partner: BlackRock, the world's largest asset manager, quit its Indian joint venture with DSP in 2018 after a 10-year relationship. The second coming is called Jio BlackRock. The company will invest $150 million in the 50:50 venture, with JFS contributing an equal amount.
Another biggie: Auto-to-tech conglomerate Mahindra and Mahindra (M&M), which owns shadow bank M&M Financial Services, is eyeing a 10% stake in the Mumbai-based RBL Bank. It has accumulated a 3.5% holding in RBL and wants to raise it.
The Signal
BlackRock's re-entry with the deep-pocketed Reliance Group will likely shake up the mutual fund market in India, worth $45 trillion by assets managed. It could lead to talent churn and cut-throat competition.
As for M&M, this is not really its first tryst with banking. Group chairman Anand Mahindra seed-funded Uday Kotak's finance venture, which later transformed into Kotak Mahindra Bank and turned his ₹1 lakh (~$1,220) bet in 1985 into a ₹1,400 crore (~$170 million) pot. Some years ago, the RBI had considered opening up the banking sector to conglomerates, but it did not follow through and generally frowns upon big business owning banks. M&M's entry could stabilise RBL, which was in a bit of a soup last year.
ARTIFICIAL INTELLIGENCE
Dark Horse Enters The Chat
It was a foregone conclusion that the AI war wouldn't just be fought between Microsoft and Google. But Amazon, which reportedly wants to infuse generative AI in its consumer-facing home devices ecosystem, has officially announced that it's in it to win it…
…okay, not "win it" per se, but as Amazon Web Services (AWS) boss Adam Selipsky puts it: "There will not be one [large language model] model to rule them all."
AWS, as the world's largest cloud services provider, is extending Amazon's marketplace strategy to AI as well. It's not just hosting models by Anthropic, AI21, Meta, Cohere, and Stability AI, but also offering its own services, Amazon Bedrock and HealthScribe. The latter is a medical transcription tool.
In doing so, AWS is giving enterprise clients the infrastructure they'd need to build their own AI applications. With HealthScribe, it'll compete directly with Microsoft-OpenAI's healthcare bot and Google's Med-PaLM.
ENTERTAINMENT
Ad To Cart
Netflix is cutting prices to woo advertisers in the US, The Wall Street Journal reports. It has brought down rates per 1,000 viewers to $39-45. The company is also reworking its ads deal with Microsoft and talking to others for a sales partnership. Netflix's subscribers grew by nearly six million this quarter but revenue was less than expected, indicating that ads aren't paying off just yet.
Toying around: There's a new MCU in town: Mattel Cinematic Universe. After Barbie's box office success, manufacturer Mattel is looking to do the same with 14 other IPs, including card game UNO (!) and Hot Wheels toy cars. Mattel's sales were down 12% last quarter, and its cut of Barbie's box office revenue is likely modest, per analysts. The film's success will take time to boost Mattel's sales. A Goldman Sachs analyst told Bloomberg that Barbie doll sales will increase by 1.7% this year.
FYI
Foray: Foxconn Industrial Internet, a subsidiary of the Taiwanese contract manufacturer, is in talks with the Tamil Nadu government to invest up to 200 million to build a new electronics components facility.
New class monitor?: US Senators Elizabeth Warren and Lindsay Graham are sponsoring a bipartisan bill to create an agency—the Digital Consumer Protection Commission—to police big technology companies over alleged anti-competitive behaviours and privacy violations.
Bundle blues: The European Commission has formally opened an investigation into Microsoft's bundling of Teams to its Microsoft365 and Office365 suites. The investigation comes three years after Salesforce-owned Slack first complained to the EU.
Backing up: Three global banks—Barclays, Deutsche Bank AG, and Standard Chartered—are in talks to collectively lend up to $750 million to the Adani Group. The debt concerns the refinancing of the loan the Adani Group had taken to fund its purchase of Ambuja Cements.
Moving on: HP will diversify its China-reliant supply chain in 2023 by shifting some production of its consumer and commercial laptops to Thailand and Mexico, respectively.
Downsize: Venture capital firm Sequoia Capital will trim the size of two of its funds due to changing market conditions. Its $585 million crypto fund will be slashed to $200 million, while it will cut its "ecosystem" fund by half from $900 million to $450 million.
Green signal: The Tata Group's budget airline AirAsia India has received the go ahead from India's civil aviation regulator to operate its flights under the Air India Express brand.
THE DAILY DIGIT
200 billion+
The number of daily Reels played on Instagram and Facebook, according to Meta. (Meta Earnings Call Transcript)
FWIW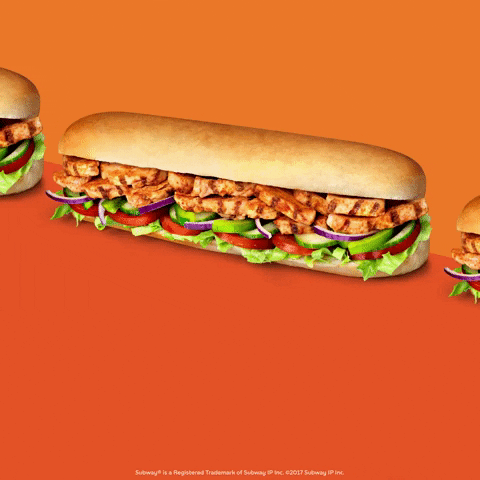 What's in a name?: A lot, believes Subway. The sandwich chain is offering a fan free footlongs for life. Of course, there's a catch. The fan will have to legally change their first name to …Subway. According to the press release, the fan who takes on the "iconic new identity" will be reimbursed for legal and processing costs for the name change. We wonder if there will be any takers for this challenge. And if there are, folks, that's called commitment.
No hot girl summer here: The quintessential Mediterranean diet is undergoing a change as we speak. Rising sea levels, dry spells, and heat waves are upending food production in Italy. Farmers are turning to tropical fruits such as bananas, mangoes, and avocados to deal with the rise in temperatures. In fact, the drought in northern Italy has meant the rice-producing region has swapped the crop for soybeans. Scientists are researching resilient fish, seaweed, and clam variants to help rice farmers adapt to climate change. Elsewhere, farmers in Indonesia are planting corn instead of rice to deal with the severe dry spell. :(
Red hot: After those classic (read: boring) reds, it's taupe's time to shine. Jeff Leatham, a florist to Oprah Winfrey and the Kardashians, reveals that beige and taupe roses are "selling like crazy". Ecuadorian rose grower Rosaprima, which introduced a light sienna-hued variety last year, has bumped up production from 20,000 bushes to 150,000 to keep up with demand. So much so that there's a black market for beige roses, since only a handful of farmers hold exclusive rights to certain colour tones. The hype around the flower is such that getting hold of even 100 can be difficult. Brb, can't wait for these flowers to show up everywhere to the point that they are considered boringgg.